Harlan Coben on 'The Five' for Sky, his obsessive nature, and missing his friend David Foster Wallace
The wildly successful crime writer Harlan Coben has made a bold change of direction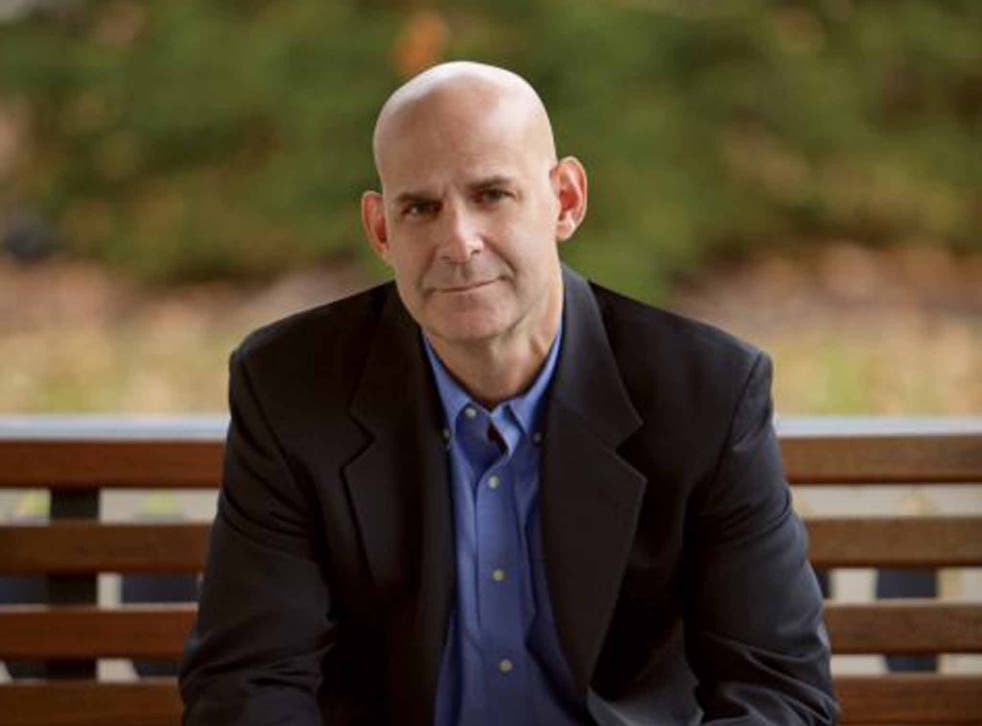 Harlan Coben is one of the most successful authors in the world. His last eight books have all debuted at number one in the New York Times bestseller lists. He has 60 million books in print in 41 languages and his sales climb with each new release. Each book comes with a seven-figure advance. He writes one every year, each taking roughly nine months, never missing his spring publication date.
He's Stephen King, Dan Brown, Lee Child: a guaranteed bestseller, whose fast-paced, twist-laden books with their punchy titles (Tell No One, Hold Tight, Missing You) twinkle out at you from airport bookshops across the globe. His newest novel, Fool Me Once, about an Iraq war veteran with post-traumatic stress disorder and a husband who appears to have returned from the dead, is published this month. If the twisty book trailer is any indication it'll be a huge hit.
All of which makes his latest project such a surprise. Of all the places you might expect America's biggest selling crime writer to turn up writing a drama series for, Sky One is unlikely to make the top three. Yet next month sees the arrival of The Five, a stand-alone series co-written with British writer Danny Brocklehurst, best known for Ordinary Lies. Does he understand how strange a career move that seems?
Coben laughs. "If you put it like that…" he says. "The truth is that I never really had an interest in writing some sort of closed mystery of the week type show, but I'd seen British shows like Luther, Broadchurch, Happy Valley and there was a tremendous appeal in doing something like that. Eight or nine episodes that told one contained story, like a long form novel."
We're sitting in a central London hotel just before Christmas and the most obvious thing about the 54-year-old Coben, other than his height (he's 6ft 4ins and a former college basketball player) is his geniality. Laidback, cheerful and enthusiastic, he seems delighted with his experience making The Five, raving about Brocklehurst, the cast (which includes Geraldine James, OT Fagbenle and Sarah Solemani) and the experience of working with Sky, although it's worth noting that he's such a professional he'd never let slip if the opposite was true. It possibly helps that he has a level of financial freedom few writers will ever attain.
"I'm in a position where I don't have to do any of this. I can walk away," he admits. "Frankly, I'm not involved in this show for the money. They can't pay me what a book pays me, so I'm doing it for love but you know I'm lucky in that way – I've never chased dollars in my career, I've always chased readers, or somebody's heart and then the dollars have followed."
If that sounds a little pat, it's also probably true. Coben grew up in Livingston, New Jersey, where his father was a lawyer. He met his wife Anne, a paediatrician, at college (where one of his best friends was the writer David Foster Wallace) and they have four children. His first novel, Play Dead, was published in 1990 when he was 28. The advance was $5,000. He went on to write a series of crime capers featuring Myron Bolitar, a sports agent and private eye, which won industry recognition (he won the prestigious Edgar award for the third Fade Away), before returning to stand-alone novels in 2001 with Tell No One, which became a global hit and was made into a well-received French film. His sales have subsequently gone through the roof.
Does it ever bother him when people dismiss his books as airport fodder? He laughs. "No. Read me if you want. Don't read me if you don't want to. I'll tell you though, David [Foster Wallace] never put me down, Michael Chabon reads me. The authors who are successful don't carp."
He still misses Foster Wallace, who committed suicide in 2008. "I've thought a lot about what happened," he says. "Because there was a lot I didn't know. We would joke about his new look, the long hair and the bandana. I thought it was all an act. I honestly didn't know the demons he carried or the extent of his depression. He was so brilliant and so funny. When he committed suicide it broke my heart."
Coben, for all his success, does a great impression of clinging on to his middle-class roots. He still lives in New Jersey (although there's also an apartment in Manhattan) and is very much a family man. Today he's smartly turned out in a navy blazer, blue shirt and jeans but resolutely unflashy. It's easy to see why his novels with their domestic dilemmas and families under threat ring so true: we feel we know these people because Coben knows them and their background so well.
On the surface The Five is a variation on this theme. It starts with a group of kids playing in a forest and telling a younger child to leave them alone. Crying, he heads for home and is never seen again. Twenty years later one of the group, now a police detective, is called to a murder scene. The DNA they find at the scene turns out to be the missing boy's. "Good right?" says Coben, clearly still pleased with the twist.
Underneath the laidback charm he's an obsessive. Previous profiles have commented on the amount of detail he brings to book promotion, overseeing everything from table displays to posters and checking his sales figures religiously. It's a level of attention that has clearly paid off and it's no surprise he brought the same management style to The Five. "I didn't want to do something where I was just selling them the idea because I've done that before with books where they take the idea, and it ends up being not what I would have wanted it to be." He pauses. "So I watched every audition tape. I was in every casting decision. They sent me the rushes and I watched them like a rabbinical student with the Talmud. I called them back going 'I don't like this, I like that'. I drove them a little crazy quite frankly. But I also kept telling them I promise you this is worth it, trust me, this is why you got me. It'll be great."
So was he right? On the evidence of the first two episodes: yes, with reservations. From the opening moments when the little boy, Jesse, vanishes down the path the viewer is desperate to find out what happens next. The first episode ends on an almighty twist and the ending of episode two is even better. This is pure popcorn TV, a show where you have to keep watching in order to find out what happens next.
It's not perfect, however. Tom Cullen is something of a handsome blank in the lead role, there's an absence of chemistry among the other main characters.But Coben insists that sticking with it will pay off.
"The one thing I do think that I've brought to TV from the novels is a real ending," he says. "I guarantee that the end of this show is well earned."
'The Five' starts on Sky One in April; 'Fool Me Once' is out on 24 March (Century, £12.99)
Join our new commenting forum
Join thought-provoking conversations, follow other Independent readers and see their replies