Hattie Morahan interview: 'There were a few hitches, I was pregnant during the shoot'
Barry Devlin's five-part drama 'My Mother and Other Strangers' stars Morahan, whose character falls in love with a US officer during the Second World War – but the actress, who was pregnant during filming, had to wear a lot of overcoats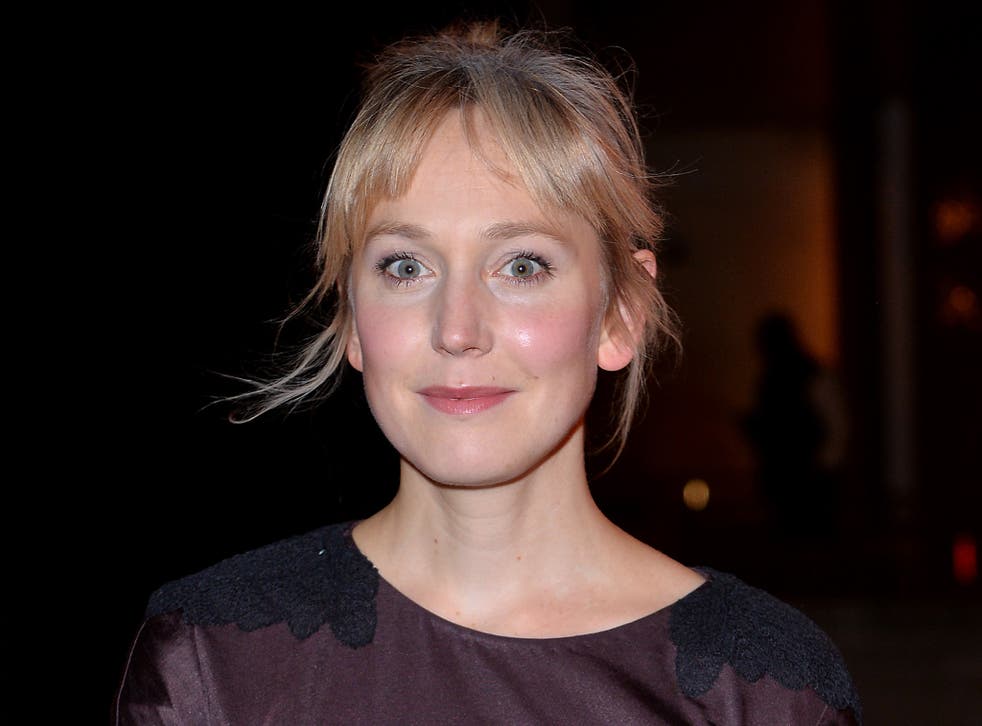 The writer Tom Brokaw has described the men and women who lived through the Second World War as "the greatest generation".
So it is quite understandable that those remarkable people – who endured a cataclysm unimaginable to younger generations – should be the focus of so much TV drama. The 1939-45 period has certainly proved a rare magnet for TV dramatists in recent times. Series about the war and its aftermath, such as Home Fires, Foyle's War and The Bletchley Circle, have been hugely popular in this country.
But it doesn't end there. In the coming weeks, we will be treated to Close to the Enemy and The Halcyon, both set in grand British hotels ravaged by the war, as well as SS-GB and The Man in the High Castle, two "alternate history" stories which imagine how the world could have turned out had the Nazis triumphed.
This week, BBC1 is offering us another riveting drama, My Mother and Other Strangers, starring Hattie Morahan, which underlines the extent to which relationships are placed under intense strain by the war.
Barry Devlin's five-part drama, set in 1943, pivots on an archetypal love triangle. A giant American airbase has just landed in a rural corner of Northern Ireland. Its 4,000 airmen inevitably have an enormous effect on this remote part of the country.
But the drama zeroes in on the impact that the Americans' arrival has on one particular local. Rose (Hattie Morahan, who starred in the aforementioned The Bletchley Circle) is an English woman with three sparky children. She seems to be happily married to Michael (Owen McDonnell, Single Handed), who runs the local pub, shop and farm. But her apparently contented life is shaken when she meets Captain Dreyfuss (Aaron Staton, Mad Men), a good-looking, poetry-quoting liaison officer from the US airbase. A story of love and longing, My Mother and Other Strangers makes for compelling viewing.
Morahan says that "there's something inherently dramatic about the war. It reminds us that we have everything so easy now. We live in such a cynical age. People are disillusioned with politicians, and there is so much fear and uncertainty everywhere."
So we regard the moral certainty of the Second World War as reassuring. The actress adds: "There was such a sense back then of fighting for a righteous cause and getting behind our country. Our values have become quite woolly now, but in the war they emphasised the importance of decency.
"We're proud of our stiff-upper-lip stoicism and British ability to cope in adversity. Back then people said, 'We may be being bombed, but we will still be decent'."
Access unlimited streaming of movies and TV shows with Amazon Prime Video Sign up now for a 30-day free trial
Sign up
Morahan was especially delighted to be involved in My Mother and Other Strangers, because Devlin wrote it specifically for her. The Northern Irish writer was convinced that the actress, who had previously shone in roles as diverse as the tormented Nora in The Doll's House and the daffy Jane in Outnumbered, was absolutely right for the lead role of Rose.
Devlin, also responsible for such hits as Ballykissangel and The Darling Buds of May, explains. "I knew that when Hattie performed as Nora on Broadway, the New York Times theatre critic Ben Brantley went home in a taxi in tears, saying it was an epoch-defining Doll's House. So I knew all that dramatic ability was there.
"But I also loved her as the scatty Jane in Outnumbered. Rose is in many ways as daft as a brush. The series is called My Mother and Other Strangers. The whole point is that her children find her really strange. She pulls guns on people, and as the series develops, she does even stranger and more wonderful things."
So, Devlin continues, "I needed someone as Rose who could convince audiences that she was a person of worth and stature, but also had the capacity to go right over the top. And Hattie was that person!"
It is this duality that lurks within Rose which drew Morahan to the role. "Rose is an interesting cocktail," muses the 38-year-old Londoner, whose partner is fellow actor Blake Ritson. "When we meet her, she is one of life's copers. She is an incredibly capable multitasker. She works as a schoolmistress and as a shopkeeper as well as being a wife and mother. She is also very principled. She feels things very deeply.
"And yet there is a side her that she has repressed, the young flighty romantic girl who is captured and ambushed by a certain Captain Dreyfus who appears in her life. She is a really rounded character."
The poetic aspect of Rose's character, which is not being fed by Michael, makes her vulnerable when Dreyfuss shows up. Devlin, who was brought up in Northern Ireland beside an airbase just like the one in My Mother and Other Strangers, reflects that, "Someone recently asked me to encapsulate the show in a sentence, and I said, 'It's the Tennyson poem, The Lady of Shalott, with aeroplanes'.
"Rose is someone who has been dutiful all her life and has worked hard at her needlepoint. Suddenly one day she sees this dashing captain, and you know it's not going to end well…"
The 69-year-old writer, who is also the front man of the influential Celtic rock band Horslips, adds: "This is an everyday story of adulterous folk. Rose says, 'When I married Michael, I thought I had married Heathcliff. I thought he was this enigmatic, explosive, smouldering man'.
"But then it turns out that Michael is just a really nice but rather quiet man. So Rose is thinking, 'I bought into that', and then one day the waters part and Heathcliff emerges. She and Dreyfuss start an almost literary adultery. It was wonderful to write, but my heartache was that it had so many elements. It's got an affair, children, animals, aeroplanes, water and boats!"
The other vital facet of Rose's personality is that she is an outsider. "That's a very key part of her identity," observes Morahan, who has recently given birth to a baby daughter. "She has lived in Northern Ireland for 17 years and occupies an odd position.
"However much she gets involved in the local community she is still someone 'other'. The locals view her as not part of their world. She uses that position to help others in a way that locals are not able to."
But, crucially, Morahan stresses: "The fact that she is an outsider divides her from her husband. They have a functional, happy marriage in many ways. But the pressure of the war puts under scrutiny issues between them, such as politics, loyalty, sacrifice and how people conduct themselves in the village.
"The idea of what's right and what's wrong comes to the fore, and it becomes a chink in her relationship with Michael. She is still an outsider, and that's partly why she is drawn to another outsider in Dreyfuss."
Dramas set in Northern Ireland have over the years tended to centre on The Troubles. So Devlin was pleased that My Mother and Other Strangers recounts a completely different era in its history. "Northern Ireland pre-1969 was a very different world. This is a drama about Northern Ireland, but it is set in a period away from The Troubles. It doesn't have anything to do with The Troubles – and that's all the better for me."
The cast and crew clearly relished making My Mother and Other Strangers. There were just a couple of hitches. First, Morahan had to deal with the fact that she was pregnant during the shoot. She reveals that, "It was fine other than being out of breath walking uphill.
"The costume department were pretty creative. There were a couple of times where I had to say, 'I can't turn left at the moment because my costume is done up with elastic and safety pins and will ruin the shot!' That's when I had to begin to wear overcoats."
Devlin's problem was that he originally wrote a script set in an entirely different season. He discloses that, "As I was writing this, I was keenly aware of the interest in Poldark being topless with a scythe, and so I wrote it for the high summer. Everyone had their kit off pretty much all the time. Half the dialogue was while the characters were swimming around in the lake. Then the BBC gave us the money to shoot it in January, so the drama started to look like Novosibirsk in Siberia!"
But no one was deterred. The writer concludes that, "What is extraordinary is that the actresses still look ferociously glamorous, even in worsted clothes.
"I expect there to be run at John Lewis on woolly socks as soon as this series hits the screen!"
'My Mother and Other Strangers' starts on BBC1 on Sunday at 9pm
Register for free to continue reading
Registration is a free and easy way to support our truly independent journalism
By registering, you will also enjoy limited access to Premium articles, exclusive newsletters, commenting, and virtual events with our leading journalists
Already have an account? sign in
Register for free to continue reading
Registration is a free and easy way to support our truly independent journalism
By registering, you will also enjoy limited access to Premium articles, exclusive newsletters, commenting, and virtual events with our leading journalists
Already have an account? sign in
Join our new commenting forum
Join thought-provoking conversations, follow other Independent readers and see their replies