Helen Monks on 'Raised by Wolves' and the real story of the writer Caitlin Moran and her feral siblings
If you thought 'Raised by Wolves' was riotous, wait till you hear . As the sitcom returns to Channel 4, its star Helen Monks gives Gerard Gilbert the lowdown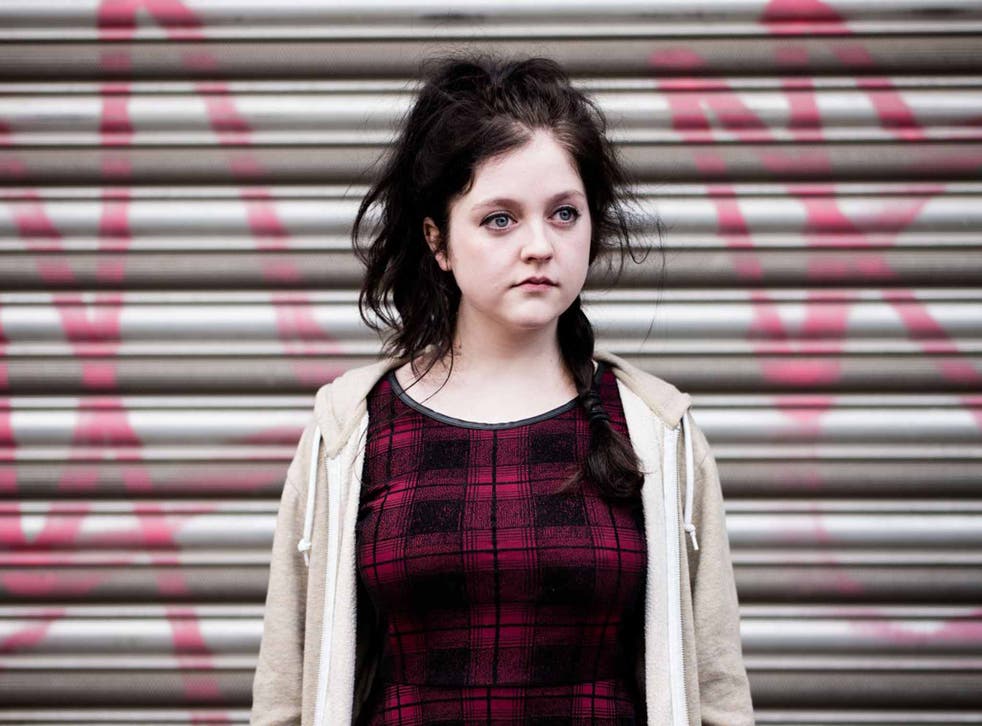 Helen Monks knows when she's had a hard day's work playing Germaine, the fictionalised version of a 15-year-old Caitlin Moran in sisters Caitlin and Caroline Moran's semi-autobiographical Channel 4 sitcom Raised by Wolves. It's when the silicon "fat suit" Monks wears is drenched in sweat.
"It smells like I will when I'm dead," she says in her Birmingham accent, adding that she has learned how to wriggle out of the padding in a hurry, but not as rapidly as the co-stars playing her screen sisters vacate the trailer they sometimes share with her. "It stinks," she adds.
In the second series of Raised by Wolves the characters are rather less obvious mouthpieces for the sisters' admittedly very funny aphorisms. They are more like people in their own right, none more so than Germaine, and in this series that means first (requited) love, and after her fruitless lusting after the oblivious Lee, seducing Lee's friend Callum with an erotic floor show in the local library – while fanning herself with a book about chlamydia.
"Oh God my parents have got to watch that," says Monks. "Actually they're very supportive. I remember my mum having a conversation with me before series one, saying you should never censor yourself.
"And as a teenage girl I would have loved to watch Raised by Wolves. There are all those British things we don't talk about... it's for the greater good that we're educating people on things like mooncups, female masturbation and pubic hair and all the things Caitlin writes very graphically about. You're thinking, 'Finally'."
Monks's parents – her mother is a theatre director and her father a children's author – tried to warn their children off a career in the arts because of the often abysmal pay. "Me and my brother have both defied them because he's a theatre lighting designer," says Monks, who, now 23, has been acting professionally since the age of 13 when, as a member of the Television Workshop in Birmingham, she was cast as one-time eco-warrior Pip Archer in the The Archers, continuing the Radio 4 drama through university (Pip is now played by Daisy Badger).
"I always had this funny thing with Pip," says Monks. "I was always really competitive with her because I was the same age; she was doing her GCSEs when I was doing my GCSEs and I was thinking, 'I've got to beat Pip'. And she was always banging on about the environment and I was going, 'Pip, just do something then'."
The story of how Monks, then studying theatre and drama at Sheffield University, approached Caitlin Moran at a book signing in Birmingham and suggested herself for the part of Germaine has been oft-told, Moran agreeing after a quick Google search of Monks. But the story of how Monks wore a fat suit to the audition has apparently grown with the telling.
"I didn't wear it," she says. "I took it in a bag and said I could provide my own. I was just too thin and it was based on Caitlin and she was 16 stone. Originally Raised by Wolves was called "The Big Object"... part of the point was she was big.
Access unlimited streaming of movies and TV shows with Amazon Prime Video Sign up now for a 30-day free trial
Sign up
"It's padding and extra curves and gives me as an actor a lot of confidence, I was so worried with season two about being Germaine again because I'm nowhere near her level of confidence and outrageousness. But as soon as you've got the boobs on and the coat on and the dressing gown on and the Doc Marten boots on, you feel you don't have to do any acting."
Caroline, known as Caz, Moran, Caitlin's younger sister by two years, is apparently on the set (in Manchester, although it's set in Wolverhampton) every day. "Caz is just as smart and funny as Caitlin in every way, she just doesn't talk about it," says Monks. "Germaine is a dick. You can tell that Caz has written all of Germaine's lines because she's like, 'I'm going to let Caitlin know what a dick she was'."
Monks says that it's not hard playing a 15-year-old ("It's not that long ago that I was 15 and I remember very clearly what it was like"), but her next TV role, which she has just finished filming, was a bigger stretch, as William Shakespeare's 13-year-old daughter in Susanna in Ben Elton's new comedy Upstart Crow. The BBC are hoping to repeat the success of Blackadder, which Elton wrote with Richard Curtis, with David Mitchell as the Bard.
"I remember watching Blackadder as a treat at school and I really hope it's going to be like that, so it makes Shakespeare this really fun thing. Anyway, Susanna, his daughter, is a very grumpy 13-year-old. I think I'll be playing teenagers till I'm 45."
She writes poetry as well as performs, two sides of her that come together in a newfound taste for stand-up comedy, becoming a finalist in a contest run by Funny Women with only her first attempt at the form. "I feel smug about that. Anyway, It's just me talking," she says. "It's quite political, I guess, but quite surreally."
The same could be said of a one-woman show she's writing that Funny Women will stage as part of her prize, and which she wants to take to this year's Edinburgh Fringe. "It's going to be called Dolly Wants to Die about a doll who's suicidal but can't die because she's inanimate object," says Monks. "It sounds bizarre but it's meant to be funny."
The inspiration, she says, are her "millennial" contemporaries. "All of my friends who've graduated from university and are just so depressed. These are actually people who come from privileged backgrounds and have enough support and money and love, in theory should be doing all right, but there's so little hope for the future. Everybody feels so trapped and life is endless and that not being a good thing... and I like the idea of a doll because she's also stuck in that situation."
Monks is also part of a theatre company that will putting on a play about the Chilcot Inquiry in London and Manchester this summer. And she will also be with the same company in Edinburgh with E15, a verbatim play about the so-called "E15 Mums", the group of young mothers who fought their eviction from social housing in east London. "It's about the housing crisis in London," says Monks, who finds trying to live in the capital to be verging on the impossible. "I live with six people and everyone has really good jobs, but everyone's living like they're poor. If this is how we're living I can't imagine how people on minimum-wage jobs survive. And we all accept that's normal."
Monks joined a march on Downing Street recently to protest at what she sees as the neo-Dickensian policies of this government.
"We all stood outside Downing Street being very peaceful. I don't think David Cameron was even at home," she says. "I do sometimes feel we ought to, I don't know, throw a rock at something – not at someone – just a window. At least then it gets on the news."
'Raised by Wolves' returns to Channel 4 on 2 March at 10pm
Join our new commenting forum
Join thought-provoking conversations, follow other Independent readers and see their replies