Heroic and tragic truth behind Poldark: Cornishmen shaped mining in Britain and pushed boundaries the world over
If you look beyond the bodice-ripping and family feuds, the BBC's 'Poldark' delves into a fascinating period of Cornwall's mining past. Boyd Tonkin looks at the real quarrying dynasties in a region that was once at the cutting edge of capitalism
Boyd Tonkin
Monday 13 April 2015 11:03 Comments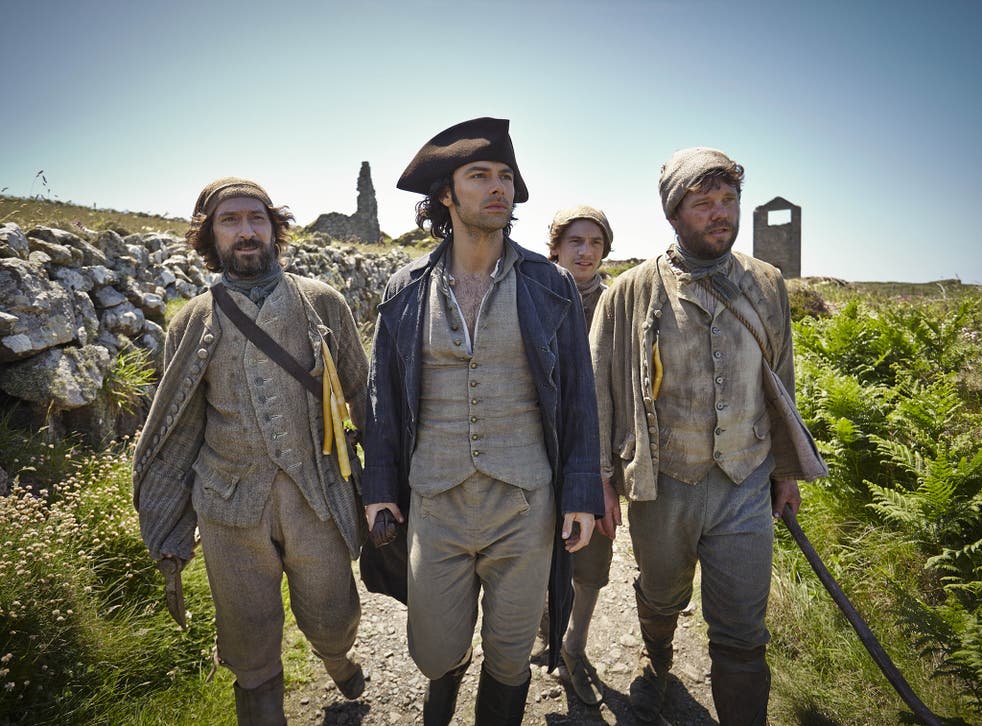 Anyone who watches Poldark for a treatise on Cornish industrial history is clearly barking up the wrong tree – or, maybe, peering down the wrong shaft. The second BBC adaptation of Winston Graham's novels has already secured a sweating, straining place in prime-time costume-drama folklore that promises to eclipse even the spiky courtship of Jennifer Ehle and Colin Firth in Pride and Prejudice – almost 20 years ago. Ask fans to divert their gaze from the unfastened gowns and naked torsos to those fascinating examples of Cornish beam engines in the background and you risk sounding like the country-pursuits writer who reviewed Lady Chatterley's Lover for Field and Stream magazine.
He found that "this pictorial account of the day-to-day life of an English gamekeeper is full of considerable interest to outdoor-minded readers". However, "one is obliged to wade through many pages of extraneous material in order to discover and savour those sidelights on the management of a Midlands shooting estate, and in this reviewer's opinion the book cannot take the place of JR Miller's Practical Gamekeeping." That reviewer, by the way, was Ed Zern: a noted wit, with tongue securely wedged in cheek. Tricorn hat tipped to the droll Mr Zern, we can still hope that Debbie Horsfield's dramatisation might stir a flutter of historical curiosity about the past of its lovely locations. Late 18th-century mining history has seldom looked so picturesque or felt more suspenseful, even if the stand-offs of feuding Poldarks and nouveau-riche Warleggans serve mainly as a mood-altering counterpoint to the romance.
Professor Steven Fielding – director of the Centre for British Politics at Nottingham University – points in a recent article to the radical context of the original books: "The first Poldark novel was published in 1945, the year Britain elected a Labour government intent on building a more egalitarian society. Graham's work was shaped by that context." Fielding even sees the maid-marrying hero as "a kind of 18th-century Robin Hood" whose "romantic life echoes his ambiguous place in the social order". Yet Ross "was not quite a socialist. The hero was instead a One Nation figure, a man of elevated birth who considered he had responsibilities to look after his tenants and workers."
Poldark in pictures

Show all 37
True to his rank and time, Ross also risks status and security in order to seek quick profits from the mineral wealth – in this case, copper – secreted beneath his stony land. From its origins in the 16th century to its effective demise in the 1930s (although the last deep tin mine, at South Crofty in Camborne, lingered on until 1998), Cornwall's mining industry saw bust follow boom as predictably as an Atlantic downpour will chase off a fine day. First copper (as in Poldark) flourished, with Cornwall – according to the Mining History Network – still "probably the most important mining district in the world" for the metal until the 1840s. Tin soon took over as top mineral. Production rapidly trebled before Cornwall hit "peak tin" around 1870. Then vast new discoveries in Australia, Bolivia and Malaya made Cornwall's mining districts an early victim, having been a beneficiary, of the globalisation of trade in natural resources.
The periodic busts led to one of the most remarkable – and still little-appreciated – worldwide migrations in industrial history. It momentarily flickered into public visibility last November, when on their tour of Mexico Prince Charles and the Duchess of Cornwall visited the Panteón de los Ingleses – English Cemetery – at Real del Monte in the ore-rich hills of Hidalgo, north of Mexico City. Cornish miners first arrived there in 1824, in the course of a flight from the unprofitable veins of home that took them from Chile to California, Brazil to Transvaal, Peru to New South Wales. As Sharron Schwartz, a specialist in the Cornish diaspora, argues: "By the late 19th century there was barely a mine in the world that did not have Cornish labour, and many had Cornish mine captains." Suitably spiced, the pastes that these "Cousin Jacks" brought to the Pachuca area of Mexico survive there as a cherished local delicacy.
At home, the lure of tin and copper tempted farmers and gentry who struggled to wrest much wealth from their thin soils. Even if a rich seam could be located and exploited, the mine-owners still had to carry its yield to market. Remote, inaccessible, distant from urban centres, Cornwall could never make a fortune from its ores by road. It needed robust, protected harbours in order to export the product of the mines. Yet those sites mostly lay close to the rocky, indented and gale-swept Atlantic coast.
Undaunted by the challenge, one local family tried to construct a sturdy harbour on a storm-lashed shore to serve the nearby mines. Over a century, they tried, and failed. They tried again, and failed again. And again. In this Cornish labour of Sisyphus, the mutinous ocean always had the upper hand. The family lost land, wealth, home and status, and in the end fell into penury. More headstrong than any Poldark, this clan ruined themselves – generation after generation – in pursuit of an elusive dream of riches. They were the Tonkins of Trevaunance. No relation, by the way: this hapless tribe seems to have died out, no doubt exhausted by their repeat debacles, in the later 18th century. All the same, their sorry tale obviously piqued my interest when I heard it.
North-west of Truro, the village of St Agnes perches above the cliffs in a landscape scarred with mine workings and studded with engine houses. In the TV series, the scenery around St Agnes Head forms part of Ross Poldark's estate. At the shoreline lies the sand-and-shingle beach of Trevaunance Cove, now a sweet spot for surfers. The Tonkins had occupied the land around Trevaunance at least since Tudor times. In 1593, a Thomas Tonkin acquired the title to the manor after marrying into the family of its former owner, the Carnes (Demelza Poldark, you will recall, is an impoverished Carne).
On this shore, in 1632, one John Tonkin launched into a century of pig-headed and fortune-depleting folly. John never finished the quay he planned for Trevaunance. In 1684, his grandson Hugh chose a different location to build, and began again. Storms swept his work away. Undeterred, in 1699 Hugh returned to the task, this time with expert advice from Henry Winstanley – the designer of the Eddystone Lighthouse. The invaluable "Engineering Timelines" website explains the sequel with something of the stoic fortitude that these stubborn serial builders needed while bashing their heads – and purses – against the Atlantic tides: "The new harbour wall was constructed of timbers fastened together by iron bars, with a core of rocks and mortar. Cargo ships were able to berth in safety. But in August 1705, the harbour was demolished in a storm."
Access unlimited streaming of movies and TV shows with Amazon Prime Video Sign up now for a 30-day free trial
Sign up
Here we go again. In 1709, Hugh's son Thomas took over the quixotic mission. He chose a site in the shelter of the cliffs and spent £6,000 on erecting a harbour wall of "stone blocks set in hot lime mortar". It did weather the tempests for a while, but by 1719 escalating debts had bankrupted the family and the estate passed into the hands of "a merciless creditor". Without proper maintenance, the wall began to decay. By 1730, another killer storm had done the same job as its forerunners. Having failed so dismally as a harbour engineer, Thomas Tonkin at least had another string to his tattered bow – beyond his brief stint as MP for Helston in 1714-15. He became a renowned antiquary and local historian. His researches into the past of Cornish parishes have fed every later history of the county. Perhaps he should have stuck to writing from the off.
With those doomed Tonkins out of the way, the prospects of the little port at last began to perk up. By the early 1790s – and by now we're into the Poldark era – the copper boom led to the creation of a St Agnes Harbour Company. Its mighty granite-and-iron barrier stood firm, and was extended in 1816. In a modest way, the harbour flourished, although its relative isolation would prove fatal. Safer and more accessible, Portreath – four miles south – began to attract more business. Soon, the coming of the railways to Cornwall would strip every remaining advantage from local seaborne trade. When further storms shattered the old walls in 1916, no one had the time or the assets to repair them.
As Poldark proves, enough time has now passed to transform the expenditure of cash, toil and human life in the Cornish mining industry from misery to myth. In 1867, Joseph Polsue's Complete Parochial History of the County of Cornwall – which drew on Thomas Tonkin's manuscripts – had a more sober perspective on the trade. The metalliferous "mountain" of St Agnes has, it reports, yielded for more than 150 years "about ten thousand pounds worth of tin per annum". It keeps employed "about the same 1,000 persons, who for the most part spend their time in hard and dangerous labours… in order to get a poor livelihood for themselves and families, in the pursuit of which, here and in other places, many of those poor men yearly by sad accidents lose their lives."
Those "sad accidents" forever scar the historical terrain behind the tourist fantasia. As in every mining region in the world, the photogenic stacks often stand guard over mass tombs. Sanitised and safety-checked, workplaces that weakened bodies, snatched lives and orphaned children in bulk now adorn a day trip. In the wake of the first BBC series in the mid-1970s, the old workings of Wheal Roots in the Wendron valley became a tourist attraction renamed the "Poldark Mine". The site now has a new owner, having passed through financial ups and downs that would probably not have surprised Ross and his kin.
This sense of pervasive insecurity matches the place and the industry. Far from being some quaint escapade in a pretty backwater, Cornish mining stood at the cutting edge of British and global extractive capitalism, with all the costs and risks that vanguard role entailed. For Sharron Schwartz, "The cult following that the Cornish miner earned was of great importance for Cornish miners and Cornwall itself, but ultimately also for Britain." From the 1820s, as Poldark-style veins ran out, "the migration of capital and labour… meant that Cornwall began not only to export its skilled workers, but also developed a world-class export trade in mining machinery and technology" – with Richard Trevithick's revolutionary high-pressure steam engines in the forefront of change.
Yet the home mines clung on tenaciously to a productive role. As late as October 1919, the tin industry could still deliver human disaster on a numbing scale. In that month, the crude lift or "man engine" that transported workers from surface to seam at the Levant mine near Land's End, collapsed. As The Cornishman and Cornish Telegraph recorded: "The tragedy was the work of an instant. Something snapped – perhaps an iron cap or bolt – and what has been described as a living pillar of men dropped down the man-engine shaft, crushing many to death, mangling more with the debris of breaking wood and metal."
In all, 31 miners died at Levant. With one eye on the global diaspora, the paper reported that "Cornishmen in foreign and colonial mining camps will read with unspeakable sorrow of this calamity". It launched an appeal for funds, listing the victims to indicate the level of their families' need. For example, John Tonkin of Boscean, aged 52, left a "Widow and 7 children, 3 dependant".
Now a National Trust property, nestled within a Unesco World Heritage Site, Levant also takes a bow in Poldark – as the fictional Tresidders Rolling Mill. As the tourist season starts in earnest, it can look forward to a welcome uptick in numbers. So can the rest of this coast. For sure, heaving bosoms and manly chests will lure far more first-time visitors than industrial archaeology. All the same, it may not be too fanciful to imagine that a few of them will trudge over their favourite windswept locations and think about the hardship, hunger and danger that no amount of cross-class passion between squire and serving wench could ever heal. To Steven Fleming, "More than in the 1970s, contemporary Britain resembles the world of Poldark, with elites of various sorts appearing to run roughshod over laws and morals in pursuit of advantage". He wonders whether there might be "a real political force out there, able to tap into their inner Poldark". Tops off, comrades, and let's whet those scythes.
Register for free to continue reading
Registration is a free and easy way to support our truly independent journalism
By registering, you will also enjoy limited access to Premium articles, exclusive newsletters, commenting, and virtual events with our leading journalists
Already have an account? sign in
Join our new commenting forum
Join thought-provoking conversations, follow other Independent readers and see their replies