Is Israeli spy thriller 'False Flag' the new 'Homeland'?
'Homeland' began life on Israeli TV, as did 'In Treatment'. Can the magic be repeated with Fox's new Hebrew-language spy thriller 'False Flag'?
Gerard Gilbert
Saturday 22 July 2017 18:05 Comments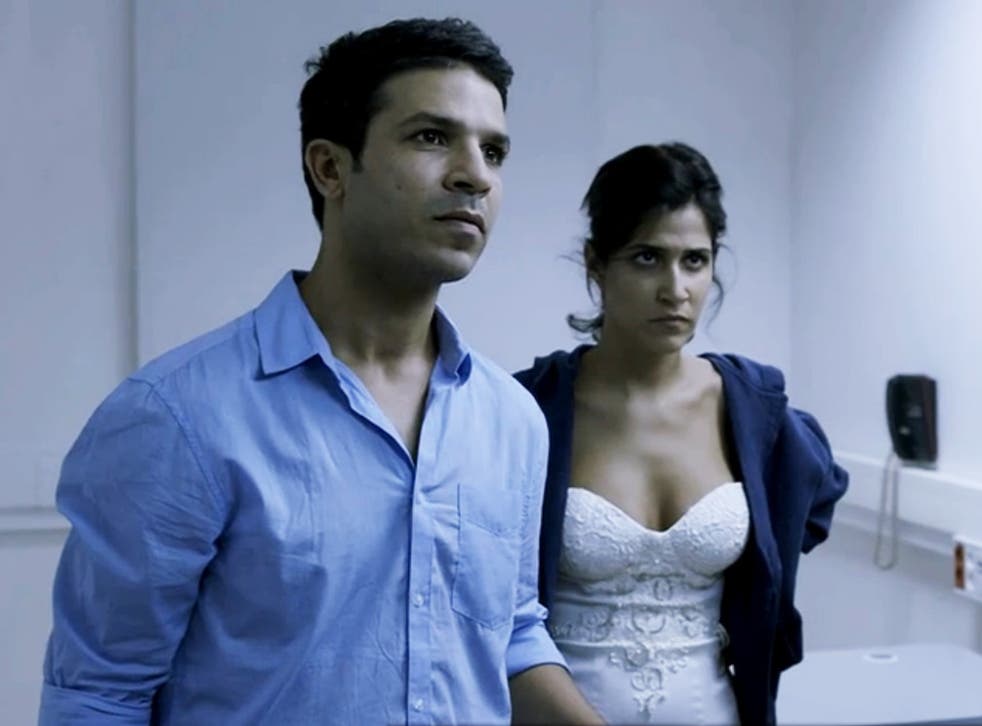 Five very different and seemingly ordinary Israeli citizens wake up to find their passport photographs plastered all over television and the internet, and that they are wanted in connection with the abduction of an Iranian minister from a Moscow hotel.
Their passports seem to have been stolen and used by Mossad agents during the kidnap operation – although loved-ones and colleagues immediately suspect that there is no smoke without fire. Perhaps they are secret agents after all.
Either way, each has secrets waiting to be uncovered. This is the intriguing set-up for a gripping new Israeli TV drama, False Flag, that is coming to British TV at the end of the month.
The title refers to the professional espionage term for an act carried out to look as if someone else had executed it – the inspiration here being the assassination of Hamas leader Mahmoud Al-Mabhouh in a Dubai hotel room in 2010. The Mossad agents suspected of being involved held fake or fraudulently obtained passports belonging to a number of unwitting European and Australian citizens.
False Flag is being marketed as "the new Homeland" – perhaps inevitably, since the global hit starring Claire Danes as CIA agent Carrie Mathison began life as the low-budget Israeli TV drama called Prisoners of War.
"It's a big compliment, but the big difference is the focus", says False Flag's co-creator Amit Cohen. "Homeland puts the focus on the professionals and does it in an amazing way, but the uniqueness of False Flag is that it is told from the point of view of ordinary people: an accountant about to get married, a family man, a musician, a teacher – all normal people.
"They don't know anything about the espionage world. This is their first encounter with the world of shadows. We didn't put the focus on terrorists or spies – we were looking at Israeli society and Israeli characters to tell the story."
The holy grail of a "new Homeland" has led to several US TV shows in recent years, including NBC's The Blacklist and CBS's Hostages, in which the surgeon (played by Toni Collette), about to operate on the US President, finds that her family has been kidnapped in order to coerce her into killing the leader; like Homeland, it was based on an Israeli TV original.
But while Homeland still thrives, with its seventh season now in pre-production, Hostages flopped and was axed after just one. Other stateside adaptations lost in translation and swiftly cancelled include the sitcom Traffic Light: a sort of Israeli Cold Feet – although that hasn't stopped it being a success in Russia.
Access unlimited streaming of movies and TV shows with Amazon Prime Video Sign up now for a 30-day free trial
Sign up
Upcoming English-language adaptations of Israeli TV shows include The Brave, an NBC drama about undercover soldiers from Homeland producer Avi Nir; Amazon Prime's Emmis, adapted from Shtisel, an Israeli drama about an ultra-Orthodox Jerusalem family; CBS's Wisdom of the Crowd, starring Jeremy Piven (Entourage, Mr Selfridge) as a tech innovator who uses a crowd-sourcing hub to solve his daughter's murder; and Euphoria, and HBO adaptation of an edgy Israeli teen drama.
The link between Tel Aviv and Los Angeles was first forged in 2007, when Be Tipul (created by Hagai Levi, who went on to co-create The Affair) was remade as In Treatment, starring Gabriel Byrne as the psychotherapist.
There's an off-kilter darkness to many Israeli TV shows that fits American post-9/11 concerns, as well as a psychological depth that reflects the fact that Israel has more therapists per capita than anywhere else in the world.
"I know it can sound strange," Homeland creator Gideon Raff has said. "But the two countries have a lot in common. And Israelis as a people don't really care that much about traditional rules, which fits with what's going on in cable television in the US."
But is that the only reason why Israel – a nation with (coincidentally or not) the same population size as that other big exporter of TV drama ideas, Denmark – have what others, in particular America, want?
"I think the world is more open and connected and people are more interested in what is happening in other people's backyards", says Cohen. "We want to see Scandinavian shows, Indian, European, etc. Maybe it's because Israelis must find a way to tell a story differently to America. We can't rely on cast or action, so we focus on story and this is what people look for worldwide."
Indeed, as Gideon Raff discovered when he helped turn Prisoners of War into Homeland, the difference in budgets is gargantuan. Raff claims that he shot the first two seasons of Prisoners of War for the same budget as the pilot episode of Homeland.
Alon Shtruzman, CEO of the media company that makes False Flag, Keshet International, recently attributed the compelling nature of its dramas to his country's troubled reality.
"Israel is conflictual and gives us a great foundation for telling stories," he told the Financial Times, going on to compare the burgeoning TV industry with another Israeli success story – based on intellectual property rather than abundant natural resources – the technology sector.
"Historically, the Jewish nation is one the great storytellers", says Cohen. "And because we don't have the budgets for the car crashes and the plane crashes, we need to focus on the characters and the storytelling.
"Also, Israeli shows are very grounded. You won't see an alien show or a zombie show in Hebrew – I'm not even sure you could see House of Cards in Hebrew because Israelis want to see themselves, they want to see their neighbours, their friends ... They want to feel it could happen to them. It needs to be hyper-realistic. That has a wide appeal."
And such is English-speaking viewers' recently acquired taste for (or, at least, tolerance of) subtitled drama – one encouraged in this country by BBC 4's roster of Scandinavian thrillers and, more recently, by Channel 4's Walter Presents' strand: that there is no longer any reason to wait for that American remake. Like Prisoners of War – the original for Homeland – False Flag also operates as an insight into, and a critique of Israeli society.
"We did not consider an international audience when we were making the show," says co-creator Maria Feldman. "We did not think about characters or dialogue in an international sense. We were surprised people abroad were so taken by the show, and very happy that they wanted to buy it and air it worldwide."
Fauda, which has been available on Netflix since last December, goes one step further in this respect, providing a nuanced perspective of the Israeli-Palestinian conflict. Following a team of Israeli operatives who work within Palestinian communities to bring down a Hamas kingpin, Fauda has been praised for its sympathetic and humanising portraits of its Palestinian characters.
Still, some differences remain between how shows play in Israel and abroad. When False Flag screened in Berlin recently, the audience reacted as if they were watching a black comedy – laughing out loud in the opening episode when Benny, the family man, sees his face on television, accused of being a Mossad agent.
"For the Israelis, it felt a bit more real and a bit more scary", says Feldman. "The international audience was thinking 'how funny that someone thinks I'm a Mossad agent,' and Israelis immediately understand the implications of something like that.
"Because the situation in Israel is that every day there might be an attack, or maybe your son did something, a neighbour killed someone or got killed; you're prepared for the fact in your subconscious that you could appear on television. You don't find it funny."
'False Flag' begins on Fox on 31 July at 9pm
Register for free to continue reading
Registration is a free and easy way to support our truly independent journalism
By registering, you will also enjoy limited access to Premium articles, exclusive newsletters, commenting, and virtual events with our leading journalists
Already have an account? sign in
Join our new commenting forum
Join thought-provoking conversations, follow other Independent readers and see their replies