House of Cards season 4: Spoiler-free thoughts on the first six episodes
Here's the verdict on Frank and Claire Underwood's latest return
Jacob Stolworthy
Wednesday 02 March 2016 18:08 Comments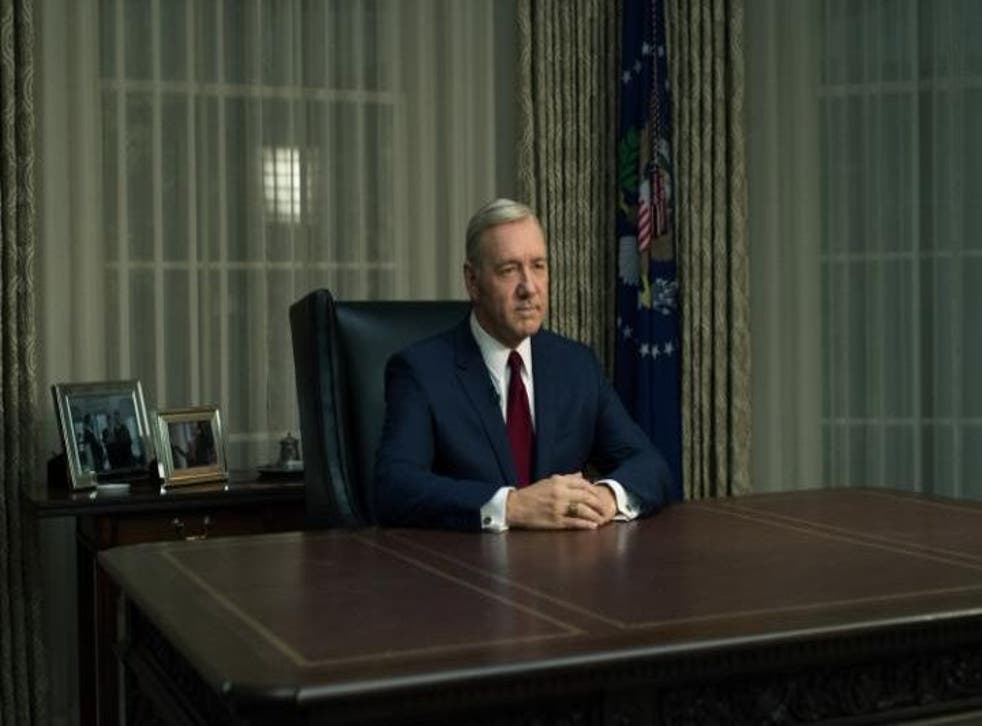 Ahead of the release of all 13 episodes on 4 March, we ploughed through the first six episodes of House of Cards season 4 over the weekend to give you a taste of what to expect. Obviously, we don't want to ruin anything for you - and haven't - you'll find only light spoilers ahead.
Having enjoyed a staggeringly consistent run since 2013, House of Cards was the show that really kickstarted the Netflix revolution, showing just how committed the service was to making quality content.
Season three ended with President Frank Underwood (still played with masterful gusto by the Golden Globe-winning Kevin Spacey) in a place we hadn't seen him before: on the backfoot with no plan - as well as facing a worthy challenge in the form of fellow Democratic Primary candidate Heather Dunbar (Elizabeth Marvel). The season's closing moments saw Underwood left to ride it solo, his wife - First Lady Claire Underwood (Robin Wright) - leaving him.

Below are some spoiler-free pointers on what to expect from the first half of season four.
1. This is Claire's season

While Robin Wright has been there every step of the way, House of Cards is deemed Spacey's show. Well, no longer.
The unfairly criticised third season served as an intriguing breakdown of a complex marriage via Claire's realisation that her dreams were being disregarded to further her husband's gain. As Claire, she's always been a dependable force. Now that her ice queen has left Frank, Wright becomes Spacey's match in every sense of the term: for the first time - well, in the first six episodes at least - she accumulates just as much screen time as the President or more.
2. There's an influx of even more strong female characters

The show has never shied away from inducting new characters into its murky universe - Congresswoman Jackie Sharp... Underwood's biographer Thomas Yates... And this season the new additions are led by Neve Campbell (Scream) who showcases the most staying power as Leann Harvey, a headstrong political consultant caught in the Underwood's cutthroat battle.
The Oscar-winning Ellen Burstyn takes on a meaty role as Claire's formidable mother while The Help's Cicely Tyson adds spark to the otherwise banal Texan congresswoman Doris Jones. Joel Kinnaman also makes an appearance, but we'll leave it to the final half of the season for the Suicide Squad actor to make his mark.
3. ...as well as the return of some old familiars

Having introduced a crop of characters over the past three seasons, House of Cards is now in a position where it can pick and choose who to write back in, if even for a single scene; season four does this with aplomb and, as a consequence, the show (somehow) feels more believable than ever, a firm fixture to your viewing schedule boasting a repertoire of creations up there with TV's best.

Returning regulars naturally include Doug Stamper (Michael Kelly) and former White House Chief of Staff, Remy Danton (Mahershala Ali) but intriguingly the first six episodes feature two reappearances you certainly won't be expecting.
Netflix originals to look forward to in 2016

Show all 14
4. This is the most ambitious season yet
Stylistically, the opening episodes posit season four as the show's most ambitious yet - a big statement considering it's risk-taking previous. While there is no moment to rival season two's Zoe Barnes shocker (they give it a good go), the most lingering moments subtly emerge from the script's focus on Frank's inner psyche.

Until now, House of Cards has centred on the character's outward expression of power - not to mention his hunger for it - but the writers have shrewdly stripped that back, instead focusing on the character's internal fears in a way not dissimilar from Tony's dream sequences in The Sopranos.
You'll never root for Frank more than you do by the end of these six episodes.
5. A rewatch would be beneficial  

Past moments are reflected upon - hell, in one instance, reenacted - in a way that'll make more casual viewers scramble their way onto Wikipedia. For the rest of us, this works in the show's favour, providing the show with an intrinsic history that, arguably for the first time, makes the show feel like an assured body of work.

As somebody who struggles to binge watch television shows, House of Cards has always been one I've been able to flit through without ever being sure why. I now have an explanation: season four bears the hallmarks of a TV series that finally knows exactly which directions it's headed in. Perhaps this is why showrunner Beau Willimon has decided to hand the baton over.

Either way, season four is an enticing step in a new, albeit firm direction for the original Netflix drama. Knock knock, indeed.

House of Cards season 4 will be available to watch on Netflix from Friday 4 March 
Register for free to continue reading
Registration is a free and easy way to support our truly independent journalism
By registering, you will also enjoy limited access to Premium articles, exclusive newsletters, commenting, and virtual events with our leading journalists
Already have an account? sign in
Join our new commenting forum
Join thought-provoking conversations, follow other Independent readers and see their replies