House of Fools: Reeves and Mortimer's big night in
Vic and Bob are back in BBC2's House of Fools. The duo explain why writing a sitcom was their biggest test yet
James Rampton
Tuesday 14 January 2014 01:00 Comments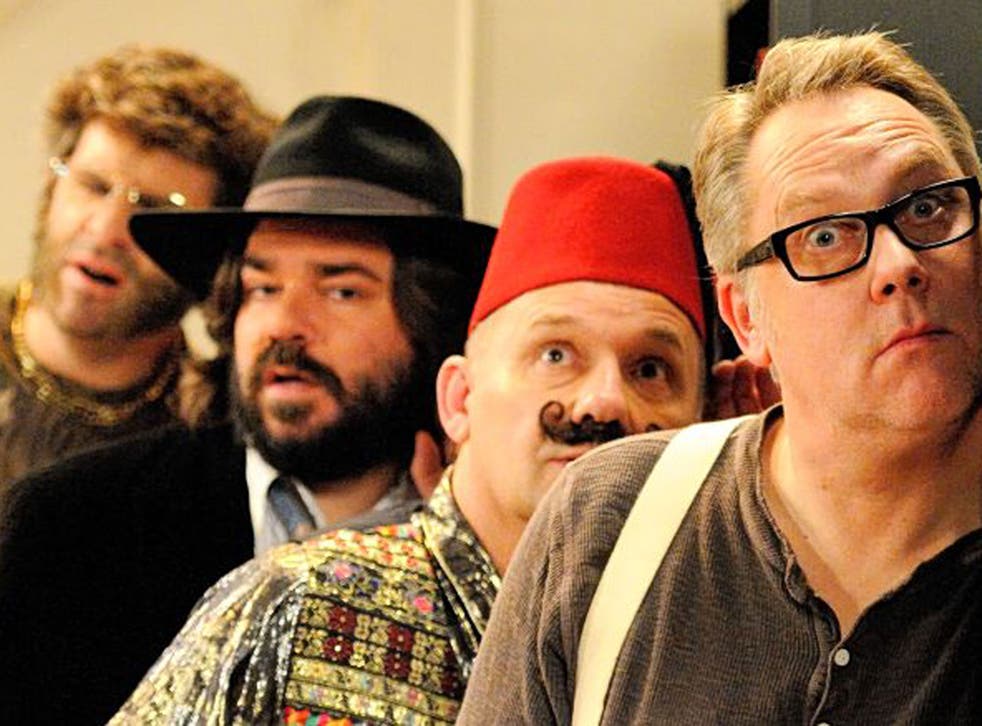 In the first scene of BBC2's new sitcom, House of Fools, an idiotic man with NHS spectacles and an inane grin dons a gleaming metal medieval gauntlet and spontaneously breaks into song about it. To the tune of "Day Trip to Bangor", he begins crooning: "I think I'm in love with my medieval gauntlet/ I'm happy to say that today all day, I'll stride around the flat and flaunt it."
This could only be one thing: the opening of a new comedy by Vic Reeves and Bob Mortimer. House of Fools, which starts on 14 January, is a characteristically unhinged offering from the veteran comic anarchists.
The premise is that Bob is a man who longs for peace and quiet in his chaotic flat. However, every time he plans a bit of time on his own, he is rudely interrupted by Vic, an unruly squatter played by Reeves, and a series of unwanted visitors, including the womanising Beef, portrayed by Matt Berry, his sexually voracious neighbour Julie, played by Morgana Robinson, and Bosh, Vic's thuggish ex-con brother, played by Dan Skinner.
It's the sort of show where Bob berates Vic for turning his flat into Colditz for no apparent reason, by digging "an extensive tunnel network under the premises". Vic protests his innocence while surreptitiously dumping soil on Bob's carpet out of the bottom of his trouser-leg.
In another episode, Bob winds up trapped underneath a butcher's security bell-jar protecting a prized pork pie. Bob is trying to steal the meat product after mislaying the much-cherished pork pie Julie was keeping for her special guest: Bruce Willis. You get the idea.
As always with Vic and Bob, who have been staples on our screens since exploding on to Channel 4 like a surreal starburst with Vic Reeves: Big Night Out nearly a quarter of a century ago, this gloriously silly comedy defies conventional analysis. It is simply bonkers for its own sake. The meaning is: there is no meaning.
The Independent is meeting Reeves and Mortimer at the nerve centre of BBC Comedy on the Euston Road in central London. We convene in the John Sullivan Room, a space named after the creator of a rather more conventional sitcom, Only Fools and Horses.
It is my great pleasure to be able to confirm that Reeves and Mortimer's deranged professional double act is not faked. The pair, who are both 54, are as daft – and downright hilarious – off screen as on it.
Both originally from the North-east of England, they have been close friends since 1986 when Mortimer, then a solicitor, leapt on stage and joined in Reeves's culty show at Goldsmith's Tavern in New Cross, London. Since that fateful meeting, they have developed a symbiotic relationship – finishing each other's sentences and knowing instinctively how to top each other's lines.
Access unlimited streaming of movies and TV shows with Amazon Prime Video Sign up now for a 30-day free trial
Sign up
But Reeves and Mortimer are not merely happy-go-lucky jesters - they are more than happy to voice provocative opinions should the need arise. For example, Mortimer, who read law at Sussex and Leicester universities (while Reeves did an apprenticeship in mechanical engineering), recently grabbed the headlines by questioning why Oxbridge-educated comedians seem to enjoy the pick of the best TV gigs. He said: "I find it hard to believe that the people who go to Oxbridge are by such a huge percentage the funniest people on Earth. It just doesn't seem right. There's something going on."
Like their most successful previous work – the panel game Shooting Stars or the sketch-show The Smell of Reeves and Mortimer – House of Fools works by selecting an orthodox genre and then completely subverting it.
Mortimer begins by reflecting that, "There is an analogy here with Shooting Stars in that we chose an obvious format so that people wouldn't reject it. A lot of viewers were very happy to watch Shooting Stars because they thought, 'Oh it's a panel game – look, there's Jonathan Ross'. So we made House of Fools like a traditional sitcom, but then it surprises you and collapses!"
All the same, the duo admit that they were sorely tested at first by the exigencies of writing a sitcom. Mortimer acknowledges that, "When we started, we thought, 'All we need is to make it hilarious for 27 minutes'. But in fact that never works. The story must always come first. You can't just have someone come into the room because he wants to go to the toilet. You have to have a reason for everything."
Like the characters in so many great sitcoms – The IT Crowd, say, Father Ted or Porridge – Bob is stuck in the House of Fools and unable to extricate himself from a hopeless situation. Mortimer observes that, "There's an easy solution staring Bob in the face, but he never takes it. All he needs to do is change the locks, and that would solve all his problems. Why does he never do it? Because then he'd be completely on his own and even more unhappy."
'House of Fools' begins tomorrow at 10pm on BBC2
Register for free to continue reading
Registration is a free and easy way to support our truly independent journalism
By registering, you will also enjoy limited access to Premium articles, exclusive newsletters, commenting, and virtual events with our leading journalists
Already have an account? sign in
Join our new commenting forum
Join thought-provoking conversations, follow other Independent readers and see their replies