I Love Dick: Jill Solloway's new series is a work of art - but why are we all so obsessed with Dick?
There's a certain irony in the way the media has focused on Kevin Bacon's part in the filmmaking process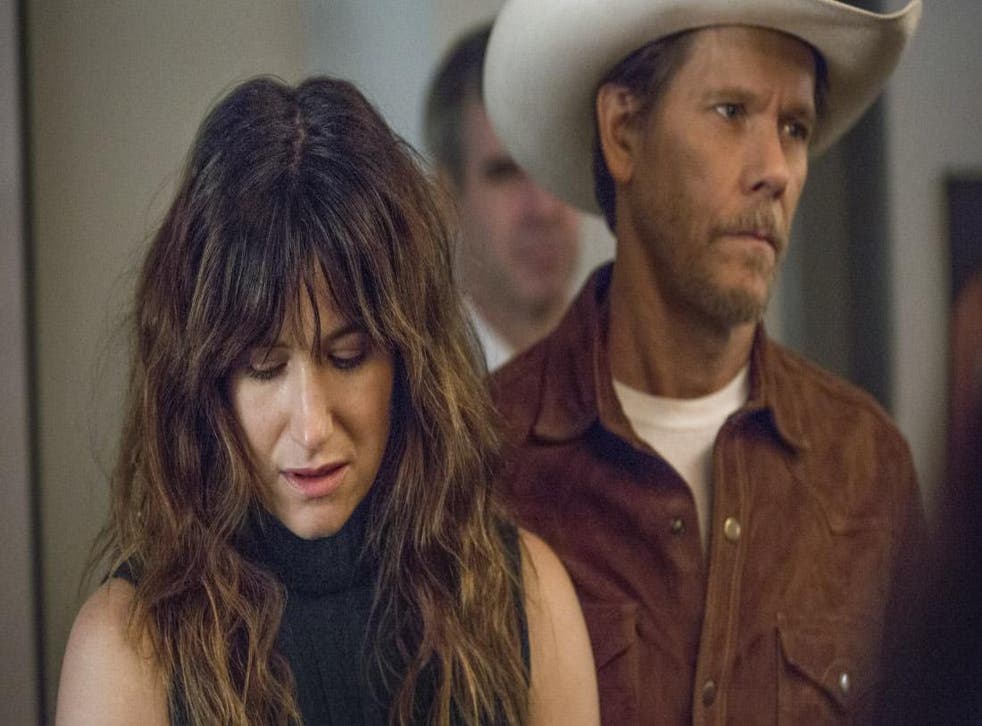 The world was not ready for Chris Kraus when she first published her half-memoir, half-fiction treatise I Love Dick two decades ago.
Critics disregarded her 1997 work as art-world "gossip" and its debut made little more than a faint ripple in the literary sphere.
But now, I Love Dick has had a second coming, gaining a cult following among feminists in recent years and being reborn in director Jill Soloway and playwright Sarah Gubbins's new TV series adaptation, released on Amazon last week.
And thank goodness too, because while the world was busy crashing out of the Nineties and into the new millennium, it very nearly missed one of the greatest writers of our time.
Kraus's work is nothing short of genius – in the same vein as Robert Pirsig's Zen and the Art of Motorcycle Maintenance – and yet the author has never received the acclaim she deserves.
Yet, after binge-watching the series and pouring over subsequent reviews, I can't help but ask myself: 20 years later, could it be that the world still isn't ready for Chris Kraus?
I was pages away from finishing her book when I learned of the Transparent director's new TV series, featuring Kathryn Hahn and Kevin Bacon.
"Kevin Bacon stars in the new Amazon original I Love Dick," the headline read. Elsewhere: "Kevin Bacon is happy to still be a sex symbol at 58".
Of course, anyone who has read Kraus's book will know why there's a certain irony in the way the media has focused so heavily on Bacon's part in the filmmaking process.
Access unlimited streaming of movies and TV shows with Amazon Prime Video Sign up now for a 30-day free trial
Sign up
Blurring the lines between fiction and memoir, I Love Dick has been billed as an exploration of the writer's psycho-sexual obsession with media theorist Dick Hebdige, who Kraus, a writer and filmmaker, meets through her husband, academic Sylvère Lotringer. But ultimately, this story is about much more than obsession.
The book is a stunning theoretical examination of the power dynamics in relationships between men and women. And, at the centre, a defining question: "Who gets to speak and why?"
"WHO GETS TO SPEAK AND WHY," Kraus writes in all caps at one point, "IS THE ONLY QUESTION." It's one that Soloway and Gubbins's TV adaptation spends as much time asking as it does answering.
The series largely sticks to the script of the book, with Kraus's infatuation with Hebdige leading her and her husband to start writing a series of letters to the media theorist. When they start actually sending the letters to him, things start to get more complicated. What results is a complex love triangle in which the two men seem to negotiate their own relationship and standing in society though Kraus.
From the onset, the show does an excellent job of conveying the casual sexism Kraus is up against when she decides to move with her husband to Marfa, Texas for his fellowship at the Marfa Institute.
"The institute fellows don't usually bring wives-slash-partners," Kraus is told by one of her husband's peers. "That would be a distraction."
In her book, Kraus expertly breaks down the problem of sexism in the art world in just a handful of words: "Art supercedes what's personal. It's a philosophy that serves patriarchy well."
Soloway and Gubbins's adaptation has already been proclaimed as "TV's most feminist show" for its intersectionality and sharp focus on the "female gaze", a term coined by film critic Laura Mulvey in 1975 to address the way in which women in media representations are often portrayed – and objectified – through the "male gaze".
But what Kraus tries to make clear in her book is that "Dick" – the object of her obsession – could be any male figure. As Joan Hawkins writes in the afterword, what this is really about is how "even in the most enlightened circles – women continue to function as an object of exchange".
Amazon Prime original TV shows you should be watching

Show all 14
Reading through the slew of articles and interviews focusing on Kevin Bacon's role in the show and exploring how he feels about being "a male sex object", I couldn't help but feel that Kraus's message had been lost somewhere among some viewers. If the question is "who gets to speak?", the answer still seems to be Kevin Bacon.
Tawdry advertisements for the series have done little to help; I was disappointed to see Kevin Bacon's name appearing before Kathryn Hahn's, with a lipstick line drawn from the name "Dick" to his own. Further disappointment came with the credits for the show, Bacon's name again appearing before Hahn's. Do I dare ask how much each actor has been paid? I'm afraid to know the answer.
Was it a mistake to cast such a big name to play a character that is ultimately meant to be a tabula rasa upon which Kraus could project her thoughts? In my opinion, we can't blame Bacon for stealing the spotlight – but we media folk, creators and critics alike, can claim some responsibility for where we choose to shine it.
Ultimately, it is difficult to find fault with a series that accomplishes so much that the vast majority of visual art fails to achieve. But if you really want to send the message home, you have to go all in. After all, Chris Kraus did and it took 20 years for her message to fall on ears that were willing to listen.
Register for free to continue reading
Registration is a free and easy way to support our truly independent journalism
By registering, you will also enjoy limited access to Premium articles, exclusive newsletters, commenting, and virtual events with our leading journalists
Already have an account? sign in
Register for free to continue reading
Registration is a free and easy way to support our truly independent journalism
By registering, you will also enjoy limited access to Premium articles, exclusive newsletters, commenting, and virtual events with our leading journalists
Already have an account? sign in
Join our new commenting forum
Join thought-provoking conversations, follow other Independent readers and see their replies