rising stars
Paapa Essiedu: 'Drama school was a confusing place to be black – I played people who murdered my own ancestors'
The 'I May Destroy You' star has broken through as Arabella's gay friend Kwame but the path has not been easy. He tells Ellie Harrison about racism in theatre and why black men aren't seen as victims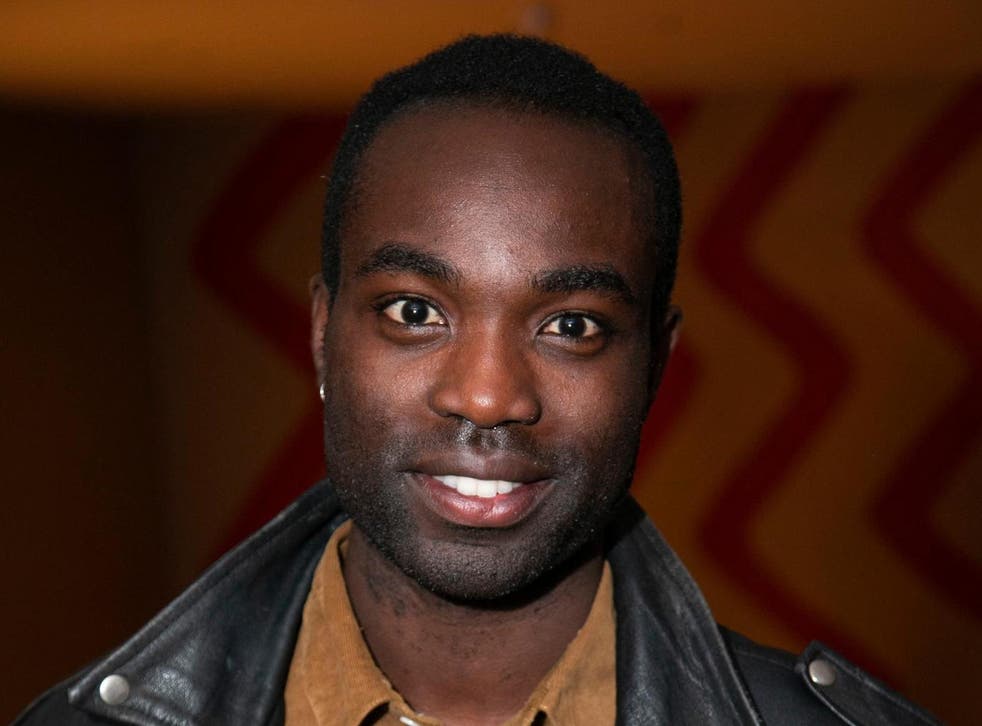 When we hear the word assault, we expect it to be something that predatory men do to women," says Paapa Essiedu. "It's such a binary perspective that doesn't take into account the different sexual dynamics that exist."
I May Destroy You – the BBC's earth-shaking, unflinching consent drama starring Essiedu as Kwame, a gay man who is abused on a Grindr date – takes that assumption and blows it out of the water. The show was created by Michaela Coel, who plays Arabella, a writer who is drugged and raped on a night out. As her best friend, Kwame is there to hold her hand throughout the ensuing police investigation. Then, in the fourth episode, he suffers his own attack, when a man he meets for consensual sex refuses to let him leave, pinning him down and assaulting him.
"I've spoken to people who have been through very similar things to Kwame," says 30-year-old Essiedu from his girlfriend's house in Finsbury Park, where he's been spending lockdown. "It's weird that this feels like a radical portrayal of rape, because it's an experience that so many people can literally relate to."
The rape knocks Kwame sideways. Where he was once so assured and empowered, bouncing from aerobics classes to casual hook-ups and back again, he becomes watchful and wary. "It's like flipping a sixpence," says Essiedu. "From that point onwards, he's treading water and struggling to reclaim who he was."
The actor – who has previously played a manservant and a tabloid journalist in BBC dramas The Miniaturist and Press respectively, and a crooked businessman in Sky's Gangs of London – finds it refreshing that I May Destroy You portrays a black man who isn't "hypersexualised, criminalised or impoverished".
"It's crucially important that we honour the richness and fullness of the whole spectrum of what black men can be on television," he says.
Society's monolithic perception of black men plays into the plot of I May Destroy You. When Kwame reports his assault to the police, he is met with a total lack of respect and empathy. "Kwame is not just a man who's been abused by a man," says Essiedu. "He's a black, gay man who's come to the police in this country for help, so there are a lot of different things that are intersecting and playing against him. I do think there are elements to our justice system that are both racist and homophobic. You can see that by the statistics around reported crimes versus conviction rates."
Figures on sexual assault victims who are both Bame and gay were not available from the Home Office; however, conviction rates for rape, in any demographic, are far lower than other crimes, with only 3 per cent of reported rape cases ending in a conviction for the perpetrator in the year ending March 2019. "There isn't space for black men to be seen as victims of crime within our system," Essiedu continues. "Black men are expected to be perpetrators. When Kwame tries to position himself as a victim, realising what has been done to him, he is met with ridicule, trivialisation and rejection."
I May Destroy You has forced many viewers – Essiedu included – to question past sexual experiences they may not have realised were non-consensual or problematic. "I've been looking back at myself since the #MeToo movement," he says. "Sex education in this country is actually beyond a joke. The lessons are purely to make boys feel petrified of impregnating girls just by looking at them. The teacher doesn't want to teach it and the kids don't want to learn it. We're not introduced to a lot of the rules around sex when we're young, meaning so many people are making it up as they go along."
Access unlimited streaming of movies and TV shows with Amazon Prime Video Sign up now for a 30-day free trial
Sign up
Essiedu went to The Forest School in Walthamstow, east London, after winning a scholarship to attend the private college. He was raised by his mother, a fashion and design teacher, after his father left for Ghana when Essiedu was a baby. "In Nineties Walthamstow there weren't any vegan cupcakes or oat-milk macchiatos to be found," he says, laughing. "We didn't have much money, but I've got fond memories of Walthamstow market, where there were proper East End greengrocers next to Romanians trading trinkets and Jamaicans selling dragon fruit."
After school, Essiedu's plan was to study medicine at University College London. He was on the verge of going, and had even been allocated a room in its halls of residence, when he made a sudden U-turn and rejected his place to pursue acting. He was accepted into Guildhall School of Drama, where he met Coel. "I was starting from nothing," says Essiedu. "In the minds of the people who ran Guildhall, an actor was a Tom Hiddleston, an Eddie Redmayne, a Damian Lewis, therefore the curriculum was geared towards that."
Essiedu and Coel performed in restoration comedies, David Hare plays and Greek tragedies at Guildhall. "It was a really confusing place to be black," says Essiedu. "We were doing these plays about high society, which is based on slavery and a class system that historically oppressed, brutalised and murdered our ancestors." He says he had to do "mental gymnastics" to figure out how to play the oppressor, "because apparently that's how you become a good actor".
He recalls doing a make-up class where a white teacher didn't know how to paint bruises dark enough to show up on black skin, and an incident where a teacher called him the N-word.
"It was mad," says Essiedu, explaining that a tutor, who was supposed to be directing, used the slur during an improvisation exercise. "We were all playing prisoners and she was the officer. She shouted the N-word and, as the only two black people in the group, me and Michaela looked at each other in horror. It was under the guise of, 'Oh, it's an improvisation, I was in character.' But she wasn't even in the play, you know, so... That school was definitely not a safe place for black and brown people."
Guildhall did not respond directly to Essiedu's accusations, but when contacted for comment by The Independent, a spokesperson said: "Guildhall School condemns racism and other forms of prejudice in the strongest possible terms and stands with all communities in tackling racism." It added that since the resurgence of the Black Lives Matter movement, the school has "pledged to review its acting programme; appoint more black teachers and teachers of colour; provide specific resources for education in anti-racism, allyship and unconscious bias; offer clearer guidance about how to make a complaint and log micro-aggressions; increase the provision of mental health support for black students; and work with external experts to help inform the school's plans".
Essiedu was 20 and partway through his acting studies when he lost his mother to cancer. "She was easily the most important and inspirational person in my life, and the real driving force behind everything I'd achieved up to that point," he says. "It was a big loss, especially to begin with. But grief is a funny thing. Much like trauma, it's not something you leave behind or stop or beat or destroy. It's something that becomes a part of you and that you carry with you. Now, it's part of my politics, my work ethic, how I am with my friends and my partner and everything. It's bittersweet and I feel lucky to have had someone like my mum who was such an incredible caregiver."
After Guildhall, Essiedu earned great acclaim for his performance as the Royal Shakespeare Company's first black Hamlet in 2016. His casting was regarded as a watershed moment for diversity in British theatre, but Essiedu is not convinced. "Even saying that it's the first black Hamlet gives the impression that there should be some sort of gratitude or luck involved," he says. "It's very self-congratulatory on the part of the producer. We need to look at the canteen workers, the crew, the directors – what are their backgrounds? Racism in these institutions is structural, and it can't be solved by a cosmetic change on the front face."
Essiedu believes there is prejudice against black theatre practitioners at every level. "Going back to what happened to us at Guildhall, it's all very well letting three black actors in, but if the space is not constructed to make it safe for us to be there, you're not making any progress, you're just putting vulnerable people in danger." He is disappointed that even after playing the iconic prince, he had to work harder than his white contemporaries to get the same opportunities.
Essiedu's play Pass Over, a politically charged drama about racism and police brutality at London's Kiln Theatre, was midway through its run when it shut down in March because of the pandemic. And he has just appeared in The Royal Court's online series My White Best Friend (and Other Letters Left Unsaid), exploring racial tensions in modern society.
Essiedu wants to do more projects that align with his politics and world view. But he is worried about the future of theatre. "We're going into such an economically difficult time, how do we allow ourselves to respond to that?" he asks. "Do we become more conservative? Or do we double down on recreating an industry that represents a wider scale of people's experiences?" I have a sneaking suspicion that Essiedu will settle for nothing but the latter.
'I May Destroy You' is on BBC iPlayer now
Read the rest of our Rising Stars interviews here.
Register for free to continue reading
Registration is a free and easy way to support our truly independent journalism
By registering, you will also enjoy limited access to Premium articles, exclusive newsletters, commenting, and virtual events with our leading journalists
Already have an account? sign in
Register for free to continue reading
Registration is a free and easy way to support our truly independent journalism
By registering, you will also enjoy limited access to Premium articles, exclusive newsletters, commenting, and virtual events with our leading journalists
Already have an account? sign in
Join our new commenting forum
Join thought-provoking conversations, follow other Independent readers and see their replies