The Saturday interview
Imelda Staunton: 'I don't know why serious actresses wear those figure-hugging dresses'
The celebrated stage and screen actor is playing the mother of a real-life murder victim in ITV's 'A Confession'. She talks to Alexandra Pollard about meeting her counterpart, the 'stupidity' of awards ceremonies, and why the hard-up should forego other treats for the theatre
Friday 30 August 2019 18:33 Comments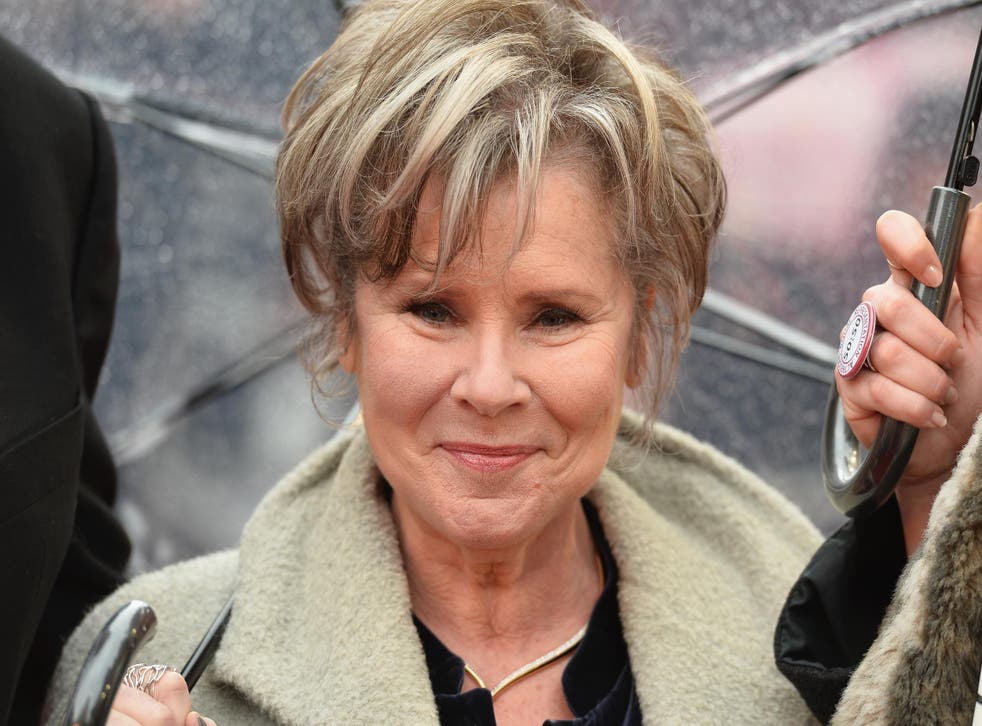 Not for the last time today, Imelda Staunton is telling me off. We're discussing her role in ITV's new six-part, real-life drama A Confession, in which she plays the mother of Becky Godden-Edwards, who was murdered in 2003. It's distressing to watch, I say. "Well yes, of course it is," she replies. "It's about two bloody dead daughters."
The 63-year-old actor, sitting in a glass-walled room inside ITV's London studio, has a quietly formidable air. But it requires a staunch character to take on the task of playing Karen Edwards. Her daughter Becky was a lifelong drug addict, and Edwards tried repeatedly to help her get clean. In one particularly harrowing flashback scene, we see Becky spit in her mother's face during a forcible drug detox. When Becky went missing, Karen searched doggedly for years before her daughter's body was discovered. She had been murdered by taxi driver Christopher Halliwell (played with eerie calm by Joe Absolom).
Despite leading police directly to where she was buried – "Do you want another one?" Halliwell said, after admitting to the murder of another young woman, Sian O'Callaghan in March 2011 – the killer's confession was deemed inadmissible, because the police officer in charge had failed to caution him (Halliwell was eventually found guilty of Becky's murder at a trial in 2016). That officer, Steve Fulcher, played by Martin Freeman, was accused of gross misconduct and forced to resign. A Confession brutally and painstakingly dramatises the controversy.
Staunton met the real Karen Edwards before they started filming. "We had a five-hour meeting, and it was exhausting," she says. "It's an unimaginable place that this poor woman is living in. None of us are doing impressions of anyone, but I just wanted to sense her essence and her energy and the sort of person she is. Karen's got a wonderful suit of armour. She's terribly strong. Her daughter's life wasn't easy before her death."
Unsurprisingly, she kept to herself during the shoot. "I don't laugh around and chat a lot when I'm doing those scenes," she says. "I'm not there to entertain the crew, I'm there to do my job. Whereas on Vera Drake, for months and months, we were just living as this sort of family."
Staunton was nominated for an Oscar for her role in that extraordinary 2004 film. She gives a devastating, understated performance as the title character, a working-class woman who provides young women with free, illegal abortions at great personal cost. The film's director, Mike Leigh, has a famously intense improvisational process; none of Staunton's cast mates knew the truth about her character until several months in. She had been sworn to secrecy. "There's a scene where I'm arrested," she recalls. "I didn't know that it would happen. I felt like I was having a heart attack. That day was something none of us will ever forget – the intensity, the fear, the upset and the shock."
For Staunton, the experience of making that film far surpassed the glitz and glamour of the Academy Awards. "I was 48, my head wasn't going to be turned by anything at all. The louder they get, the quieter I get. I just find it all…" She rolls her eyes. "You just think, 'Oh, shut up!' They're shouting, 'Is this the most exciting day of your life?'" she adds, adopting an unflattering American accent. "Obviously it's the most exciting day of your life, because you've gone bonkers. So yeah, it was lovely, it was great, we had a wonderful time, but it was mixed for me. Also, my mum had died suddenly, and I didn't tell the press or anything. So it wasn't a joyous thing. My mum died, and that was a shock, and then I just had to carry on and do all the rounds."
Even without the added burden of grief, it always seems supremely stressful to be photographed by hundreds of paparazzi on a red carpet. "It's stupid," says Staunton. "They go, 'IMELDA!' They ask all those poor girls who are in those dresses, 'Right turn around, turn around, look back, look back.' You want to go, 'Just take the picture.'" There's a limit to her sympathy, though. "For women now, I think, 'Stop wearing those dresses, girls.' I don't know what the pressure is on serious actresses to wear those clothes. Come on ladies, we're trying to move it on, so maybe don't wear that figure-hugging thing. But then, they want to be able to say that's what they want to wear. It is tricky. That's one night of your life. It's fine as long as you don't believe it."
Staunton would much rather just stick to her day job, and then go home to her family. She's married to Downton Abbey star Jim Carter, and has a daughter Bessie, who's in her 20s. "I avoid the showbiz glare. I like to just get on with my life," she says. "After work, I don't want to then have to dress up and be with people talking about the job I do. No, I just do the job and then I go home and do my shopping and my cooking. There's no doubt that that other side of the business has increased a million-fold. It's all just noise and fluff and filler. The word celebrity makes me feel sick when it's applied to me, because I'm not. I'm a jobbing actor. That's really all I want to do, and I don't know what all that other stuff's about."
Access unlimited streaming of movies and TV shows with Amazon Prime Video Sign up now for a 30-day free trial
Sign up
The highest-rated TV shows on IMDb

Show all 10
Since Vera Drake, Staunton has starred in the Harry Potter series, as the gently sadistic Professor Umbridge, as well as Another Year (2010), Maleficent (2014), Pride (2014) and both Paddington films. But it is on stage that she has climbed to the very highest echelons, winning multiple Olivier Awards for musicals such as Into The Woods, Guys and Dolls, Sweeney Todd, Gypsy and, most recently, for her heartbreaking turn in Follies.
I tell her how much I loved Follies, which I saw just before ageing out of the National Theatre's cheap ticket deal for under-25s. These days, I go to the theatre less, I admit. "So what else would you spend your money on?" she asks. Oh. Um. "If you like the theatre, just think, 'Well I won't have that. I'll put that money towards the theatre.' Put some money away every week, just two pounds or five pounds a week." Right. I suppose I'll give that a go.
"A lot more young people are going to the theatre now," she continues. "And there's a lot more different theatres. My daughter goes to loads, so I think it's available. It surprises me that people go on about the cost of theatre, and yet a family will still go and see The Lion King. That's going to set them back £400. If they couldn't afford it, they wouldn't be going, so it wouldn't be there. But obviously, there are people who can afford it. Football matches cost a lot of money. I think more than that, it needs to be diverse, and having plays written by different people, not just the same few people."
On that part, at least, we can agree. For one thing, in Staunton's view, that might lead to the creation of more female characters who are imperfect, even unlikeable. Her character Mama Rose, in the Sondheim musical Gypsy, is a domineering stage mother who tried to live vicariously through her daughters. Staunton once said that it was only because Rose was a woman that she was simply perceived as a monster.
"Unlikeable people, they're good characters, aren't they?" she says. "They're flawed. And flawed people are much more interesting."
'A Confession' starts at 9pm on Monday on ITV1
Register for free to continue reading
Registration is a free and easy way to support our truly independent journalism
By registering, you will also enjoy limited access to Premium articles, exclusive newsletters, commenting, and virtual events with our leading journalists
Already have an account? sign in
Join our new commenting forum
Join thought-provoking conversations, follow other Independent readers and see their replies