Is this the end for Jeremy Clarkson?
Jeremy Clarkson is no stranger to race rows. While the BBC decides what to do with its out-of-control cash cow, Sean O'Grady explains why the car firms should steer clear
Sean O'Grady
Tuesday 06 May 2014 15:01 Comments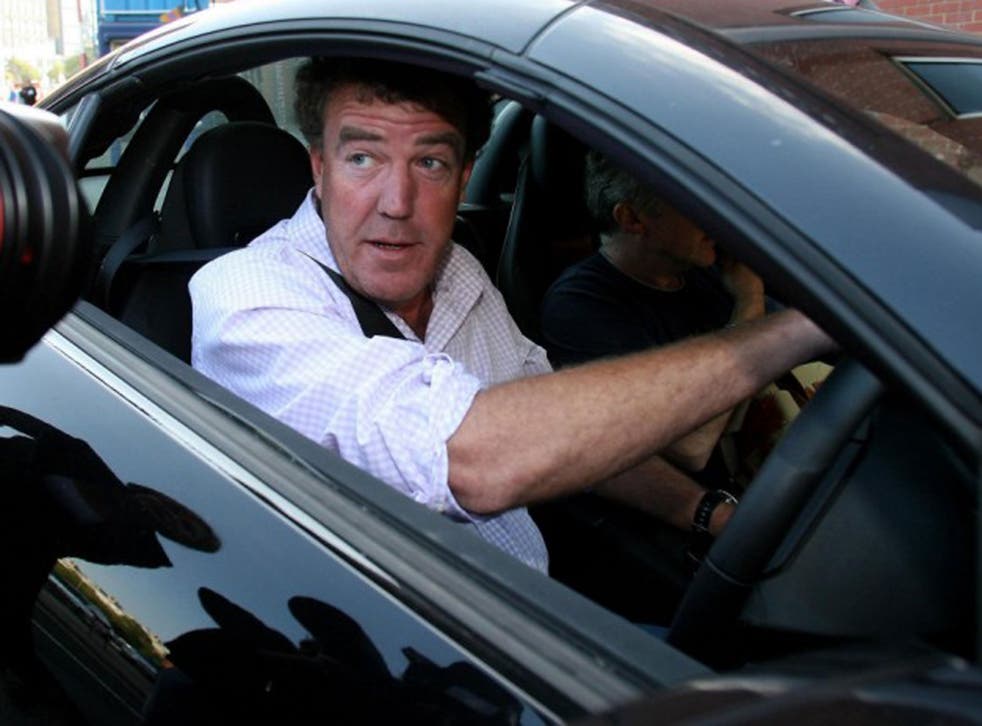 By now, most of us can list Jeremy Clarkson's more offensive recent utterances: the "n word", most unforgivably; the "slope" on a Burmese bridge; and, with Top Gear co-presenter Richard Hammond, playing Beavis to Clarkson's Butthead, those lazy, flatulent Mexicans. Plus an entire "special" that spent something like an hour taking the mickey out of the Indians.
This, though, is only the New Testament of the prophet Clarkson's lazy national stereotyping and borderline racism. There is, too, an Old Testament: Clarkson on Cars, a compendium of Clarkson's columns published by the right-on Richard Branson's Virgin books and sitting on a shelf at an Age UK shop near you. This volume came out in 1996 and the words would have been first published in the years before, so, yes, a good couple of decades ago. It's not Der Stürmer, but it is heady stuff, even by the standards of the time.
Even then we were definitely in a more enlightened, post-Bernard Manning, post-Enoch Powell era; think Ben Elton, the first series of Goodness Gracious Me and the salad days of Tony Blair. My point is that, far from Clarkson's recent antics being just another schoolboyish pushing at the boundaries of political correctness and all that, it actually speaks to a pretty unpleasant and long-established mindset.
Jeremy Clarkson's Top 25 Most Obnoxious Lines

Show all 26
So I would like you to savour Mr Motormouth's sentiments in their full vintage glory. (However, like flash photography on rolling news, I should issue a warning that you should look away if you're liable to have a fit when viewing such material.)
"If it turns out that a Malaysian customs officer cannot be bribed, I shall renounce Christianity and move to the Orkneys where, I'm told, everyone is Lucifer's best mate."
"We know also that the French are rude, the Italians are mad and the Dutch are a bunch of dope-smoking pornographers."
"Each Wednesday, I have to make a 120-mile journey from Nairobi, south London, to Bombay, near Birmingham."
"If you happen to be a homosexualist Cypriot, you cannot expect everyone in the whole borough to finance your perversion."
Access unlimited streaming of movies and TV shows with Amazon Prime Video Sign up now for a 30-day free trial
Sign up
Lastly, I offer you this paradigm of multiculturalism from Jeremy Clarkson's Motorworld: "My only experience of Vietnamese people was either at a restaurant in Fulham or as a lot of scuttling midgets in straw hats throwing hand grenades into Huey helicopters."
Are you cringing, Jeremy? If you are, then you might, just, however tenuously, understand the collective embarrassment the rest of us feel when you used the "n word" – although nowhere near the hurt that some will feel at such a loaded piece of language. Imagine for a moment that you are a typical car-loving 11-year-old boy, just attaining automotive puberty by putting a poster of a Bugatti Veyron on your bedroom wall.
You play Top Trumps and car-based computer games where you pretend you're punting a Porsche round the Nürburgring. You have endless playground arguments about Evos and M5s and GTIs. You avidly watch "the boys" on Top Gear. And you're black. I think it fair to say you might feel a bit disappointed when you see what your favourite BBC personality says when there isn't anyone black around.
As the BBC showed in the Jimmy Savile affair and in its painfully reluctant and lenient treatment of Jonathan Ross, it is all too ready to believe that its major stars are "too big to fail", to borrow a concept from finance. They aren't, of course, as countless supposed shock defections to ITV, from Morecambe and Wise to Adrian Chiles, show too well. Yet Clarkson represents a lucrative stream of global income for its commercial arm and leads the ratings for BBC2. The corporation's timidity is as understandable as it is wrong-headed. On the other hand, the licence-payer helps pay his wages. Perhaps a viewer boycott would help change their minds and make them do the right thing.
Most shame-faced of all should be the men and women who run the PR departments of the car companies. They are civilised and sensible people; they have cars to sell and, thus, to be filmed and, fingers crossed, praised by Clarkson – but they have corporate reputations to protect, too. I wonder what they make of the "n-word" affair in Detroit? And in Munich and Turin.
If I was running Toyota or Subaru's British activities, I'd be ashamed to see "my" cars in the infamous clip with the recidivist Clarkson. Commercial pressure from sponsors, advertisers and big companies is the most powerful weapon in a case such as this; remember how they humbled Tiger Woods and shut down News of the World. Clarkson shouldn't be so difficult to take down. Who's going to be first off the line in the race to ditch Jezza? BMW? Ford? Hyundai? Mercedes-Benz? Fiat? After what he once did to the Vectra, my money's on Vauxhall.
Register for free to continue reading
Registration is a free and easy way to support our truly independent journalism
By registering, you will also enjoy limited access to Premium articles, exclusive newsletters, commenting, and virtual events with our leading journalists
Already have an account? sign in
Join our new commenting forum
Join thought-provoking conversations, follow other Independent readers and see their replies