Jack and Karen: The real stars of Will & Grace
Sean Hayes and Megan Mullally on Trump, Madonna and why 'Will & Grace' still matters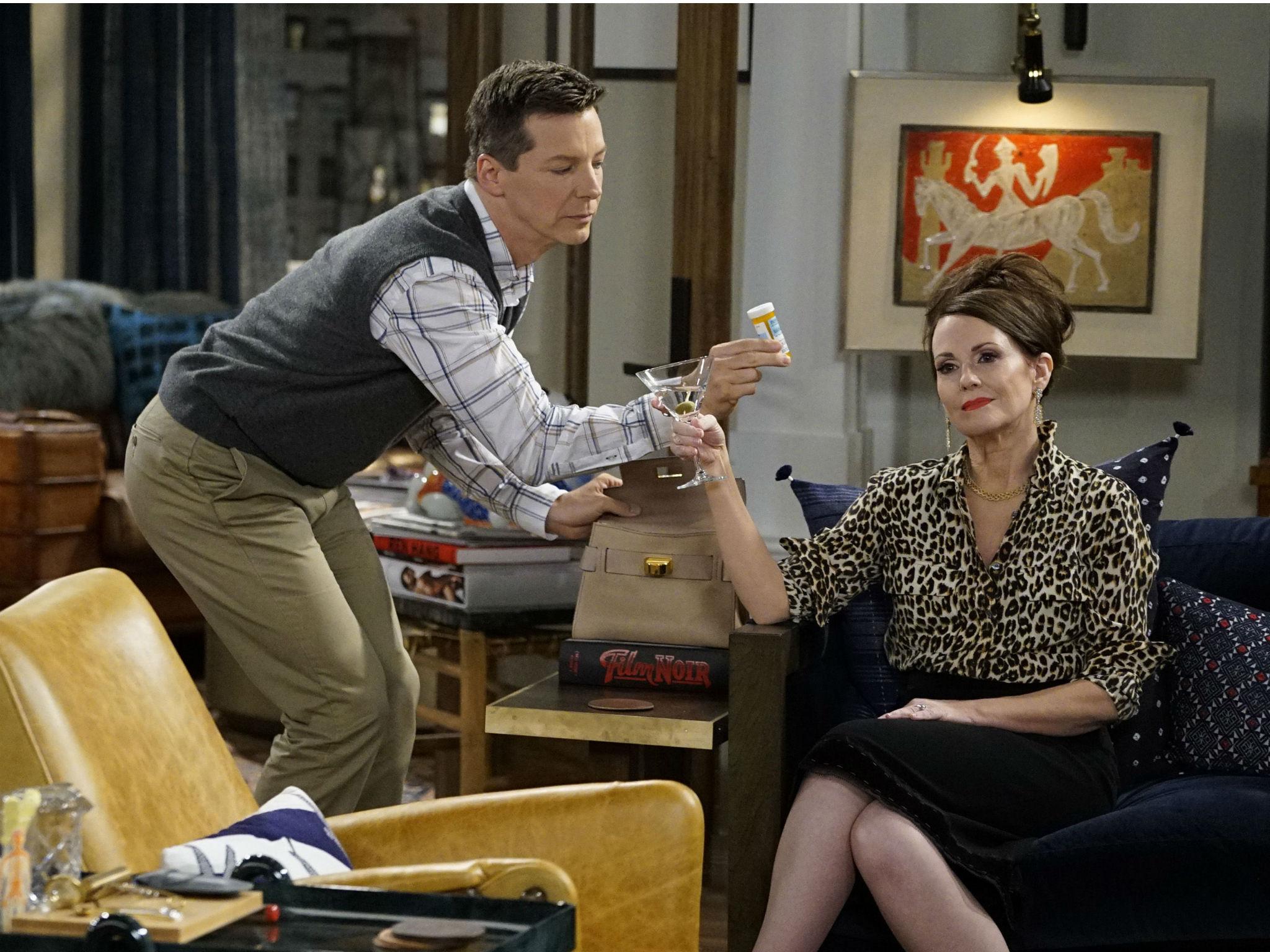 Almost exactly 20 years ago to the week, Eric McCormack, a 34-year-old jobbing Canadian actor best known for his role in the TV western Lonesome Dove, and 29-year-old New Yorker Broadway actress Debra Messing, who had played Jerry Seinfeld's girlfriend in two episodes of Seinfeld, auditioned for the roles of gay lawyer Will Truman and his BFF flatmate Grace Adler in an NBC sitcom to be called Will & Grace.
Also auditioning for the parts were Sean Hayes and Megan Mullally, both of whom lost out to McCormack and Messing, only to be called back to play Will's flamboyantly gay neighbour Jack and Grace's dipsomaniac socialite "employee" Karen. To say that Hayes and Mullally stole the show from the titular leads is the sort of understatement that would be alien to either Jack or Karen.
"It was Sean's first television show at the age of 27," says Mullally. "I'll never forget when we shot the pilot and the minute he walked out and said his first lines the audience went ape. The laughs he got, rolling laughs that would go on for a minute, and I thought this show is going to be a hit if for no other reason than this guy."
Hayes is equally effusive about Mullally, a former dancer who back in 1998 was the most experienced sitcom actor of the quartet, having appeared in Seinfeld, Frasier and Mad about You, and who was initially reluctant to take the role of wisecracking, martini-quaffing Karen – deeming her too similar to a character in the popular Cybill Shepherd comedy Cybill. "Christine Baranski had played this rich, sassy sidekick and I felt it seemed very Christine Baranski. And then I thought 'mmm, I can make it kind of weird'."
Hayes and Mullally are in London with the rest of the cast to help celebrate Will & Grace's triumphant return to our screens, 11 years after its seeming dispatch into TV oblivion, the resuscitated show currently being broadcast in the UK on Channel 5. At a cast Q&A at Bafta, titular stars McCormack and Messing had to dash off early to appear on The Graham Norton Show: to judge by instinctive and uproarious comic timing of Hayes and Mullally, Norton booked the wrong guests.
The original Will & Grace screened in the UK on Channel 4 and ran for eight seasons between 1998 and 2005 and is credited with changing the perception of gay people by no less than the then US Vice President Joe Biden, who said in 2012: "I think Will & Grace did more to educate the American public than almost anything anybody has ever done. People fear that which is different. Now they're beginning to understand."
"The wonderful by-product of this comedy is that we actually educated people without them knowing it," says Hayes. Indeed when the show began in the Bill Clinton era, gays were outlawed by the military, gay marriage wasn't legal and that there was something called the Defence of Marriage Act to "express moral disapproval of homosexuality".
But if America is a more tolerant nation now, large parts of the rest of the world have yet to catch up. Hayes believes that why it's s important that NBC has now sold the revived show to 153 territories, including, for the first time, Russia and the Middle East. "We're even in Afghanistan," he says.
It's interesting and not entirely coincidental that Will & Grace has returned at a dark time for liberal Americans of all sexual persuasions. It followed the show's co-creator Max Mutchnick's reclaiming the original set, which he had donated to his alma mater, Emerson College in Boston (they no longer had room for it).
Access unlimited streaming of movies and TV shows with Amazon Prime Video
Sign up now for a 30-day free trial
Sign up
Access unlimited streaming of movies and TV shows with Amazon Prime Video
Sign up now for a 30-day free trial
Sign up
The set safely transported back to LA, Mutchnick then invited the former Will & Grace stars to slip back into character and use the set to film an online short in favour of Hillary Clinton during the 2016 election against Trump.
In the 10-minute special, Karen, an avid Donald Trump supporter, tries to persuade Jack to vote Republican, while Will and Grace, both Clinton supporters, try to persuade him to vote Democrat. In the end, Will reveals that singer Katy Perry is a Clinton supporter, which is enough to persuade Jack to vote for her also.
"We all did it for free," says Hayes. "And then millions and millions of views later on YouTube the network said 'Wait, they kind of look the same, the writing's amazing, maybe we should do this.'"
"I have a completely different take on this," interjects Mullally. "Because I got the script and as I read it I was feeling emotional. And I put it down and I emailed Max Mutchnick and said, 'why can't we just do the show again?'. And he emailed right back and said 'we can'.
"Apparently I'm a famous psychic and I just had this incredible knowing feeling that we could do the show again," she continues. "Which is weird because historically when you've done a show and it's over – it's over forever and ever"
It's interesting that two of the most groundbreaking of all US sitcoms, Will & Grace and Roseanne are returning in the Trump era. Roseanne Barr openly and vocally supports Trump, as will her character when the blue-collar comedy returns next month after an even longer hiatus of 21 years.
The opening episode of the new Will & Grace, by contrast, was an exercise in Trump-thumping after Karen secured Grace a job redecorating the Oval Office (which she accepts despite her political misgivings).
"The character of Karen is friends with Donny and Melania and a great supporter of Trump, but the most barbed deadly comments about Trump inadvertently come from Karen," says Mullally, who adds that it would difficult to make the show too topical. "Because every day, almost hour by hour, you don't know what sort of travesty has been committed, so it's kind of hard to write about when you know the episode is not going to air for two or three months. I think they've done a very good job of not keeping it too specific." Has Trump responded? "He hasn't tweeted at us yet."
"It's not supposed to be about Trump," adds Hayes. "The characters live in the same world as we all do so it would only make sense that we comment on it, but it's only a joke here or there if it makes sense and it's funny. We've other stories to tell other than Donald Trump – much to his surprise."
Despite the actors' and characters' remarkably youthful looks, they have inevitably aged since Will & Grace went off air in 2005; Mullally will be 60 this year, McCormack is 55, Debra Messing about to turn 50 and Hayes, the baby of the bunch, is 47 – and the rebooted show deftly reflects this.
"There's a real poignancy to the fact that the world is 11-and-a-half years older and in addition to the show being a comedy there's a subtle underbelly of us all being older," says Mullally, who is married to fellow actor Nick Offerman – Ron in Parks and Recreation and who has a guest role as bisexual celebrity baker in this Friday's episode of Will & Grace (Hayes's husband, musician Scott Icenogle, contributed a deliberately annoying advertising jingle to the same episode).
But what about the children Will and Grace were supposed to have had in the very last episode of season eight – Grace with husband Leo (Harry Connick Jr.) and Will with husband Vince (Bobby Cannavale) – the kids eventually growing up, meeting at college and marrying?
The writers duly dispensed with that inconvenient storyline in the first 45 seconds of season nine, in the time-honoured fashion of making the whole thing one of Karen's dreams. "They didn't want Will and Grace to be parenting so they would just pretend it never happened," explains Mullally, whose speaking voice is several octaves lower than Karen's weird way of speaking as if she's just sucked in a helium balloon.
"I didn't use the voice for the first few episodes," she says "It gets progressively higher and higher over the first 10 episodes. The show is essentially farce and my regular speaking voice is very laconic and it just didn't fit the energy of the show. Also, it's funny that a character who is so incredibly judgemental of other people should have such an annoying voice.
"Karen comes from the dark side," she continues. "I don't know what it is in me that understands that character because I'm so different in real life, I hope. It's the things you don't even dare think, let alone say out loud. She doesn't mean any harm, she thinks she's doing a public service."
As for Hayes, it's the sheer physicality of his performance that makes him stand out, whether pirouetting against Will's breakfast bar or twirling out of his apartment with a facial expression to match. "My heroes growing up were Steve Martin, Jerry Lewis [whom he played in the 2002 biopic Martin and Lewis] and John Cleese," he says. "I used to watch Fawlty Towers over and over and over as a kid and when John would do his walk. I love the communication through physicality. It's just more interesting to watch than just another sitcom with talking heads."
Cleese has, of course, had a guesting role in Will & Grace, along with an illustrious roll call that includes Madonna, Matt Damon, Glen Close, Michael Douglas, Joan Collins and the late Gene Wilder – prompting Hayes to tell his "Madonna story".
"She came in, did the table read and I knew she was nervous so to make her feel good I was praising her and saying 'it's funny when you do that'. And she said, quote, 'Thank you. I live for your approval'". Ouch.
'Will & Grace' continues at 10pm on Channel 5 on Friday
Join our commenting forum
Join thought-provoking conversations, follow other Independent readers and see their replies