The name's Norton... James Norton
Move over Tom Hiddleston. Could James Norton's role in the upcoming McMafia make him the next hot favourite to succeed Daniel Craig as 007?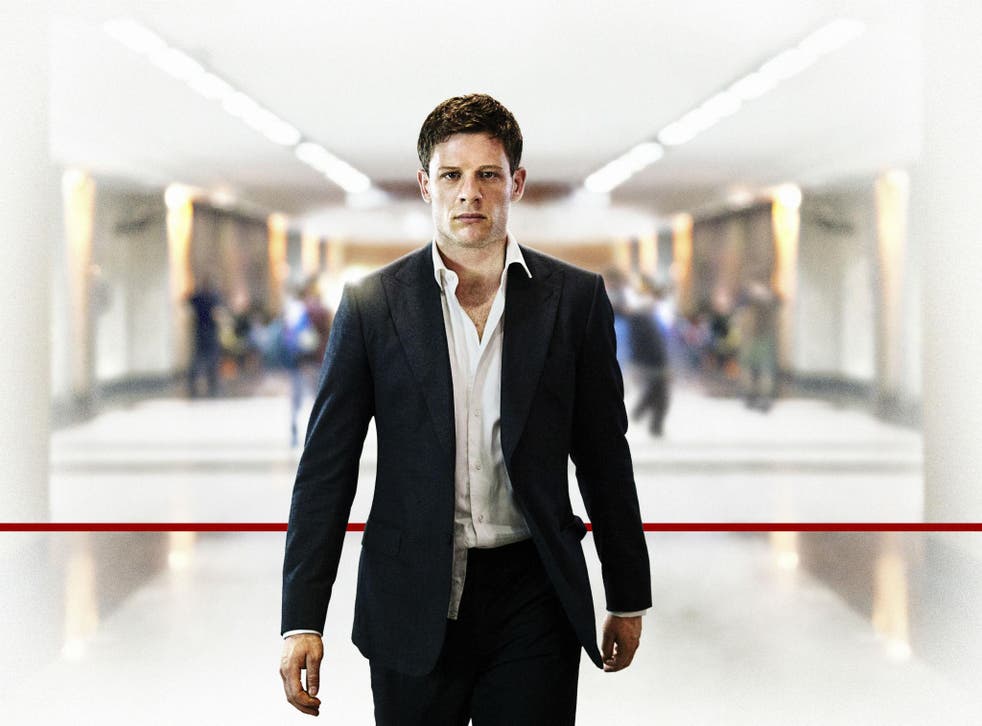 McMafia, BBC1's upcoming drama series about globalised gangsterism could, in a certain light, be seen as one epic showreel for James Norton to exhibit his potential prowess as the next James Bond. Not only do we see him emerging from the sea in his swimming trunks, à la Sean Connery in Thunderball, his torso obviously no stranger to the gym, but he also displays martial arts skills – and doesn't look bad in a tuxedo.
"I did warn James [Watkins, McMafia's director] and Hoss [Hossein Amini, the show's writer] that if they wrote the first scene with me getting out of a cab in a tux they would maybe stir something," laughs Norton. "But I'm personally very thankful that Daniel Craig is going to do at least one more film – or maybe a few.
"As for my physique, I think I just try to stay healthy. We were basically getting six hours of sleep a night and it was an eight-month shoot and catering was slim on the ground, because obviously it was the BBC..."
The Beeb's eight-part adaptation of journalist Misha Glenny's 2008 non-fiction book about the increasingly internationalised nature of organised crime is not short of ambition. Filmed across the world in locations including London, Mumbai, Moscow,Tel Aviv, Qatar and Cuba, more than 150 actors had speaking parts – many of them stars in their own country. "Maria Shukshina, we were told before she arrived, is the Meryl Streep of Russia, and Aleksey Serebryakov – I don't know if you've seen Leviathan, but he's extraordinary," says Norton, who had to learn some lines in Russian himself.
He plays Alex, the son of Russian emigres to London expelled by Vladimir Putin, who has been educated at an English public school and now works in the hedge-fund industry. However, his uncle operated more in the underworld and his gangster past now comes back to bite his nephew.
"Alex is a young hedge-fund manager living in London with his beautiful girlfriend Rebecca," says Norton. "Over the course of the show, for various reasons, he's forced to confront his past and the show is his story as he delves deeper and deeper into that criminal underworld.
"He has this very conflicted approach to being Russian. On the one hand, he's incredibly loyal and he feels it's an important part of him; on the other hand, he wants to escape it."
Part of the way that Alex keeps in touch with his Russian-ness is through a brutal-looking martial art called "systema", in which Norton's character is repeatedly punched and asphyxiated. "It's a genuine martial art and they have classes in London," says Norton. "They're run by this amazingly eccentric man called David whom I became very close to.
"We would meet in a room on our own and we would roll around and punch each other. The first thing he said to me was 'The thing about English people – when they meet fear they run away; in Russia we meet fear and shake it by the f***ing hand.'
Access unlimited streaming of movies and TV shows with Amazon Prime Video Sign up now for a 30-day free trial
Sign up
"It's all about taking the pain and relaxing through it and he would genuinely have his hand over my mouth and I'd have to hold my breath. At the point where your body is spasming and you're naturally getting terrified, that's when you have to push through. It's terrifying." And great preparation for the fighting the agents of Spectre, he doesn't add.
But if Bond was not a role model for playing Alex in McMafia, Norton found inspiration in other movies. "I watched Gomorrah [the 2008 film about the Neapolitan mafia] and we talked a lot about Michael Corleone in The Godfather."
It's a role that requires the actor playing it to have certain specific characteristics, qualities that Hossein Amini sees in Norton. "There's something very likeable about James", he says. "And I think he has a combination of being a brilliant actor but also he has that movie-star quality. I think it was very important for this character who, over the episodes, does some pretty ruthless things, for an audience to stay onside – to be shocked by him one moment but sort of fall in love with him the next."
Born in London in 1985 but brought up in North Yorkshire, Norton's parents were both teachers. He was educated by Benedictine monks at Ampleforth College, the "Catholic Eton", before going on to gain a first-class degree in theology at Cambridge University. A keen student actor, he then enrolled at Rada, leaving before graduation to take up an acting job – the role of Carey Mulligan's boyfriend in An Education.
Viewed as upper-class, it was perhaps unsurprising that Norton was cast in the original Royal Court production of Posh, Laura Wade's play about a fictionalised version of Oxford's Bullingdon Club, or indeed in Death Comes to Pemberley, PD James's murder-mystery involving characters from Pride and Prejudice. But his breakthrough role was something completely different – playing Tommy Lee Royce, the truly scary villain terrorising Sarah Lancashire's policewoman in Sally Wainwright's Happy Valley.
Norton has since said that he believes he won the role because he was auditioned remotely. "I was in South Africa," he said in 2015. "Which turned out to be lucky because as they didn't know that I didn't usually speak in a Yorkshire accent. But they took a risk, for which I will be eternally grateful."
With his theology degree and education by monks, playing a 1950s sleuthing vicar in ITV's Grantchester could be seen as a more natural fit, and from Grantchester to Duncan Grant, you might say, as Norton went on to play the free-spirited Bloomsbury dauber in BBC1's biopic Life in Squares.
From War & Peace to Black Mirror, by way of the stage (he's currently co-starring with Imogen Potts as an American couple in Paris in the Donmar's acclaimed production of Belleville), the 32-year-old is showing an impressive range that means perhaps that he should be less compared with Daniel Craig and more with Benedict Cumberbatch. And all this, he recently revealed, while suffering from type 1 diabetes.
"It's interesting being on stage or on set because your body is full of adrenaline and that screws up your sugar," he said in a recent interview to promote Belleville. "Especially when I'm on stage for a full hour and a half. I have to anticipate it at the beginning of the show and make sure my sugar levels are going up or are at least stable."
Norton says he went "method" for his role in McMafia. "Each actor is different but the process for me is collecting the data and forming the world," he says. "So I read books about the Mafia, Russia and finance, topics that I wasn't particularly up to date with. Then after that, I had to essentially put it aside and forget it and get myself into the head space the character would inhabit.
"I did this bizarre thing where I spent time as Alex doing really mundane stuff, such as buying milk or brushing my teeth, in his head space with his demons, his conflicts, desires and passions. It meant when I was on set and they called action, the head space became quickly familiar to me. I think it freaked people out when I walked about as a schizophrenic Russian banker and then would go back to being me but that's my process!"
If that makes Norton sounds as intense as Daniel Day-Lewis, who is famously said to never come out of character while filming, there are mitigating signs that he might be more lighthearted. One is his habit of trying to wangle his father, Hugh, into his productions as an extra – in War & Peace, Lady Chatterley's Lover, Grantchester and now in episode five of McMafia.
"He gets more press than I do," jokes Norton, who has said that the work as an extra is a great way for his father to see the world now that he has retired. Not that the world of McMafia is any laughing matter, says Misha Glenny, who feared for his life after completing his book.
"I was warned off going to Bulgaria and going to Montenegro after the book was published", Glenny says. "I took those warnings quite seriously – but when I've met people involved in organised crime because it's all based on interviews with gangsters and criminals, provided an interest in their lives and what they thought of as their career, they were quite happy to talk to me."
"Misha gave us some amazing facts", says Norton. "Stuff like a quarter of all tomatoes used are farmed using slave labour and most of the mobile phones we use have conflict minerals in them that are mined by children. The extent to which we are all complicit in this corruption is extraordinary – and terrifying."
'McMafia' is at 9pm on BBC1 on New Year's Day
Join our new commenting forum
Join thought-provoking conversations, follow other Independent readers and see their replies