Jerome Flynn: Game of Thrones and Ripper Street star is back in the limelight
One minute he was topping the charts as Robson and Jerome – the next he'd disappeared, seeking refuge in a religious sect. Now, starring roles in 'Game of Thrones' and 'Ripper Street' have catapulted him to success again... Can he handle it second time around?
Gerard Gilbert
Saturday 22 November 2014 01:00 Comments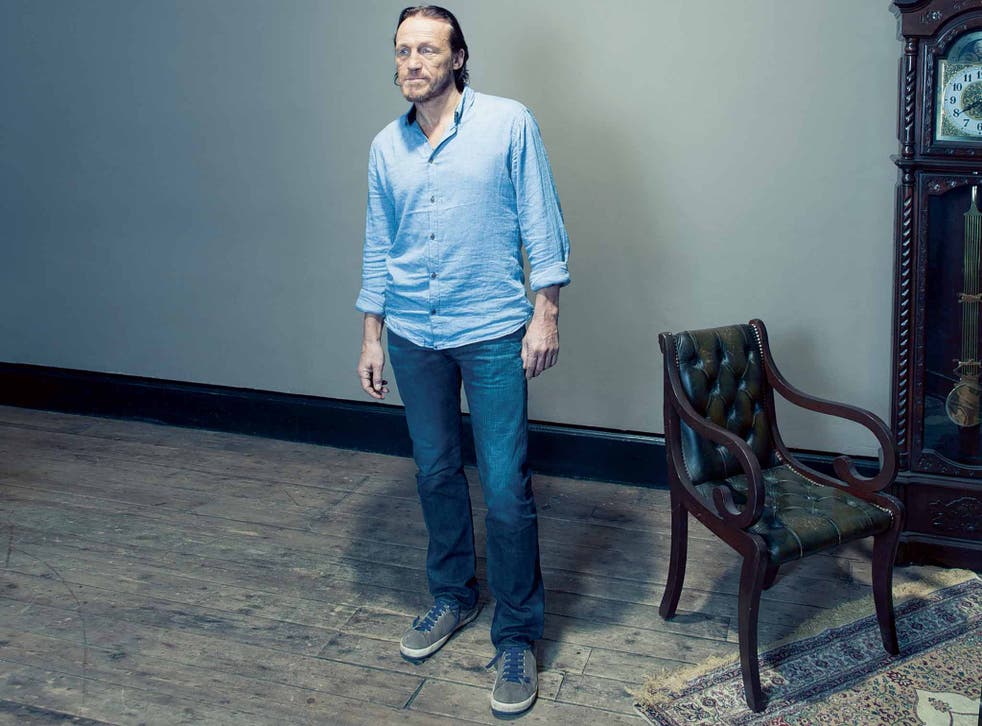 'It wasn't a cool thing to be in Robson and Jerome," says Jerome Flynn, as if suggesting something controversial. "But I'm in two really cool shows now so my street cred has come back."
I'm not sure whether Flynn's "street cred", as he puts (more like geek-cred), is "back", but he is not incorrect about being newly cool. For legions of Games of Thrones fans at least, many of them too young to remember his and Robson Green's crooning of "Unchained Melody", he is most definitely hip.
Back in 1995, Blur and Oasis might have been in their Britpop zenith, but Robson and Jerome outsold them both, and everyone else for that matter. And for those of us old enough to be able to tell their Robson from their Jerome, a potted narrative about Flynn's biography might go like something this: telly-famous thanks to the primetime ITV drama Soldier, Soldier; turned by Simon Cowell into one half of a blue-eyed, chart-topping pop duo, before Flynn gave it all up and retreated to a dilapidated farmhouse in Pembrokeshire and joined the Moonies. Now, older and hopefully wiser (or at least spiritually fulfilled), he's back, with roles in Game of Thrones and Ripper Street – the "two cool shows" alluded to above.
All of which is broadly true – except the bit about the Moonies. At the height of his pop success he in fact joined a spiritual 'community' called Enlightenment, featuring a Westernised mix of Hindu mysticism and Tibetan Buddhism and run by American guru Andrew Cohen – a controversial figure even with his own mother, who wrote a critical account of her time as one of her son's disciples.
"I think a part of me was looking for a Christ-like figure and Andrew fitted the bill at the time. And I think he wanted to fit that bill. But I had eight pretty extraordinary years there and I don't regret the time at all, especially immersing myself in meditation," says Flynn, who, in the 51-year-old flesh, is less craggy and worn-out than he appears in Game of Thrones and Ripper Street; in fact he looks quite fit, thanks to all that jogging on the beach in Pembrokeshire.
In pictures: Jerome Flynn

Show all 5
Robson and Jerome are said to have earned Cowell his first million. They also afforded Flynn his rundown Georgian Pembrokeshire real estate, complete with turf-roofed meditation hut, and the space to 'find himself'. "I was lucky enough to be able not to have to work for a while," he says. "But I'd been consciously on a spiritual path for a few years by then."
He must surely be the only person to have found spiritual enlightenment after being produced by Simon Cowell. How did the high-trousered Svengali take the duo's decision to abandon pop stardom?
"He wanted us to do more, obviously... we were a successful business... but he's done all right, hasn't he?" says Flynn, relaxing now after a slightly wary start to the interview. Does he watch The X Factor? "When it first came out I watched it... it seemed novel. In fact I was asked to be a judge early on and turned it down."
It's difficult to imagine Flynn mixing it up with Cowell and Louis Walsh on the judges' panel – he'd be too kind > and 'mindful' (but more of that later). In any case, it might have induced traumatic flashbacks to his two years as one half of Britain's most successful pop duo. "Simon put us together and made a product – a very successful one, but it was like being on a Disney ride," he says. "It got very overwhelming and just kind of unreal." How unreal? "I remember going to my local park in London and putting a blanket over my head," he says. "I was feeling totally exhausted with it all."
Access unlimited streaming of movies and TV shows with Amazon Prime Video Sign up now for a 30-day free trial
Sign up
Flynn was born in Kent in 1963. His older brother, Daniel Flynn, is an actor, as was his father, Eric Flynn, an established musical-theatre performer. Eric Flynn died of cancer in 2002 at the age of 62, having remarried, and Jerome Flynn's half-sister is Lillie Flynn (currently playing Ray Davies's wife in the West End musical about the Kinks, Sunny Afternoon), while his half-brother is Johnny Flynn, the actor and folk-singer who recently starred in the funny Channel 4 sitcom, Scrotal Recall.
"One of the reasons I got out of the community [Andrew Cohen's religious group] was that I felt that I needed to be closer to my family," he says. "Dad sadly passed on before his time, but that brings an extra element to my relationship with Johnny and Lillie – I get to be there for them because they lost their dad a lot younger than I lost him."
The Pembrokeshire connection goes back to Flynn's boyhood, and his parents' holiday home. His own "labour of love" is now armed with solar panels and polytunnels, although it's not all self-sufficiency and tending the "lovely" walled kitchen garden; Cerys Matthews is a near neighbour and the pair are apparently regulars at their local pub.
Rural idylls need to be paid for, however. "I had poured all my money into this place, so it was partly financial, and partly because I felt like I needed to get back out there," he says of his return > to acting. "I hadn't been on screen for 10 years. My agent didn't give up on me completely, even though I was handed around among people. I think I was probably quite a frustrating client to have."
He has always hated the audition process. "But with Game of Thrones I happened to be coming down to London," he says. "And my agent said 'There's this American TV series', and I was like 'Oh my God, you're joking'. Part of me thought I had left it all behind but there were a few things that happened that weekend. I saw a play that my brother Daniel was in at the National Theatre that really got those juices flowing again. Then at the National afterwards there were all these people – drama teachers from my past, old friends – it was like the acting world embracing me again."
"And on the Monday I had the audition. I was going up for this killer mercenary, and I was staying at my brother's and I pulled out his kitchen cupboard on to my face and I had this big bruise over my eye. I put my hair back and suddenly I started to feel the character, although I had no idea what it was." What it was, as any George RR Martin fan will tell you, was Bronn, the 'sellsword' who is Tyrion Lannister's mercenary bodyguard, and who has created an entertaining Game of Thrones double-act with Tyrion – played by the 4ft 5in Peter Dinklage.
"I was brought up on double acts and I love them," says Flynn. "I've always had a lot of good leading men, funny men, like Robson and Peter."
Comeback television gigs don't come any bigger (or luckier, for that matter) than HBO's fantasy saga – and Flynn found himself cast by directors who had never heard of Soldier, Soldier or rumours that he had joined a spiritual community. "Those guys didn't know me from Adam; they just saw a take and thought 'Right, he looks > dangerous... he looks like a killer'. And then Richard Warlow, the writer of Ripper Street, was a big Thrones fan so he wanted me for Drake."
Ah, yes, Ripper Street – and the reason why Flynn has travelled up from Wales. The interview takes place in Shoreditch Town Hall, not far from the milieu of this 1890s-set drama about a fictional division of the Whitechapel police (but which is actually filmed in Dublin). Co-starring Matthew Macfadyen and Adam Rothenberg, Ripper Street took a beating from some critics who said it was too similar to ITV's Whitechapel, and from others who saw it as unnecessarily gory.
Five millions viewers enjoyed the show, however, although that wasn't enough for the BBC, and Ripper Street was axed. "It was a real shock because we all felt that the second series had been better than the first," says Flynn. Amazon, having joined the likes of Netflix and iTunes and moved into original programming, came to the rescue. "The cast was getting messages like, 'Try not to take to take too many jobs next year because there are other people interested'."
In the new series, the action has moved on four years to 1894, since when his character, a bruiser called Sergeant Bennet Drake, has been in Manchester, starting his policing career from the bottom after the traumatic events of the last series, when Drake's wife, having joined a sect ("Funnily enough," says Flynn) killed herself in front of him.
Exposure – global this time thanks to the new economics of television – has meant a return to the levels of fame that so unbalanced Flynn in his former life as a performer. "All that has kind of returned," he admits, without showing any signs of wanting to run off to the park and throw a blanket over his head. In fact he quite enjoys London these days, albeit for its anonymity, comparing it favourably to Spain, where parts of the latest series of Game of Thrones were filmed. "In Seville there are huge Thrones fans and they don't seem to have any barriers," he says. "The trick is not to believe that it means anything."
And fame has its uses, Flynn concedes, when it comes to promoting pet causes such as saving white lions in Africa, or vegetarianism. What does his longstanding position as president of Vegetarian Society actually involve? "Radio interviews for them here and there," he replies. "And I sang on a charity record eight months ago, 'Talk to the Animals'."
Flynn has kept in touch with his erstwhile acting and singing buddy Robson Green, even during his years 'in retreat'. "Yeah, Rob knew I was a bit of a strange one, so I don't think he was surprised," says Flynn, who rules out any return to their crooning-duo days. "Certainly not doing that same thing, no, but I'd act with him I think," he says. "I would have been more into carrying on doing the buddy-buddy thing because I loved all of that... Abbott and Costello and Dean Martin and Frank Sinatra – I would have happily carried on, but Robson had a solo acting career that he was serious about."
Such a comment raises the question: how serious is Flynn himself about his career? "Because my dad was an actor I was able to see how... I didn't want to become a slave to the profession," he says. "I remember working with Paul McGann on The Monocled Mutineer in 1986, and he said you shouldn't wait around for jobs, you should get out and travel... I took notice of that."
Flynn's travelling has mainly been of the internal variety, of course, a journey that has now taken him to 'mindfulness' – the fashionable Buddhism-based 'non-religion' espoused by everyone from Google to the NHS, but ultimately just another 'pseudo religion', according to critics such as Melanie McDonagh, writing recently in The Spectator. That is obviously not a view that Flynn shares. "The Dalai Lama said that if mindfulness was taught globally in all the schools, then we wouldn't have the conflict that we have on this planet. I'm with him in that."
Jerome Flynn may be back in the saddle – or whatever is the thespian equivalent – but the spiritual quest continues. "Yup," he says. "It's an on-going journey that self-discovery." Good for him, and why not? In the meantime, let's hope Game of Thrones continues to thrive, because he and Dinklage are such a brilliant double-act. Peter and Jerome? Are you listening Simon Cowell?
Series three of 'Ripper Street' is available to watch exclusively on Amazon Prime Instant Video
Register for free to continue reading
Registration is a free and easy way to support our truly independent journalism
By registering, you will also enjoy limited access to Premium articles, exclusive newsletters, commenting, and virtual events with our leading journalists
Already have an account? sign in
Join our new commenting forum
Join thought-provoking conversations, follow other Independent readers and see their replies