Interview
Joe Gilgun: 'Stealing all day is hard graft'
The star of 'This Is England' talks to Annie Lord about the misrepresentation of working-class people on TV, the return of his show 'Brassic', and his struggles with medication for a bipolar disorder
Wednesday 06 May 2020 14:59 Comments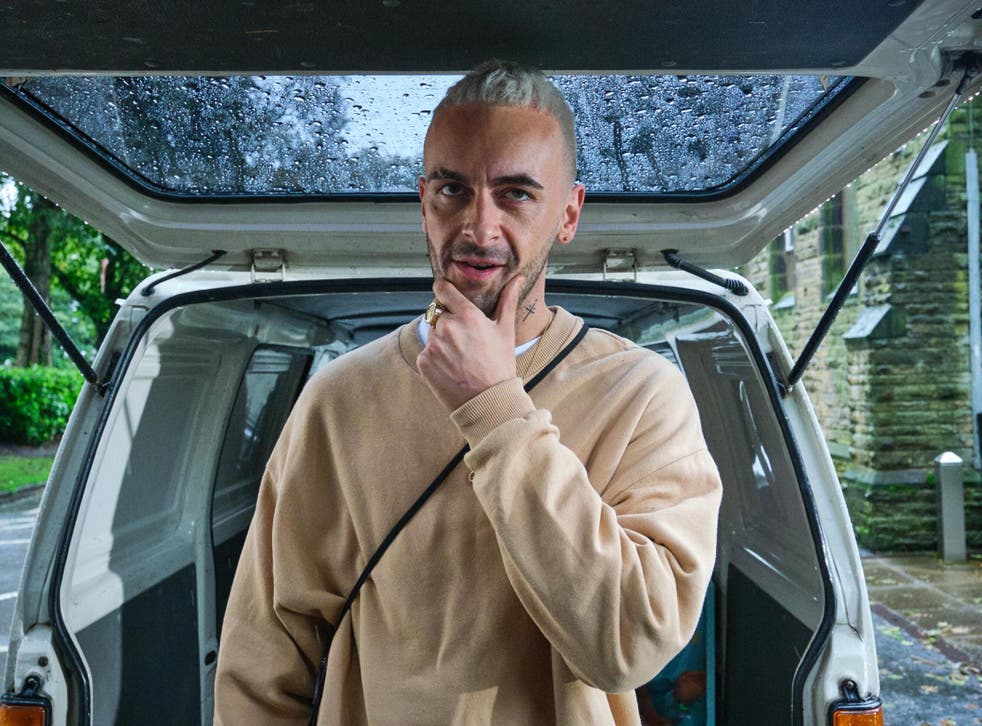 In my experience working-class people are f***ing heroes," Joe Gilgun tells me from behind a cloud of vape smoke. "You know them young girls you see pushing babies in prams? They are not physically or mentally ready for a baby, yet there they are, and their lad's gone, or nine times out of 10 he has. Or you look at those old ladies who are all hunched over their trollies with all them shopping bags, so heavy they're turning their fingers white – they are f***ing heroes dude." The 36-year-old star of This Is England, Preacher and Sky 1's Brassic is angry about the way the working class are so often portrayed on TV as weak and lazy. "That's a f***ing beast charging its way through life, against all the odds and all the adversity. You can't imagine the suffering of some of them and they still find a way to be happy, happier than most." He stops abruptly. "Sorry," he says. "Am I ranting? I'm a bit stoned. Did that make any sense whatsoever?"
The way the working class has been represented on screen – often simplified into tracksuit-clad, "Am I bovvered?"-slurring caricatures who chew gum too loudly – is part of the reason Gilgun made Brassic. Now returning to Sky for its second series, the heart-warming comedy-drama, co-created with Shameless's Danny Brocklehurst, is a semi-autobiographical retelling of Gilgun's upbringing in Chorley, Lancashire. It follows Vinnie (played by Gilgun) and his rag-tag group of mates as they tear across the fictional town of Hawley. Not laughed at, but celebrated instead, the gang are always getting into trouble, robbing lions from circus vans, stealing penis-emblazoned antiques and breaking into strip club safes all in the name of building a better life, the sort that they might want for their children.
In real life, Gilgun's father, Andrew, worked in a metal factory; his mum, Judith, could switch on the posh accent when required, he says. At school, Gilgun's dyslexia was so bad that his writing was "basically hieroglyphics" and undiagnosed bipolar II (which involves depressive episodes and elevated "up" moods) made him disruptive during class. An educational psychologist suggested his bad behaviour could be helped with drama workshops. It wasn't long before Gilgun was cast as Jamie Armstrong in Coronation Street, a boy you first meet when he's shoplifting from Bettabuy. By his twenties, he had been in Emmerdale – as builder and neighbourhood menace Eli Dingle. But his best-known role was as kind-hearted skinhead Woody in Channel 4's This Is England, a fact that's difficult to forget given that the name of Woody's true love, "Lol" (played by a pre-Line of Duty Vicky McClure), is tattooed above his thumb. After This Is England came E4's teen supernatural drama Misfits. Next was the 2014 film Pride, in which he played a gay activist. And up until last year, he starred in AMC's big-budget comic book adaptation Preacher (shown in the UK on Amazon) as an Irish vampire. More people notice him now, although he's not too keen on the attention: "I don't want social media or any of that."
To mark the return of Brassic to the small screen, I meet Gilgun via a social-distancing mandated Skype screen. He used to live in a derelict house in the woods outside of Chorley. It was his mum's home and he moved back into it and set up a tent in there to shelter from rain dripping through the gaps in the roof. Now he's in a swanky flat near the top of a high rise in the gay village area of Manchester, "because it's difficult to get stuff on TV when there's no wifi and you can't have a s*** unless it's outside". While he maintains that it's easier living there – "it's got running water, heating and internet" – he misses the trees so much he's styled its super sleek interior with plants, so that every surface is crawling with green. "The hanging ivy's doing well – look at that," he says, a big grin cutting white across his skinny cheekbones.
From the start of our conversation, Gilgun is keen to emphasise that the working class have that name for a reason: they work hard. He's angry at the way the Benefits Street, Skint Britain, 16 & On Benefits, Benefits Britain: Life on the Dole genre of programming makes people with less money look like slobs. "Me and my mates were productive," he says. "We stole all your shit but we're still up at f***ing 7am to do it, and we wouldn't get back until after half nine at night." I laugh because I thought he was about to launch into a passionate deconstruction of the idea that the working class are criminals. "That's hard graft," he says, halfway to shouting. "And you make f*** all money doing it."
There's a conception that the working classes are more racist or homophobic or in general more hostile to difference. But Brassic sets itself against the stereotype: you see gay Irish traveller Ash, chronic stutterer Cardi, Muslim car mechanic JJ, and bolshy single mum Erin all treated with the same level of respect. Gilgun wanted to destroy the myth of working-class ignorance: "They are just as racist and homophobic as anywhere else," he says, his voice lolloping and lilting with the heavy vowels and disappearing t's of a Northern accent strong enough that some might need subtitles for it. For Gilgun, those kinds of problems exist, but they are greatly exaggerated: "In fact, the working classes are so open and accepting of what you are. You've got your own s*** to worry about so you mind your own business."
While the problems these characters face are never erased on Brassic, Gilgun wanted to ensure "struggle" didn't become their only personality trait. "We need to stop making an issue of the issue. If we don't want it to be an issue, then we need to stop f***ing making an issue out of it. Do you know what I mean? Like there's a gay guy – who gives a f***? There's a Muslim, playing a character who is important – not playing a f***ing Muslim. We didn't want to make a bloody caricature of people."
For Gilgun, focusing too heavily on the ways in which a person's life is made difficult is to turn them into a plot device, and the story at large into a grinding morality tale which is shoved so far down people's throats they end up throwing it back up again. "We do that a lot in TV. We make these big statements like: 'This is what we're about, guys! Girl power everyone!' It's not real. I can't buy into it. There's no truth there. We're all gay! Be okay with it! It's like, we are okay with it you stupid c***. I'm part of a generation that knows that it's just not cool to not be accepting of everyone and everything."
Gilgun leans back on his chair, fiddling with the lid of a water bottle: "And anyway, I'm glad you've asked the question," he says, referring to some now distant prompt I made about Brassic's diverse characters. "But now I've gone into a rant about it," he says, in a voice softer than before.
Access unlimited streaming of movies and TV shows with Amazon Prime Video Sign up now for a 30-day free trial
Sign up
I point out to Gilgun that all the characters on Brassic are very happy, even though they don't have much money. "When I had no money, I wasn't poor. I had amazing family and friends," he says, loud again. "Some of the happiest people I know are working class. Some of the most intelligent people I know are working class. I know some complete morons who are born out of these f***ing affluent families, they've been given everything and they're thick as s*** with no common sense. Just because you've got the accent it doesn't necessarily mean you're intelligent."
With the acting world saddled with just as many Old Etonians as the Houses of Parliament, I wonder if Gilgun ever feels like an outsider. It's something he addresses on Brassic frequently, most directly in season one when Erin (Michelle Keegan) wants to leave a wedding early because somewhere among all the pearl necklaces and flower arrangements, she gets the feeling that she doesn't belong. "Definitely, I've felt like an imposter my whole f***ing life. On the phone to you now I feel quite guilty. I don't feel like I deserve this. I don't think there's a single thing that's interesting about me. I really don't like myself much at all. During your development as a young working-class man or woman, you are systematically broken down to the point where you are made to feel really uncomfortable in them kind of environments." For Gilgun, it's people's judgements that make you feel unworthy of success, "they see the tattoos and they think you're a muppet, then you start to believe it".
As Gilgun finishes off his thoughts and apologises for them again as though they were not good enough to touch the air, a large seagull flies onto the ledge of his window. "Ah, here he is," the actor says. "Trouble is with feeding birds is they s*** everywhere, bunch of c***s." Then he whistles, hoping other birds will respond to his call. "A duck visits sometimes. She smells my weed and she knows I'm outside."
As a sufferer of bipolar, depression and ADHD, Gilgun has a mind so switched "on" that he calls it the "eye of Sauron", a problem exacerbated by how difficult it was for him to access proper help growing up. "I want to be very careful when I talk about this because I think doctors – they care," he says. "But they've got so many people waiting outside the door, they can't sit there with you and go through all your problems. So you've got, what, 20 minutes in that room with them? For them to work out what medication to put you on? It's not enough."
Without enough time to properly diagnose him, doctors took a "trial and error" approach to medication. Describing himself as a "guinea pig who figured it all out", Gilgun is angry at the money-driven pharmaceutical companies, and at the government's austerity policies for breaking a healthcare system, which in turn broke him. When he was a kid, he would fall into rages so uncontrollable, being in them felt like becoming a different person. "I remember I threw all my CDs out the window," he says. "Spent years collecting all those and I smashed them all. Mum went 'why the f*** did you do that?' and I was like 'I don't know'. Nothing matters when I'm in that mood, nothing matters."
Now on enough pills – "if you picked me up I'd rattle" – Gilgun says each one is so powerful he can feel them kicking in one by one when he swallows them in the morning. "It's scary." He takes a breath. "Early on I could have done with some talking therapy before they banged me on all that [medication]. I've been put on some really serious stuff. The sort that really alters your brain chemistry. It's taken me through so many versions of myself. They put me on this pill a few years ago and I spent ages being like – have I changed? I'd meet people from my past and ask them, have I changed? I was terrified that my personality had gone and it had. It had taken away my spark." Prescribed now with something that works for him, Gilgun says that the spark has "very, very slowly come back, but", he sighs. "F***ing hell."
There haven't been many working-class heroes on TV in an era when reality shows with "benefit" in the title have proliferated. Unsurprising given that as one producer told me in 2017, "adding 'benefits' to the title of a series brings in half a million more views". But now there's Brassic and there's Gilgun in the press talking about it, a fact that makes him so embarrassed he often looks away from the camera lens. I ask what he would like to say to working-class kids growing up like he did, who might want to hear what he has to say.
"This is a message to any young person who is out there." He stops. "Actually no, because they're definitely not going to be reading this, definitely not." He starts again: "If you know any kids who need help, tell them: it's alright to be a f***-up. Don't put pressure on them to be something they're not. You're entitled to be a f***-up. It's what the world does to you. But don't, and I really mean this, be a lazy f***-up. I can't do a single thing right. I'm a f***ing drug addict reprobate. I can't stand myself. But I'm never lazy. I make my bed every f***ing day. I write until my hand is sore. Whether you want to be a f***ing criminal selling weed, a f***ing actor or a f***ing lawyer or a doctor in an office, work hard and you get what you want by will alone." He pauses, shaking his head. "But don't be a lazy f***-up."
'Brassic' returns to Sky One tonight at 10pm. All episodes will be available to watch on NOW TV
Register for free to continue reading
Registration is a free and easy way to support our truly independent journalism
By registering, you will also enjoy limited access to Premium articles, exclusive newsletters, commenting, and virtual events with our leading journalists
Already have an account? sign in
Join our new commenting forum
Join thought-provoking conversations, follow other Independent readers and see their replies