My neighbour in Rillington Place: 'John Christie, as I knew him, didn't shuffle, he wasn't bent over as Tim Roth portrays him'
Patricia lived a few doors down from serial killer John Christie at 3 Rillington Place and recalls the day her road was cordoned off when the police found a body in the drain outside the house. But she says the characters in the BBC1 TV series just don't resemble her former neighbours 
Nick Duerden
Monday 05 December 2016 17:01 Comments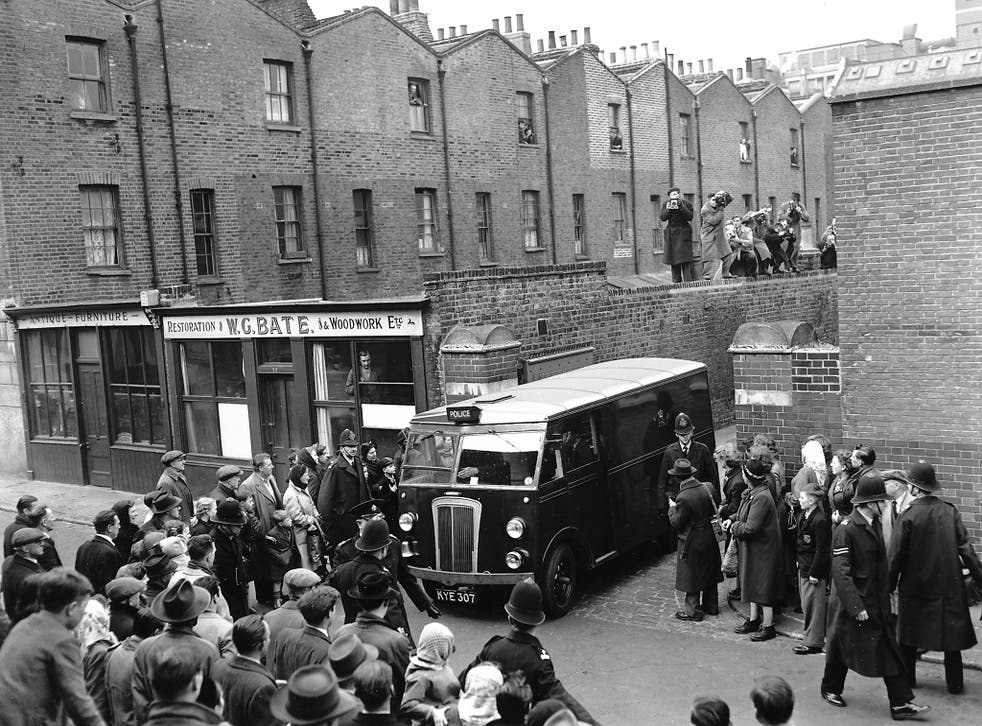 Fact, as the old adage likes to insist, may well be stranger than fiction, but fiction is still so often required to spruce up those facts. The new BBC1 drama Rillington Place is the latest attempt to bring the gruesome story of the 1940s British serial killer John Christie to the screen. Christie has been immortalised before, of course: in Ludovic Kennedy's 1961 book Ten Rillington Place, which then went on to be the basis for the 1971 film of the same name, starring Richard Attenborough.
In the BBC's version, Tim Roth plays Christie, the seemingly mild-mannered multiple serial killer, and Samantha Morton is his timid wife, Ethel. Rillington Place is situated in a post-war North Kensington still several decades away from gentrification; long after Christie's murders were uncovered, Rillington Place was renamed Ruston Mews, and houses there will today set you back north of £1m.
The production is full of period detail – the street litter-strewn, the houses dilapidated – and what seems, to the uninformed, comprehensive factual accuracy, while Roth and Morton certainly put in incredibly nuanced star turns. But according to at least one former resident, the casting leaves much to be desired.
Patricia lived at 3 Rillington Place with her family back in 1944, when she was just four years old. Now 76 and living in Sydney, she claims that the actors don't resemble the real people in the new TV series, Rillington Place.
"I am not complaining, but I lived in 3 Rillington Place and knew them all. There were only twenty houses in the street. Once again I am not complaining, I just felt I had to tell you this. I can close my eyes and see every one of them," says Patricia.
"The people they cast look so different from the real Mr and Mrs Christie," says Patricia. "Different hair, different mannerisms. Mr Christie, as I knew him, didn't shuffle, he wasn't bent over [as Tim Roth portrays him], and he would never wear crinkled trousers. No, he was the poshest man on the street, the smartest. He was someone to be respected."
It was 1951 before any murders were discovered. Patricia, then 11, remembers coming home from school one day to find her street cordoned off. "A policeman had to escort us to our house after we told him we lived there," she says. "The rumour was that Mrs Christie, who had been missing for some time, had been found down the drain. But it wasn't Mrs Christie; she was still buried out back, under the roses [actually, Ethel Christie was beneath the floorboards in the living room]. It was Beryl Evans, the tenant who lived upstairs."
Suspicion fell not on Christie but rather Beryl Evans' husband Timothy, whose story is told from his perspective in tonight's edition of the three-part drama. Timothy Evans is played by Nico Mirallegro, an enviably handsome 25-year-old with cheekbones that look as if they have strayed from the set of Hollyoaks – which, indeed, they have: Mirallegro spent two years on the soap. The real Timothy Evans, says Patricia, was nothing like him.
"It seems he is portrayed in this new show as a knockabout boy who got into trouble, but that wasn't the case at all. Tim, who used to work for the bakery on the corner of [nearby] St Mark's Road, probably had the IQ of a 14-year-old. You could see it in his face. He was a real innocent."
Access unlimited streaming of movies and TV shows with Amazon Prime Video Sign up now for a 30-day free trial
Sign up
Timothy Evans nevertheless quickly became the chief suspect for his wife's murder, and was ultimately hanged for the crime. Patricia keenly remembers the day he was sentenced. She had visited the corner shop after school, where she encountered John Christie. He smiled at her, and bought her an ice cream. "He told the shop owner that Evans got what he deserved. I'll never forget those words, how he said them: so certain."
It was more than two years before the police finally caught up with Christie, after he had moved out and the new tenants began discovering body parts. Christie had ultimately killed eight women at 10 Rillington Place. He hanged in 1953.
For Patricia and her family, this was the most shocking news. Christie had always been polite to them – she had been an occasional visitor in his house, and Christie had sought her mother's advice for his back problems many times - and now suddenly, here he was, proclaimed the country's most deadly serial killer.
"Honestly, I only have good memories of him," she says. "Really, no one suspected a thing."
Patricia got on with the rest of her life and moved to Australia some years later. But she remains as fascinated by the story as everyone else, the story of her near neighbour, the nice man who was not all he seemed.
"You never forget a thing like that," she says. "I mean, how could you?"
Register for free to continue reading
Registration is a free and easy way to support our truly independent journalism
By registering, you will also enjoy limited access to Premium articles, exclusive newsletters, commenting, and virtual events with our leading journalists
Already have an account? sign in
Join our new commenting forum
Join thought-provoking conversations, follow other Independent readers and see their replies