Julia Stiles interview: 'I'm paid to kiss strangers'
The actress has graduated from romcoms and the Bourne films to a mother with a secret in Blue
Gerard Gilbert
Friday 27 February 2015 09:00 Comments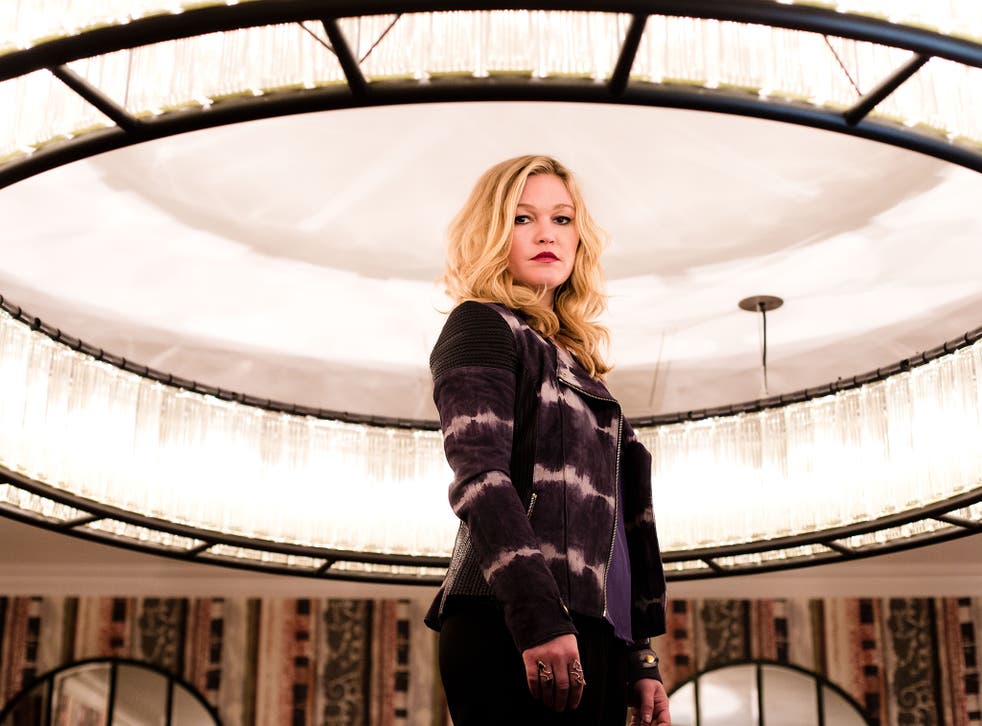 From co-starring with Julia Roberts in Mona Lisa Smile and Matt Damon in the Bourne movies to making 10-minute "webisodes" of an online drama series is the sort of career trajectory that might have been seen, just five years ago, as heading towards the junkyard.
But that was before Netflix changed the game with House of Cards and Orange is the New Black, and, last month, Amazon's Transparent became the first online show to win two Golden Globes. So Julia Stiles, rather than making a living on the margins, is in fact at the epicentre of the ongoing platinum age of what we still call, with less and less accuracy, "television".
In Blue, Stiles plays the eponymous call girl, a single mother trying to keep her evening job (by day she works in an accountancy firm) secret from her 13-year-old son, Josh (played by Uriah Shelton from Girl Meets World). Written and directed by Rodrigo Garcia (In Treatment), Blue throws us straight into the conundrums of Blue's double life, fielding phone-calls about maths homework from her son while disrobing for a client – a man, she realises with horror, who knows her of old. "I read the first scene and was hooked – no pun intended", says Stiles when we meet in London. "Having to juggle her son's homework questions while being with a man who has paid for her services but she knows from high school."
Stiles filmed an astonishing one episode each day, five episodes a week, and the resulting 50 online shorts have now been edited together for a 10-hour series on television proper, showing on the Lifetime channel. "There's a lot of me," she says. And there is a lot of her in other ways too – stripped down to an exotic assortment of lingerie. But anyone hoping for the soft-porn gloss of the Billie Piper series Secret Diary of a Call Girl (seen by some as little more than a recruitment ad for the sex industry), should be warned that Blue is a lot more wry, thoughtful and, ultimately, sad.
"There are dark, psychological reasons why she's driven towards this kind of work", says Stiles, who interviewed several Los Angeles escorts – contacts that the producer Jon Avnet made while researching his 1983 movie Risky Business, in which Tom Cruise played a teenager who uses his dad's credit card to hire an escort. "They were very forthcoming about their lives, but mostly my questions were of a practical nature, like how are the dates arranged? How much do you charge? And what are some of the worst experiences they'd had? I didn't want to delve emotionally."
Did any of the women's revelations surprise, or even shock, her? "I was surprised that sometimes sex didn't occur, they were just paid for their time", says Stiles. "They were all really young; the oldest woman I spoke to was my age, in her early thirties, and she had already started transitioning into being a madam because it's sort of retirement age in your early thirties.
"Blue keeps her work secret and funnily enough one of the women was driven to our meeting by a man and she said 'Oh, this is my fiancé…' He went away to get a coffee and waited outside and she said 'By the way, he doesn't know I do this'."
On the subject of an acceptable word for a prostitute, Stiles observes: "There's the polite compassionate way of saying it and then there's not, but whatever way you look at it, it's a financial transaction." Indeed in one powerful moment in the opening episode she catches her son watching online pornography, and he uses the word "whore" to describe the actresses. "That word sums up the judgemental dismissiveness", she says.
It was the internet's association with pornography that made Stiles initially hesitant about taking the role. "This was before Netflix and Amazon took off, and I wasn't sure what being online would be like," she says. "Would that somehow cheapen the story… make it more pornographic or something? But I'd met Rodrigo Garcia at Sundance many years ago and I really loved his work. I knew Rodrigo's intentions were not to do something pornographic, he was more interested in the psychology."
Access unlimited streaming of movies and TV shows with Amazon Prime Video Sign up now for a 30-day free trial
Sign up
Indeed one interesting aspect of Blue is the balance of power that it reveals between prostitute and client. In the opening episode one of her clients is an "adult baby" – a grown man who likes to wear nappies and be mothered like an infant – and after their session the man attempts reassert the traditional roles by playing the big-shot businessman.
"That was one of my favourite scenes," says Stiles. "One thing I said to Rodrigo when we went back to film the second season was that we have to have a situation with her client where it gets dangerous and scary, otherwise it's not honest. He wrote that scene, and on the day we had to shoot that scene I freaked out, and he was, 'well you asked me write this'."
Many of the scenes have the same pared-down intensity of Garcia's In Treatment, where it was just therapist Gabriel Byrne and his client in any given scene. "And it should be said that Blue goes into therapy later in the series", says Stiles. "There are psychological reasons why she's driven towards this kind of work because there are other ways to make money. She's got a very sad, dark relationship with men."
Was it necessary to protect Shelton, who plays her son, from some of the material? "One good thing about the premise of the show was that because Blue is keeping this a secret from Josh, it was OK to keep the details from Uriah", says Stiles. "We shot over the course of three years, so he grew up a lot – from 13 to 15 – a very transitional time for a boy."
And Stiles knows all about starting young. A native New Yorker with that city's tough and direct manner of speech, Stiles began performing theatre at the age of 11. Her first film role, aged 15, was in I Love You, I Love You Not, with Claire Danes and Jude Law, while her breakthrough movie came in 1999, along with Heath Ledger in the romcom 10 Things I Hate about You. "I pretty much grew up in public," she says.
She was only 22 when she appeared with Julia Roberts in the 1950s-set drama Mona Lisa Smile, but it was Roberts who went on record to claim that she was intimidated by the precocious young Stiles. "Julia doesn't adopt an intimidating attitude," Stiles replied. "I learned so much from her about being in the public eye and keeping your integrity."
Best films to watch in 2015

Show all 10
Her role as agent Nicky Parsons in the Bourne movies introduced her to action blockbuster movies, but she says she was never just there to decorate co-star Matt Damon's arm. "I could never be a Bond girl", she said of her final outing with Damon, 2007's The Bourne Ultimatum. "I'll only accept a part if there's something I can contribute to a character."
In fact she interspaced the Bourne films with David Mamet stage plays, but more recently – like many Hollywood actors – she has veered towards television. Emmy- and Golden Globe-nominated as the vengeful rape victim Lumen Pierce in the fifth season of Dexter, Stiles is flying out to LA this month to film the new season of The Mindy Project, in which she has a "guest arc" as male nurse Morgan's girlfriend. "It's nice to go to work and have a laugh", she says, "and not to have to take my clothes off."
Meanwhile, to prove the fluidity that actors now enjoy, moving between film, television and online, Stiles has just finished filming a movie with Anthony Hopkins and Ray Liotta, Go With Me, that was shot by Daniel Alfredson the Swedish director who made The Girl Who Played with Fire and The Girl Who Kicked the Hornet's Nest.
She plays a woman who returns to her hometown in the Pacific Northwest, only to be stalked by Liotta's sociopathic local sheriff. "When I started out as an actor I just wanted to get hired; now it's about who I'm going to be working with and whether I'll learn from them", she says. "It doesn't matter about the platform. I think the roles get better as you get older; I'm looking forward to the future."
And last year she created and directed her own online drama, Paloma, about the birth and death of a relationship – not, she adds, based on one of her own. Is she herself in a relationship? "I'm in a very new one", she says. "He's not an actor… he works in the camera department… not that I mind actors." But as a famous performer herself, does she relate to Blue having to keep her public and private life separate? "Not really in that sense," she says. "However I do relate to the fact that as part of my job I'm paid to kiss strangers."
'Blue' starts on 2 March at 10pm on the Lifetime channel
Register for free to continue reading
Registration is a free and easy way to support our truly independent journalism
By registering, you will also enjoy limited access to Premium articles, exclusive newsletters, commenting, and virtual events with our leading journalists
Already have an account? sign in
Register for free to continue reading
Registration is a free and easy way to support our truly independent journalism
By registering, you will also enjoy limited access to Premium articles, exclusive newsletters, commenting, and virtual events with our leading journalists
Already have an account? sign in
Join our new commenting forum
Join thought-provoking conversations, follow other Independent readers and see their replies