Kit Harington on Gunpowder: 'The idea was spawned from a piece of family curiosity'
Harington plays his own ancestor, gunpowder plot ringleader Robert Catesby, in the a three-part BBC1 drama 
Gerard Gilbert
Tuesday 17 October 2017 13:30 Comments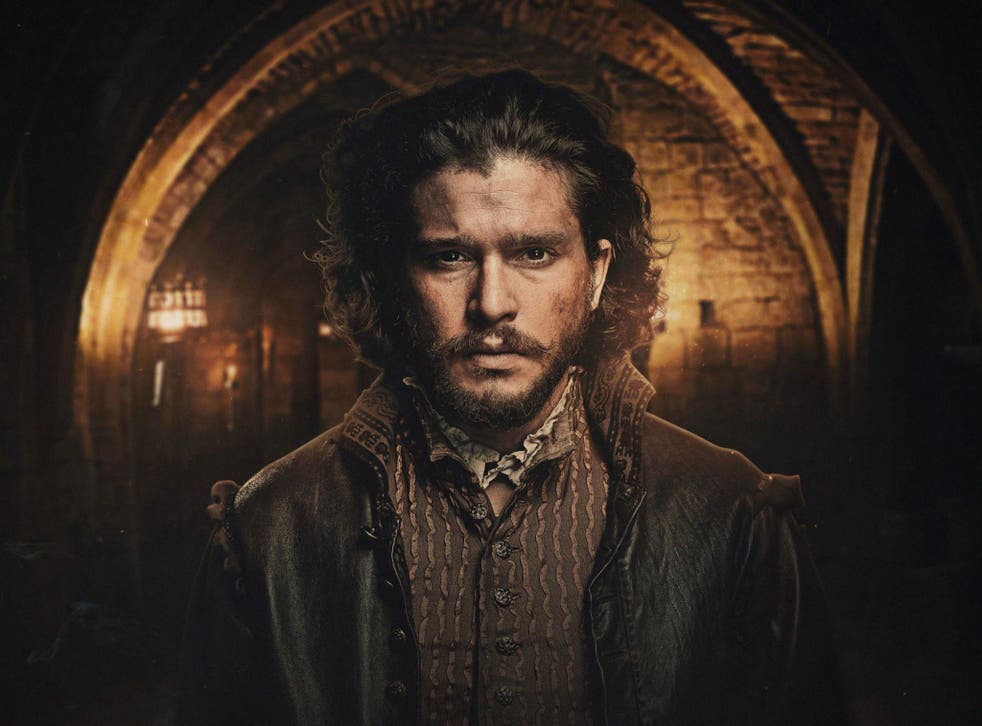 You can usually tell when Bafta is hosting an actor from a fan-heavy show like Doctor Who, Sherlock or Game of Thrones as there will be a crowd of devotees – tipped off on social media, no doubt – clogging the pavement around the entrance on London's Piccadilly. This evening it's the arrival of Jon Snow that 's being anticipated, or rather Kit Harington, the 30-year-old British actor who plays Snow, the Bastard of Winterfell, in Game of Thrones. Harington's in town to promote his latest venture, a BBC1 drama about the gunpowder plot.
In Gunpowder, a three-parter written by Ronan Bennett (Top Boy, the Hamburg Cell) and created by Harington's own fledgling production company, the actor plays his ancestor, Robert Catesby, the arch-Catholic conspirator in the 1605 plot to blow up the Protestant King James I during the State Opening of Parliament.
Catesby – and not Guy Fawkes – was the ringleader of the conspiracy that is commemorated each year on 5 November with bonfires and fireworks (in the interests of historical accuracy, children collecting for rockets and Catherine-wheels, rather than calling out "Penny for the Guy" should be demanding "Penny for the Robert").
"My mother's maiden name is Catesby and my middle name is Catesby", says Harington following a screening of the first episode. It was always a kind of thing growing up ...'you know you're related to the leader of the gunpowder plot?'.
"I didn't actually know a lot about Catesby. It was only by doing some research into the gunpowder plot, that I started to understand how these people worked."
It was more than simple curiosity about his ancestry that led Harington to tackle the subject and to take his idea to the BBC. "Yes, there was a family connection but more it was the idea that this seemed like an idea ripe for the making", he says. "I couldn't really work out why it hadn't been dramatised. It's such a significant piece of typically English folklore."
Maybe it's the very parochialism of the subject matter that has deterred filmmakers. American Liv Tyler, who co-stars as Catesby's cousin, Anne Vaux, later tells me that she hadn't really ever heard of the gunpowder plot, while a subject without obvious heroes was never going to appeal to Hollywood. There was a 1923 British silent movie, while some 80 years later, Jimmy McGovern wrote Gunpowder, Treason and Plot, with Michael Fassbender as Guy Fawkes. But that's about it. "Most people know about Guy Fawkes now from V for Vendetta and the Anonymous masks worn during things like Occupy Wall Street", says Harington.
Having taken their idea to Kudos, the production company behind Spooks and Life on Mars, Harington was put in touch with the Northern Irish dramatist Ronan Bennett, who was in some ways the idea choice to take on this story. A former Republican sympathiser who, as an 18-year-old, had been wrongfully convicted of murdering an officer in the Royal Ulster Constabulary, and later stood trial at the Old Bailey accused of leading a terrorist gang.
He was acquitted after having conducted his own defence but still spent 20 months on remand, some of it in solitary confinement. Bennett's previous works for television include the controversial Rebel Heart about the Easter Rising, and the Hamburg Cell, which imagined the lives of al-Qaeda suicide bombers.
Access unlimited streaming of movies and TV shows with Amazon Prime Video Sign up now for a 30-day free trial
Sign up
"I think if you ask most people what they know about the gunpowder plot they'll say 'Guy Fawkes tried to blow up parliament...' something like that", says Bennett. "I actually have a PhD in history and it's from this period, and I had actually forgotten – if I ever knew – about Catesby, and that Catesby was the real leader and mastermind of it.
"We think of the plot ending with the arrest of Guy Fawkes – no spoilers here but there's actually another dramatic episode. But the question for me was where does this come from? Why would someone do this?."
Gunpowder begins with a 20-minute scene in which Catesby's Warwickshire manor is raided while the household is illegally receiving mass from a Catholic priest (played by Top of the Lake's Peter Mullan), and is followed by two graphically gruesome torture scenes, the like of which have probably never been seen on BBC1 on prime-time Saturday night (although the Tom Hardy drama Taboo proved that this time slot could carry stronger fare than Casualty).
The cast also includes Sherlock's Mark Gatiss as James I's spymaster-in-chief Robert Cecil, while Shaun Dooley plays Cecil's enforcer (Guy Fawkes himself, played by Downton Abbey's Tom Cullen, is a peripheral character here as he was in the real plot). But if Robert Catesby is being returned to his rightful role of ringleader, how does Harington regard his ancestor?
"Before I got into this, I guess in some ways I might have been proud of him", says the actor. "But if you look at who he is... he's a widower, he doesn't connect with his son, he is experiencing huge persecution and his money has been stripped from him... I think in some ways he's on some kind of death wish and he draws some innocent people in with him into this plot. So I don't have particularly fond feelings towards him."
Even after playing him? What about actorly empathy? "The major change was that I felt desperately sorry for him after doing this. As you'll see he's a deeply sad man, who botched his one big thing".
One of the ironies of Harington's ancestry is that he is also directly related, through his father, to Charles II, grandson of the very monarch that Catseby had attempted to assassinate. His father David is a baronet, while his mother, Deborah Catesby, was a playwright who named her son Christopher after Christopher Marlowe ('Kit' is his nickname).
Despite the aristocratic background, Harington was educated at a state secondary school in Worcestershire. His early ambition was to become a journalist, but he chose a different path after seeing Ben Whishaw perform in a theatre production of Hamlet. After drama school he appeared in the acclaimed National Theatre production of War Horse and at the Royal Court in Laura Wade's play about the Oxford University's Bulingdon Club, Posh. But in 2011 came the role that would change his life – and bank balance.
Harington is reported to earn over $1m an episode playing Jon Snow in Game of Thrones (one newspaper claimed it was as much as $2m once syndication payments and residuals are included), while the months filming in Ireland and Iceland also led to him meeting his future wife, Rose Leslie, who played Snow's flame-haired love interest Ygritte.
Although Leslie was understandably reticent to speak about the relationship when I interviewed her last year ("If it's something private and very dear to your heart, you make an effort to keep it that way", she told me), the couple's engagement was recently made public via an announcement in The Times, while Harington went further in describing his proposal on The Jonathan Ross Show.
"I was going to string up some lights in some trees and do all the romantic stuff", he told Ross. "But we were in the country and we were under this beautiful night sky and had a log fire burning and red wine and ... I popped my question a bit early."
Gunpowder was filmed during the break between season seven and eight of Game of Thrones (the fantasy blockbuster's last). Fortunately Harington's role as Robert Catesby didn't require a radical change of image. "I think it fitted quite well with me not being able to cut my hair", he says, while adding that filming Gunpowder in autumnal Yorkshire was almost home-from-home after six years on Game of Thrones: "Why I keep desiring to film in cold, muddy places on horses I have no idea".
Other projects he's fitted in around his long stints in Iceland and Ireland for Game of Thrones haven't been entirely successful: the 2016 western Brimstone was greeted with lukewarm reviews as was a HBO mockumentary about the so-called longest tennis match in history, 7 Days in Hell. It's one reason he's keen to produce his own material.
"We're looking for that next thing now", he says. "Gunpowder was a test to see whether I enjoyed doing it – and I did very much. I think knowing why decisions are made and being part of those decisions has given me great comfort in the process. I don't know about acting and producing at the same time though; I found that tricky at times."
Having performed with swords and horses for so long now, does he hanker after more modern roles. "I'm personally done now with the 1600s", he agrees "So moving forward now – to London in the 1960s perhaps. Or at least something with guns."
'Gunpowder' begins on BBC1 on Saturday 21 October at 9pm
Register for free to continue reading
Registration is a free and easy way to support our truly independent journalism
By registering, you will also enjoy limited access to Premium articles, exclusive newsletters, commenting, and virtual events with our leading journalists
Already have an account? sign in
Join our new commenting forum
Join thought-provoking conversations, follow other Independent readers and see their replies