Interview
Da Vinci, decoded: Inside the new series exploring Leonardo's sexuality and artistry
Beyond his work, little is known about the real man behind the legendary – and many say homosexual – painter, but a new Amazon Prime show starring Poldark's Aidan Turner is aiming to change that. A little artistic license helps, its cast and creators tell Louis Chilton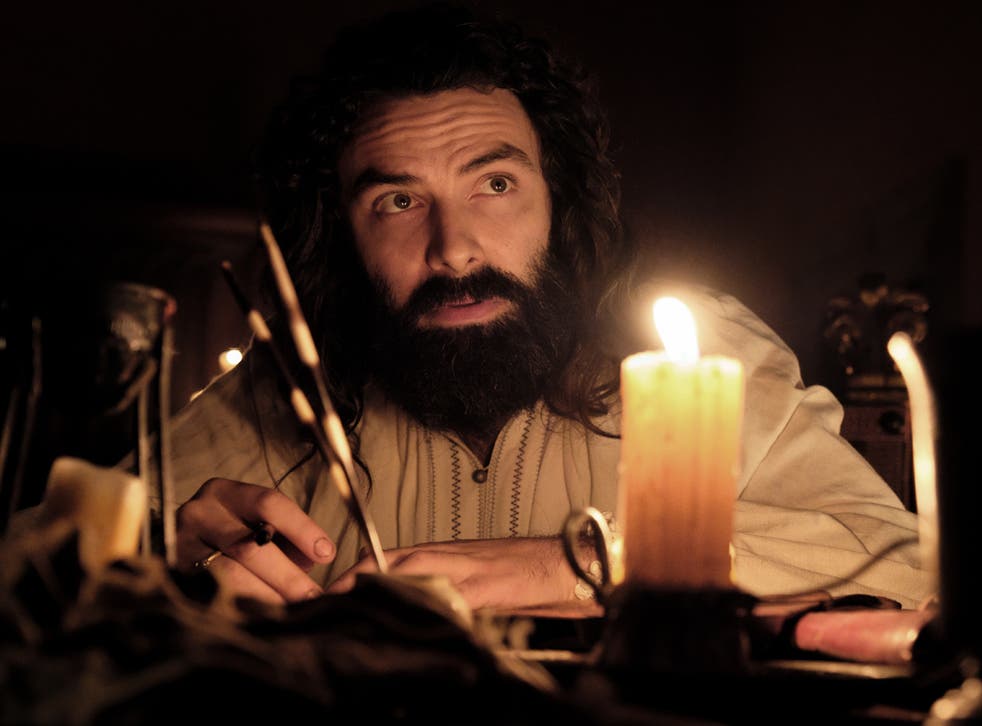 Leonardo da Vinci remains one of history's most fascinating figures: the quintessential renaissance man. He was an expert in fields including engineering, anatomy, astronomy, botany, and was, of course, a transcendent artist with an equally transcendent beard. Many works of fiction have played with his legend: The Da Vinci Code placed him at the centre of a global religious conspiracy; Da Vinci's Demons saw him ensnared in political conflicts with vaguely preternatural undertones; the cartoon series Futurama even proposed that Da Vinci was an alien, sent to earth from a planet populated by beings of far superior intelligence. Given the extraterrestrial span of his genius, this doesn't seem too far-fetched.
But Leonardo, released on Amazon Prime this Friday, is among the few that tries to get to the heart of who he was. The fictional series follows the artist for around two decades of his life as a young, sexually viable adult, with Poldark star Aidan Turner playing the man himself and The Undoing's Matilda De Angelis is Caterina da Cremona as his sympathetic model and confidante. There is a fair amount of creative license taken with Da Vinci's life, most noticeably in a completely fictitious murder accusation plot which frames the eight episodes of action. But other aspects of the man, including his work and his sexuality, are recreated with careful fidelity to truth.
"Leonardo has been really a source of comfort to me, having it come out now, in the midst of a pandemic and a miserable time in much of the world the last few years," says Frank Spotnitz, who created the show alongside Steve Thompson. "It's been a reminder to me of what the best of western civilisation is. I think Leonardo really is the best of us. The bedrock foundation of what's good about western civilisation: it is Leonardo. This show excavates what he was, what he represented, and the way the world was pre-Leonardo versus the way it is now."
What made Turner the right man to play Da Vinci? For one, he is famously good-looking and Da Vinci, believe it or not, was often spoken about in accounts as being an extremely attractive man. Turner is also a keen painter, though shudders at the thought of comparing his "messy dobs on a canvas" to the man who crafted the Mona Lisa. He is Irish, though speaks in the series with a sort of generic RP accent (the series is an international co-production, and features a melange of European voices). "There's a world where this should just be done in Italian, I suppose," says Turner. "But how many people would then see the show? I probably would have played him in my own accent, but it would have been distracting… You sort of go, well, what's the most convincing?"
Freddie Highmore, who executive produced Leonardo and also stars as inspector Stefano Giraldi, the Milan police officer investigating the murder allegations, says that it was Turner's ability to capture two contradictory aspects of Da Vinci's personality that made him the right fit for the role. "There's an intensity to Leonardo," he explains. "There's obviously a fierce intellect there. At times, as the show goes on and he grows into himself, there's an arrogance, a belief that he knows better than everyone else – that, I think, was required in order to challenge [scientific and artistic] perspectives and the status quo at the time. But alongside that there's this softness that Aidan brings to him. Leonardo was a deeply emotional and spiritual person."
For much of the start of the series, Da Vinci is shown struggling with his family and his sexuality. Highmore uses the phrase "tortured artist" to describe him, though Spotnitz insists that he was adamant to avoid being reductive. "I was absolutely terrified of making this a cliché, or making this banal," says Spotnitz, "saying, 'Well, he's a genius because he's an illegitimate child. Because his father abandoned him. Because he's a gay man'. It's so easy to put people into boxes and take over, simplify… No: he was just a genius. Ultimately genius is a mystery. It's an enigma. It can't really be explained or reduced. What you try to do is show somebody's humanity and their vulnerability and their pain."
It is widely agreed among historians that Da Vinci was gay and had relationships with his assistants, though early screen depictions of the figure predictably omitted this fact. Mark Rylance's interpretation of the artist in a 2003 miniseries was the first on-screen portrayal to explore his homosexuality and his sexuality forms a substantial part of the new Leonardo. "It would be weird to not include this. It would feel so strange," says Turner. "Hopefully this is changing with historical dramas, as it's changing in other dramas."
In its first episode, the series plays Da Vinci's sexuality a little coyly. By its second, it is more explicit, depicting a real-life instance where Da Vinci was charged with sodomy (evidenced by court records). In the programme, the accusation is made out to be the allegation of a jealous rival – but a true one nonetheless. The series has already attracted criticism from The Guardian's Jonathan Jones for its focus on a completely speculative relationship between Da Vinci and Caterina da Cremona – about whom almost nothing is known – instead of with historically verified women, or indeed his romantic relationships with men.
The plotline, a "platonic love story", says Highmore, based "on a grain of truth" and expanded upon by the writers, was chosen in part to give the show a greater female presence. "We came across lists of people who were important to Leonardo, and Da Cremona was among them," he continues. "She was important and we don't know why. It feels important to do that, to represent women in the show and show we know they're important but history books back then didn't bother to record them. In this case, she was the key to unlocking his heart and his humanity. Not in a sexual way, but a human way. This is a guy who had no family. He makes his own family, which feels very modern and quite moving."
Access unlimited streaming of movies and TV shows with Amazon Prime Video Sign up now for a 30-day free trial
Sign up
The platonic aspect of the relationship, Highmore adds, brings the story bang to to date. "I think all too often when there's a relationship between a man and a woman on screen, it feels incomplete if it doesn't become sexual or romantic. This is a wonderful love story between two people that actually is romantic, even if there isn't that sexual desire between the two of them."
Some viewers are likely to share Jones's frustrations that so much time is dedicated to a fictional platonic male-female relationship. But at least the series does not make the mistake of disguising Da Vinci's sexuality, and, in its exploration of masculinity and the artist's chosen family, touches on themes that could resonate with queer audiences.
"It's not a documentary," adds Spotnitz. "I'll say plainly: it's entertainment. In terms of the art and science, there's quite a lot of research and a lot of accuracy and insight into why and how he achieved what he did. But to get at the human truth of Leonardo, you have to make things up. History simply has too many gaps we just don't know."
"There was a retrospective in the Louvre right before we started shooting," recalls Turner, of the Paris museum where the Mona Lisa is notably housed, "and I got to have a private viewing of his paintings. I went back to that time and time and time again. I was with his paintings on my own, for a lot of it. Some of the more famous ones, you see them in encyclopaedias, or on a laptop, or in newspapers, or whatever, and you don't get a true sense of the scale of his paintings. They're huge."
"We have his works, we have his notebooks," he continues. "We have his works as a botanist, as an engineer, as a philosopher. We have all these things. If you start from there, it's difficult to work out what this person might have been like. It all becomes too big, and intimidating. And then you're left with nothing, really. You're just left with his work, which is everything, but nothing of the man himself."
Leonardo may not hit bedrock in its journey to the centre of Da Vinci, but it gives an earnest and well-meaning attempt. Mixing meticulous research with sheer speculation, Spotnitz and co have painted a version of the artist as a set of dichotomies: tortured but brilliant; arrogant but vulnerable. Human but still, despite their efforts, unknowable.
'Leonardo' launches on Amazon Prime Video on 16 April
Register for free to continue reading
Registration is a free and easy way to support our truly independent journalism
By registering, you will also enjoy limited access to Premium articles, exclusive newsletters, commenting, and virtual events with our leading journalists
Already have an account? sign in
Register for free to continue reading
Registration is a free and easy way to support our truly independent journalism
By registering, you will also enjoy limited access to Premium articles, exclusive newsletters, commenting, and virtual events with our leading journalists
Already have an account? sign in
Join our new commenting forum
Join thought-provoking conversations, follow other Independent readers and see their replies