State of the arts
Line of Duty has a sensitivity problem – it doesn't care who gets trampled on
The sixth series of the BBC police drama has already delivered a thrilling rush of twists, but too often treats its characters like puzzle pieces. Jed Mercurio is forgetting that his ratings smash is still about people, says Louis Chilton
Saturday 27 March 2021 07:41 GMT
Comments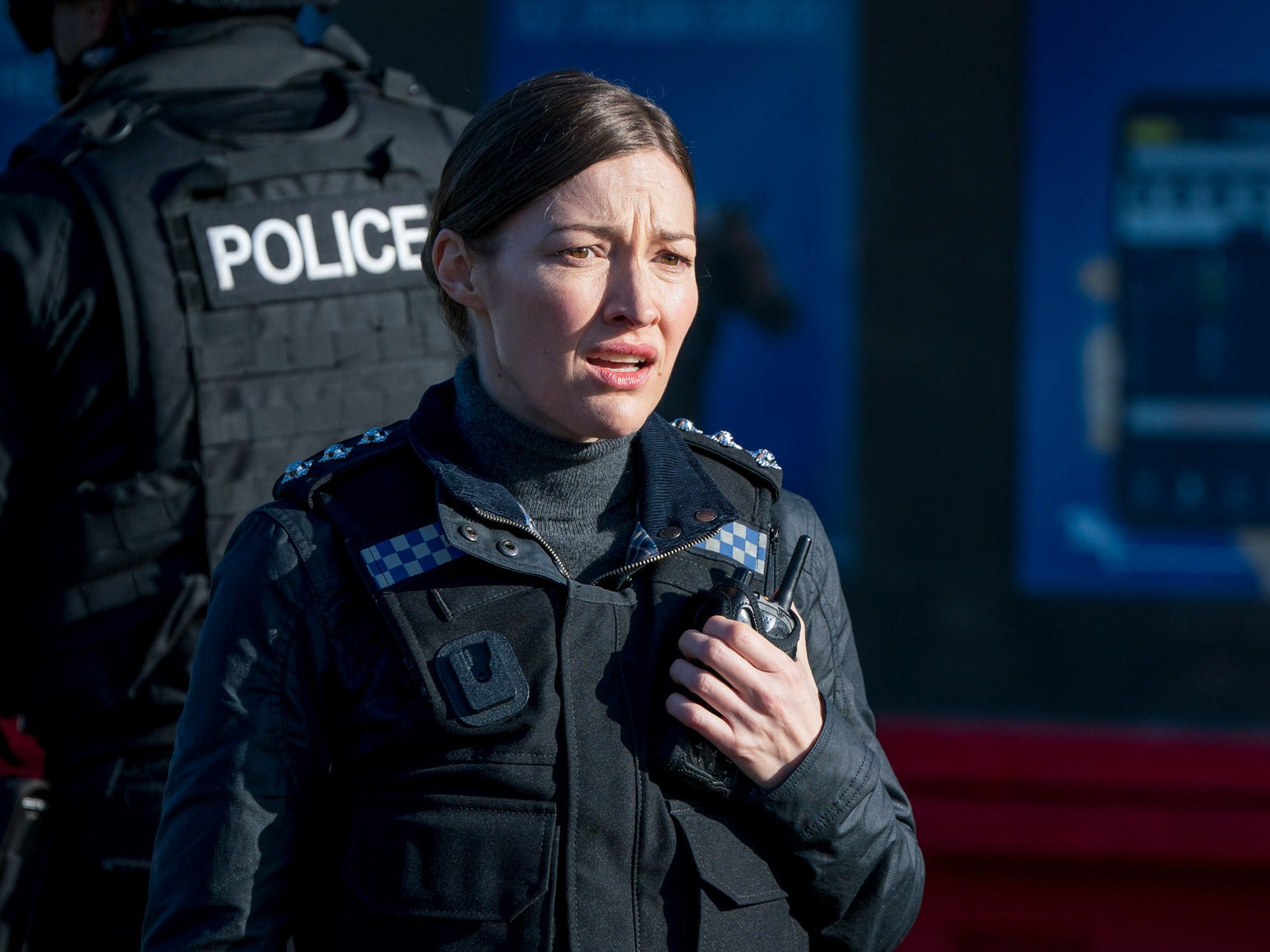 Line of Duty likes to keep audiences guessing. The BBC One thriller has the appeal of a classical whodunnit – though instead of one Hercule Poirot, there's half a dozen, and what's more, they're all suspects. It began its sixth series last Sunday, and immediately drew viewers into a fresh mystery, surrounding the murder of a prominent journalist and a potentially dodgy cop played by Kelly Macdonald. The plotline has already proved twisty and action-packed – speeding forward like one of the armed convoys the series so frequently depicts. For an onlooker, this makes for gripping viewing – but look closer, and you'll see people are getting caught under the wheels.
Like most police dramas, Line of Duty has always trafficked in some pretty serious subject matter, and it's not exactly built for nuance. Tackling issues like murder and police corruption, this isn't a problem; no one is expecting a journalistically accurate portrayal of police work. It's when it digs into human drama – into the realities of abuse, or addiction – that it starts to struggle.
Last Sunday's episode featured a storyline in which Terry Boyle, a character with Down's syndrome played by Tommy Jessop, was seemingly framed for the murder of journalist Gail Vella (Andi Osho). Boyle is clearly the victim of criminal abuse – we have seen as much in previous seasons, when the character was manipulated and assaulted by crooks, who used his council flat to stash a dead body – but is unwilling or unable to give the police the answers they so desperately need.
There was some controversy caused by a scene in which Adrian Dunbar's Ted Hastings describes Boyle as a "local oddball". Series creator Jed Mercurio and the BBC have defended the moment, with the broadcaster clarifying that the comment was "not in reference to the character Terry Boyle's disability". "The word 'oddball' means an eccentric person and has no meaning or connotation of disability," said the BBC. Mercurio also explained on Twitter that the phrase was a "direct quote" from Barry George, who was originally convicted of killing TV presenter Jill Dando in 1999, before his conviction was overturned in 2007. George used it to describe how the police characterised him ("I was the easiest target on the case. They (police) could just say, 'We've got the local oddball.'")
Jim Gamble, the former deputy director-general of the National Crime Squad, and now CEO of an independent safeguarding organisation, aimed at protecting the young and vulnerable, took issue with the line on Twitter, writing directly to Mercurio: "The script writer of Line of Duty needs to reflect on the line referring to a suspect with special needs as the local oddball… You are wrong on this and would be best just to admit that. This was the Supt in charge of Prof standards, not a suspect referring to themselves. If you want your lead to be seen as crass and offensive this is the way to go."
The Down's Syndrome Association backed the show ("The most important part of Line of Duty was that one of the main characters in the drama has Down's syndrome," it said in a statement), but added that it had been contacted by viewers who were "concerned" about the remark, and seemed to agree the line could have been taken as "hurtful". "The reality is that people who have Down's syndrome sometimes do experience hurtful language and we all have a responsibility to speak up when we witness this," said the organisation.
Whether the remark was deliberately "hurtful" or not, it ties into Line of Duty's bigger problem – a lack of sensitivity. Boyle is a character who has apparently been physically and verbally abused, manipulated for years and now dumped into the middle of a murder investigation. His character is, for all that we've seen of him, a perennial victim – we are never really shown who he is outside the context of this abuse. Like the majority of Line of Duty's side characters, he exists almost purely to further the propulsive twists and turns of the central plot. It's possible that Jessop will be given more space to show other sides to the character as this series goes on – episode one at least suggested we haven't seen the last of Boyle.
Another example can be found in the plotline surrounding DS Steve Arnott (Martin Compston) and his burgeoning addiction to prescription painkillers. Arnott was attacked and hurled down a flight of stairs back in series four. His injuries left him requiring the use of a wheelchair – which was gone by series five – and turned him onto medication which, judging by the series six premiere, has now become a worrying habit.
Before the sixth series began, Line of Duty fans unearthed a trail of clues hidden in the trailer. If you used your phone to scan a barcode glimpsed in a shot of a magazine, it would direct you to a series of web addresses – documents, videos and Google Maps coordinates, each new clue contained somewhere in the previous one. One of these Easter eggs was an image of a prescription for Arnott's pain medication – with a web address hidden in Morse code in its design. It's hardly a cardinal sin, but the idea of using addiction as a part of a promotional stunt – or one of the show's many puzzles, waiting to be solved – comes across as pretty crass.
Access unlimited streaming of movies and TV shows with Amazon Prime Video
Sign up now for a 30-day free trial
Sign up
Access unlimited streaming of movies and TV shows with Amazon Prime Video
Sign up now for a 30-day free trial
Sign up
The series six premiere was also notable for the introduction of the show's first substantial queer characters, in DCI Joanna Davidson (Macdonald) and her former partner PS Farida Jatri (Anneika Rose). Jatri had appeared in series four but her sexual orientation was hitherto unexplored. While such representation is always welcome – both are interesting, fleshed-out characters – there's nonetheless something regrettable about the way their relationship is utilised as a twist. As we learn of their shared history, we start questioning Jatri's motives for turning AC-12 onto Davidson's scent; the whole thing becomes just another clue in the Line of Duty puzzle box.
Davidson and Jatri weren't the only queer characters to feature in the episode – not if you count the "rent boy" informant, whose tip-off initiates the action in the very first scene. The most we see of him is a glimpse of his corpse after he takes a suspicious tumble from a multi-storey building. There is obviously nothing wrong with including a gay sex worker in the programme, and you could argue there is nothing wrong with giving him no lines, sending him to a brutal end before you get to know him. But in a series that has shied away from depicting queer people for five seasons, the CHIS's abrupt demise seems particularly cruel – another casualty to the show's insistence on forward momentum, above all else.
Such is the nature of a series like this, of course. We live in an era where art is increasingly viewed as a puzzle to solve, a canvas for theories and Easter eggs and cute pieces of foreshadowing. Line of Duty is one of the best at this – it's a sensation for a reason. But there's more to a narrative than just plot. Line of Duty is also a show about people, and it would do well to remember that.
Join our commenting forum
Join thought-provoking conversations, follow other Independent readers and see their replies