Lip Sync Battle is a cult success in America but will it work in the UK?
The UK version offers rather lower-rent celebs battling it out in mime, reports Chloe Hamilton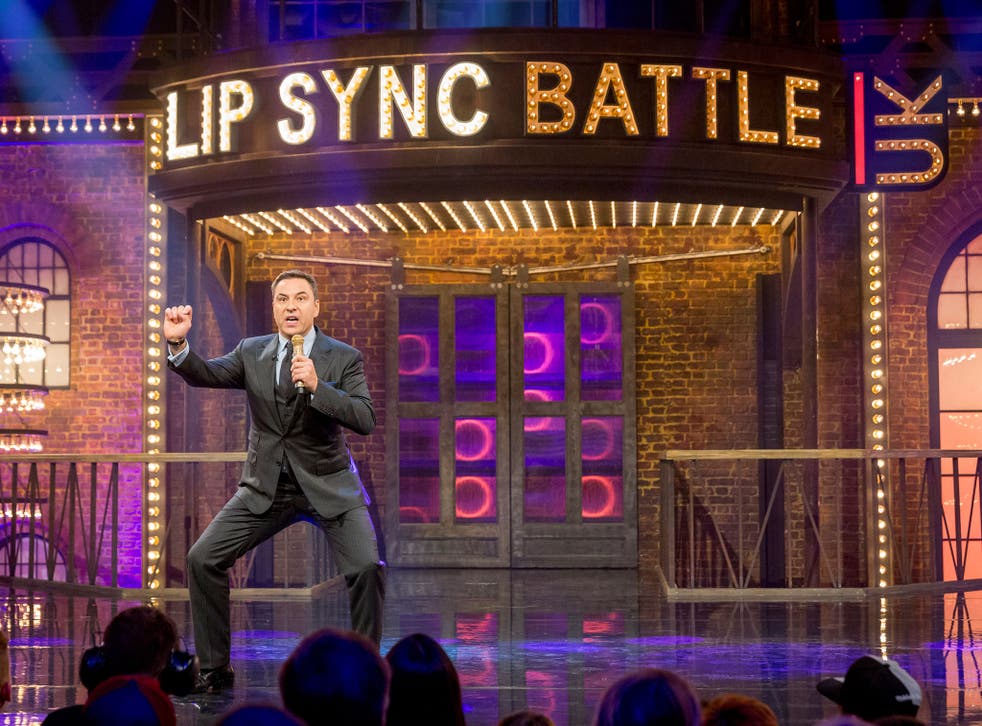 If you haven't yet Googled Dwayne "The Rock" Johnson lip-syncing to Taylor Swift's "Shake It Off", you have a treat in store. With rippling muscles and hulking shoulders, the wrestler bops along to Swift's catchy number one with surprising agility, busting out a winning combination of dad moves and sassy shoulder flicks.
Lip Sync Battle was one of the more surprising hits of 2015. The brainchild of Stephen Merchant, John Krasinski and Emily Blunt, the show started life in 2013 as a small recurring segment of Late Night with Jimmy Fallon. The original idea took shape during a long car journey back from Ojai in northern LA, when friends Merchant and Krasinski were lip-syncing to tunes while discussing what Krasinski could do on his upcoming appearance on Jimmy Fallon's show.
The premise of Lip Sync Battle is simple: two celebrities are pitted against each other in a lip-syncing contest. The stars mime two songs, complete with trash talk and over-the-top costumes, before the roaring crowd determines the victor by means of applause. The winner receives the coveted Lip Sync Battle belt.
So successful was the segment, a spin-off show – hosted by rapper and actor LL Cool J – was picked up by cable TV channel Spike and premiered in America on 2 April last year with 2.2 million viewers – the highest-rated non-scripted premiere in Spike's history. The series was nominated for best reality TV show at the 2015 Teen Choice Awards.
Culture news in pictures

Show all 33
After its first episode, the show was described by Hollywood Reporter as like being let in on "one big inside joke", especially true given that Merchant, Krasinski, Blunt and Fallon have all graced the Lip Sync stage.
Now, the (not quite) singing competition is set to hit British screens. A UK version of the show, hosted by former Spice Girl Mel B and rapper Professor Green, has been commissioned by Channel 5, with the first episode due to air tonight. But will this US concept capture a UK audience's imagination?
The US version of the show has become something of a cult favourite; its popularity thanks in part to the fact that the format lends itself to social media sharing. Clips of the programme amassed more than 107 million video streams within a month of launching.
"It's perfect for the bite sized, YouTube generation because it's a simple idea that you can grasp immediately," says Merchant. "There's something very appealing about seeing big stars being that playful and that goofy, and having fun with their own public image."
If you haven't seen The Rock's turn, then you may have spotted a denim-clad Emily Blunt throwing shapes to Blackstreet's "No Diggity", or Anne Hathaway swinging across the stage on a wrecking ball miming Miley Cyrus. (Hathaway's performance alone has since racked up more than 17 million views on YouTube.) Anna Kendrick, Mike Tyson and Justin Bieber have also taken part. As we know from myriad reality shows, there's something addictive about watching big-name celebrities make fools out of themselves.
Unfortunately, the calibre of artist taking part in the UK version is far from A-list. The first two episodes of the show feature Alesha Dixon vs David Walliams and Jason Manford vs Michelle Keegan. Across the pond, in series two of Lip Sync Battle (which started yesterday), film star Channing Tatum channeled Beyoncé while Christina Aguilera lip synced to her own hits. There's no contest, really.
But lip-syncing itself continues to win fans. The ever-popular RuPaul's Drag Race, which was recently renewed for an eighth season, now features a segment in which Drag Race divas lip-sync for their survival in the competition. It's absurdly pantomime, which of course is all part of its charm.
Pretend singing offers its own challenges, however. You might not have any notes to learn but timing is crucial. Lose your way and the illusion will shatter within seconds. Confidence is a necessity, of course, as is a healthy dollop of comic timing. And it never hurts to throw in some dance moves.
Of course, the most appealing thing about Lip Sync Battle is that it's something we can all relate to. Miming to music is something even the talentless can do. "It levels the playing field," says Merchant. "How can you fail? It's not like you might miss the notes. If you can move your mouth you can do it."
'Lip Sync Battle' starts on Channel 5 tomorrow night
Join our new commenting forum
Join thought-provoking conversations, follow other Independent readers and see their replies