TV Preview: The Little Drummer Girl concludes standout season as The Sinner finally reaches UK television
Also, Nadiya Hussein's Asian Odyssey and Jodie Whittaker's culinary trip down memory lane
Jacob Stolworthy
Friday 30 November 2018 16:42 Comments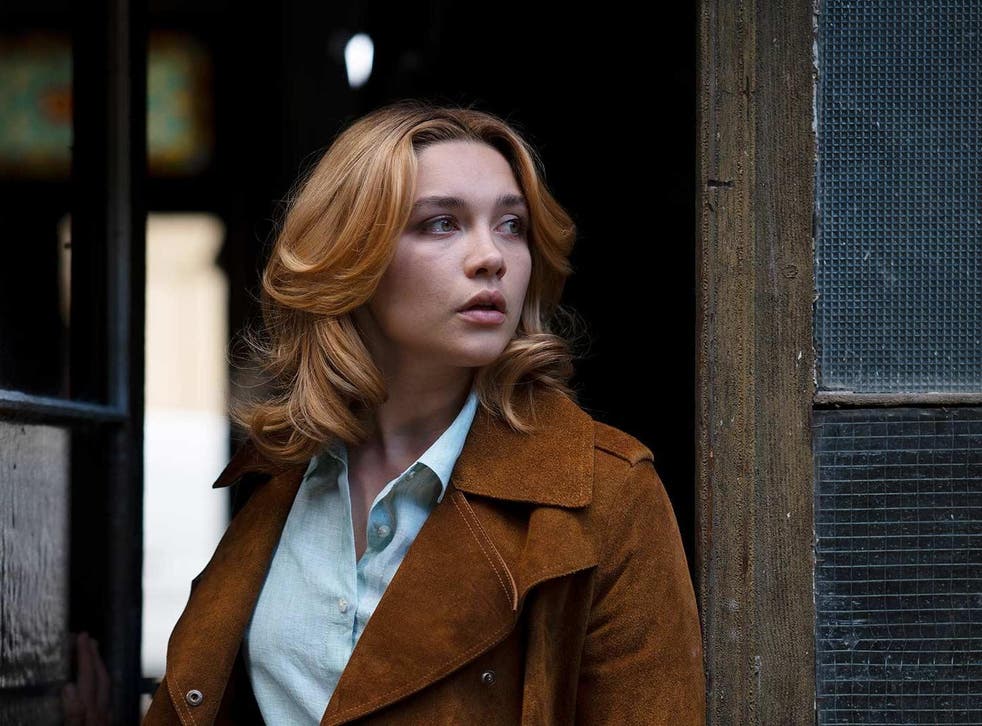 It's a shame that the year's most culturally important show is perceived as Bodyguard when The Little Drummer Girl (BBC1) is superior in every way. South Korean maestro Park Chan-wook has travelled the world to bring the BBC's latest John le Carré adaptation to screen, the result falling way short of ratings amassed by its predecessor The Night Manager in 2015. It's outrageous.
Not that it matters when TV is this sophisticated – and the finale, airing this Sunday, is unmissable. Yes, the production values are like those of a Hollywood movie. And yes, the acting is wonderfully nuanced (props to Alexander Skarsgård, Michael Shannon and a mesmerising Florence Pugh). But more than anything, it's the series's willingness to take its time, patiently orchestrating its buildup, that's made it such a resounding success.
Events reach a (potentially) explosive head as Charlie Ross (Pugh) attempts to pull off her biggest acting stint yet: as a Palestinian soldier about to blow a London auditorium sky high alongside sought-after terrorist Khalil (Charif Ghattas). That's if she's not been indoctrinated and swayed from her role as an Israeli spy.
For those who aren't up to date with their Netflix shows, The Sinner is a US drama that debuted on the streaming service last November to high, if not entirely worthy, praise. This week, it finds its way to BBC4 with a plot that sinks its teeth in: while at the beach with her family, a mother (played by Jessica Biel) murders a seemingly innocent man in cold blood.
Instead of focusing on the who or the what, the show distances itself from the crime procedural format by delving into the reasons why the crime was committed. It's a whydunit, if you will. As a whole, though, the season is one of diminishing returns, but there's no denying the premiere – with its many questions and absence of answers – is an entertaining, if slightly frustrating, way to spend an hour. Be warned: the only question you might be asking by the end of the season is why you're still watching.
For something a bit different, TV viewers have been invited to join Bake Off winner Nadiya Hussein on an Asian Odyssey which serves as a sort of unofficial foodie sequel to Who Do You Think You Are? which first aired in 2004. Inspired by her discovery of a familial connection to Cambodia and Thailand, the gregarious Hussein was sent abroad to taste cuisines from each country (a good job if you can get it). Her journey isn't all fun and games though; before too long, she's peer-pressured into eating durian – the world's smelliest fruit – as well as numerous insects. Hussein should count her blessings that she gets to do it while employed by the BBC – unlike, say, Nick Knowles, currently rubbing people up the wrong way in ITV's I'm a Celebrity jungle.
If you're thinking Jodie Whittaker deserves a treat for her hard-earned Doctor Who efforts, you're not alone, as Jamie Oliver and Jimmy Doherty invite the toast of Huddersfield to enjoy some culinary delights on Southend Pier. That's right: Jamie and Jimmy's Friday Night Feast, TV's most high-octane cookery show, is back, promising a blend of kitchen thrills and touching anecdotes.
Ahead of that, though, Whittaker will be seen in what is the first of Doctor Who's final three episodes before her debut run as the Time Lord concludes. This week's instalment swaps last week's 17th-century Lancashire location for present-day Noway in an equally-as-chilling tale involving a "terrifying" monster in the woods. Southend sounds much safer.
The Little Drummer Girl (BBC1, Sunday 9pm); The Sinner (BBC4, Saturday 9pm); Nadya Hussein's Asian Odyssey (BBC1, Wednesday 9pm); I'm a Celebrity... Get Me Out of Here (ITV1, nightly 9pm); Jamie and Jimmy's Friday Night Feast (Channel 4, Friday 8pm); Doctor Who (BBC1, Sunday 6.40pm)
Support free-thinking journalism and attend Independent events
Register for free to continue reading
Registration is a free and easy way to support our truly independent journalism
By registering, you will also enjoy limited access to Premium articles, exclusive newsletters, commenting, and virtual events with our leading journalists
Already have an account? sign in
Join our new commenting forum
Join thought-provoking conversations, follow other Independent readers and see their replies