Love is not blind, it's broken: The Netflix show's extreme form of heterosexuality is toxic
The form of relationship that the 'Love is Blind' contestants are told to seek is a sort of generic Hilton hotel model, writes Annie Lord, featuring rose petals, chocolate-covered strawberries and conversational platitudes
Thursday 05 March 2020 07:57 Comments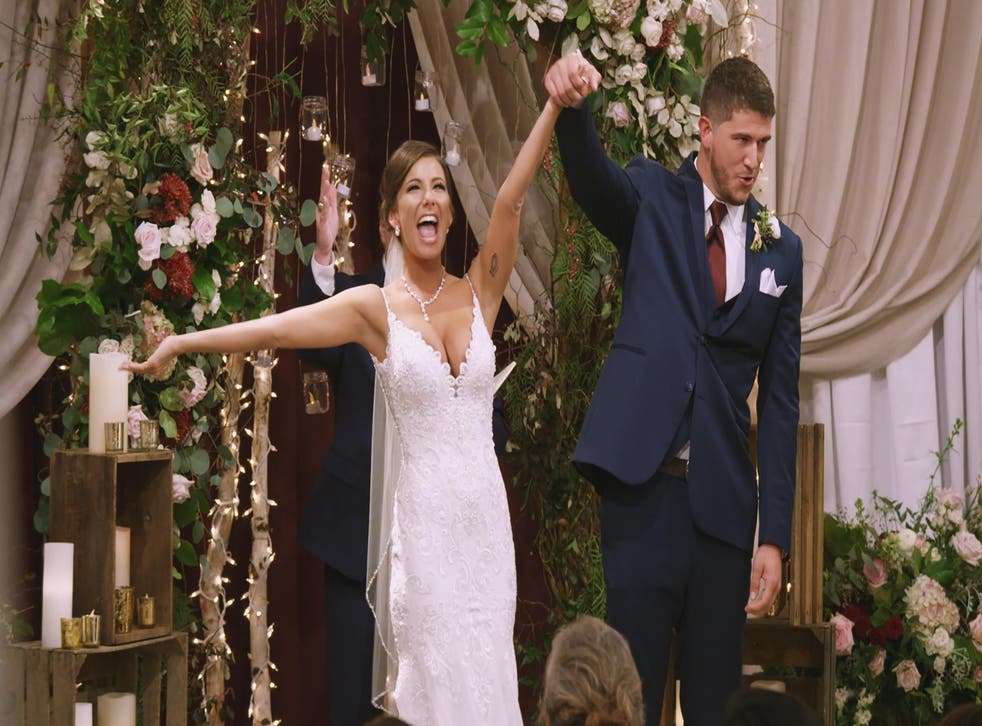 Society tells us that heterosexual love is normal. When you're ready to "settle down", you get engaged, walk down the aisle and say "I do". The best man gives a speech about all the times the groom got too drunk. The first dance is to Whitney Houston. The chicken main course is dry. So is your sex life after six years of monogamy. After the wedding, you buy a Toyota Prius, get a joint Spotify account, she quits her job to be a mum, you live in a beige house and then – when it starts to feel too small – you buy another, slightly bigger beige house. Your kids grow up and do the same.
Love is Blind proves this heterosexual model of romance to be terrifying – and not just because the contestants keep spoon-feeding each other chocolate cake.
The Netflix production is the Stanford Prison Experiment of dating shows (contestants even call the housing complex they live in "the facility", as though they'll be tasered if they attempt to leave). Under the guise of a scientific experiment, Love is Blind pushes people who have only ever communicated through a wall to get engaged. They then meet in real life to see if they still want to go through with their wedding, which is only weeks away.
One by one, each couple pushes past their blatant dislike of each other, believing that if they work hard enough to assimilate into the husband/wife moulds laid out by society, they will find happiness. The eventual conclusion is not the one the producers hoped it to be: love is not blind, but broken.
Where Love Island contestants treat relationships as an added bonus in what is essentially a job interview for a MissPap brand ambassador role, the Love is Blind cast seem to really believe that reality TV will lead them to their soulmate. But Netflix casting directors are not Cupid incarnate. The chances of picking a perfect partner out of 15 potential matches is unfathomable. No matter. The contestants brainwash themselves into believing they have found The One.
At the risk of sounding like a happiness guru, nothing can make you happy but you. Yet the contestants of Love is Blind buy into the notion that all problems – from student debt to insecurity, abandonment issues to anxiety, stress to loneliness – disappear after you get married. To them, love is like reaching the end of history. It's just BBQs and laughs from then on.
They treat love like an army training camp. After the reveal, contestants repeat "the physical attraction is definitely there" enough times to make you think the physical attraction is definitely not there. Giannina focuses on getting rid of her walls and her tendency to "self-sabotage". Kelly talks about how you can get so much closer to someone when you're not checking social media. Barnett cultivates deep conversations in the hopes of accelerating the process by which he and Amber both "fell" for one another.
Such is their desperation that Damian stays with Giannina even after she tells him he's bad in bed in front of an entire camera crew and God knows how many viewers. Lauren and Cameron tell each other "I love you" in the first half-hour of the show. Lauren admits that her mum often rings her to discuss her dwindling egg count. Barnett announces it's time to settle down, as though there's a clear-cut moment in life where beer pong must give way to date nights, polyamory to monogamy.
The form of relationship that the contestants are told to seek is a sort of generic Hilton hotel model, featuring rose petals, chocolate-covered strawberries and conversational platitudes. They want what presenter Nick Lachey​ has with his wife and co-presenter Vanessa – a match so potent it's given him the confidence to prefix his name with "obviously".
Access unlimited streaming of movies and TV shows with Amazon Prime Video Sign up now for a 30-day free trial
Sign up
At points, the contestants do seem to get close at an accelerated rate – but for anyone who's ever had MSN messenger, this isn't a surprise. Social anxiety means humans find it easier to open up when they don't have to look at the person they're speaking to. And forging a bond is easier when you have such low expectations for intimacy. Kelly and Kenny convince themselves they're meant for each other because they both read the same children's book – Love You Forever – that literally 30 million other people have also read.
Though the roles that contestants have to slot into are suffocatingly binary, they do it with aplomb (gender is a performance they have spent their whole life perfecting, just like the rest of us). The men seek to be strong and the women seek to be caring and thin. The only pleasing revelation is that American men seem a lot more comfortable crying than they do over here. Every time they hear the word "family", they're bawling more than posh literary women do watching Little Women.
Those unable to assimilate into this model of heterosexual love are punished. Lauren doesn't want to give up her apartment, but Cameron pushes her to see that marriage necessitates cohabitation. Diamond can't accept Carlton's bisexuality, presumably because a man who has dated more than one gender doesn't fit into her fairytale ending. "My question is, how do you know I'm the love of your life?" she asks him. "Do you ever feel like you need to go date another man?"
Jessica, Love is Blind's designated "supervillain", drinks so much wine throughout the course of her engagement that it seems like she's attempting to inebriate herself into finding Mark attractive. "Messica" should just admit she doesn't like him. Instead, she attempts to be horrible enough to him that he'll break up with her first. She brings up their age gap constantly, tells Mark that Barnett is "really hot and sexy", and she doesn't like her wedding dress, even though it looks great on her (she obviously just doesn't want to be in it).
After failing to gaslight herself into domestic bliss, Jessica turns up at the altar with chipped nails and – with chewing gum still in her mouth – finally tells Mark she can't do it. She's mean, and touches her hair so much I'm surprised it doesn't fall out, but Jessica isn't evil. She just can't bring herself to swallow the matrimonial blue pill the producers have laid out for her.
After Giannina is rejected at the altar, a shaky camera follows her as she runs from the wedding venue, falls over on a muddy grass verge and cries off her liquid eyeliner. I had thought that it was quite daring for a bride to wear black nail varnish. Perhaps that's where she went wrong? Should have gone with ballet pink. Fellow rejectee Kenny looks similarly broken, so hollowed out it's like someone's spooned out his insides with an ice-cream scoop. The last we see of Carlton, he's tossing his engagement ring in a swimming pool as Diamond scream-quotes Beyonce at him ("You can watch my fat ass twist boy").
Even after receiving an onslaught of death threats related to his decision to open up about his fluid sexual identity, Carlton returns for the reunion show. Vanessa asks him whether he regretted anything — perhaps telling Diamond that her "wig has been sliding since day one" or the aggressive way he threw his "Daddy"-emblazoned cap onto the floor. "I would have done whatever it takes to be sat on the couch as happy as these people," he responds, tears pouring out of him as freely as a bleeding wound, "if I'd have known that's what it took to be sat here, happily married".
Carlton's not crying because he misses Diamond. He's crying because he thinks marriage could have solved him. But to be met with an "I do not" instead of an "I do" is to be offered a chance at a different kind of love. One that lets him be himself and not one half of the zombified "husband" and "wife" team this extreme form of heterosexuality conditions us to be.
Register for free to continue reading
Registration is a free and easy way to support our truly independent journalism
By registering, you will also enjoy limited access to Premium articles, exclusive newsletters, commenting, and virtual events with our leading journalists
Already have an account? sign in
Join our new commenting forum
Join thought-provoking conversations, follow other Independent readers and see their replies