Maggie Gyllenhaal on her new role in BBC2 spy drama The Honourable Woman
Gyllenhaal explains why her role as a philanthropist trying to resolve the Middle East crisis is right up her street
Gerard Gilbert
Friday 04 July 2014 09:04 Comments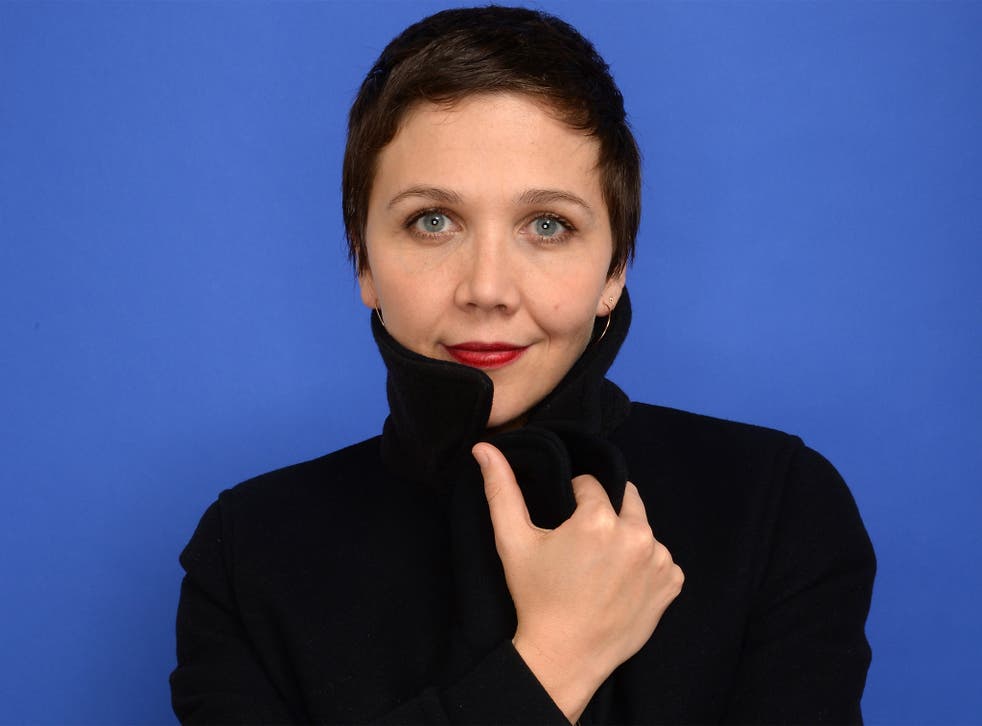 The room looks more like a sick bay than the office of Maggie Gyllenhaal's London publicist as the American star of Donnie Darko, Secretary, Crazy Heart and The Dark Knight sits behind a table littered with various bottled potions; she has a streaming cold and she's already discussing cancelling her next appointment.
I've always liked Gyllenhaal – she never seems to turn in a bad or even a mediocre performance – and am sorry to meet her when she's under the weather. It's probably the climate; she's been living in Britain to film a new seven-part BBC2 spy drama called The Honourable Woman, written, produced and directed by Hugo Blick, who made the heavily stylised 2011 thriller The Shadow Line, having made his name with the Rob Brydon monologues Marion and Geoff.
The Honourable Woman also stars The Shadow Line's Stephen Rea (as well as Andrew Buchan, Lindsay Duncan and Katherine Parkinson from The IT Crowd), but it belongs to Gyllenhaal as Nessa Stein, the daughter of a murdered Zionist arms dealer who now runs a charitable London organisation seeking a solution to the Israel-Palestine conflict. And what's more she plays her with an impeccable English accent picked up under the tutelage of Emma Thompson, her co-star and director on Nanny McPhee and the Big Bang.
"I speak all day long when I'm on set in an English accent so I can practise," says Gyllenhaal. "You're using different muscles in your mouth, but my dialect teacher told me to just relax into it. I remember Hugo saying to me near the end of the shoot, 'where are you going to hang that accent?'"
Gyllenhaal came to appreciate Blick ("I've never had a more loving, inspiring collaboration"), but it wasn't an immediate rapport. "I didn't like him when I first met him," she says. "I almost didn't do it; I was really put off by him and I thought, 'what a drag because I really like this script and I can't seem to communicate with this guy'."
What was the problem? "I didn't think he was listening to me," he says. "And then we spoke on the phone and he somehow ended up at my house for dinner... I did not invite him to dinner. He felt like I was a feral horse that he was trying to get into the corral and he knew that he couldn't touch it too much to get it into the corral and I think on some level that's true about me."
The Honourable Woman's fair-minded take on the savagely divisive Palestinian question would presumably make it nigh-on impossible to get made in America with its powerful pro-Israel lobbies.
"I wonder," says Gyllenhaal. "I haven't done press there yet so I haven't had the chance to talk to many Americans about it. We are dealing with the conflict, it isn't just a backdrop. Some people will get upset, presumably."
Gyllenhaal is used to upsetting people – more conservative types at least. She once described her parents (film director Stephen and screenwriter Naomi) as "left of Trotsky", and she herself is politically active, speaking out against the Iraq War, campaigning in support of jailed information-leaker Chelsea (formerly Bradley) Manning and throwing a party for Pussy Riot. A diehard Democrat, she feels let down by President Obama. "He's broken my heart in a lot of ways," she says. "I'm not clear what Obama believes in – and I wish I knew."
Access unlimited streaming of movies and TV shows with Amazon Prime Video Sign up now for a 30-day free trial
Sign up
Born in New York City in 1977 and growing up "most Jewish, culturally", Gyllenhaal is descended from Swedish nobility on her father's side and from the Russian Jewish diaspora on her mother's. "She comes from immigrants from a pogrom in Russia and I think I inherited a sense that I could do what I wanted... but also something brutal that they had to have to achieve what they did." She has a ruthless streak? "I do. Actually my middle name's Ruth."
Moving to Los Angeles as a child, both Gyllenhaal and her younger brother Jake (future star of Zodiac and Brokeback Mountain) appeared as juvenile actors in films directed by her father, while the siblings achieved a joint breakthrough playing brother and sister in the cult 2001 fantasy Donnie Darko – the one with the giant rabbit called Frank. I had read that Gyllenhaal gets annoyed when journalists ask her about her brother.
"Sometimes I get tired of it when you're sitting in a room and everybody comes in over and over again and asks about my brother," she says. "'Are we competitive?' they always ask, and I'm kind of like 'just read the other bloody articles and what I've been saying for 10 years to get the answer to your question'... no. He's one of my best friends and I really adore him." Press junkets and their attendant inanities can't be a joy for an actress who has a BA in literature and Eastern religions from Columbia University.
Another touchy subject – or so I read – is the 2002 black comedy Secretary, the sado-masochistic romance that featured the provocative image of Gyllenhaal, as self-harming secretary Lee Holloway, crawling across the floor to deliver by mouth a letter to her boss Edward Grey (the original sexually dominant Mr Grey; was EL James a fan of the film?), played by James Spader. I had read that Gyllenhaal regretted the movie's decidedly mixed message about female empowerment.
"I read that too," she says. "I don't feel that way at all. I love Secretary and I love Steven Shainberg, the director, and I thought it was a really special experience that taught me a lot. People make stuff up all the time… you know, 'I bet she didn't like that'. Well, I did."
Gyllenhaal's performance in Secretary won just about every nomination under the sun, except one for an Oscar, and was followed by supporting Julia Roberts in Mona Lisa Smile, Oliver Stone's World Trade Center, the Nanny McPhee sequel where she first honed her English accent, and Christopher Nolan's 2008 entry in the Batman series, The Dark Knight. But it's in the indie sector that she has thrived, especially as the recovering heroin addict Sherry Swanson in the 2006 drama Sherrybaby and as the young journalist who starts a relationship with washed-up country singer Jeff Bridges in Crazy Heart, a performance that finally bagged Gyllenhaal an Oscar nomination in 2009 (Bridges won for Best Actor). She appeared earlier this year with Michael Fassbender in the low-budget movie Frank, but what has brought Gyllenhaal to television, and British television at that, is both the increasing internationalisation of the medium, and the marginalisation of independent movies. Television is now the chosen repository for ambitious dramatists with intelligent and idiosyncratic voices.
"I guess I'm unsure about the state of independent film and I'm surprised Frank got made at all," she says. "Something like The Honourable Woman you could make as an independent film but who's going to see it? On TV lots of people are going to see it, and I'm fed up making stuff that only 10 people watch.
"To be honest I didn't even think of this as television when I started doing it – I just liked it and decided to do it, and it wasn't until I was a few days in that I realised, 'oh my God, this is eight hours of drama we're making and can I do this?'. I can manage two hours... I know how to pace myself."
Time is an important factor for the mother of two young daughters, Ramona and Gloria Ray. Gyllenhaal is married to Peter Sarsgaard, originally a friend of her brother's and best known in this country for playing the man who seduces schoolgirl Carey Mulligan in An Education. She says they're wary of making a film together.
"You don't want to put your relationship on screen," she says. "We get asked to do things together now and then but it's hard to find something that's appropriate. There is a project we're developing that we'd like to do for a tiny, like $ 500,000, budget so we can make that money back by hook or by crook and it could be as unusual as we wanted it to be."
Meanwhile in September Gyllenhaal is making her Broadway debut opposite Ewan McGregor in Tom Stoppard's The Real Thing, again with an English accent. "Why not? I've got the accent now. I do feel so comfortable in Britain, but I'm not sure why; I love the way actors are treated here – they're given a real respect." Gyllenhaal recently outed herself as a Downton Abbey fan. "I'd love to be in Downton Abbey if they'd have me. I could be like the pregnant American third cousin or something…"
'The Honourable Woman' begins tonight at 9pm on BBC2
Register for free to continue reading
Registration is a free and easy way to support our truly independent journalism
By registering, you will also enjoy limited access to Premium articles, exclusive newsletters, commenting, and virtual events with our leading journalists
Already have an account? sign in
Join our new commenting forum
Join thought-provoking conversations, follow other Independent readers and see their replies