Meet the real-life Lady Cora
The current mistress of 'Downton Abbey' tells Veronica Lee about the aristocrat who inspired Julian Fellowes to write his upper-crust saga
Sunday 18 September 2011 10:36 BST
Comments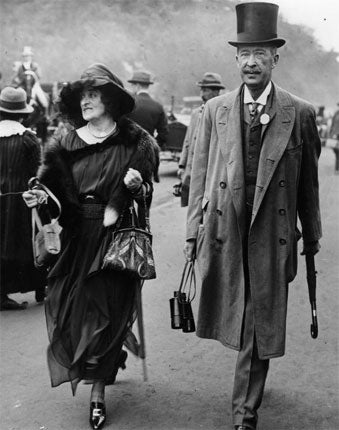 Tonight the nation will indulge its obsession with class, country houses and caddish if handsome footmen by sitting down to watch Downton Abbey. The surprise television hit of 2010 returns with a wildly anticipated second series that reacquaints us with the upstairs, downstairs lives of those in the grand seat of the Earl of Grantham.
At the end of the first series, news of the First World War had shattered the peace of Downton's lawns, leaving a cauldron of plotlines simmering. Not the least of these was the hope, dashed by her miscarriage, that Lady Cora's surprise pregnancy might settle the agonised question of the dastardly "entail" – the succession of the Abbey and the Grantham fortune in the absence of a direct male heir.
Series two opens in 1916. Downton's chatelaine, played by Elizabeth McGovern, is coping with her home having been turned into a convalescence unit for wounded soldiers. But how many watching know that Lady Cora is based on Lady Almina, who once lived at Highclere Castle, the house in Berkshire where Downton Abbey is filmed? She, like Cora, was foreign, rich, and of less than pukka origins – and when Almina married the 5th Earl of Carnarvon, her fabulous wealth rescued a penurious yet free-spending family who had an insatiable appetite for the good life.
Downton's creator, Julian Fellowes, won't have had to labour too much to unearth the tale of the "real" Lady Cora. The author is a regular visitor to his friends Lord and Lady Carnarvon at Highclere, in whose magnificent library he will have uncovered Lady Almina's story.
In 1895, not long after the young 5th Earl of Carnarvon had inherited his title, the cash injection that came with his marriage to teenage heiress Almina Wombwell was most welcome. He enjoyed a dashing lifestyle involving yachts, foreign travel and collecting rare books and artefacts. Though her name might not indicate it, Almina Wombwell was the illegitimate daughter of Alfred de Rothschild (grandson of the banking empire's founder), who indulged her every financial whim.
There was a detailed marriage contract drawn up between the earl and Rothschild – not so much a pre-nuptial agreement as a whopping great dowry, in which the earl's debts were paid off and Rothschild agreed to pay Almina £12,000 annually for life, or to the earl if she pre-deceased him. It would be worth £6.5m today. Almina's money not only paid for the lavish lifestyle the couple had at several homes, and for the modernisation of Highclere but also, later, her husband's Egyptian adventures. He discovered Tutankhamen's tomb, and she generously bankrolled his partner, Howard Carter, after her husband died.
But Almina – whose life and times are chronicled by the present Countess of Carnarvon in a book published later this month – was just one of dozens of foreign heiresses, just like Downton Abbey's Lady Cora, who married into the British aristocracy at this time. Most of the heiresses came from the astonishing number of new millionaires, even billionaires, created by the rapid 19th-century industrialisation of the United States. In the same year as Almina's marriage, nine American heiresses married English aristocrats. By 1900, it was estimated that a quarter of the House of Lords had an American connection. Overall, about 350 American heiresses had married into the British aristocracy pre-1914.
Among the 1895 intake was Consuelo Vanderbilt, who married the Duke of Marlborough, helping the family keep hold of Blenheim Palace, where Winston Churchill had been born in 1874. Jennie Jerome, Winston's mother, was heiress to a New York developer father when she married Winston's father, Lord Randolph Churchill, the Duke's younger brother.
Other notable marriages united Mary Leiter, daughter of a Chicago department store owner, and Lord Curzon, a politician, and May Goelet, daughter of a New York real-estate developer, and the Duke of Roxburghe.
Access unlimited streaming of movies and TV shows with Amazon Prime Video
Sign up now for a 30-day free trial
Sign up
Access unlimited streaming of movies and TV shows with Amazon Prime Video
Sign up now for a 30-day free trial
Sign up
It's not difficult see the mutual attraction: the aristos kept their vast estates while the arrivistes gained titles and instant class. In the case of Almina, she is notable for being French and Jewish, two things normally considered beyond the pale even by land-rich, cash-poor Edwardian gentry.
The present chatelaine of Highclere, Fiona (nee Aitken), the 8th Countess, is very much of her times: she married into the Carnarvon family and was once a senior auditor at Coopers & Lybrand and so knows the worth of having camera crews use the castle for locations.
"We certainly hoped having Downton Abbey here would improve our profile,"the countess says, "and we have noticed more visitors to the estate." Before the first series was shown, there were 100 coach parties a year; afterwards, 600.
But the Countess is overseeing a very different estate to the one Lady Cora rules over. In Victorian times it had nearly 100 workers; it now has a full-time staff of seven, including a butler and a cook.
Does she recognise that places like Highclere are an anachronism? "Actually, I think they've found a place in the modern world," Lady C replies. "So many big houses were destroyed in the 1950s and '60s, but today there's a sense of wanting to feel grounded and people wanting to understand their history, and houses like this are living history with a real personal connection to the past.
"Geordie [Carnarvon, her husband, the present Earl] and I are stewards of this house, and yes, we are privileged. But with privilege comes responsibility and obligation. If we drove around in Ferraris and had yachts we would be targets. But we blatantly share it with everybody and do as much as we can for local charities."
Responsible stewards they may be, but that hasn't stopped the Carnarvons applying for planning permission for a housing development on Highclere's extensive parkland (away from the house, one imagines). Near neighbour Lord Lloyd-Webber, aghast, has offered to buy Highclere to keep it intact for future generations. An old pile, new money and the horrid encroachments of modern life – it has a familiar ring, doesn't it?
Downton Abbey, tonight, ITV1, 9pm. Lady Almina and the real Downton Abbey by Fiona Carnarvon is published on 29 September
'Abbey' at The Emmys
Downton Abbey takes on the best America has to offer tonight as it competes for nearly a dozen gongs at this year's TV Emmy Awards.
The highly acclaimed ITV series, which chronicles the lives of the aristocratic Crawley family in the early 20th century, is nominated for 11 awards, including one in the prestigious Outstanding Miniseries or Movie category.
As one of the biggest TV hits of last year returns to our screens with its second series this evening, its creators also hope that its cast will be celebrating overseas. Elizabeth McGovern (Cora, Countess of Grantham), is nominated for Outstanding Lead Actress in a Miniseries or a Movie. And her colleague – and double Oscar-winner – Dame Maggie Smith, top left, is up for Outstanding Supporting Actress.
Downton's executive producer, Gareth Naeme, has said the drama could run for "years and years".
Other British stars hoping to wow US crowds include Kate Winslet, bottom left, who will be competing with McGovern with her role in miniseries Mildred Pierce, which has 21 nominations.
Sarah Morrison
Join our commenting forum
Join thought-provoking conversations, follow other Independent readers and see their replies