Michaela Coel interview: The writer-actor on rude sex, Jeremy Corbyn and being the voice of a generation
After being closeted away in a girls' school and becoming a militant Christian, she's gone on to tell lurid tales of her sex life and is about to play a murderous webcam girl. Whatever happened, Michaela Coel?
Gerard Gilbert
Saturday 27 February 2016 23:48 Comments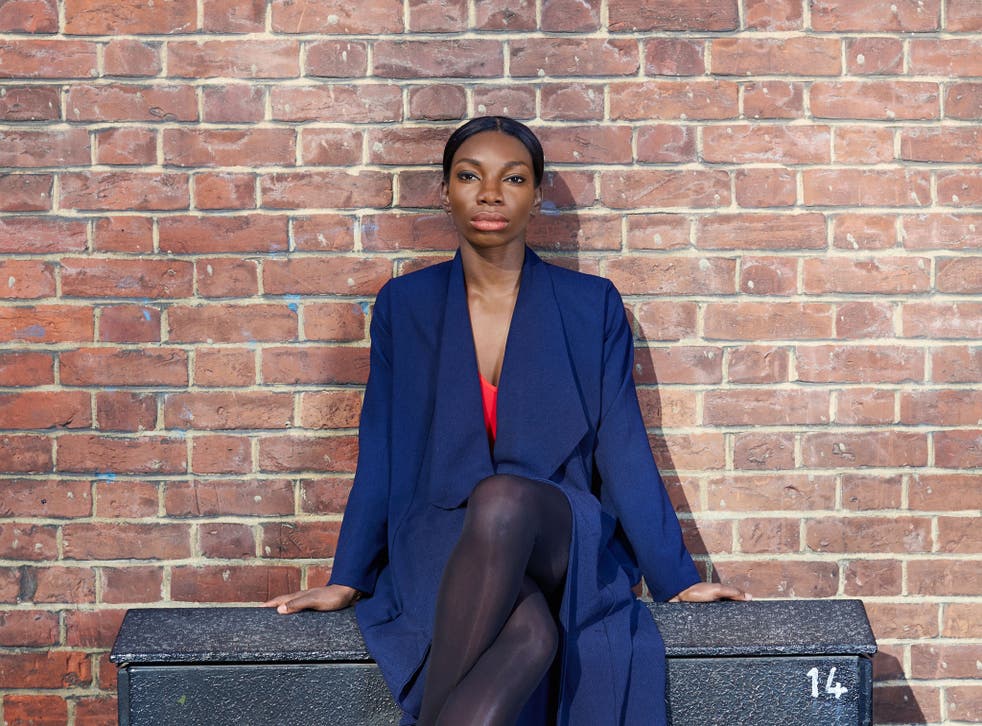 Michaela Coel – poet, singer, actor, writer – arrives at our interview wearing a red American Apparel top she has bought especially for the photoshoot, and a buttoned-up chemise that's almost Victorian in its modesty, and somewhat at odds with the raucously sexual nature of much of her work. If you happened to catch Coel's play Chewing Gum Dreams as it made its way from the fringe to the National Theatre, or its more comedic television spinoff, E4's Chewing Gum, you will know what I mean.
If you didn't catch one of the funniest and most refreshingly frank TV series of last year, then an introduction is in order. The 27-year-old's original play was an effervescent semi-autobiographical monologue about being a 14-year-old growing up brimming with hormones but depleted of self-belief on a housing estate in Tower Hamlets in London's East End.
Culture news in pictures

Show all 33
In the sitcom, Coel took the same character, Tracey Gordon, and turned her into a horny, Beyoncé-crazy 24-year-old virgin, whose evangelical Christian boyfriend's determination to avoid premarital intercourse seems like an excuse not to confront his own sexuality.
Relationship advice ("Just sit on his face") came from best friend Candice while her strait-laced sister Cynthia provided the chorus of disapproval. All this against a backdrop that managed to make London housing estates – usually depicted in TV dramas such as Channel 4's Top Boy (which Coel was in) as gang-infested drug dens – seem rather appealing. "I wanted to do that because there's enough of the portrayal of the scary kind, the whole idea that you have to be careful when you go there," says Tracey's bright and funny alter ego when we meet in the offices of Channel 4. "I go to estates I don't live on all the time."
Coel's Ghanaian parents split up before she was born, and she and her older sister were brought up by her mother, a former cleaner who took a degree and a masters in psychology and now works for the NHS.
"I don't know what it would have been like to grow up with a man in the house," she says, before giving a graphic picture of domestic life chez Coel. "Like, I walk around my house naked, and my mum used to shave my pubes. I'd feel that I would have to take a dump with the door closed.
"I also went to a girl's school – I've had a really female life. It was only when I went to sixth-form college that I encountered boys. I still don't know how to function around boys."
Coel was the only black girl at her primary school, but feels that class rather than race was more significant in her upbringing: "Growing up on our estate, we were all different colours but we were all really poor. I never really realised that black was a problem for some people."
Her new drama for E4, The Aliens – written by Fintan Ryan (Hustle, Rev, In the Flesh), making this an acting-only gig for Coel – is set in a dystopian alternative reality where aliens have visited Earth and are now contained in a walled ghetto called Troy. An allegory, perhaps, for the estates where London's poor are housed? "Fintan does the script and then he disappears, so I don't know what he thought," says Coel. "But for the cast it had a lot to do with immigration – in general, it's about outsiders."
Access unlimited streaming of movies and TV shows with Amazon Prime Video Sign up now for a 30-day free trial
Sign up
Coel plays a badass sex worker alien called Lilyhot. "Webcam girl by night, kidnapper, k murderer, drug dealer and all things deceptive by day," as she puts it. "She was written for someone who could pass for Scandinavian, which made me want it even more. She's a part of me that I don't access very much. She's very sexy. I think I'm a bit more boyish – if I go to a party I'm trying to be more Jay Z than Beyoncé."
The shoot was in Bulgaria, a place she grew to love, despite a racist attack. "Me and [fellow actor] Reuben Johnson went to buy some groceries on my birthday and four Bulgarian guys threw stones at us as we were walking back to our apartment," she says. "We had to run. Got a little bit of bruising on my ankles."
Having written and starred in Chewing Gum, Coel struggled with being simply an actor on The Aliens. "I had to really go, 'Michaela, it's not your show… stop.'" She herself began writing when she was 17, and had just embraced the Lord. "It was the kind of time when you're supposed to fall into some sort of future, and for me there was no destination," she says. "I guess I was subtly presented with one. And within a week or two I had written my first poem."
How did her new faith inspire her to write poetry? "I'd started reading the Bible, and it's quite poetic," she replies. "There's psalms that tell you things that nobody tells you – that you're fearfully and wonderfully made, that you're beautiful, that you have worth, basically.
"I don't believe it any more; I believe that I have worth, but I don't believe in the stuff that comes with the loveliness." That stuff included hostility to homosexuality, which Coel couldn't square with her love for her new gay friends at drama school. "The kind of Christian I was – I was a soldier… I was really militant. But I fell in love with those people, and I'd go to church and feel like a liar, so I had to stop going."
In her five-year "militant" phase she managed to convert both her sister and mother, as well as a boyfriend who is now a pastor. "Well, God did, via me," she says. "I think when you're proper crazy, people either buy that or they go 'You're proper crazy.'"
I wonder whether she can identify with militant young Muslims following their faith to Syria? "No, because my intention was love but it came out so manically that I lost all my friends," says Coel. "I feel that when you want to start attacking people or completely rejecting the people you see as not on the godly side, to me that isn't God and that isn't love."
These days Coel still lives in Tower Hamlets ("I love my borough"), in a house-share with fellow young professionals. So she's middle-class now, then? "Basically I've stepped up a notch," she replies. "I don't know what class is any more; I think we are only what came before us. I suppose essentially I'm saying I'm working-class until I die, wouldn't wanna be anything else. Whoop whoop! Fist to chest."
As for the now seemingly unstoppable gentrification of the East End, and the Mayor of London's £150m scheme to regenerate some of the city's more run-down estates, Coel has mixed views. "My mother got a letter the other day. They're all very excited. 'Yeah… they're going to make it new – double glazing and stuff like that.' But I think [the funding is there] because for other people the estate is like an eyesore. They don't want to look at it.
"Gentrification is inevitable. I like places such as Shoreditch because I feel like they've kept some essence of culture and it's not just money, whereas around Aldgate there is no culture. It's my estate then banks and generic places – Itsu and Pret [a Manger]. There is no culture in Pret. That's when I don't like gentrification."
Is she political with a capital P? "Yeah, I'm a Corbyn girl, but I'm not religious with it, as I was with Jesus Christ," she says. "I was left quite angry after last year's election – to see a lot of people who live on estates voting for David Cameron. I hope we learn our lesson over the next few years and make the right choice. JC! JC! JC!"
In the meantime, she's busy writing a second series of Chewing Gum. Where does her sexual frankness come from? "I don't really know. I think it was secondary school. People would have sex in the back of the bus at my school. I was never like that. And I think I had my very first, very brief – maybe two-sentence – conversation about sex with my mum only last May."
It's a discussion they probably didn't need to have, her mother being a big fan of Chewing Gum. "I was scared before it came out and now I'm questioning who [Mum] is," says Coel, adding that she hasn't run out of new sexual exploits to fictionalise. "I thought I'd done it all; sexually I've done the weirdest most embarrassing stuff ever. Obviously I dish a lot of it out to the other characters, so no one will know it happened to me…"
'The Aliens', 9pm, from 9 March, E4
Register for free to continue reading
Registration is a free and easy way to support our truly independent journalism
By registering, you will also enjoy limited access to Premium articles, exclusive newsletters, commenting, and virtual events with our leading journalists
Already have an account? sign in
Join our new commenting forum
Join thought-provoking conversations, follow other Independent readers and see their replies