Mozart In the Jungle: The fact that Placido Domingo and Monica Belluci have agreed to appear underscores the show's global popularity
The third series of Amazon Prime's comedy drama 'Mozart in the Jungle', about a fictional New York symphony orchestra, has an episode featuring Domingo, playing himself alongside Bellucci, as an opera diva – not forgetting the new conductor, played by Gael Garcia Bernal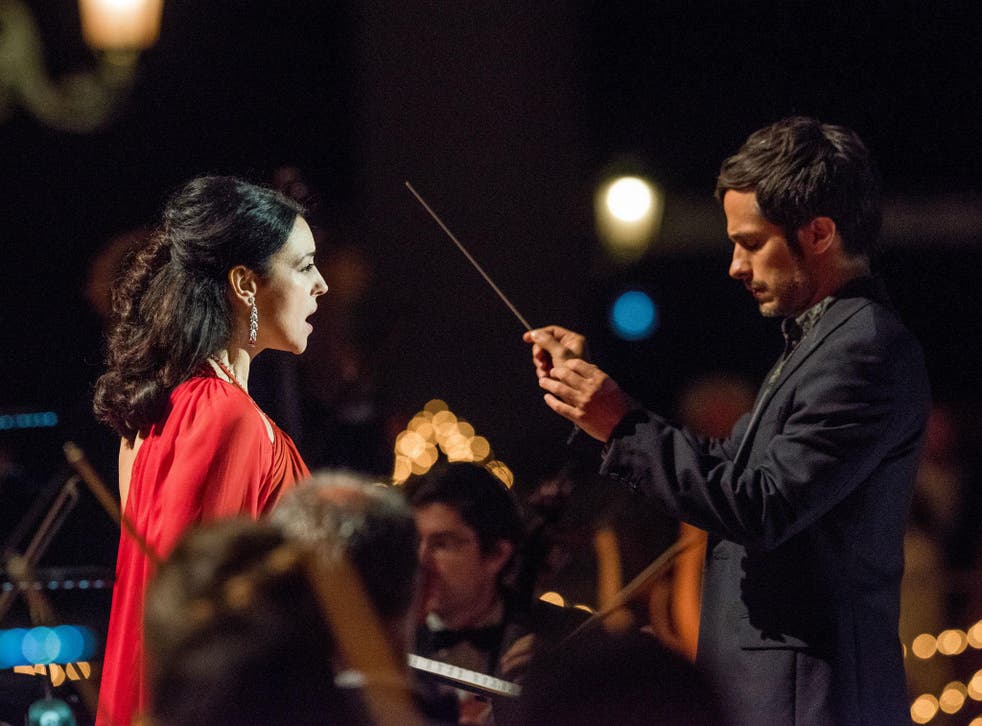 It's a "pinch me" moment. It is the wee small hours of the morning, and I am standing on a pontoon outside the Palazzo Cavalli-Franchetti, hard by the Ponte dell'Accademia, overlooking the Grand Canal in Venice. Two majestic barges are converging on the water in front of me. On one sits Placido Domingo and a string quartet, on the other Monica Bellucci and a grand piano. As the vessels come together, Bellucci steps onto Domingo's barge and they start singing a duet from Don Giovanni. Mozart himself might have been surprised by this spectacle.
Domingo, playing himself, and Bellucci, taking the role of Alessandra, an opera diva, are starring in a forthcoming episode of the critically acclaimed comedy drama series Mozart in the Jungle. The fact that two such major league stars have agreed to appear underscores the global popularity of this harmonious show, the third series of which is now available on Amazon Prime.
Inspired by oboist Blair Tindall's bestselling 2005 memoir, Mozart in the Jungle: Sex, Drugs, and Classical Music, the comedy drama conducts us through the rock'n'roll lifestyle enjoyed – and sometimes endured – by members of the fictional New York Symphony. The series, which won two Golden Globe Awards earlier this year, is seen through eyes of the aspiring young oboist Hailey Rutledge (played by Lola Kirke from Gone Girl).
The drama focuses on her struggle to make it in the orchestra. The action also tracks the progress of the orchestra's energetic new South American conductor, Rodrigo De Souza (Gael Garcia Bernal, Motorcycle Diaries), a character based on the magnetic Venezuelan maestro, Gustavo Dudamel. An eccentric, attractive character who cycles everywhere, Rodrigo soon wins over the orchestra.
At the same time, Mozart in the Jungle follows the fortunes of Thomas Pembridge (Malcolm McDowell, A Clockwork Orange), the conductor whom Rodrigo has deposed, and Gloria Windsor (Bernadette Peters, Annie), the orchestra's no-nonsense president.
In the third series, Rodrigo has left New York and decamped to Venice in order to work on an opera and rediscover his inspiration. There he runs into the disillusioned soprano and makes it his mission to try to help Alessandra recapture her mojo.
In a break between scenes, Bernal saunters over to chat to me. A compact figure who exudes more charisma from his little finger than most of us manage from our whole bodies, the Mexican actor begins by singing the praises of his new co-stars. "Monica plays one of those characters who is larger than life. Her sense of humour is incredible, and she's quite prepared to take risks. She'll travel with you with towards hell! She's a great companion. Monica is a mythological figure. Who wouldn't want to work with her?"
The 38-year-old Bernal is equally delighted to be appearing opposite Domingo, one of the celebrated Three Tenors. "I once said that Placido Domingo would be my dream guest, and now here he is appearing on the show. It's crazy! Be careful what you wish for!"
The other notable co-star in this series of Mozart in the Jungle is Venice itself. Taking a seat in a grand armchair inside the Palazzo, Kirke emphasises what a privilege it is to be filming in the city. The actress, who has also starred in Mistress America, laughs that "it's weird because I've been here in Venice a month, and I now take it for granted that you take a boat everywhere! This city is so overwhelmingly old and beautiful. I live in America, where nothing is this old anywhere. I'm very happy to be here."
The 26-year-old, who was born in London and whose father is Simon Kirke, the drummer for Bad Company and Free, goes on to tell us about her Venetian vibe. "My room here overlooks a canal, so every day I see a gondola going past with some man singing opera. It's wonderfully romantic. And there's also the sound of a lone accordion at all times. You can't escape this sad accordion sound. It's beautiful. I've just come to take that as the soundtrack of my life now, wistful accordion music."
At first blush, Mozart in the Jungle might appear to be a niche show. But the reality is that it has struck a chord with viewers all over the world. Peters, 68, a massive star on Broadway, thinks that the programme provides a great escape from our tumultuous world.
"People love this show. It's a very tough world right now, and TV portrays a lot of those tough things. But Mozart in the Jungle offers something different; the audiences get great stories and characters, the trials and tribulations of the Symphony orchestra and beautiful pieces of music. What's not to like?"
McDowell, who has also had leading roles in such iconic movies as If…, O Lucky Man!, Caligula and Cat People, says that Mozart in the Jungle has proved a perhaps improbable success. "If you say to people, 'We're doing this show thing about an orchestra', they go, 'Eugh!' But it's beautifully written, and there's nothing like it. It's original. It's something that of course the networks probably would never attempt, although now of course they will, which is good for classical music!"
Although this form of music might have seemed an unlikely subject for comedy and inaccessible for some audiences, it has nevertheless chimed with audiences. Kirke reflects that, "while it might not be accessible to everyone, there is a much larger audience for classical music than I would have initially suspected. I think that the fact that classical music lacks a specific language and that often it has no language whatsoever, except its own musical language, enables it to transcend any kind of national barrier. There is something just all-encompassing about it."
The actress expands on that thought. "I went to see the Jackson Pollock paintings at the Guggenheim Museum today, and it was such an incredible moment. They speak a language that anybody can understand without understanding anything about painting. There's something so emotional about them, and to me they're so beautiful. Whether or not you think they're beautiful is up to you, but you don't have to know anything to experience them. I think that classical music has a similar quality."
The positive effect of the show has been demonstrated in some surprising places. For instance, Bernal recalls: "One of the best responses I got was from a kid in a youth orchestra in Mexico. This 14-year-old kid was a brilliant violinist. At the end, he came up to me and said, 'Can I talk to you? I'm a bit shy. When I saw the first season of Mozart in the Jungle, I decided to start studying conducting.' I went, 'Really? Because of this silly show we do?'"
The actor, who has also appeared in Babel and Bad Education, continues: "We all have moments in life where something seemingly silly becomes a turning point. It allows us to say, 'Why not?' That thing you saw as a big problem is actually no longer a barrier.
"That kid started studying to be a conductor like Rodrigo. He needed a little thing like that to inspire him, and that's one of the best reactions I've ever had. That's when Mozart in the Jungle really works. For everyone who responds to the show, something has clicked. We're not doing it for those reasons, but I'm very happy that it has had that effect and really hope it continues like that."
The other by-product of Mozart in the Jungle is that it has shown that classical musicians can be even more rock'n'roll than rock'n'rollers.
According to Kirke, "The more that I read about these classical musicians, the more I see that they are just as intense artists as anyone that you might think of now. This show has definitely been a window into that. I was just reading the other day that Vivaldi was kicked out of Italy for loving a girl and her sister and living with them in the 1700s. I thought, 'That's sketchy and cool. That's rock'n'roll!'"
All the cast acknowledge that working on Mozart in the Jungle has enhanced their appreciation of classical music. Kirke confesses that previously, "I'd relegated classical music to something that I'm beginning to understand it really isn't. Classical music was something that I believed only old people listened to or only my dentist listened to. It wasn't the exciting thing that I'm learning it really is. I went to the opera once and I fell asleep, which is so embarrassing to admit, but important.
"But as I was learning some of the pieces for this, like Carmen, I realised it's unbelievably soulful. There's never a piece where I think, 'This is garbage'. It's all pretty incredible. So yes, it's such a privilege to be able to explore this kind of music. I now have a lot of respect for classical music."
Along the way, Mozart in the Jungle has taught its cast a great deal about classical music. Bernal comments that, "Everyone has a say in music. With 'Satisfaction', everyone has an interpretation of something they are dissatisfied with. With every piece of music, you develop a personal interpretation, and I think that's great. In the same way that poetry always does you good, music always does you good, too.
"Most TV shows are very rational. They are about a murder that needs to be solved, and they leave you with a cliff-hanger at the end of every episode. We're not doing that here. We are portraying a group of characters who love performing music. There is no rational argument about why they do that."
Bernal stresses that there has been one other enormous advantage for him in making this show. "Among the many privileges of making this series has been the fact that on the podium you're in the best position to hear the orchestra. There you can really experience the layers and the complexity of classical music. I'm very grateful this show has allowed me to experience that. It's now part of my life. I listen to music all the time. I'm also helping my kids get into music. This show has given me so much."
The actor goes on to recount his favourite memory from making Mozart in the Jungle. "I was on the podium at the Hollywood Bowl with the LA Philharmonic, really going for it – that is one of the highlights of my life. It was absolutely incredible. I'm going to tell my grandchildren about it, and they're not going to believe me. I'll have to show them the video!"
Before Bernal has to go back to filming with Domingo and Belluci, we have one final question for him. Does Rodrigo ride his bike around Venice with the same frequency as he does in New York? "Yes," the actor replies. "But it's quite difficult. It's not very practical to ride a bike here. If you do a sharp turn, you can fall into a canal.
"Better stick to a gondola!"
The third series of 'Mozart in the Jungle' is available now on Amazon Prime
Join our new commenting forum
Join thought-provoking conversations, follow other Independent readers and see their replies