Mums Make Porn: Adult film director Erika Lust on her experience with the Channel 4 show and thoughts on the UK 'porn ban'
Erotic film director tells The Independent how she would tackle the subject of porn in schools, her thoughts on the industry, and why she isn't a fan of the term 'ethical porn'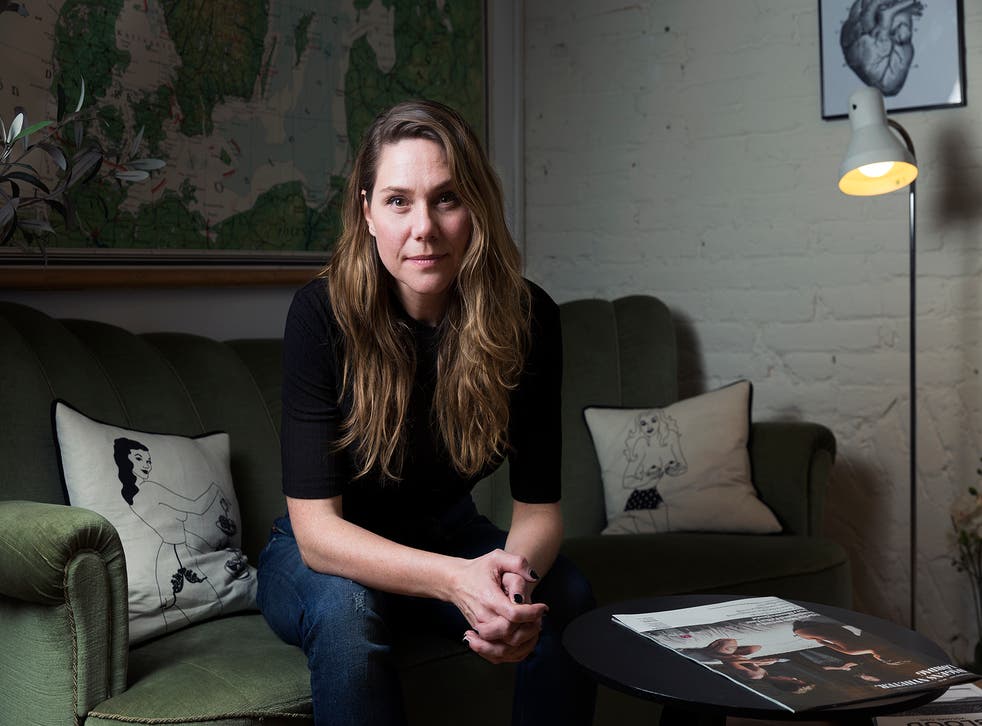 The final episode of Channel 4's show Mums Make Porn aired on 3 April. In the three-part series, a group of five mothers set out to make their own porn film after being horrified at the graphic and often abusive content their children are being exposed to online.
During the series, the mums were helped by Swedish erotic filmmaker Erika Lust, who has helped pioneer the feminist pornography movement.
We spoke with her to garner her thoughts on the show, the approaching "porn ban" in the UK, and her views on so-called "ethical porn".
Hi Erika. When were you approached to be involved in the Mums Make Porn documentary and what was your initial reaction?
I first spoke to them in the summer of 2018. To be honest, my first reaction was that I don't want to go on television! I find it really nerve-wracking to be on the other side of the camera. But I went to London in September to meet the executive producers and got to know them. I really liked them and their attitude, and I understood and supported their idea. With this documentary series they want to show the reality for the "average" mum in the UK, and the mums that they have chosen represent just this. We are relatively new to this porn landscape and the advent of free, hardcore porn available in abundance online that children can access with 2 clicks. This is the reality. Yet many parents and schools are not speaking to their children about porn, and a lot of parents don't even realise that this is the world their kids are growing up in. They have no idea about what is available online.
So, after speaking with the producers and hearing their intentions, that's when I decided I would work with them on the documentary. It's a very important topic for me. It's why my partner and I started ThePornConversation.org and, as a mother, it's something that's very close to my own heart. We need to educate parents, and start having smart conversations with our kids about porn. I also liked that they included performer and creator voices of Roxi Keogh and Zara DuRose – listened to what they had to say and watched a day in their working life. There are different realities in the porn industry, very different ways of doing porn and they managed to show a few – a dominatrix working at home, a performer working with her boyfriend and curating her own content, and my way of doing things too.
Hidden gems: The best Netflix originals you might have missed

Show all 20
What was the experience like of having them do "work experience" with you on set?
When the mums arrived in Barcelona they seemed quite nervous. However, once they arrived and saw what we were doing, they seemed to relax and get more excited and inspired. I think they were particularly interested to see that we operate on a big scale, more similar to a "normal" film set. It was interesting to see their opinion visibly changing.
The first set they came to was for my upcoming XConfessions film Female Pleasure Circle which is a beautiful film with six wonderful female performers. It was a huge set up, with a lot of people behind the scenes, a crane, an artist painting the performers, a lot of runners, camera people, makeup, wardrobe – everything! So I think at first they were shocked to see how different the set up was. They also found the sex very different to what they had seen before – well, you can imagine how it was with six women! Very powerful, very strong, very pleasurable. Then, the next day the mums came to visit me on the set for Dirty Laundry. This was slightly more challenging as we were filming in a very small laundrette and there were already a lot of people on set. They seemed to learn a lot from both experiences, and later it was my turn to travel to London to help them make their film.
Did you notice any major misconceptions or concerns the mums had during filming?
Probably the biggest misconception they had was how to deal with the sex scene. They were expecting the sex to be heavily directed and mechanical, which is something I don't do. When I'm filming I like to let the performers do what feels natural to them. They speak ahead of filming about what they like to do and if there is anything they would like to try, then I roll the cameras and let the performers do what feels natural and pleasurable to them. I think this is a good way to get natural and very hot results on screen. So I think the mums were confused by this at first and it was something we spoke about before they made their own film.
Access unlimited streaming of movies and TV shows with Amazon Prime Video Sign up now for a 30-day free trial
Sign up
We also had to speak about giving the performers their personal space after the sex scene and how they must be treated on set, before and after the sex. There are a lot of things that I implement on set that I wish to be implemented as a standard in the industry, so we spoke about these things too. These range from smaller, more material things such as being fed on set, having wardrobe provided, flights and accommodation paid for if travelling to a city far from home. To performers being able to stop shooting anytime they feel uncomfortable, being asked who they would like to work with and who they would not, ensuring they are performing in a safe sex environment, that they have given their consent for every sex act that will be performed. I also have an on set Talent Manager who stays with my performers all day to ensure they are being taken care of. These principles also extend to good working and safety conditions and labour rights for performers and crew.
What in your view is the best way to education children and young people about sex and pornography, and what are the most important issues?
In my opinion the best way to talk about pornography and sex with kids is to begin explaining the role mass media plays in their lives from a young age. Film, TV, advertising and of course pornography. There is a common denominator in all of these mediums. They have historically been, and still are, dominated by men. They are androcentric spaces with a representation of sex, sexuality and women built by the male vision and it's ideals. I don't think that pornography alone can be charged with bolstering this patriarchal environment any more than the film, TV and advertising industry. These mediums continue to perpetuate outdated gender roles and stereotypes. We should begin by teaching our kids that masculinity is presented to us as normative and all things outside of masculinity are still defined as 'other'. They should know all of this so that they can look at the world with a critical mind and understand the role history has played in our society and lives. If you don't point these things out, they remain unseen.
The standard sex is heterosexual and everything else is treated as a fetish, when it's not. Racial and sexist slurs are the norm and there is an overrepresentation of male pleasure compared to female pleasure. Excessive depictions of male-dominant sex acts ("money shots", "blowjobs"), lots of sex athletics which only performers can do, zero eroticism and emotionless sex. That there is a lot of feigned female pleasure and no sexual agency in the female characters the performers portray. We should tell them that for so long the desires of women and female sexuality have been sidelined in mainstream pornography so the porn they will mostly encounter will be extremely sexist and will not care about their pleasure at all and it will be hard for women to find their desires considered and reflected at first.
But above all, we should tell them that although they don't see communication between the people in these films, that is not how sex works. There always needs to be a conversation and everyone must give their consent to everything happening during sex. Sex education and porn literacy must be taught at every year and it should be built into the wider curriculum and the entire school system. It must start in primary education, as an understanding and valuing of positive relationships. In addition to STIs and safe sex, we need to teach young people about pleasure and enjoyment. We must speak to them about consent, sexting and revenge porn. We must teach kids porn literacy programmes that critically analyse porn and assess the categorisation, fetishisation, racism, sexism, objectification, body image, how certain fantasies and hardcore sex are represented as the "normal" way to have sex. If we can have these conversations openly, then these young people will have better communication skills and healthier views of sex before having their own sexual experiences.
In the UK, the Ministry for Education announced that sex education will become mandatory for all children by September 2020. Current guidelines haven't changed since 2000, with LGBTQ+ experiences, consent, and porn being ignored until now. As the government updates the curriculum, almost 20 years later there is a whole generation of young people who have grown up watching easily accessible, online porn at their most impressionable age.
What do you make of the approaching "porn ban" in the UK?
I agree that children under 18 should not be able to watch porn, but I have several concerns about the process in the UK and if the ban will be effective. The laws are also going to disproportionately affect smaller low-traffic sites and independent sex workers who cannot cover the costs of installing age verification tools. This means there will be less alternative porn being made by smaller companies, and there will be even more of a monopoly than there is now.
My other concern is whether these plans will actually do what they intend to do. When porn is threatened users tend to value it more and embrace it with more enthusiasm, so therefore porn bans can paradoxically increase consumption. In the UK, since the age verification plans have been a major conversation, porn traffic on one of the top tube sites rose 5.83 per cent in the past year. Young people are also tech savvy and they will find it very easy to bypass controls with a VPN - it was reported recently that 2 in 5 people in the UK have already said they plan to use a VPN to watch their porn once the ban comes in. This number will only rise. Plus, social media doesn't fall under requirements to install age verification systems, yet Reddit and Twitter are full of adult material so young people will still be able to access it very easily.
On the surface, age verification seems like a good idea – protect children from seeing porn too young. However, it's inevitable that children will see things they probably shouldn't. They're smart, they're tech savvy and they're growing up in a digital age – we should be focusing on porn literacy in education. The government are spending (according to its own estimates) between £1m and £7.9m on the BBFC regulator alone. Why not spend this on giving compulsory specialist porn education by experts in schools?
Have you noticed a growing appetite for so-called "ethical" porn that caters as much to women as it does men?
I don't think "ethical" is a good term to describe alternatives to mainstream pornography, or at least I don't think the title is being used properly in the media. Ethical porn is not antonym to traditional mainstream porn. Ethical porn is a broad term because whose ethics are we talking about? I talk a lot about the importance of having a production process that is ethical. But what that means to me could be very different to someone else.
For me, an ethical production begins months in advance. Once you have a cast in mind, you must start speaking about the idea you have for the film, the script, the tone and sentiment you are aiming for, your ideas for the sex scene, the performers preferences and limits, and you should be available to clarify any doubts at any moment. You can ask the performers who they would like to work with, and similarly who is a hard no. We don't work with agents, and performers have the right to negotiate their day rate themselves regardless of sex acts and partners.
When working with a first time performer, it's important to explain to them the implications of making porn ahead of filming – that it can permanently affect their lives, careers, relationships, etc. It's super important to stress the permanence of the film and the aftereffects that could (and will) happen as a result. Once they shoot and sign the model release, the material of the film is out of their hands. You need to ensure that the set is a safe sex environment on and off set for performers and a space where performers can explore their sexuality in a health controlled environment, under good working and safety conditions and in the most comfortable way but also where but also where they can voice their opinions and feelings on set.
For that, you need to have a talent manager that takes care of the performers and work with a solid crew that knows the intricacies of sex work. Not a "dude with a camera" and no peeping toms on set. It's good to try to remove other elements that can cause stress. In my shoots, for instance, the "money shot" concept does not exist. On several occasions the male performer hasn't been able to perform but we adapt, go with what we have and use the power of editing or the simulation of an internal ejaculation. Everyone is going to get their paycheck after a day of work regardless of anything happening on set. It is our most important responsibility to ensure the mental, emotional and physical health of all performers. On my sets, they also have the right to use safer sex methods, and to not lose work because they decide to use condoms, dental dams, gloves, etc.
Another key feature for me is my commitment to representing the whole range of human sexuality and identity. In doing this, I don't resort to the often damaging fetishisation and categorisation of these groups that is often seen in mainstream porn. Consent also takes centre stage. These are my standards of care and quality during the whole production process, and they will keep improving. However, it's important to say that elements like tenor and intensity, sex acts being depicted, or production value do not preclude content from being ethical. Ethical porn only ensures that what you are watching was made with respect to performers working conditions and rights, and with their previous consent to everything that happened on scene that day.
There is definitely a craving from consumers for a different content to what the mainstream porn offers. Mainly because there is this massive tide of mainstream porn revolves around male pleasure and completely disregards female pleasure and sexuality. The fact that people conflate porn that celebrates female sexuality with 'porn for women' says everything about the androcentric nature of mainstream pornography.
When Tumblr decided not to allow explicit content anymore, a major publication published a list of where to see female friendly linking to my site XConfessions and we got a massive peak of traffic. That says there is a big audience not finding what they want in mainstream porn that is being left out. They want to see heat, passion, context and a real story where women are depicted as powerful masters of their own pleasure rather than as inherently submissive objects lacking in any agency. Where men and women are treated as sexual collaborators and there is no harmful gender stereotyping. We can eliminate these things for honest sexual expression. The alternative adult community is growing, it's showing that sex and sexuality aren't limited to a narrow idea and that there is a growing market for it.
Join our new commenting forum
Join thought-provoking conversations, follow other Independent readers and see their replies