In My Skin's Gabrielle Creevy: 'I can't bear to watch my Bafta acceptance speech'
The breakout star of BBC's new coming-of-age drama talks to Annie Lord about the horrors of high school, homophobia, mental health and what it is like to be ashamed of where you come from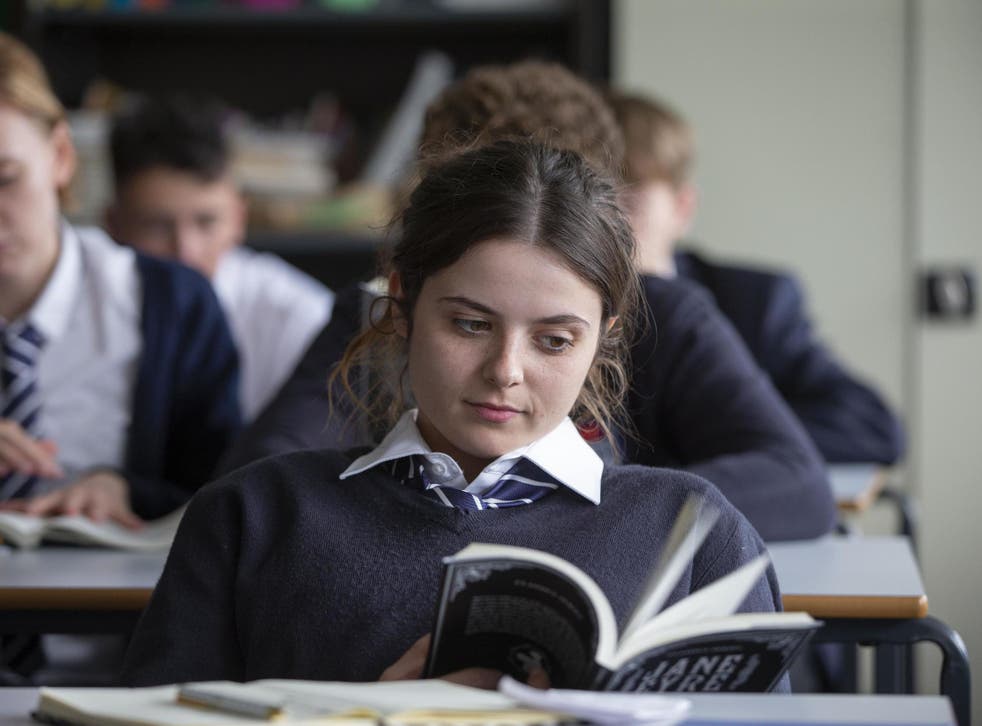 If there's any justice, Gabrielle Creevy is going to be very famous. Her performance as Bethan, the sassy, sharp-tongued teenager in the new BBC Three drama In My Skin, is mesmerising. Based on Kayleigh Llewellyn's experiences of growing up in working-class Wales, the series explores what it is to come of age in a world that keeps kicking you down.
Bethan has more responsibilities than anyone should have to shoulder, let alone a 16-year-old. As well as making sure her Mum Trina (Jo Hartley) takes her bipolar pills and eats a decent breakfast, Bethan has to contend with her perpetually drunk Dad Dilwyn (Rhodri Meilir), school bullies, out of control friends and unforgiving teachers.
Though relatively new to the small screen, Creevy has already won a Bafta Cymru Award (the Welsh branch of the Baftas) for her performance as Bethan. But her life hasn't quite changed overnight. After a brief stint living in a London flatshare ("I was spending like £600 for a room infested with rats!"), Creevy has moved back in with her Mum, who works as a mobile hairdresser in Port Talbot, Wales.
Speaking over the phone, the 23-year-old told us about her breakout role, the horrors of high school, homophobia, mental health and what it is like to be ashamed of where you come from.
In what ways, if any, did you relate to Bethan when you were reading the script?
I couldn't believe it, because it was essentially my life on a page. Bethan likes writing but is embarrassed about it, a bit like I used to be with my acting at school. Bethan knows she's talented, but she lets people's opinions intervene. I was very much the same growing up. I knew I could act, but I let other people get in the way. I wanted to be cool, but I was hiding [my acting] which was probably the coolest thing about myself.
School is such a hard time. Kids can sense your weaknesses and then they go for them.
Absolutely. I wasn't bullied, but like everyone else, I went through some hard times. I've got really dark hair. Like it's almost black, so I get quite hairy on my legs and arms. I remember someone pointing it out and I was so horrified. I didn't even know what a razor was yet, but when I got home, I persuaded my Mum to show me how to get rid of it.
Bethan makes stuff up about her parents – says people can't come over for dinner because they're getting an extension built, or because her mum is dragging her to the ballet. Really, she's just ashamed of her home, that it isn't big enough, that she hasn't got enough stuff. Did you ever hide where you were from at school?
When I used to go around to my friend's houses, to me, they looked like mansions. Looking back, they probably weren't that big, but they were in my head. I lived in a council flat and we didn't have much stuff because my mum spent all our money on my drama classes. If there was a school trip that I couldn't afford to go on, I would pretend I was busy with something else. You don't realise until you look back that so many people are going through the same thing. I remember one time, someone came over – this might sound really silly – but I was so embarrassed, because we didn't have a dining table. To me, you needed a dining table, as it was the place where you're supposed to sit down and have dinner together as a family and we couldn't afford one, or our house was too small to fit it in.
What were you like in school?
In year nine, I developed a bit of an attitude, probably because I was trying to impress people. I had this monkey keyring and once, in assembly, I let off the alarm that was on it. The headmaster was like, "Whoever that is, can you turn it off?" and I did, but then I just let it off again. I thought it was hilarious, but then they made me stand with my head against the wall for an hour. I found it less funny after that.
Access unlimited streaming of movies and TV shows with Amazon Prime Video Sign up now for a 30-day free trial
Sign up
How much did you base Bethan on your impression of Kayleigh and how much was your own interpretation of the script?
Kayleigh didn't really tell me much about her upbringing, because she wanted us to take our performances wherever we wanted them to go. We never got to see a picture of Kayleigh's mum or meet her. But weirdly, when the pilot came out, Kayleigh told me that loads of her friends texted to say that I made a lot of the same facial expressions as she did at that age.
There are some particularly dark moments on In My Skin, specifically those when Trina has been sectioned due to her bipolar disorder. What was it like filming these scenes?
We filmed a lot of the scenes with Bethan's mum in a real psychiatric ward. It has been shut down for a while but there were still pictures of the patients on the walls and there were beds with arm and leg restraints in them. I just can't imagine what it must have been like for kids to visit their parents in places like this.
At one point in the pilot, Trina tells Bethan she wishes she were never born. What did you feel like in that moment?
I was sad because we were in a place where conversations like that really did used to happen. It was difficult, as well, because my mum has never said anything so painful to me, so my first reaction was to shout and scream and pace around the room. But I couldn't, because Bethan tries to keep everything under control. She's moved past the point where she's angry. It's normal for her now. After we did a scene, me and Jo Hartley would always hug for a while just to get back into a normal headspace.
Bethan fancies Poppy, which is difficult for her because a lot of the students are homophobic. You've not been at school for a couple of years now but when you were, was this kind of bullying still a problem?
Yeah, absolutely. It's so normal for 15 or 16-year-olds to want to explore their sexuality. I feel like women especially are quite flirty with their friends at that age. So often, boys would say stuff about it like: "Er, you guys are so close." It's upsetting, because I never really thought about how I was acting until they brought it up. It's funny that one of the main bullies from my school, who used to pick on people for being gay, has recently come out as gay himself.
What was it like when you won a Bafta Cymru for Best Actress?
Oh my god. I was working at a gym when I found out I had been nominated – not as a personal trainer but in the coffee shop. I shouldn't have been on my phone, but I got a message from Kayleigh saying congratulations. I was so excited, but then I had to go right back to serving coffees. I haven't actually seen the video of me accepting the award yet, because I didn't write a speech or anything, so I can't bear to watch it. I was nominated alongside all these amazing women who I had grown up watching on TV. It didn't feel right.
Did you do anything to celebrate?
We opened a bottle of fizz at home, that was about it.
Join our new commenting forum
Join thought-provoking conversations, follow other Independent readers and see their replies