Interview
MyAnna Buring: 'The Salisbury Poisonings shines a light on all the frontline workers who take a bullet for us'
The 'Ripper Street' and 'Witcher' star tells Isobel Lewis why now is the right time to revisit the 2018 nerve agent attack which left one woman dead, and why it's important not to give in to fear or bullies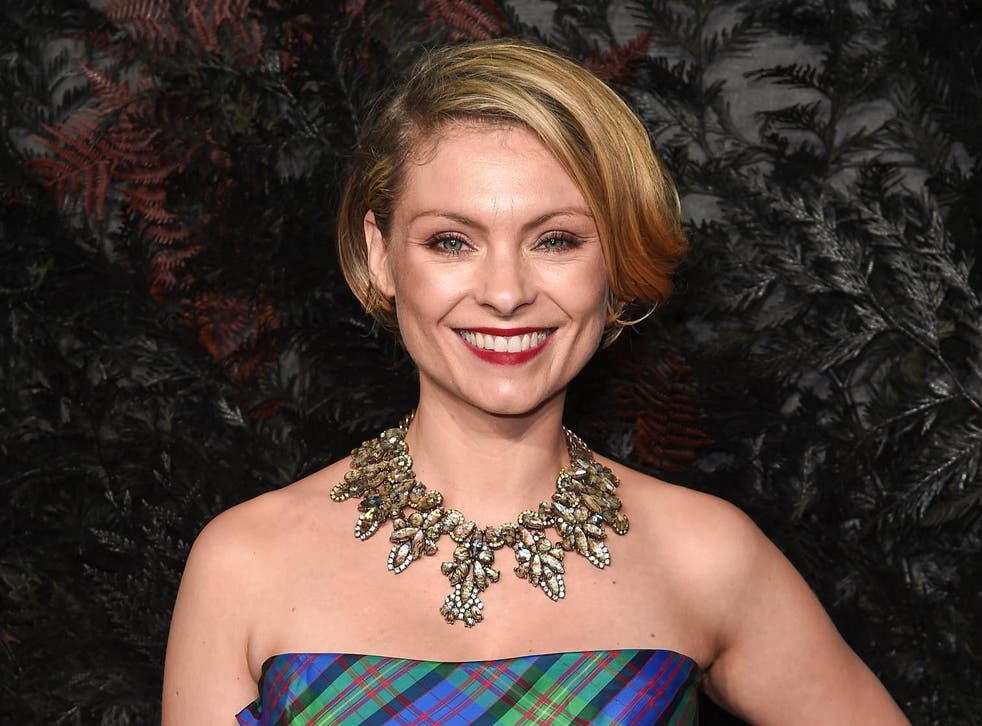 In June 2018, a British man called Charlie Rowley found a sealed bottle of perfume in the bin of a local charity shop and gave it to his girlfriend, Dawn Sturgess. Fifteen minutes after she sprayed it on to her wrist, she started feeling sick. Nine days later, she was dead. "Because of the beautiful act of finding a closed box of perfume and thinking, 'I'm going to give this to the love of my life,'" says MyAnna Buring, who plays Sturgess in The Salisbury Poisonings, the hit drama that concludes tonight on BBC One. "And it ends up killing her. You can't make up what a mind f*** that must have been."
More than 7.2 million UK viewers tuned into the first episode of The Salisbury Poisonings, with many critics praising the show, even though The Independent compared it to "a particularly thorough Crimewatch reconstruction". The Financial Times went so far as to describe the drama as the "baby sibling" of the award-winning HBO/Sky miniseries Chernobyl. Over three hour-long episodes, The Salisbury Poisonings explores the stories of the real people affected by the March 2018 poison attack on former KGB/FSB agent Sergei Skripal and his daughter Yulia with a novichok nerve agent – believed to be among the deadliest chemical weapons ever made. Skripal had been working as a double agent for MI6. Both survived the assassination attempt.
Three months after the initial attack, Sturgess and Rowley came into contact with the nerve agent themselves, reigniting the fear from which the people of Salisbury had only just begun to recover. In the local and national press, Sturgess was branded a "homeless drug addict" and it's this narrative that Buring, the production team and Sturgess's parents hope to counteract in the show, with the actor explaining to me over Zoom: "There was this idea that because of her life choices she was 'collateral damage', or [that she] was more likely to have been affected by this poisoning. It's not true. She was a woman who struggled with alcoholism due to mental health issues and hard knocks in life. I think most of us can sort of empathise with that."
The 40-year-old Buring – who began her career in 2005 horror film The Descent before going on to roles in the Twilight saga, Kill List, Ripper Street and The Witcher – jumped at the chance to play this complex, yet incredibly normal woman in The Salisbury Poisonings. Not every role has been as satisfying. Back in 2009, Buring starred opposite a young James Corden and Mathew Horne in the universally panned Lesbian Vampire Killers, which shamelessly objectified its female characters.
Buring laughs when I mention Lesbian Vampire Killers. "I remember at first going, 'Oh, that's a really tacky title,' but there was this talk about it being a nod to the Hammer horrors and that felt like a legitimate thing," she explains. "It was the director's first feature film and I think he did a really great job, actually. It wasn't his fault that the material was, you know, limited in many ways, not least because all the female characters were just two-dimensional and snogging, whereas the boys had long diatribes."
The conversation around "wokeness" and what is acceptable on TV may have moved on drastically since 2009, but Buring admits that even in the age of lad mags and Yorkie bars, the cast knew something was off when they first read the script. "I remember all of us going, 'Oh, it's a shame that the writers forgot that, yes, it's great to have two really funny characters who are your superstars, but you have to make all the characters around them three-dimensional, too,'" Buring recalls. "Even if it's in a comedy, you need that, otherwise everything's always going to fall short, that's writing 101."
Fast-forward 11 years and while things are by no means perfect, the shows that dominate our schedules and conversations are slowly offering more diverse, three-dimensional roles for people of all genders and races. "I think all of us, after a while, will struggle to understand why a 20- to 40-year-old white male has the authority to tell us everything in life better than other voices could," she says. "I'm not saying that anything is invalid but just everything has to be valid and all stories have to be heard."
With the news currently dominated by anti-racism protests taking place across the world, Buring continues: "What's going on with Black Lives Matter, it's people crying out and saying, 'Let's not forget these stories.' The problem is we have been forgetting stories. I think it's no sort of coincidence that by not telling stories about black lives and black history, we have become blinkered to race and inherent racism within all of our systems and within ourselves."
Buring hopes The Salisbury Poisonings will shine a light on "all the frontline workers who, to borrow Anne-Marie Duff's expression, took a bullet and cleaned up the mess for us at the time of the attack. I think now, given Covid and lockdown, there's an awareness of all the s*** that's thrown on frontline workers. When people ask: is it right to show this now, given that we've just been in lockdown for so long and have gone through a traumatic experience with the pandemic? Personally, I don't think it's too soon. This is the right time for it."
Access unlimited streaming of movies and TV shows with Amazon Prime Video Sign up now for a 30-day free trial
Sign up
"I don't think we should forget the story of Salisbury," she continues. "Headlines come and go, but I also think it's important to revisit our history, even our recent history, to understand what happened behind the headlines."
There's a question playing on my mind about The Salisbury Poisonings. Dawn Sturgess isn't the first character to have been affected by a poisoning that the actor has played recently. Last year she was cast as Marina Litvinenko, the wife of former KGB whistleblower Alexander Litvinenko, in Lucy Prebble's play A Very Expensive Poison. Litvinenko's 2006 assassination and the attempted murder of Skripal in Salisbury were both serious diplomatic incidents, with Russia being accused of sending agents to murder people on British soil. Did Buring ever feel afraid of the powerful forces involved while she was working on these projects?
She pauses and considers. "Possibly when I was doing the play I felt more trepidation, but very quickly we all decided that you can't live in fear of bullies," she says. "Whether they be states, heads of states, secret organisations, if they are causing harm and risking lives indiscriminately, then stories about them should be told. I think living in fear, what's the point of that?"
She finds a connection with the Black Lives Matter protests again: "I mean, why are people rioting right now? Covid-19 affects the black community way more than anyone else and yet black people are putting their lives at risk to go out and protest. Why? Because it's important, because the fear of death or the fear of anything is minimised by the need to make sure that things are right because they're not."
There's no sense of self-congratulation to her words and Buring is keen to insist that she's nothing more than "a small little actor" reading lines. "By no means am I carrying any of this on my shoulders," she insists. "In fact, I'm carried by all of the people who do such extraordinary work fearlessly in the face of what must be really horrendous threats. If they're not scared, I don't want to be scared either."
'The Salisbury Poisonings' concludes tonight on BBC One at 9pm
Register for free to continue reading
Registration is a free and easy way to support our truly independent journalism
By registering, you will also enjoy limited access to Premium articles, exclusive newsletters, commenting, and virtual events with our leading journalists
Already have an account? sign in
Register for free to continue reading
Registration is a free and easy way to support our truly independent journalism
By registering, you will also enjoy limited access to Premium articles, exclusive newsletters, commenting, and virtual events with our leading journalists
Already have an account? sign in
Join our new commenting forum
Join thought-provoking conversations, follow other Independent readers and see their replies