Narcos on Netflix: Who is Pablo Escobar? Meet the real people behind the drama
New drama is based on unbelievable true story of Colombian drug lord
Matilda Battersby
Monday 20 July 2015 12:00 Comments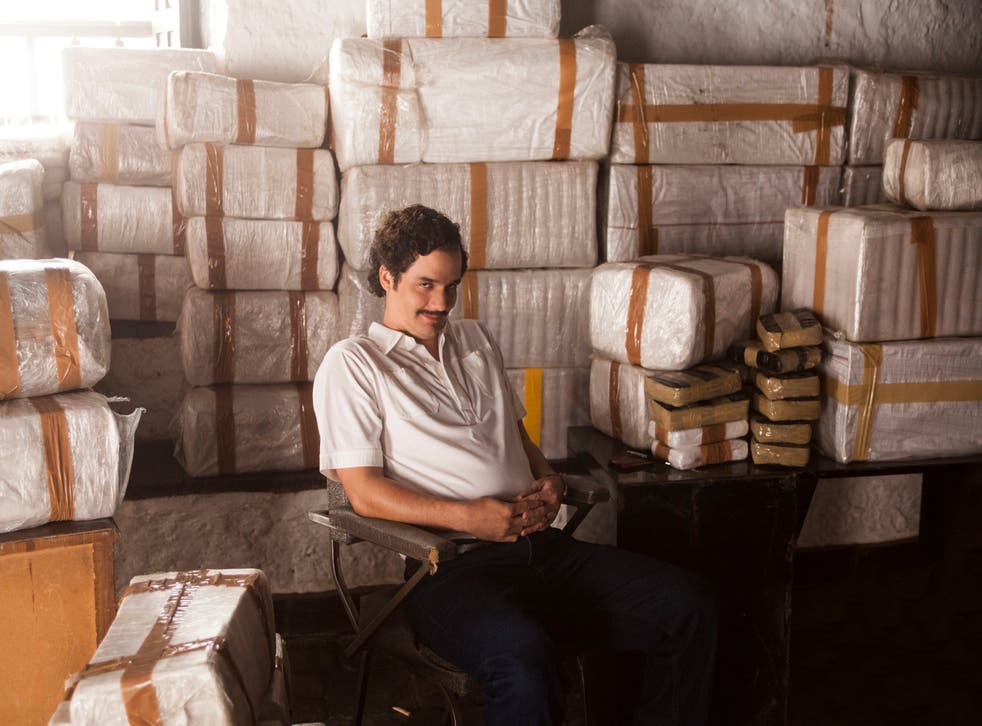 Elite Squad director José Padilha's new series for Netflix is being talked up as one of hottest – and most original – TV offerings to grace the small screen for some time.
You can expect eye-watering violence and drug smuggling on a scale that makes Breaking Bad's Gus Fring look like a two-bit criminal.
Narcos might sound stranger than fiction in principal – and believe me the stories behind it are hair-raising – but the drama is firmly rooted in truth.
Based on real-life Colombian drug lord Pablo Escobar, it is told in English and Spanish from Escobar's perspective and that of American DEA agent, Steve Murphy and his partner Javier Peña, the Mexican agent who brought Escobar down.
Padilha, who has directed documentaries as well as film and television dramas, created Narcos from extensive research. He waded through news articles and archival footage as well as interviewing police officers, lawyers, civilians and others who experienced the events first-hand.
Who is Pablo Escobar?
Pablo Emilio Escobar Gaviria (born 1 December 1949; died 2 December 1993) was reputedly the wealthiest criminal in history having amassed an estimated $3bn by the early Nineties.
Known as the "king of cocaine" because he exclusively trafficked the drug into America (and his export reach is believed to have extended as far as Asia), the Colombian drug lord gained notoriety as the head of the Medellin cartel.
Born into a poor but middle class family, the third of seven children, Escobar reputedly started his career by stealing gravestones and sanding them down for resale to smugglers.
He made forays into kidnapping, petty street scams and stealing cars before entering the drug trade working for Alvaro Prieto.
Access unlimited streaming of movies and TV shows with Amazon Prime Video Sign up now for a 30-day free trial
Sign up
According to his brother, Roberto Escobar, who wrote an account of Pablo's life called The Accountant's Story, at the height of Medellin drug cartel's power it was bringing in $60m per day.
Hilariously Roberto claims the cartel spent $1,000 a week on rubber bands to hold the stacks of cash being brought in; and that 10 per cent of the dollar bills had to written off to "spoilage" every year because they were nibbled by rats.
As can be seen in the trailer for Narcos, Escobar reputedly had an effective policy in dealing with law enforcement and government, known as "plata o plomo", meaning accept the "silver" money, or take a "plomo" lead bullet to the face.
Narcos - Netflix's new drug cartel drama

Show all 6
He is believed to have murdered hundreds of individual, mostly policemen and state officials, and is also alleged to have been responsible for the death in 1989 of Colombian presidential candidate Luis Carlos Galan – whom the DEA agents investigating Escobar believe was killed because Galan intended to bring back extradition to the US, which would have left the cartel boss vulnerable.
But his life wasn't entirely characterised by money and violence and Escobar developed something of a Robin Hood image among Medellin folk.
He used his position and wealth to take over a local newspaper, built houses for the poor and football pitches and a zoo for the public. He went on to become influential in politics and even successfully ran for public office.
He died following a firefight with Colombian National Police who found him hiding in a middle-class area of Medellin. Escobar and his bodyguard, Alvaro de Jesús Agudelo, attempted to escape by running across the roofs of adjoining houses but both were shot and killed.
He received gunshots to his leg, back and a fatal one to his ear – but it has never been proven who fired that final shot and Escobar's family has since claimed he committed suicide. "During all the years they went after him, he would say to me every day that if he was really cornered without a way out, he would shoot himself through the ears," his brother claimed.
"Escobar marks the beginning of the inflow of cocaine with volume into America and Europe," Padilha says. "He shaped history. … So, where else to begin?"
Brazilian actor Wagner Moura isn't an immediately obvious choice to play Escobar. He had to learn Spanish and gain a considerable amount of weight for the role. He also spent a long time in hair and makeup every day having the trademark moustache applied.
"I love the fact that he's a very contradictory character: He loved his family. He was loved – he's still loved by a lot of people in Medellin. And he's still one of the most terrible killers in modern history," Moura says.
Who is Steve Murphy?
Special Agent Murphy began his law enforcement career in 1975 as a police officer in Bluefield, West Virginia. He joined the DEA in 1987 and was assigned to the Miami Field Division.
In 1991 Murphy was promoted and assigned to the DEA Office in Bogota, Colombia. While there he was assigned as one of two primary case agents targeting Escobar.
"We've never had the opportunity to fully tell our side of the story," says Murphy, now retired from the DEA, who worked closely with producers on Narcos.
"Pablo was the first recognized narco-terrorist in the world – in fact, Javier and I coined that phrase. This guy was responsible for thousands of murders, simply because of his ego. We (also) wanted to portray the commitment of the Colombian National Police to go after this guy."
"Escobar was very invincible. In other words, nobody thought, you know, they could ever take him down. So people were afraid to talk. They were afraid to go up against his cause they know they would end up dead," Murphy said previously.
Boyd Holbrook, the Gone Girl actor who plays Murphy in Narcos, observes: "Steve is a great man in general, but I think what is really honourable about him is that he went down to the lion's den himself."
"(Steve) begins as a slightly naïve, uniquely American character who thinks, 'This is easy … I'm gonna go down to Colombia like John Wayne,' Newman says. "And what he starts to realize is that it is much more complicated than that. There are good-bad guys and bad-bad guys … and the gray-area guys. And, frankly, at the end of the day, we're all gray-area guys."
Who is Javier Peña?
Special Agent Peña began his career in 1977 with the Webb County Sheriff's Office, joining the DEA in 1984. In 1988 he volunteered for assignment in the DEA office in Bogota, Colombia, and became the co-case agent in the investigation of the cartel leader Escobar.
"To me, it's an important lesson in history," says Peña who also worked closely with producers on Narcos. "And this story has everything, that's what I (tried) to tell the writers: lying, bribery, sex, love...This is a chronology. This is what happened. And I think they've done a good job."
"Escobar had a lot of money. He was also a very charismatic person. He was considered the Robin Hood of Colombia. He built a lot of homes for the poor, gave the poor a lot of money. The church, I even hate to admit it, the Catholic Church had a PR ampaign saying he was just misguided, that he was a good person," Peña revealed in a drug enforcement lecture series some years back.
Peña is played by Game of Thrones actor Pedro "Oberyn" Pascal (last seen with his head being crushed by Gregor Clegane) . "It's uncanny the way he resembles me," says Peña.
"I tried to tell Pedro [Padilha] my role as far as exchanging intelligence, helping out the cops. I think he really understood where I was coming from. We really hit it off."
Narcos season 1 hits Netflix on 28 August
Register for free to continue reading
Registration is a free and easy way to support our truly independent journalism
By registering, you will also enjoy limited access to Premium articles, exclusive newsletters, commenting, and virtual events with our leading journalists
Already have an account? sign in
Join our new commenting forum
Join thought-provoking conversations, follow other Independent readers and see their replies