Natalie Dormer on recasting flamboyant aristocrat Lady Worsley as a feminist champion in BBC film 'The Scandalous Lady W'
Rumours of 27 different lovers swirled around Worsley in the 18th century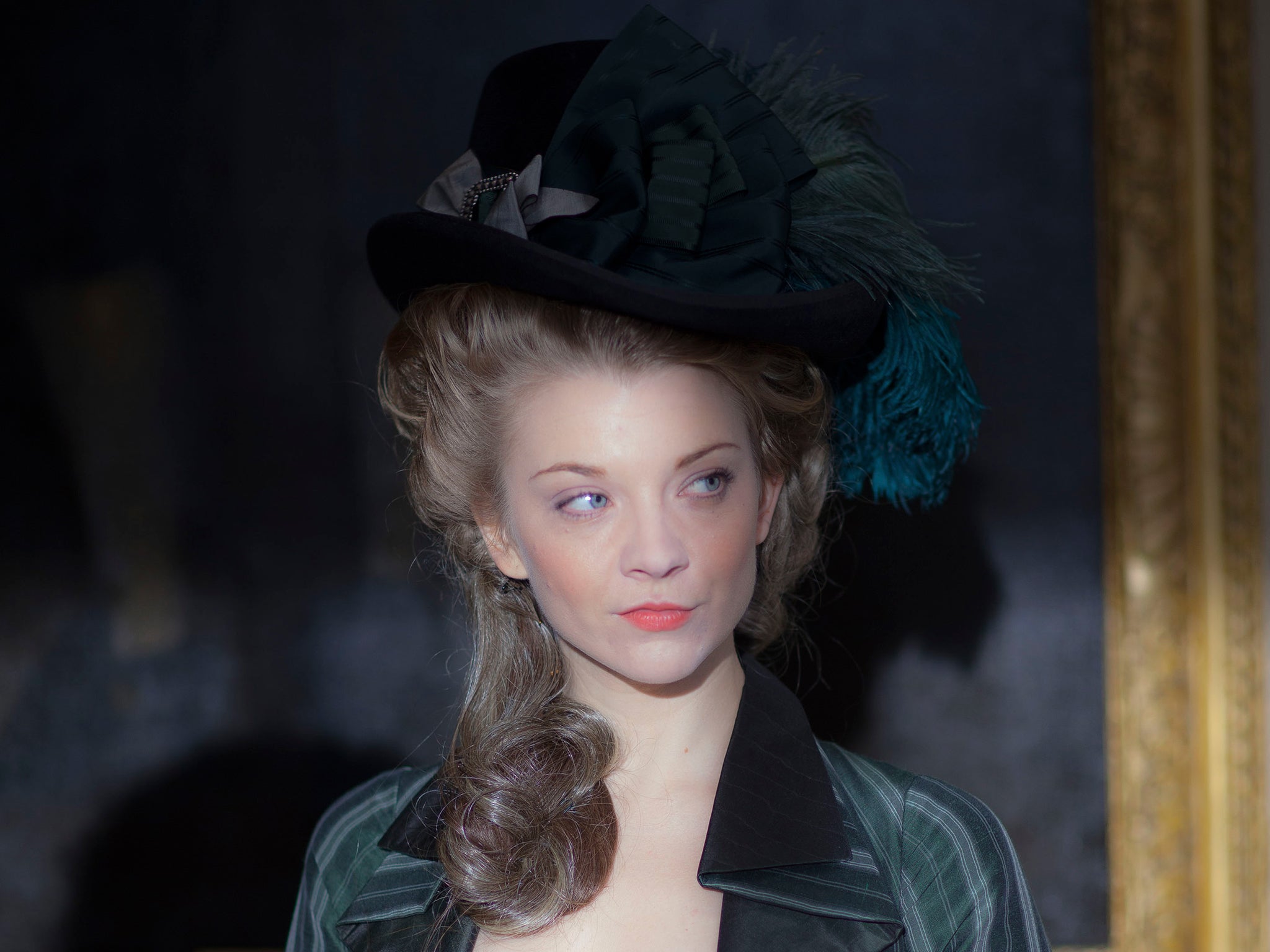 To late 18th-century English society, Seymour, Lady Worsley, was the ultimate scarlet woman. She was a flamboyant aristocrat who scandalised all right-thinking people with an outrageous, headline-grabbing divorce case, as salacious rumours of 27 different lovers swirled around her. Her story was so shocking that Seymour was said to be an inspiration for Richard Brinsley Sheridan's play, School for Scandal.
Now she has inspired another drama. But as The Scandalous Lady W, a riveting new BBC2 film, shows, there was much, much more to Seymour than a reputation as a supposed scarlet woman. Light years ahead of her time, she was a feminist decades before that phrase had even entered the lexicon.
Adapted by playwright David Eldridge from historian Hallie Rubenhold's book, this one-off drama stars Natalie Dormer in a bravura performance as the title character. The film recounts the "fact-is-stranger-than-fiction" true story of Seymour's turbulent marriage.
She goes into her union with Sir Richard Worsley (Shaun Evans, Endeavour) fully expecting it to be a meeting of equals. But she starts to become wary when he warns her: "You will recall, Seymour, you made a vow to love, cherish… and obey." She is soon being tyrannised by Richard, who takes a perverted pleasure in watching her have sex with other men.
Unable to stand Richard's cruelty any more, Seymour flees her oppressive marriage and elopes with his best friend, George (Aneurin Barnard, Cilla). Richard sues the couple, hoping to ruin them both.
But Seymour decides to contest the case, refusing to accept the archaic law that defines a wife as the property of her husband, "much like his home, his land and his cattle." She skilfully manipulates the nascent press to support her and turn the nation against her reprehensible husband.
In a phrase that sums up the whole piece, Seymour asserts defiantly, "I will never belong to any man." You can't watch The Scandalous Lady W without inwardly shouting, "You go, girlfriend!"
Dormer agrees. A major star thanks to roles in no fewer than three massive global franchises – Game of Thrones, The Hunger Games and The Tudors – the 33-year-old British actress says she was pulled towards this drama by Seymour's invincible spirit. "She's my heroine. In her struggle against her husband, she didn't just roll over. She fought him to the hilt. She had many flaws, but to me she was still heroic."
So does Dormer share any of Seymour's heroic characteristics? The actress laughs. "I'm opinionated and a great champion of equality. In those terms, Seymour and I have common ground."
Access unlimited streaming of movies and TV shows with Amazon Prime Video
Sign up now for a 30-day free trial
Sign up
Access unlimited streaming of movies and TV shows with Amazon Prime Video
Sign up now for a 30-day free trial
Sign up
The story was originally prompted by a painting. Studying art history in Leeds a few years ago, Rubenhold was wandering around nearby Harewood House one day when her gaze fell upon an extremely striking portrait.
The author takes up the story. "A 1776 portrait of Lady Worsley by Sir Joshua Reynolds hangs in the Cinnamon Drawing Room at Harewood House. The moment you see it, it is absolutely breathtaking. I was immediately drawn to it. She is dressed entirely in red, in a feminised version of the South Hampshire Militia uniform.
"But Reynolds suggests in her defiant stance that it's not just about the red dress. There is something else going on. This is clearly a woman with a rebellious, devil-may-care attitude. I thought that the moment I set eyes on that portrait. It's utterly compelling."
So compelling, in fact, that it fired up Rubenhold to go away and write Seymour's biography, Lady Worsley's Whim, which has provided the basis for Eldridge's script.
The Scandalous Lady W, which goes out tonight at 9pm, works so well because the story doesn't feel shut away in some remote, stuffy and intangible past. Rather, it bursts into our living rooms and grabs us by the lapels, urging us to think about its contemporary resonances. Rubenhold says, "Of course, it's self-evident that we've progressed a long way since that time. But you don't have to look very far to find parts of the world where that sort of inequality still holds true.
"It's quite sobering for us in the West to hold up a mirror and see that what is happening in certain countries now was happening in England back then. That's wonderfully shocking. Television is meant to make us reflect on things, and I hope The Scandalous Lady W does just that."
Dormer finds parallels with today's society in the way Seymour exploits the popular press. "Are there echoes of today in this story? One hundred per cent! Seymour used the power of the press to battle her husband in a way that isn't that different from what happens now.
Game of Thrones on the spring issues
Show all 7
"Also, this story was blown up in the tabloids. At that time, the ideas of the tabloids and celebrity as we know them were just forming. The battle between Richard and Seymour can be identified as one of the first scandalous public divorce cases of the time."
The actress continues: "We have plenty of them now, and as long as people buy the newspapers or click on the link, it will be perpetuated. Trying to win over public opinion and manipulate your public image for your own ends in a fight may seem like a modern phenomenon, but the trend started back then in the late 18th century."
Eldridge, whose stage adaptation of Festen was a hit in the West End and on Broadway, adds that unfortunately the idea of abusive marriages continues to be highly contemporary too. "Sadly, such psychologically abusive relationships still exist. People do extraordinary things to try and get out of marriages that have gone wrong. The cumulative cost to Seymour and Richard of their break-up is something everyone will recognise today.
"We all know of couples who get locked into a conflict and go through very acrimonious divorces. That will strike a chord. I think this drama has lots of strong elements that will really resonate with a modern audience."
What emerges above all from this drama is a portrait of a lady of exceptional courage. "If a woman had a relationship outside marriage in 18th century, she was called a whore," observes Rubenhold. "It was so black and white. And yet Seymour rejected that. She stood up to it and fought back. She was so brave."
Eldridge chips in that "I really sympathised with her. She was one of the most eligible heiresses in the land, and her marriage went wrong because she was trying to please her husband. She wanted to break out, but the mores of the time made that impossible. So she had to find an extraordinary way of overcoming those barriers.
"We will always empathise with her because she's driven by this basic sense of injustice – the shocking idea that until relatively recently in this country, a woman was regarded as her husband's property. You root for any character who has a mountain to climb and then proceeds to climb it."
The makers of The Scandalous Lady W are hopeful audiences will find food for thought in the drama. Dormer says, "I hope young emancipated women today realise that the gift of equality has been hard won. "We were given the vote less than 100 years ago and only legally allowed to inherit property in 1870. In 6,000 years of civilisation, we've only had anything like equality in the last 200 years."
Dormer, who has starred in a fair few period pieces herself, closes by reflecting on our enduring love of costume dramas. "Viewers find escapism in them. They love the nostalgic idea of the gorgeous clothes and houses.
"But The Scandalous Lady W is not your normal period drama... it has this visceral core to it. Viewers can cathartically vent their feelings through it. It still looks beautiful, but it packs a really hard-hitting punch."
'The Scandalous Lady W' is on BBC2 at 9pm on Monday 17 August
Join our commenting forum
Join thought-provoking conversations, follow other Independent readers and see their replies