state of the arts
Grief, puberty, queerness, superpowers: Why Netflix's I Am Not Okay with This is a coming-of-age drama with a difference
The latest in a string of buzzy teen shows to land on Netflix, this zippy coming-of-age series takes a huge detour from its graphic novel source material, writes Alexandra Pollard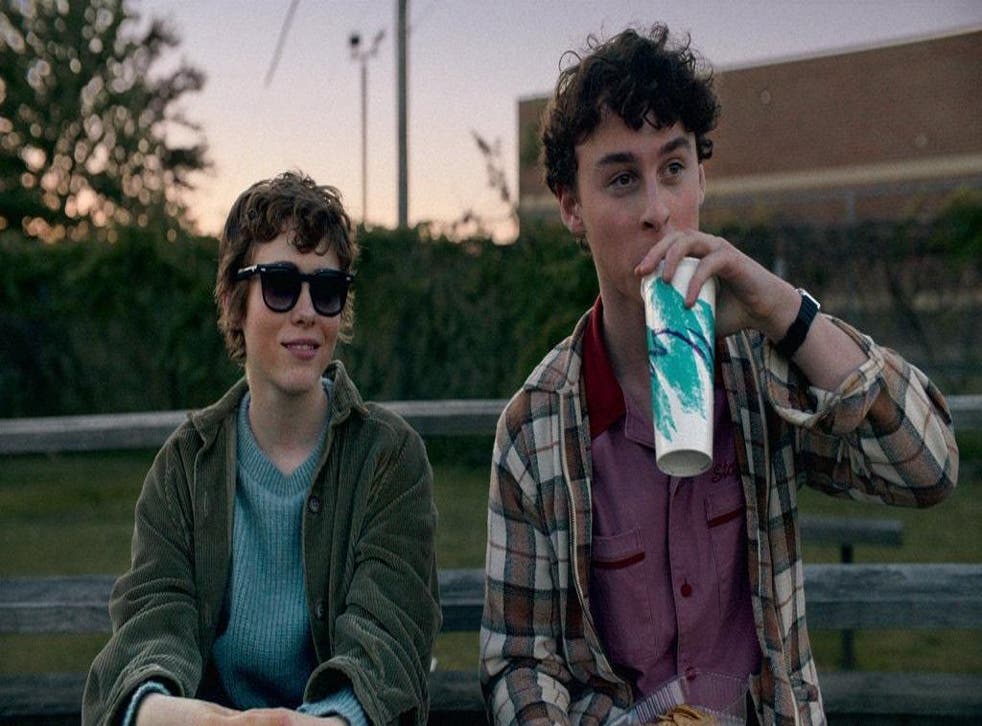 Dear Diary," says 17-year-old Sydney Novak (Sophia Lillis) in Netflix's zippy I Am Not Okay with This. "I'm just gonna put my head down. Just do nothing. Say nothing. It's the only way to make sure I don't hurt anyone. Just blend into the f***ing background."
It's a sentiment that just about any teenager – or anyone who has ever been a teenager – can relate to. Only here, the stakes are higher. For Sydney, blending into the background is a necessity not just in order to make it through high school, but to keep the telekinetically induced earthquakes to a minimum.
I Am Not Okay with This, the ludicrously gripping story of a teenage girl struggling with grief, puberty, latent queerness, thigh acne and newly emerging superpowers, arrived last week on a wave of comparisons. As cinema has allowed the coming-of-age genre to fall by the wayside in favour of Marvel movies et al, Netflix has taken up the mantle, with a brief that seems to be "John Hughes movies reincarnated, with the exact same wardrobe but without the howling misogyny".
The latest in a string of buzzy teen dramas to land on Netflix, I Am Not Okay with This was released in the wake of Riverdale, 13 Reasons Why, Stranger Things, Sex Education and The End of the F***ing World. It exists in the same universe as The End of the F***ing World, in fact – they're both based on graphic novels by Charles Forsman and were co-created by Jonathan Entwistle – and its influences stretch further back, too. It gets out ahead of the most blatant one. There are direct, Easter-eggy references to Carrie (1976) – surely the seminal example of magical powers as a metaphor for puberty.
But there are moments of originality scribbled on to this well-worn blueprint. Yes, Syd may be a shy and awkward outsider – as is the case with most coming-of-age-protagonists – but her growing pains are not only tied to her puberty. They are (and I am about to drop the first of several spoilers) inherited from her father, who had the same telekinetic abilities and killed himself a year earlier. There was "something he was wrestling with", her mother (Kathleen Rose Perkins) explains, "and that thing won". In this context, the uncontrolled bouts of immense destruction are a metaphor for something less transient than puberty: anxiety and depression.
It also swerves the overwhelming straightness of the coming-of-age/supernatural/comic-book genres. Here, the emotional chaos of Syd's adolescence is further complicated by her sexuality. After making a brief, unconvincing attempt to conjure up feelings for her stoner neighbour Stanley (Wyatt Oleff, also Lillis's co-star in the new It film series), she realises that her affections actually lie with her best friend Dina (Sofia Bryant). Nothing complicates that teenage desire to blend in like realising your very identity doesn't allow for that.
Not that the show wants to confirm queer teens' fears: that they will be isolated by their peers, or treated with disgust by their crushes. In fact, it takes pains to do the opposite. Syd must battle with her own sense of shame, but the only person who judges her sexuality – the loathsome Brad (Richard Ellis), Dina's on-off boyfriend – is very clearly framed as the villain of the piece.
In the eventful final episode, when Brad outs Syd to the entire school and calls her a "dyke", it is towards him, not Syd, that the confused onlookers direct their judgemental gaze. And he is the only victim of her rage. What a way to go. In a climactic scene that is as ridiculous as it is terrifying, Brad's head explodes into smithereens, blood everywhere. Sydney flees to the sound of sirens.
This is where the show, thankfully, takes a huge detour from the source material. In the graphic novel, after killing Brad for hospitalising Dina, Syd ascends the water tower and causes her own head to explode. "Tell my mom and little brother I love them," she writes in her diary before ending her own life. "This isn't their fault. This is my gift to them."
Access unlimited streaming of movies and TV shows with Amazon Prime Video Sign up now for a 30-day free trial
Sign up
Forsman says that he has been "called out" for that ending. "I'm sure people have experienced suicide in their life and to see that depicted, some people think it's irresponsible and I totally get that," he said. In the new printing of the book, he added information in the back for a suicide hotline, but he wasn't ready to change the ending. "I thought it was a fitting end that she would relieve her pain with the very powers that were causing it."
The 50 best TV shows on Netflix UK

Show all 50
It's a valid point. But given that Netflix has already put out 13 Reasons Why and All The Bright Places – both of which are aimed at teens and depict a teen dying by suicide – it is a relief that they deviated from the novel. At perhaps the most emotionally vulnerable and volatile time of their lives, teenagers should not be sheltered entirely from the realities of mental illness, but nor should they be bombarded with images of beautiful, aspirational people taking their own lives. Especially considering that there was – as my colleague pointed out when people demanded a trigger warning at the start of All The Bright Places – a 29 per cent rise in American 10- to 17-year-olds taking their own lives in the month after 13 Reasons Why was first released.
The divergence avoids another pitfall too, given that Syd's father killed himself – the potential implication that inherited mental illnesses cannot be overcome, that the fate of the parent will be the fate of the child.
A wise decision, then, even if the real reason for it was to secure a second season. And I hope it gets one. Not least because this one is so tantalisingly short, you could inhale it in an evening.
And I recommend that you do.
Register for free to continue reading
Registration is a free and easy way to support our truly independent journalism
By registering, you will also enjoy limited access to Premium articles, exclusive newsletters, commenting, and virtual events with our leading journalists
Already have an account? sign in
Register for free to continue reading
Registration is a free and easy way to support our truly independent journalism
By registering, you will also enjoy limited access to Premium articles, exclusive newsletters, commenting, and virtual events with our leading journalists
Already have an account? sign in
Join our new commenting forum
Join thought-provoking conversations, follow other Independent readers and see their replies