No more Seth Cohens: The Netflix binge model has killed off the long-lasting TV crush
Where once TV crushes could marinade over time, turning the likes of Jess Mariano and Pacey Witter into generational touchstones, Netflix is delivering a stream of fictional heartthrobs who vanish within weeks, writes Lauren Pinnington
Saturday 13 February 2021 07:00
comments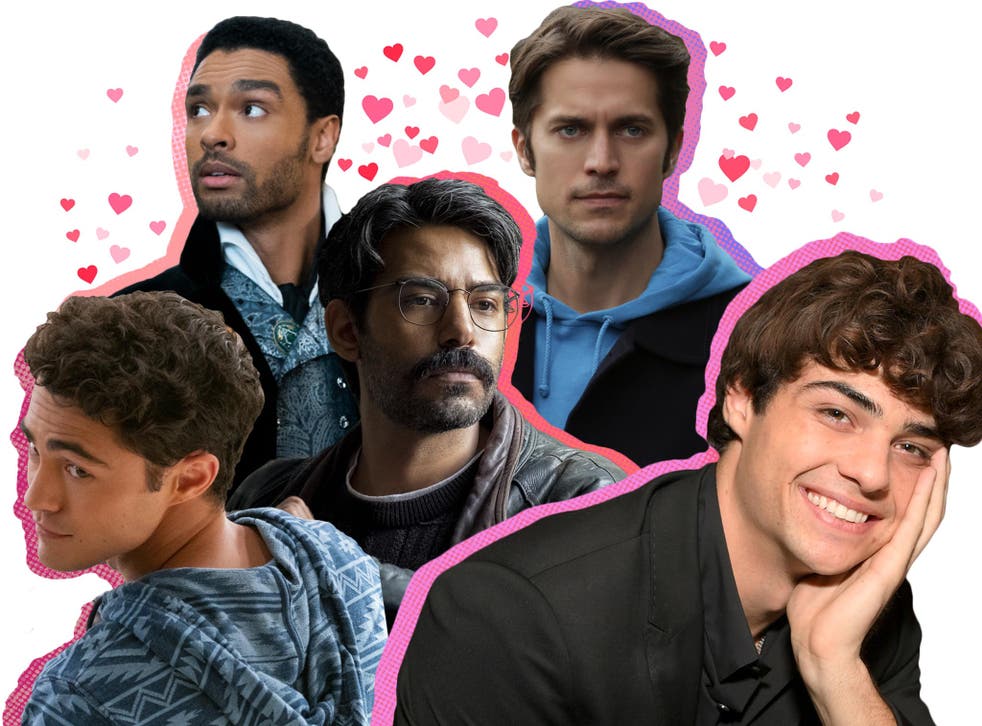 I have become powerless to the handsome boyfriends of Netflix. In December, my Christmas gloom was broken by Regé-Jean Page's rakish spoon-licker Duke Simon Basset in Bridgerton. Last summer, I had Never Have I Ever's high school cool guy Paxton Hall-Yoshida (Darren Barnet) on the brain. A few months later, my hatred of Emily in Paris wasn't enough to overpower the hipster suave of Parisian chef Gabriel (Lucas Bravo). Before that, I was hopelessly endeared to Noah Centineo's sensitive jock Peter Kavinsky in the To All The Boys I've Loved Before trilogy, which has concluded this week.
My tastes in fictitious men are far from unique. Cursory internet scrolling demonstrates that everyone and their mother feels the same. Over the past few years, the streaming model, and Netflix in particular, has supplied us with a bevvy of male eye candy to court. Leading men are wheeled out like a retro dessert trolley, and our attraction is by design instead of coincidence. Still, much like a Black Forest gateau, their popularity might have an expiration date.
These boys have strikingly similar qualities. They are played by charismatic actors with mass-appeal good looks. They are comfortably confident, or cocky without ever being unkind. The drama they're in has few stakes, and it's never to the overall detriment of a love interest – this way, we fans can continue to project ourselves onto their on-screen partners.
Throw in a carefully executed love/hate dynamic (the Duke and Daphne in Bridgerton), or some nostalgic, first-love wistfulness (Peter and Lara in To All the Boys...), and you have a winning formula. 
In a moment marked by self-isolation, there is something rewarding about commonality in our crushes. It's fun to gossip about cute boys, and wade into cultural discourse on Connell's (Paul Mescal) chain in Normal People, the peculiarities of our affections for nerdy characters such as The Haunting of Bly Manor's Owen Sharma (Rahul Kohli), or the politics of crushing on You's serial-killing stalker Joe Goldberg (Penn Badgley).
But there is something to be said about the disposability of it all. Netflix makes it so easy to satiate our desire for instant gratification. We have fleeting flirtations with palatable men, then jump ship. How can one be faulted for cavalierness when the arrival of the next must-see hunk is imminent? This isn't indicative of the calibre of show or the quality of storytelling, but the sheer quantity of it. Call us fickle, but technology has rendered our attention spans shorter. Our investment in characters, even the dreamy ones, feels more superficial. 
Long-term TV boyfriends from previous generations have had staying power. There was Robin Ellis, the original Poldark in the Seventies, who posed a fiery yet sensitive on-screen presence. In the Nineties, there was Colin Firth making haughtiness sexy in the much-heralded Pride and Prejudice miniseries, and a hot-blooded Sean Bean in Lady Chatterley. Pre-Twitter thirsting, discussion of attractive men on the small screen was largely relegated to the pages of lifestyle magazines like Woman's Own in the UK or pure word of mouth.
They had been supplanted in the early Noughties by internet message boards and fan fiction, both of which provided a space for young admirers to express their love for specific characters. It coincided with arguably the Golden Age of American teen TV, with dreamboats such as The OC's Seth Cohen (Adam Brody) and Dawson's Creek's Pacey Witter (Joshua Jackson) arriving like perfectly packaged gifts for millennials like me.
My formative small screen pin-ups were easy on the eye but required lengthy devotion. The nuances and flaws that marked these character's trajectories played out over months, even years, due to the pace of pre-streaming television schedules. We really had to commit. Gilmore Girls bad boy Jess Mariano (Milo Ventimiglia) epitomised this. Jess's surly appeal depended entirely on a leather jacket and copy of On the Road. He had great hair, pouty lips and an excellent selection of band T-shirts, but he was also misanthropic in a way that's vaguely cringeworthy in retrospect.
Jess was a TV boyfriend that only teenagers could be charmed by, yet he still occupies a tender place in my thirty-something heart. I find myself "liking" every picture of him that pops up on my Instagram feed, as though reaffirming the impact of an old flame. Characters we came of age with will be forever linked to unravelling our sexualities, and tapped into a fantasy that boys in my secondary school certainly couldn't compete with. They were a rite of passage – formative infatuations that created a blueprint for adult desires.
They took far longer than a weekend of Netflix binging to take hold, though. Without that time to swoon, Gen Z are potentially missing out on a vital part of their own self-discovery. Will Peter Kavinsky or Duke Simon be their answers to Seth and Jess? It's hard to imagine them being discussed with the same fangirl reverence 20 years from now. But for the sake of lovestruck teenagers everywhere, I hope they will.
Join our new commenting forum
Join thought-provoking conversations, follow other Independent readers and see their replies