Netflix's new series is set in a US summer camp - but what do we Brits really know about them?
With no similar tradition here, we can only watch and learn, says Hannah Verdier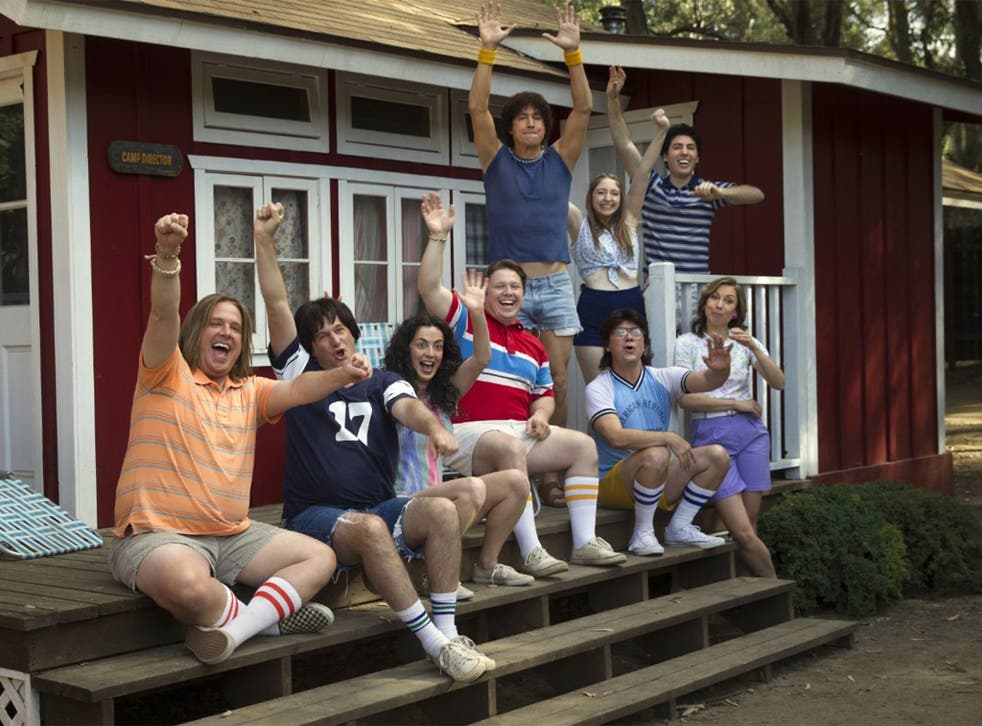 The popularity of Netflix's new series, Wet Hot American Summer: First Day of Camp, in Britain at least, is likely to be down to star power rather than personal experience of the subject matter. Bradley Cooper, Paul Rudd, Amy Poehler and Janeane Garofalo have reprised their roles in the prequel to the 2001 cult classic film (and barely box office-bothering flop) Wet Hot American Summer for eight off-the-wall episodes on Netflix.
There's no shortage of American comedies that revolve around the institution of summer camp, a great tradition of extreme homesickness, group bonding, coming of age and poison ivy. The feeling of being sent away for weeks of supervised "freedom" is an alien concept over here, so pretty much everything that Brits know about camp (real, American camp, not a week away with the Brownies) comes from American film and television.
Few of the teenagers from British television would make it out of camp alive. The most accurate portrayal of teenage life, Skins, showcases the sort of drug-fuelled behaviour that would get the characters kicked out of their cabins in record time. My Mad Fat Diary paints summer as the prime time to stress about going away to university rather than toasting s'mores (a campfire treat). But the British teen summer experience is best summed up by The Inbetweeners, whether it's a weekend at caravan club, with its unfulfilled promise of first-time sex, or a taste of independence on a lads' holiday to Crete. E4's Beaver Falls touched on what happens when British graduates go to work at an all-American summer camp, despite the fact that the three protagonists couldn't quite grasp why there had to be such a battle between the jocks and the nerds.
But such conflict is essential as the nature of camp is fiercely competitive, climaxing in "colour wars", a final showdown between two teams, chanting as they go. In Modern Family, Phil takes it to the next level with his dubious slogan "If you ain't white, then you ain't right". The Dunphys are reigning champions of the Dirty Dancing contest, which they're keen to defend.
If The Inbetweeners were American, they'd be camp counsellors, a clipboard-wielding breed that treads the fine line between responsible and cool. Or – spoiler alert – in the case of WHAS's Andy (Paul Rudd), negligent and murderous. After two children in his care drown, he disposes of their swim buddies from the back of a moving van. Not since Ben Stiller tried to whip the inhabitants of Camp Hope into shape in 1995's Heavyweights have counsellors been so frightening. If summer camp's a hard one for Brits to understand, the long-term effect of sending kids away to fat camp is just unimaginable.
Fitting in is crucial. Being an identikit blonde in a bathing suit or a jock fluent in multiple sports helps. The poster girl for outsiders and goths, Wednesday Addams (Christina Ricci), resolutely refuses group cuddles at camp in Addams Family Values, before attempting to escape. On this side of the Atlantic, outsiders have the luxury of retreating to their bedrooms to listen to Morrissey, but summer camp throws up relentless baiting and the sort of humour that can break you.
Camp also offers the opportunity for a life-swap, if you happen to meet someone who looks exactly like you. This is stretching the bounds of believability, but it must be true because it happened to Lindsay Lohan (playing twins) in the 1998 remake of The Parent Trap as well as Mary-Kate and Ashley Olsen in It Takes Two. Fed up with your child whingeing over the summer holidays? Just send them off to camp and you might get a new one. Disney's new comedy Bunk'd sees the super-rich Ross family who appeared in Jessie leave their luxury penthouse to rough it at summer camp.
In American movies, summer camp is the real deal. It's where big things happen. Being a "non-camper" means missing out on the spirit of being in the gang who've been there. Every year. In-jokes, stories and happy memories are currency, as American Pie's "This one time, at band camp…" hammers home. Brits may never make it to fat camp, band camp or any other kind of camp, but we can spend our summers watching other people going there. Which is perhaps for the best.
Register for free to continue reading
Registration is a free and easy way to support our truly independent journalism
By registering, you will also enjoy limited access to Premium articles, exclusive newsletters, commenting, and virtual events with our leading journalists
Already have an account? sign in
Register for free to continue reading
Registration is a free and easy way to support our truly independent journalism
By registering, you will also enjoy limited access to Premium articles, exclusive newsletters, commenting, and virtual events with our leading journalists
Already have an account? sign in
Join our new commenting forum
Join thought-provoking conversations, follow other Independent readers and see their replies