saturday interview
Nicola Walker: 'I'm riding on the coattails of the women who came before me'
The Last Tango in Halifax and Spooks star is reprising her role as DCI Cassie Stuart in ITV's Unforgotten. She speaks to Charlotte Cripps about ageism, returning to work in a pandemic and playing flawed women
Saturday 20 February 2021 07:48
comments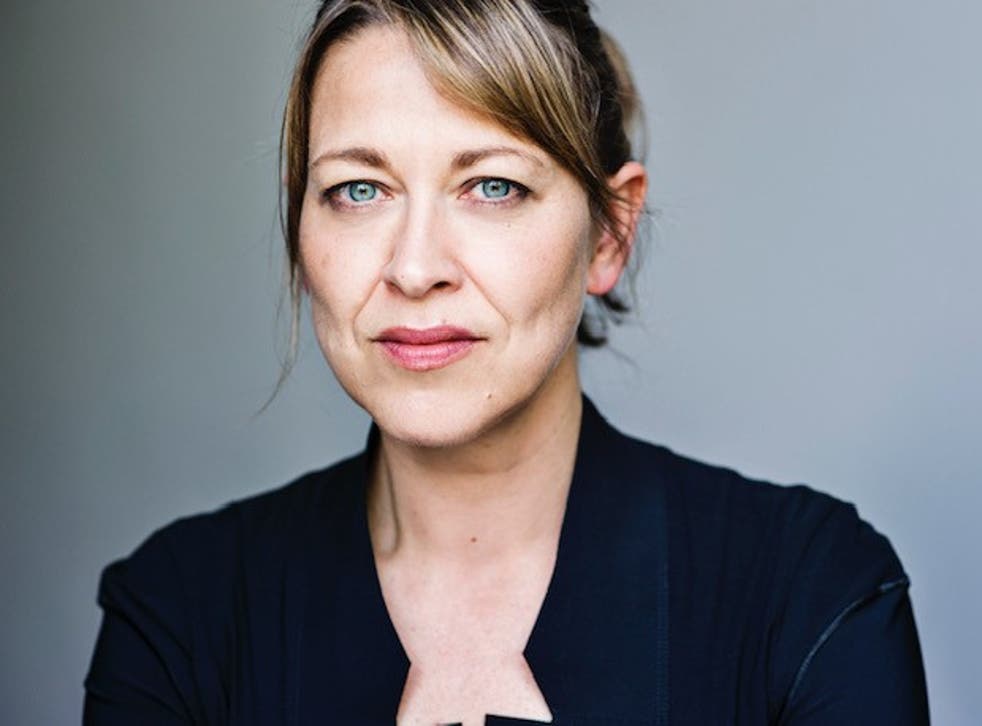 N
icola Walker was warned that her career would have an expiry date. "Older, brilliant female actors pulled me into a corner," recalls the 50-year-old star of Spooks and Last Tango in Halifax, "saying, 'Look you've got to really do as much work as you can because once you're over 40, it really slows down.' So I was waiting for that to happen."
It never did. "I think TV, for me, has got more interesting."
Walker is speaking to me from a sparse bedroom in Glasgow, in a mustard-yellow tartan scarf and burgundy jumper. She came to Scotland to film, but the country went into lockdown the following day. "So I'm here," she says, "and I'm probably staying here."  
There's a no-nonsense air about Walker – just like most of the characters she plays. In Sally Wainwright's brilliant drama Last Tango in Halifax, she's the Northern sheep farmer Gillian, a loveable loudmouth with a self-destructive streak; in the long-running spy drama Spooks, she was the inscrutable M15 intelligence analyst Ruth Evershed; and in Abi Morgan's steamy legal drama The Split, the third series of which she's filming later this year (pandemic allowing), she's the sharp-dressing, adulterous divorce lawyer Hannah Stern.
Walker puts the steady flow of interesting roles she's enjoyed in her forties down to the women who came before her. "The only reason is that there are women who I worked with early on climbing up the industry," she says, "and making decisions about the sort of inclusive TV they want to make. I'm riding in on their coattails, really."   
She should really give herself some of the credit. Ever since Walker's very first job, as half of that excruciating folk duo in Four Weddings and a Funeral, her on-screen presence has been a precise balance of warmth, wit and mettle. Compelling but never showy, she's one of a handful of women – among them Sarah Lancashire, Lesley Sharp, Suranne Jones and recent Oscar winner Olivia Colman – who have been elevating British TV for decades.
Unforgotten is the latest beneficiary. The hit ITV crime drama follows detective duo DCI Cassie Stuart (Walker) and DI Sunil "Sunny" Khan (Sanjeev Bhaskar) as they attempt to solve decades-old murders. Series four, which begins on Monday, sees the discovery of a headless body dumped in a north London scrapyard, frozen solid, the only clue a Marathon wrapper in the back pocket (which dates the corpse pre-Snickers). But Cassie is moody; her plans for retirement from the police force have been thwarted just as her dad's dementia is getting worse. 
Unforgotten is hugely popular: the series three finale was watched by 7 million people in 2018. That's partly down to its unexpected twists – the mild-mannered country doctor is actually a serial killer – but also the chemistry between the central pair. "It's a totally platonic love," says Walker, apart from a "fumbled and ill-judged kiss" by Sunny early on that was quickly rebuffed. "Cassie dealt with it in 10 seconds. It's over – it's done. She loves him. It's her friend. That is not how narratives normally go in this genre." 
Following a pandemic-enforced hiatus, filming for season four resumed in September. "I felt nervous going back to work," Walker admits, "but they handled it brilliantly compared to other production companies."
Last year was Walker's longest break from acting since her son was born in 2006. She filmed series five of Spooks while pregnant, "hiding the bump behind files", before officially leaving the show after he was born. But she couldn't stay away for long. "I went to see Jane [Featherstone, Spooks' producer] to show her my baby," says Walker. "As I was leaving she said, 'Oh we really miss you.' And I said, 'I really miss you!' And she said, 'Do you want to come back?' And I went, 'Yes I really do.' It will never happen again. My poor agent said that's not how 'biz' is conducted."
She didn't stop after that. "As soon as I had my son, the opposite happened to what I feared – quite a lot of work started coming in," she recalls. "It was very unexpected and very difficult to juggle emotionally and timewise." She filmed ITV's harrowing child abduction drama Torn in 2007 – when her son was just six months old. "The character I was playing had to have this huge breakdown, and they were asking me if I needed a tear stick to produce tears for the camera. But I knew my husband was in a caravan off set with babe in arms and I was pretty hormonal still. I was just crying randomly all the time anyway. I said, 'I don't need a tear stick.'" 
These days, Walker lives in Essex with her actor husband Barnaby Kay and their now 14-year-old, Harry – though she's apart from them now, in the dingy Glasgow flat, while she waits to film the new crime drama Anikka. Based on the popular Radio 4 drama, it'll see her bring the Scandinavian detective Annika Stranded to the screen.
Walker could play a police detective in her sleep: she's played six in total since landing the lead part of down-to-earth DI Susan Taylor in ITV's Touching Evil in 1997. By 2015, she was playing two at once on prime-time TV: in Unforgotten, and in BBC One's River, as Stellan Skarsgard's murdered colleague.
"They're all very different," says Walker when I ask if she has a favourite. "I think Cassie is the most unusual. I feel like Chris [Lang, the creator] sees a lot of the story through Cassie and you don't always get that – the feeling that the female character is leading your eye. But I would definitely put a shout out for River, which Abi Morgan wrote. I was dead in that – I was a manifestation of his imagination, which was kind of tricky to get your head around. But I liked playing her." 
She's not just known for playing coppers, of course. One of the best scripts Walker says she was ever sent was Last Tango in Halifax, the Bafta-winning drama about two childhood sweethearts who reunite as octogenarians. It's hard to imagine anyone else playing Gillian, who is a sweary, no-nonsense foil to her haughty stepsister Caroline (Sarah Lancashire). Gillian has little time for pretension. Or indeed manners. She calls Caroline a "snooty bitch!" moments after meeting her – yet their fractious but loving relationship ends up being the show's secret weapon.
"She just felt very real," says Walker. "She felt like somebody I knew. Or I would like to know. You'd like to have a pint with Gilly. You'd have a great night with her. She'd get you in appalling trouble; she'd get you too drunk; she'd set you up with someone far younger than you at the bar.
"Of course, it is more complicated than that – we are all more complicated than that."
As the show unfolds, we learn that Gillian suffered for years at the hands of an abusive husband, before eventually – spoiler alert – killing him. "When you invent characters," Wainwright has said, "you've got to invent them warts and all."
Does Walker prefer playing flawed women? "They're not human if they're not flawed," she shrugs. "It's only the superhero franchises where they're not. I think that's the only connection that runs through the jobs I have done in the last few years – they are all very real. Of course, the bits that might be considered wrong about them by society are the most fun to play with when you're filming." 
Walker was born in Stepney, east London, to a scrap metal dealer dad and interior designer mum. She went to a private school in Walthamstow and was obsessed with black-and-white film musicals – the kind that starred Fred Astaire, Ginger Rogers and Gene Kelly. The first in her family to go to university – Cambridge, no less – she continued that childhood passion as a member of the famous student drama club Footlights, alongside Spooks writer David Wolstencroft and comedian Sue Perkins.
She won a place at Rada after that, but ended up turning it down. "I was one of the last people that still had access to maintenance grants," she says, referring to the financial help given to students prior to the 1990s, at which point grants were phased out for loans. "It seemed insane to pay for another three years of training. Also, I was in a rush to get going."  
Is drama training these days the preserve of the privileged few? "You can't saddle someone with debt coming into an industry where you have no guarantee of employment for possibly a very long time," she says. "I worry that if you make it difficult for people from diverse backgrounds to access training, then you are going to get people with the same sort of life experiences. And that is our loss as viewers." 
All of this, she adds, is further complicated by Covid. I ask Walker, who won an Olivier Award in 2013 for The Curious Incident of the Dog in the Night-Time and starred in the hit play A View from the Bridge at the Young Vic a year later, whether she thinks theatres will survive the pandemic. "The government bailout was heartening," she says. "Hopefully, it's enough to keep the buildings going. But I have friends who have already had to leave the industry. They had to do something else – they've run out of time. It's an impossible situation. You spend a lot of money launching a production, then find yourself in lockdown a month later having done two previews."
She was supposed to be in a production at the National last year – an adaptation of the 1938 Emlyn Williams play The Corn Is Green – but it was shelved. "We all want the buildings to open," she says, "and we all want people back inside them." I suspect, with Walker on board, it'll be worth the wait.  
Unforgotten returns on Monday 22 February at 9pm on ITV
Join our new commenting forum
Join thought-provoking conversations, follow other Independent readers and see their replies