Nigella Lawson's Cook, Eat, Repeat shows us the pleasure of being alone
With her latest BBC series, the beloved writer and television cook has lifted the shame out of isolation, writes Adam White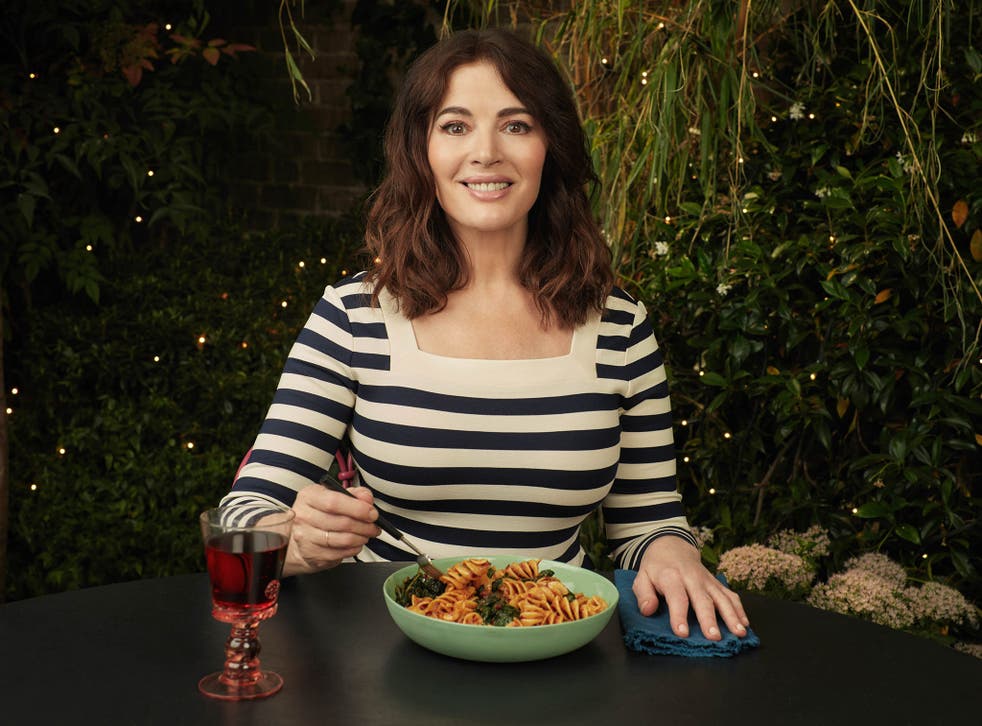 Nigella Lawson spends so much time talking to us in her new BBC series that it takes a while to notice she's always alone. She makes food alone, eats alone, sorts through her big stash of liquorice alone. As in so many of her shows, she also wanders fancy London streets alone, like a Richard Curtis heroine wrapped in an expensive coat. But she's never lonely. It's that distinction that makes her so important.
Lawson's older programmes typically ended with a feast. Her friends and family would gather under fairy lights, all scooping delicious food from shared bowls. Lawson would watch her guests moan in ecstasy over a lemon tendercake or a black treacle ham. Perhaps because of the pandemic, her latest series, Cook, Eat, Repeat, hasn't had any of that indistinct hubbub over a dinner table. In its place has been a feeling of quiet, of a woman in her kitchen preparing food for herself and smiling.
Cook, Eat, Repeat has been a Monday-night salve, providing warmth and comfort in what feels like a neverending winter. All the recurring elements that make Lawson unmissable are there: her wit and flamboyance, the GIF-able weirdness, that sense that she's speaking solely to you. What's new has been her isolation, her friends and family replaced by dinner for one. That Lawson remains the same through it all, and cooking and discussing food with just as much excitement, is an unspoken asset to this series that even she may not have anticipated.
It's been hard not to feel lonely this year. And loneliness has always come with a degree of shame – shame over your friendships or lack thereof, shame that a relationship didn't work out, or that your Zoom quiz calendar is nowhere near as busy as your colleague's. And that old expression that only boring people get bored? Deeply offensive in 2020, when boredom seeped in with boundless regularity.
Food has also factored heavily into those feelings of shame. Cookery programmes often perpetuate the idea that delicious food must go hand in hand with social gatherings. Great dining is to share and talk over, they often imply, not just for one. This year rewrote all of that. Gone were the group hangs, the meals out, the urgings from someone close that the specific food they're eating is so good that you simply must try it. At home alone, selecting "Large" on the McDonald's Uber Eats order or guzzling the whole jar of Lotus Biscoff spread (it happened to a friend), you were inclined to feel guilty. We were silly about ourselves, with regularity and with insistence.
In Cook, Eat, Repeat, Lawson finds pure elation in the consuming of food. It is a show driven by self-made, one-person joy, and ingredients being used to create magic. It should be said, though, that this isn't new territory for her. Lawson has always viewed food as a form of elation, to be prepared and eaten with the same degree of joy when you're alone as when you're with others. Yet it feels more potent in 2020, when eating and cooking have become some of the few purely enjoyable activities we can do. "Of course it can be drudgery and it can be draining," Lawson writes in her latest book, "but it is also a way to make a substantive difference to the emotional temperature of the day."
Doing it all alone has been a key factor in her recipes lately, too – her "mine-all-mine cookies", two large biscuits rather than an overpowering batch of smaller ones; her crème caramel for one; the glorious fried chicken sandwich she made at the beginning of the series.
It was that recipe that produced some of the greatest television of this year. Lawson treated it like a love story between sharp flavours and crunchy noises. "Slather city", as she dubbed it, saw an immaculately golden piece of chicken decorated in garlic mayo, iceberg lettuce, gherkin, kimchi and pickled onions. "A ceremonial hush has fallen over me," she told the camera. "It's partly just the anticipation of biting into this … I'm going in." When Lawson did finally take a bite, she wandered slightly out of frame, so bewitched by her own food that it seemed she'd forgotten she was being filmed.
We don't truthfully know how Lawson has spent her lockdown, or whether she really lives alone. The kitchen she cooks in on TV is not her own, nor is the garden where she sits and eats and enjoys her own company. For someone so famous, Lawson is curiously enigmatic, and it's probably for that reason that she has always seemed so personable. It's made it easy to transpose our own narratives onto her. We can see in her the kinds of characteristics we aspire for, or plain love the most. Lawson's programmes are fantastical and daydreamy, but never out-of-touch. And, for 2020 more than any year before, genuinely healing.
Being alone can be the worst. But, as Nigella has proven in Cook, Eat, Repeat, it can also be filled with the most infinite of pleasures.
Join our new commenting forum
Join thought-provoking conversations, follow other Independent readers and see their replies