Vanity Fair's Olivia Cooke interview: 'Men don't need to not speak to us – just don't be gross. It's dead easy'
Ahead of her new starring TV role, the young actress discusses why men like Henry Cavill shouldn't feel threatened by #MeToo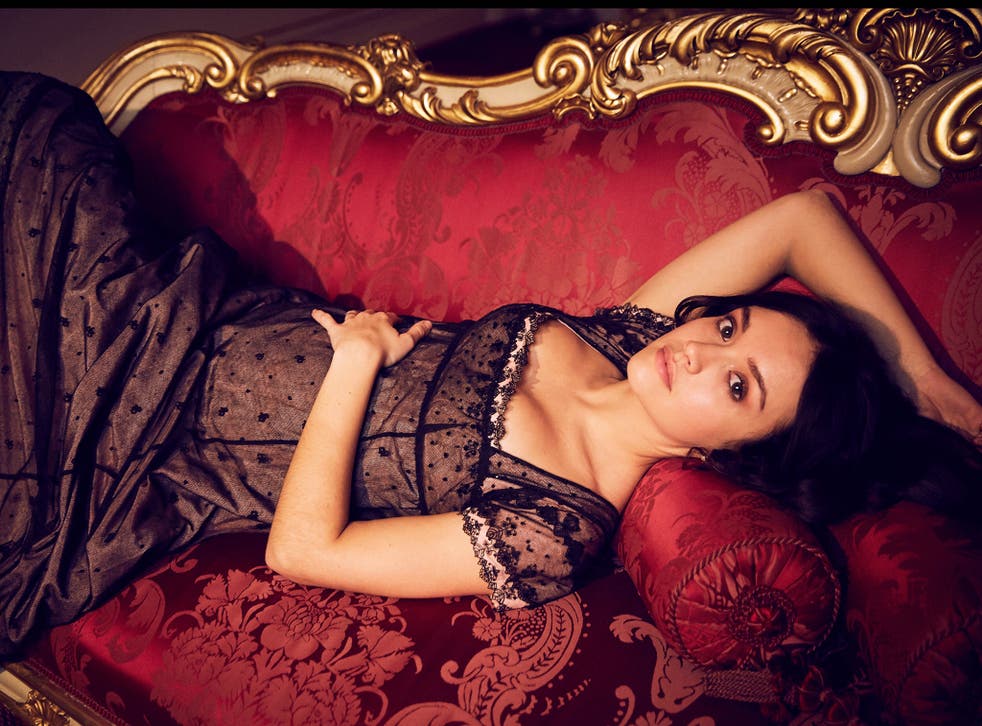 Olivia Cooke is about to overturn all our preconceptions about an actor in a corset.
Her performance as Becky Sharp – the witty, calculating anti-hero of ITV's Vanity Fair – suggests she's never seen a period drama in her life. Eschewing the arch delivery and stiff body language that usually comes when an actor is laced into a costume, she plays her lead as if she's been plucked from 2018 and dropped, quite unwittingly, into a world of carriages and comportment classes.
Her expressions are wild and uninhibited, her posture slouchy, her tone informal and dripping with disdain. A few times, somewhat startlingly, she looks straight into the camera – Miranda-style – and raises a sceptical eyebrow.
I've only seen the first two episodes of the seven-part series – an adaptation of William Makepeace Thackeray's 1848 novel, which sees cynical orphan Becky attempt to inveigle herself into Victorian high society – but, so far, Cooke's decision to ignore the conventions of the genre is thrilling. Among a cast of household names – Michael Palin, Suranne Jones, Simon Russell Beale, Martin Clunes and Frances de la Tour – the 24-year-old shines. Apparently, she has Bill Nighy to thank for that.
"God, name drop straight away, three minutes in," she says over the phone from her hometown of Manchester, clearly as allergic to pretension as her character. "But I did a film with him, [The Limehouse Golem], and he was like, 'I never play to period, because we weren't there at that time, so we don't know that people behaved in this really postured way, and that everything was ever so polite and formal all the time.'"
Nor, she adds, do we truly know what it was like to be a woman in 19th-century England: "The way it was written by a lot of men is that women were very passive and apologetic, and tried to make themselves as small as possible, and I just don't think that's true for every woman that lived in these times."
It's certainly not true for Becky Sharp, who has been adapted from Thackeray's novel by screenwriter Gwyneth Hughes. When we first meet her, in fact, she is being unceremoniously ejected from Miss Pinkerton's Academy for Young Ladies. "With a more lady-like attitude, you could have had a future here," says Suranne Jones's Miss Pinkerton. "I'd rather beg in the streets," shoots back Becky.
It was a tonic, says Cooke, to play a character so mischievous. Thus far in her short but illustrious career, her roles have tended towards the morose. She has played a teenager with terminal cancer (in the excellent Me and Earl and the Dying Girl), a teenager with cystic fibrosis (Bates Motel), an abused woman sentenced to death (The Limehouse Golem) and a murderous sociopath (the dark thriller Thoroughbreds) – "so it was fun," she says, "to not be wallowing in despair or having something really tragic happen."
Her character's resilience appealed too. "She's elastic. She just bounces back. It was really wonderful to play a woman who does that, because I feel like women are really durable and tough, but sometimes it's not presented that way on film and TV."
She's looking forward to playing more women who fit this mould. After making a name for herself in young adult roles, most recently with a star-making turn in Steven Spielberg's Ready Player One, she's ready to say goodbye to playing teenage girls. "I'm quite excited to get into my 30s," she says, a rare sentiment in the world of Hollywood. "I'm 24, so I'm on that cusp of playing late teenage roles. I'm excited to age a little bit and play a woman."
Access unlimited streaming of movies and TV shows with Amazon Prime Video Sign up now for a 30-day free trial
Sign up
Not that women have it much easier than teenage girls, be it on-screen or off-screen. Since she first started acting at the age of 18, Cooke has experienced the subtle, insidious forms of sexism that pervade the film (and indeed any) industry – be it the all-male crew members referring to her as "darling, baby, beautiful", or the moments on set when her suggestions are ignored by a director, only for a male co-star to say the exact same thing and be applauded for it. "You're like, 'For fuck's sake!'" she says. "But I do think it's changing."
Since the advent of the #MeToo and Time's Up movements, in which alleged abusive behaviour by various powerful men prompted a wider conversation about gender inequality in film, Cooke has noticed a marked difference on sets.
"I think people are just reminding themselves to be a bit conscientious," she says. "I mean, they don't need to not speak to us – just don't be gross and don't be a dick. It's dead easy."
It certainly should be, but there are still men who seem baffled by the whole thing. Man of Steel's Henry Cavill, for example, recently said he no longer felt able to talk to women for fear of being "called a rapist or something". "Urgh, did he say that?" Yes. "So idiotic," Cooke declares. "Come on public schoolboy, you can do better than that. I think a lot of men feel threatened and they don't need to. We're just asking for a seat at the table. That's it."
Had Cooke been on social media, she would have most likely been aware of Cavill's blunder already. Inevitably, his comments caused such a firestorm online that he was forced to apologise a few days later. But since the very start of her career, Cooke has chosen the path less travelled by those her age, and stayed away from Twitter and Instagram.
"For me, it doesn't work," she says. "I would just spend all day every day on it, and I think I'd get more entwined in my own ego in such a detrimental way."
"I'm up and down with anxiety and depression," she adds, "and I just really don't think that would be the best use of my time. I do think it's a really amazing tool for spreading messages and organising, but for me, it just doesn't work."
She thinks for a moment. "God, I could be so rich right now if I was on there promoting special teas… but I can't do it. I don't want to get a burst of serotonin from a notification. I want to do that in real time, with real people and real experiences and…" – her pretension radar starts to ping – "that sounds very earnest, and very wanky."
TV preview: The 18 shows to look out for before the end of 2018

Show all 17
She can't be alone, though, in her struggles with anxiety and depression. Does she hope others might read her words and feel inspired to log out? She's not sure. "I just feel a bit uncomfortable with the thought of being a staple for what is good when I'm still trying to figure it out myself."
An interviewer once described her as a role model, and she recoiled at the prospect. "It's difficult for me to acknowledge myself as a role model," she says, "when I'm still struggling to be a role model for myself. I mean ultimately, there's a voice in your head going, 'You're a horrible person Olivia,' so to exclaim, 'Follow me everyone, I will teach you the ways'… I feel like that's a little disingenuous."
She pauses. "But also, if someone looks up to me, then that's really lovely. I mean, it's very ill-advised, but it's lovely."
Vanity Fair begins Sunday, 9pm, on ITV
Register for free to continue reading
Registration is a free and easy way to support our truly independent journalism
By registering, you will also enjoy limited access to Premium articles, exclusive newsletters, commenting, and virtual events with our leading journalists
Already have an account? sign in
Register for free to continue reading
Registration is a free and easy way to support our truly independent journalism
By registering, you will also enjoy limited access to Premium articles, exclusive newsletters, commenting, and virtual events with our leading journalists
Already have an account? sign in
Join our new commenting forum
Join thought-provoking conversations, follow other Independent readers and see their replies