Ophelia Lovibond on Elementary, schooldays and living with that name
As the American TV show 'Elementary' returns, Ophelia Lovibond, who plays Sherlock's protégée, talks to Gerard Gilbert
Gerard Gilbert
Monday 16 February 2015 19:51 Comments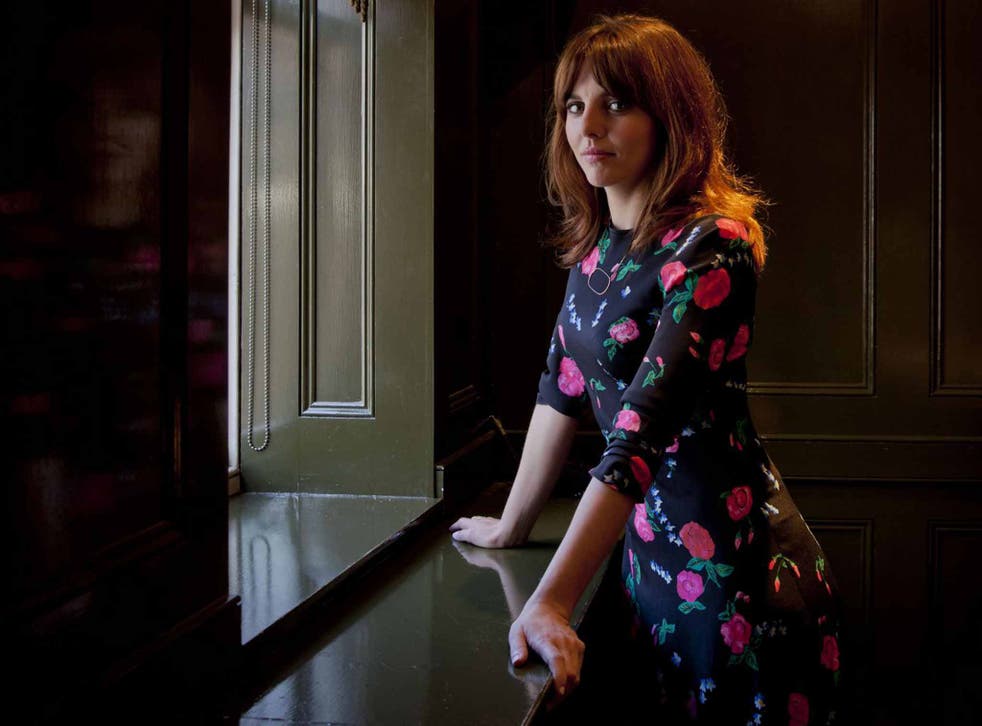 What's in a name? Quite a lot if that name is Ophelia Lovibond – the assumption being that its owner is "posh", despite being raised in a one-parent family on a housing estate in Shepherd's Bush, west London, "underneath the floodlights of QPR football stadium", as she puts it rather poetically. Her upper-middle-class accent was, she says, picked up as a scholarship girl at a fee-paying school, and from parents who were "well-spoken but not wealthy".
But there's also a lubricious, Bond Girl feel to her name, which is reflected in the various typographic errors that have crept in over the years. "Oh, I've had the lot," she says. Ophelia Lovelybuns … Lovelybum [this was on a note from her GP]. "I kept that one … I don't mind being called Lovelybum."
These days Lovibond is making a name for herself in other, more rewarding, ways. After roles as Nick Frost's Californian hippy girlfriend in Sky Atlantic's Mr Sloane, and as Izzy, the PA who's not officially a PA in the BBC's painfully funny self-satire W1A, Lovibond now plays Sherlock Holmes' protégée, Kitty Winter, in the latest series of the American TV show Elementary – the one with Jonny Lee Miller and Lucy Liu as updated, New York versions of Holmes and Watson.
"My agent in LA just rang me up and said, 'Have you heard of a show called Elementary?'," says the 28-year-old, whose CV also includes Nathan Barley and the John Lennon biopic Nowhere Boy. "The creator would like you to self-tape yourself. I did the tape at home with my mum on the Wednesday and was offered it on the Thursday and then after eight days I flew to New York for five months."
The way she describes it, she lived a life straight out of Breakfast at Tiffany's, with jazz floating in off Washington Square and eccentric Greenwich Village neighbours. "I thought Woody Allen was going to walk by my window at any minute." In fact Bob Weide, the Curb Your Enthusiasm director who created Mr Sloane, had mentioned Lovibond to Allen ("he said that Woody officially knows you exist"), but when their paths crossed – at the premiere of one of Allen's films – Lovibond was so intent on hooking up with a friend she was due to meet that she apologetically squeezed past the maestro.
There's something of this attitude in the fact that her first Hollywood blockbuster, the Marvel Comics superhero movie Guardians of the Galaxy, despite playing in just about every multiplex in America (it was the second-highest-grossing film of last year), has yet to see her custom. "A lot of the crew on Elementary are into the whole Marvel world and they couldn't believe I hadn't seen it," she says, adding that the cast and crew of the show were friendly – not always the case when joining a long-standing production. "Jonny and Lucy and all the crew went to great lengths to make me very welcome. It was like I'd been there for ages."
Whether Kitty remains in Elementary for ages would appear doubtful, for as Lovibond says: "Kitty is in an original [Conan Doyle] story; it's called 'The Illustrious Client'. She's a real character from his canon, so anyone who knows that will have an inclination [of what befalls her]."
Growing up in west London with two siblings and various children fostered by her mother – a counsellor who worked with prisoners in Wormwood Scrubs – Lovibond belonged to the same youth theatre as Carey Mulligan. To win her first professional acting job, playing David Bradley's daughter in the ITV sitcom The Wilsons, she lied about her age (she was 12 and pretended to be 14). Other juvenile roles followed, but having won a scholarship to the fee-paying Latymer school in Hammersmith, she decided to concentrate on her studies instead, going on to read English at Sussex University.
"I never wanted to go to drama school," she says. "The teaching at Latymer was so inspirational I just thought I don't want to stop, I just want to read and learn. I remember I was working with Ben Whishaw at the time and I was thinking, was I crazy not to go? And he said there's no one way to do this; drama school is not a necessity like it once was."
Access unlimited streaming of movies and TV shows with Amazon Prime Video Sign up now for a 30-day free trial
Sign up
In the event she got a first at Sussex, and graduated with firm ideas about gender inequality in the acting business. "There are more men writing and more men directing so it's not entirely surprising," she says. "That's why it's so competitive with actresses because there are so few interesting roles for women. You read something and you think, 'That could be a woman – why does it have to be a man?"
Lovibond's private life she prefers to keep private, although reportedly she lives in Hampstead with the actor Tom Hughes (Dancing on the Edge). "I, erm, I … I don't want to talk about it", she says, before relenting slightly. "It's, er, all good."
She's currently reprising her role as Izzy in the second series of W1A. "I would describe Izzy as professionally warm," she says, obviously not enamoured of the species. "You go to auditions and you see these young women zipping about and they all have such purpose; they're very friendly but they want to climb." Izzy is the object of the affections of nice-but-dim intern Will, played by Hugh Skinner. "Hugh's so good, it's painful," she says. "If you look at the script all his lines are made up of the words 'OK, yeah, cool, cool'."
There's more comedy after that, with Simon Pegg and an all-star British cast in the romcom Man Up, although she's starting to hanker after the adrenaline rush of stage-acting. "I've never done a play," she says. "My agent is probably going 'no, no, no', but I'm just desperate to do one." And with a name like Ophelia, it would be a crime not to.
'Elementary' returns to Sky Living tomorrow
Register for free to continue reading
Registration is a free and easy way to support our truly independent journalism
By registering, you will also enjoy limited access to Premium articles, exclusive newsletters, commenting, and virtual events with our leading journalists
Already have an account? sign in
Join our new commenting forum
Join thought-provoking conversations, follow other Independent readers and see their replies