'Orange is the New Black', season 5: Taylor Schilling on prison reform and Piper's transformation
The actress who found fame in 'Orange is the New Black' now sees her character branch out on Netflix's most watched original series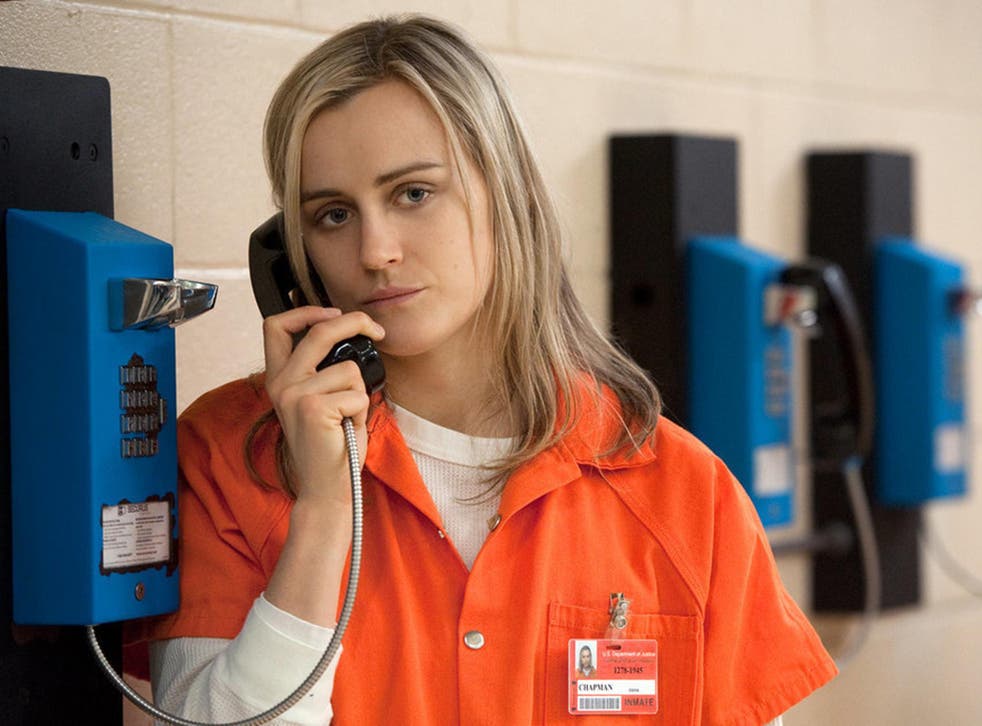 "The fact that I'm a white person may mean that I'd survive a prison riot more easily, and that's a horrifying thought," says Orange is The New Black star Taylor Schilling.
"People are dying in riots in the States – the Ferguson unrest wasn't that long ago. I don't know how one survives a riot. I don't think there is a recipe for it. I think it's a systemic problem, the system that caused the riots needs to change."
Season 5 of Orange is The New Black plays out over three days as the inmates at Litchfield riot. The episodes were filmed whilst last years' US Presidential election was taking place. Schilling says that daily on the set, the actors would discuss the election campaign.
"It's impossible to strip the show from the context in which it's being created," Schilling says. "The world at large is part of what we are making on a day to day basis."
Talking to Schilling in a London hotel, I point out that her character Piper Chapman wouldn't be allowed to vote anyway, because she is in prison.
She hits back, "If you're in prison for a non-violent offence you should not be stripped of your right to participate in democracy."
These are all issues that Schilling admits she was not concerned about before being cast in the hit show. Yet now, this prosecutor's daughter is a vocal proponent of prisoners' rights. She calls the prison system "disgusting" and at "boiling point," arguing that it needs reform.
The Boston-born actress is an American who gets sarcasm.
I note that she has her shoes on for this interview. We laugh about a recent interview she appeared in on Ellen, in which the topic of conversation became about her appearing barefoot following on from an ankle injury, which was conducted while pictures of Ellen DeGeneres's numerous pets were put on the screen in the background as the show's picture editor searched for an X-ray picture that Ellen had requested be shown to the audience. "That was one of the weirdest interviews I've ever done."
I say this one will be stranger, and jokingly ask whether she's excited to be on Orange. As quick as a bat she responds, "I'm thrilled – it's unprecedented. Netflix is an untested medium," repeating the comments she made in 2013 when Orange in the New Black became the video-on-demand company's first original drama series. To this day, it remains the service's most popular programme.
Access unlimited streaming of movies and TV shows with Amazon Prime Video Sign up now for a 30-day free trial
Sign up
Schilling's character is based on Piper Kerman, the author of the non-fiction book Orange is the New Black: My Year in a Women's Prison. The first season was told through Piper's fish-out-of-water eyes, but as the series moved on, Piper's become a meaner, nastier, more cunning part of the ensemble, no longer front and centre for the viewer.
It's a decision that she wholeheartedly endorses: "I think on some level, if a show representing the prison system in the States – which is, I think, over 80% women of colour – was told only through the eyes of an upper-class woman, that would be the epitome of racism and it would represent the status quo. If anything, this show has been anything but the status quo."
She adds, "It's not necessarily Piper's story that is of most cultural relevance."
Despite this belief, she says OITNB had to focus on her character when it began because of the makeup of the audience and their ingrained expectations.
"The audience is still mainly made up of white males, so they are interested in f****ing a privileged white woman."
Much to Schilling's delight, her character Piper has also changed, morphing from privileged white woman to angry thug.
"We take that idea of a lady hero that you all know and have seen before, and mess that up. What if she is manipulative, not inherently likeable, amoral, self-interested, selfish, self-centred and it's not about serving someone else?"
The fallout has surprised Schilling, who discovered that institutionalised opinions are hard to eradicate.
"It's so uncomfortable for people, that is what I've found. It's uncomfortable for people to have a woman like this. It's almost like, how dare you not be likeable and just sit in the corner, white lady."
Schilling also faces the challenge of stereotyping in her own career. Like many actors who have made their name by playing an acclaimed role with which they are inevitably associated, it can be difficult to branch out.
The series can only go on for so long – although two more seasons have been commissioned. In the book, the author is in jail for 13 months, and Schilling says that although we've been watching for five years, only 10 months have passed in Litchfield.
So the question is: can Schilling outgrow Piper?
Before she found fame in OITNB, she had landed roles in major films. For example, she played Ben Affleck's wife Christine in his Oscar-winning film Argo in 2012.
Christine is the traditional Hollywood female role, used for exposition when something in the story needs explaining; family is her priority and she's mainly there to give the male protagonist an emotional private life.
On the back of her Netflix success, she's appeared in vibrant, challenging independent movies with a sense of fun, such as 2015's The Overnight, in which she plays a woman befriends some swingers along with her husband, played by Adam Scott.
"It's about that relationship you have with yourself," she beams when talking about the film. "That is what I loved about that movie so much: it's taking the things that you feel most uncomfortable with and embracing them.
"I just call it the penis movie. In my world, with my friends, it's the penis movie."
Now that fame has given her choices, Schilling is picking roles that challenge orthodoxy. It's what makes her such an exciting actress to watch out for.
"Those are the stories that I'm attracted to telling. Outsider stories really attract me. That's where I feel that I can use myself to communicate best. I don't really relate to being right in the middle."
There are several movie projects coming up, including one written and directed by Emilio Estevez called The Public, which takes place in a library forced to close its doors during an Arctic storm.
Ignoring the demands of off-site management, the workers turn the library into a shelter. It's another project that Schilling is involved that she argues "gives voice to the people that society are choosing to ignore".
She has 2.1 million followers on her Instagram account, which she set up to appease Warner Brothers when promoting a movie. She posts infrequently, and with far less of the social concern she shows in person.
I ask if social media is something she can now use to create change, or put forward her ideas.
"It's so confusing to me, and so permanent to craft an image and be almost labelling yourself," she says. "You have to give a lot of access.
"I'm not even sure of who I am! That changes on a day-to-day basis. It's not something that I set up as an extension of my heart, so it feels like work."
'Orange is the New Black' season 5 is available on Netflix from 9 June
Register for free to continue reading
Registration is a free and easy way to support our truly independent journalism
By registering, you will also enjoy limited access to Premium articles, exclusive newsletters, commenting, and virtual events with our leading journalists
Already have an account? sign in
Register for free to continue reading
Registration is a free and easy way to support our truly independent journalism
By registering, you will also enjoy limited access to Premium articles, exclusive newsletters, commenting, and virtual events with our leading journalists
Already have an account? sign in
Join our new commenting forum
Join thought-provoking conversations, follow other Independent readers and see their replies