Sophie Skelton on Outlander season 3, Day of the Dead: Bloodline and working with Nicolas Cage
The British actress returns as Brianna in 'Outlander 3' and takes her first cinematic leading role in the remake of George Romero's classic zombie film 'Day of the Dead: Bloodline'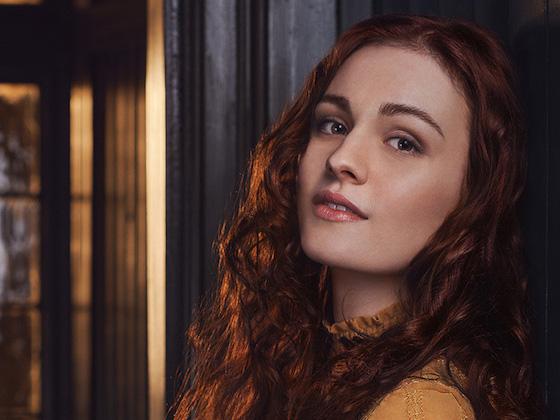 Sophie Skelton had to wait a year between her audition for popular time travel series Outlander and her call back. "I just figured I hadn't got the role."
Following the template of the popular books by Diana Gabaldon, the character of Brianna was originally going to arrive on screen at the end of season 1, but a last minute rewrite postponed the arrival of the American-accented rebel for a season.
Brianna is a university student in the 1960s and discovers that her mother has been lying to her about who her father is, and it's not the man she thought it was. He is a highlander called Jamie, who her mother wants to travel back in time to see. Brianna has to overcome her state of shock and skepticism that time travel is possible.
That delay turned out to be good news for both the Cheshire-born actress, as in the intervening period she had her breakthrough role in action adventure web series Ren, and took the lead in Day of the Dead: Bloodline, a remake of the George Romero classic. She also made a bank heist movie, #211, with Nicolas Cage.
Consequently, the blossoming of her character in the upcoming series of Outlander coincides with Skelton being raved about as one of the most exciting upcoming British actresses of the moment.
In Season 3, Skelton says of her role: "You see a lot of the mother and daughter relationship develop. Her mother wants to go back in time to meet the love of her life, and you see Brianna mature into this woman who can say, 'I love you enough that I can let you go back.'"
We meet in a cafe in London. The actress arrives with a newspaper folded under her arm; it's open on the puzzles page, all of which have been completed. "I'm a geek, I mean I can't really pretend to be cool, if I bought the puzzles with me."
But she doesn't have to pretend, as being beguiling seems to come naturally to her.
The interest in games becomes all the more intriguing when she reveals that her parents met creating children's games. They now run their own company, and create toys for Disney and their ilk: "Yeah, I used to be their guinea pig."
They were also movie obsessives, and as a family they would watch movies that run the gamut from Star Wars and Mamma Mia! to more "artsy fare".
Access unlimited streaming of movies and TV shows with Amazon Prime Video
Sign up now for a 30-day free trial
Sign up
Access unlimited streaming of movies and TV shows with Amazon Prime Video
Sign up now for a 30-day free trial
Sign up
From an early age she wanted to work in the performing arts: she danced ballet, sung, and wanted to act. Her first job was in a commercial with Jamie Oliver, in which she played Snow White. Then at the age of 17 she landed her first TV role, a part in DCI Banks.
But she says: "I didn't tell anyone of my friends I got the role." She carried on working part-time in the make-up department of John Lewis, and occasionally customers would recognise her. She only quit her part-time job after three years working there, when she started to realise that with all the auditions she was doing in London, paying the train fare to return to Manchester just to go to work involved spending more on train fare than she was receiving working.
But even then, she says she felt bad for her boss when she left.
Her parents wanted her to have a fall back plan in case acting didn't work out, but when her acting career blossomed they didn't mind that she shelved her university plans to study medicine.
She is also, she says, "a bit of a perfectionist". It also means that for her the most difficult part of the job is letting go.
"The hardest thing is that you finish a movie and then it's out of your hands. It's down to the edit and everything else. It's kind of nice to wrap things up and move onto the next thing, but it's hard to let stuff go. I always feel that I can do more with each shot."
The perfectionist streak is definitely pleasing casting directors. Her first cinematic leading role in Day of the Dead: Bloodline is the second time the 1985 classic zombie film has been remade. There was a poorly received remake in 2008. "It's a bit different," she says. "It has a bit of a psychological twist – there is a zombie stalker and it has a cool twist."
It tells the story of a post-apocalyptic, zombie-filled society, where she plays Zoe Parker, a former med school student is tormented by a half-human, half-zombie figure from her past.
She watched the original Romero film before her audition. "I know, no pressure!" she says, almost preparing herself for the fact that reboots and sequels of this ilk almost always get slammed because fans can't see beyond the original.
Yet she seems quietly confident that it will surprise audiences.
Skelton came onto the project late in the day. "The role I play, they were going to get Ariana Grande to play. She signed and they were actually scheduling to do it. So some of the producers when I walked into the room, they were expecting her! I was like 'Hi, little me'.
"It's a really cool part; she's kind of really she at the beginning, quite shy and keeps to herself and then you have this really ballsy, militaristic cool girl surface."
Her experience working on #211 was quite an eventful affair. The film had to go on a hiatus when leading man Cage broke his ankle on set. "We kind of got shipped home for a while."
She seems less star struck by the Moonstruck actor then she had been of Jamie Oliver as a kid, but then says, "Cage is really cool; he's just such a super nice dude, so quick-witted."
#211 is based upon the North Hollywood shootout of February 28, 1997, sometimes called the Battle of North Hollywood, which saw a gunfight between two armed robbers and the Los Angeles Police Department.
"I play Lisa, who at the beginning of the movie is pregnant, and her husband is the partner of a character played by Cage, then they get a call in for the heist."
Skelton then lets slip a spoiler, revealing that her part is much bigger than this description appears. She quips, "Well now you're not going to have to watch that one!"
But for now, all eyes will be on Outlander and how Skelton shakes the new series up.
'Outlander' season 3 will premiere on 11 September on Amazon Prime
Join our commenting forum
Join thought-provoking conversations, follow other Independent readers and see their replies