Paul Abbott on 'No Offence', 'Shameless', and a life too grim for television
He was deserted by both parents, raped at the age of 11 and attempted suicide twice before the age of 16. Paul Abbott's background is worse than anything in his most famous creation, Shameless. As his latest venture, a police drama, comes to our screens, he tells Gerard Gilbert that he has finally exorcised his demons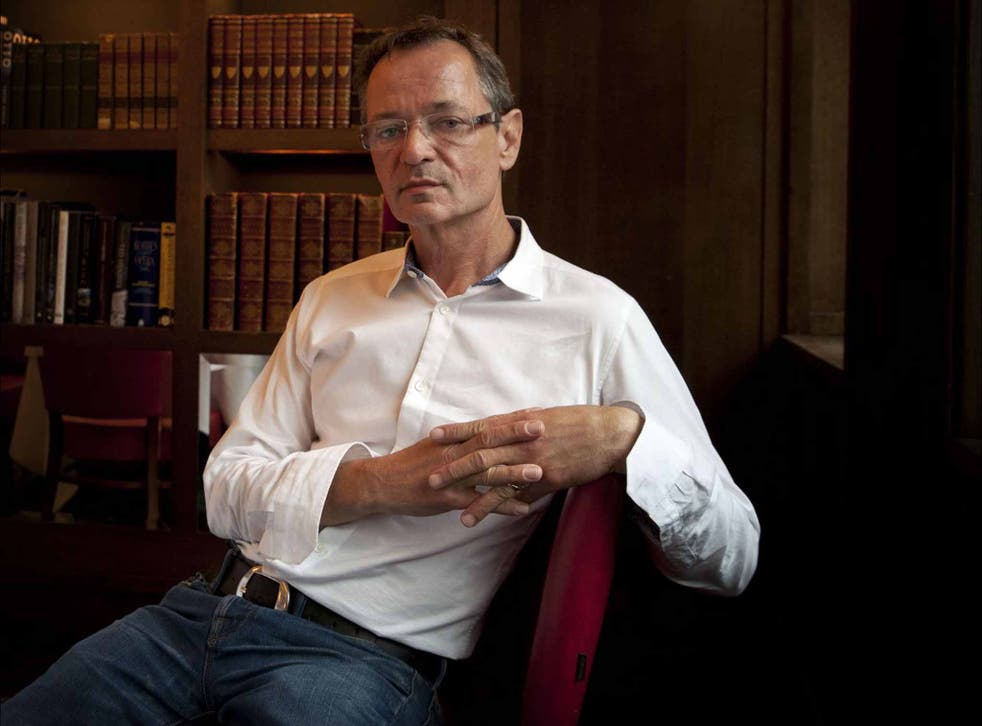 Paul Abbott dreams up more ideas in one day than some people manage in a lifetime. "I get four in the shower," he says. "You have to phone the shrink if you get too many ideas too quickly because you're worried you're in a manic place and it needs managing."
And he's not joking of course – or not entirely at least – because Paul Abbott, the creator of Clocking Off, State of Play and Shameless, is bipolar and hears voices. "I think that's actually why I became a writer," he says. "I had so much going on it had to go somewhere."
And now it's gone into No Offence, his new Channel 4 drama that blends his unique sensibility with the police procedural – Scott & Bailey meets Shameless, you could say, given the fact that the three leads (played by Joanna Scanlan, Elaine Cassidy and Alexandra Roach) are female. Abbott himself says that his inspiration was The Bill – "to do a comedy for a crime-addicted audience that loved The Bill" – although what these fans would make of Scanlan's character, a detective inspector who squirts herself with vaginal deodorant during meetings and refers to her male colleagues as "prostates", is anybody's guess.
The idea of (as he puts it) "slamming two genres together to see what happens" first came to him in 2006. "We went wrong at first," he says, referring to the US-style writers' room he runs in Manchester. "We were doing cop talk, gags, cop talk, gags... they have to fit together, so it took a lot of drafts. Eventually it got squeezed all the way back down to near real life but not real life... it's heightened by two millimetres.
"When I watched it – and I didn't expect this – I can sense the work I did on Cracker, I can smell State of Play, I can smell Clocking Off and Shameless. You bring debris with you."
By far the biggest piece of debris that Abbott carries around with him is Shameless, the pitch-black underclass comedy that ran for 11 series between 2004 and 2013, famously inspired by Abbott's own family history as the seventh of eight children living in a tiny house in Burnley. Frank Gallagher, the feckless paterfamilias played by David Threlfall, is a shabbier and benign version of his own father, who left home when Abbott was nine, followed two years later by his mother – leaving him to be raised by his no-nonsense, 16-year-old sister.
"No-one would want to watch a story about poverty, so you create a pantomime that's unmissable and slide the poverty in underneath," he says, although it wasn't until he decided to step back into his childhood that the show came together. "I found a few pages from the first draft recently, it was like the gentrified me writing about my past... nothing feels right. Shameless flourished once I stopped trying to be objective about it."
If life wasn't already hard enough, Abbott was raped by a stranger at the age of 11, leading to him to jump off the roof of a multi-storey car park. He attempted suicide again at 15, before being sectioned in a psychiatric ward. After a year's worth of "really effective intervention by the state", he was finally fostered, and learned to type (he still writes in longhand, doing a first edit on an electric typewriter; computers he blames for making writers prolix).
Abbott has been married now four times, and has three children – an eight-month baby girl, Ellis, with his new wife, a Californian he met while recovering from a mental breakdown in Venice Beach, and two grown-up children with his third wife, Saskia, Tom (a policeman) and Annie (a student). At what stage did he tell them about his early life?
Access unlimited streaming of movies and TV shows with Amazon Prime Video Sign up now for a 30-day free trial
Sign up
"Annie found out that I had been married twice before when she was about 10, and didn't speak to me for about a week. It turns out she found out from a friend at school. That's the reason I did Desert Island Discs because my kids were just picking stuff up."
Abbott also hid his bipolar condition, even from Saskia, his wife of 25 years. "I think she knew I was bipolar, but not that I was medicated. It was the stigma... I'd had enough of that in the bin in Burnley," he maintains. Isn't he a bit ashamed at keeping secrets from his wife?
"I wished I hadn't; you're breaking something, it's like you're in the middle of a marriage and you go 'I'm gay'."
Abbott started writing for magazines when he was 16. At university he was earning £200 a week writing photo-stories for Jackie magazine, and he sold his first radio play at the age of 23, with a little help from Alan Bennett. "I didn't know him but I got his address and just said 'Look, I need to get a professional sponsor... would you read the script?'. He read it and sent it back and wrote 'although it wasn't a masterpiece, it certainly deserved his name'."
By his late twenties he was earning £200,000 as the youngest ever writer on Coronation Street, which is where he had his first idea about Shameless. "All these writers lived in six-bedroom houses, but they'd write about Hilda Ogden", he says. "That street in my lifetime was 10 times more interesting."
He left Corrie to work on Cracker with Jimmy McGovern, and then went solo with Clocking Off, a series of stories about workers in a northern factory. "When I won the Bafta for Clocking Off, Jane Tranter [then head of drama at the BBC] said 'that's your voucher for the next one... your state of the nation piece?'"
The ensuing 2003 newspaper drama State of Play nabbed further Baftas, and won over a new middle-class audience. Abbott describes it now as "two fingers" in the face of the journalist who had described him as 'the laureate of white sliced bread'.
"The cheeky bastard", says Abbott, who is more the laureate of the artisan baguette these days, what with his house in the Dordogne, as well as homes in Cheshire, London and California.
He is, then, seriously rich, and as far from his roots in Burnley that he can get – despite bailing out relatives to the tune of at least £100,000 a year. Why do it? "The reason you do it is because they've got three kids and the house will be taken off them, you have to intervene," he says.
His father, the source of so much of his anger, died two years ago, Abbott declining to attend his funeral. "He's dead – and I'm happy," he says with a sudden explosive laugh that reminds me strangely of Boy George. "I've got an eight-month old daughter [Ellis] and when she looked at me I thought 'nobody's ever looked at me like that apart from dad... he's come back to haunt me'."
In fact, it turned out to be more an exorcism than a haunting. "I just felt a real peace," he says. "I think she has healed something. It's in her and it's in me, and if he's in you you can't hate him. I just said, 'dad, it's all right – it's your chance to come back as a taxpayer'."
'No Offence' begins on Channel 4 on 5 May
Register for free to continue reading
Registration is a free and easy way to support our truly independent journalism
By registering, you will also enjoy limited access to Premium articles, exclusive newsletters, commenting, and virtual events with our leading journalists
Already have an account? sign in
Register for free to continue reading
Registration is a free and easy way to support our truly independent journalism
By registering, you will also enjoy limited access to Premium articles, exclusive newsletters, commenting, and virtual events with our leading journalists
Already have an account? sign in
Join our new commenting forum
Join thought-provoking conversations, follow other Independent readers and see their replies