Interview
Paul Rudd: 'In private, I'm dealing with all the scars and traumas of real life'
The 'Ant-Man' star talks to Alexandra Pollard about his new Netflix series 'Living With Yourself', being buried alive and how these days 'everyone's p***ed off about something'
Tuesday 15 October 2019 07:10 Comments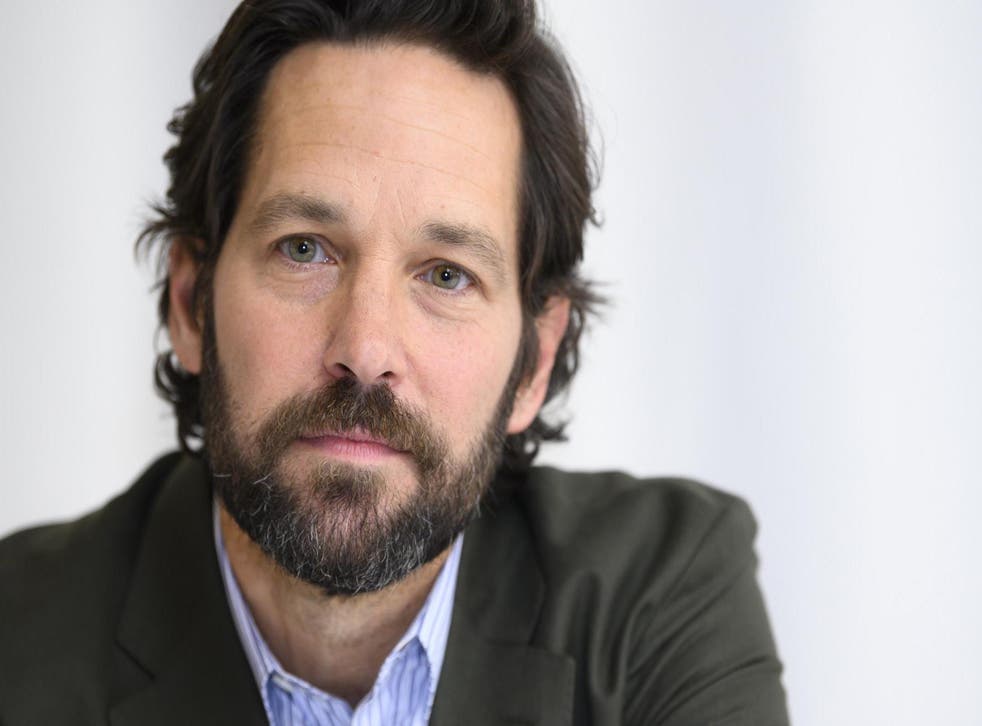 It's a tough time for comedy," says Paul Rudd. The star of Clueless, Anchorman and Knocked Up is blaming social media for creating a hostile climate. "You hear some comics that used to play colleges all the time. They don't want to do that any more, because there's no room for any kind of daring comedy. Everybody's gonna be p***ed off about something. And that's… a drag."
Surely there's still plenty of room for daring comedy? "ABSOLUTELY there is!" he yelps. "And also, there's more of a conversation about how something might be interpreted. Being aware of how a person might feel marginalised because of their sex, or because of their sexual preference, or because of their sexual identity… there are conversations happening now that have never happened, and that is incredible. It's a great, great thing. It's an awesome thing."
I'm a little confused. Did two entirely different people just answer the same question? It seems quite an innovative way to sit on the fence. But perhaps it is an after-effect of filming the show we're here to discuss. In Living With Yourself, the new Netflix comedy drama about a man, Miles, whose illegal "spa" treatment goes badly wrong, Rudd plays two characters. One is dejected, lethargic, lugubrious. The kind of person who feels jealous of the fly he's just swatted. The other is upbeat, optimistic, effusive. The kind of person who hangs his head out of the car window just to revel in being alive. The thing is, they're the same man – cloned.
The show is dark – the very first scene involves Rudd bursting naked and hyperventilating from a shallow grave. "Filming that was awful," he says. "It was the weirdest thing I've ever had to film. I'm not so claustrophobic really, but something within us knows that it's not the right thing to be buried alive. There was a tube that went underground so I could breathe." He filmed the scene in a public park. Did people walk past? "Yeah! But that's the great thing about New York. Somebody getting out of the ground in a diaper is the third weirdest thing they've seen that day."
Unsurprisingly, the show's also very funny. It's the perfect role for Rudd, who is an eminent everyman – or, at least, the type of star who convinces you he's an everyman while exuding charisma and an egoless confidence. You're never quite sure whether you're laughing with his characters, or at them. Or if maybe the joke's on you.
Living With Yourself - trailer
The Rudd I'm speaking to today in a London hotel most closely resembles Miles 2.0: self-assured, high energy and possessed of a puppyish enthusiasm that often causes him to shout mid-sentence. Extinction Rebellion protestors were blocking the road on his way here, "so I just jumped out the car and ran", he says chirpily. Rudd didn't mind being delayed by climate activists – "It's really important, you know?" – and is resolutely unruffled by the last-minute dash, dressed in an ocean blue suit and starched white shirt, with coiffed hair and the fresh face of someone about a decade younger.
It's become a bit of a thing, in fact, how young the 50-year-old looks – almost as young now as when he broke out 24 years ago, as Cher Horowitz's step-brother / love interest Josh in the 1995 romantic comedy Clueless. When he first played Marvel superhero Ant-Man – a role, most recently reprised in this year's Avengers: Endgame, which brought him to a new level of fame – he was already 46. There are memes, viral tweets and BuzzFeed quizzes, all based around his Dorian Gray-ish looks. But Rudd, it seems, is a little embarrassed about the whole thing. When he was asked about it in a recent New York Times interview, he bristled: "I'm aware… There's nothing really to say about it." Today, I'm politely asked not to bring it up.
Everything else is on the table, though. How does he feel about the increasingly blurred line between film and TV? Some people think it's damaging the sanctity of cinema. Others think that Marvel films are doing that. "Wow," says Rudd. It's true. Martin Scorsese said it the other day. "At the end of the day, I think any actor just wants to work on something they like. The material's good, the writing's good, the character's interesting. People watch their movies on TV now. People watch their movies on phones now. So this was just, 'This is an interesting character. The themes are really unique. I like the material.' I'm not thinking of it anywhere beyond that."
Rudd empathises with the original, more jaded Miles more than you might expect. "It's relatable why he's going to a 'spa'," he says. "His marriage is not in the best place, he's not doing so well at work, everything in his life has been better, and he's stuck. I think that's something we all experience at different points in our life. We go to therapy, we want to go to the gym, we want to do everything we can to try and improve our mood, try and improve our appearance, try and improve everything."
Access unlimited streaming of movies and TV shows with Amazon Prime Video Sign up now for a 30-day free trial
Sign up
Having a clone doesn't really improve things, though. And there are moral repercussions to Miles's behaviour. Not least when it comes to his wife Kate (Aisling Bea), who calls his actions – and his subsequent decision to hide them from her – a "violation". "Did I take on the ethical implications?" he says when I ask about that line. "I didn't… I approach it as what the characters would think, and not so much what me, the human being, would think. Like, how do I feel about cloning in general? That was not my concern. I'm not the guy to ask!"
Still, as someone who has a public self and a private one, Rudd must have identified with a character whose personhood is split in two. There's a 10-second pause. "I suppose there really is a parallel," he says, slowly. "That's… Yeah, that's true. The private self is who I am. But the public persona is also part of who I am. But they don't have the same kind of battle scars. It's certainly different in my real life, because the things that I deal with are life things. Real life things."
Hidden gems: The best Netflix originals you might have missed

Show all 20
Rudd, who was born in New Jersey to British parents, has been married to publicist and screenwriter Julie Yaeger, with whom he has two children, since 2003. But even as his star has risen, Rudd has managed to largely avoid tabloids and gossip columns – perhaps thanks to his un-Hollywood, unchanging relationship. "In my private life," he continues, "I'm dealing with all the scars and traumas and real stuff from living my real life. When I'm in public, I'm giving a very filtered, smooth version of it."
But it's not fake? "I mean, it might be," he laughs. "There is just a natural, inauthentic version that's gonna have to happen. I've never done an interview where my guard is down. It's just unavoidable. I can answer a question truthfully, but it's always with a lens that it's either gonna get read, or it's gonna get seen, and it just changes by nature. I'm never totally relaxed. And while I'm not trying to manipulate what you get, I guess maybe on some level, it is just a manipulation, and it's inauthentic."
There's one thing, though, that Rudd's private and public selves have in common: humour. "I have always felt like jokes can help a situation," he says. "It's important that we all just remember to laugh. Because life's hard."
Live With Yourself is streaming on Netflix from Friday
Register for free to continue reading
Registration is a free and easy way to support our truly independent journalism
By registering, you will also enjoy limited access to Premium articles, exclusive newsletters, commenting, and virtual events with our leading journalists
Already have an account? sign in
Join our new commenting forum
Join thought-provoking conversations, follow other Independent readers and see their replies