Peep Show: a tribute to 12 years of British comedy
Next week, Channel 4's Peep Show begins its final run. Ahead of this, Hugh Montgomery pays tribute, in list form, to 12 years of brilliant writing and excruciating moments
Hugh Montgomery
Saturday 07 November 2015 18:26 Comments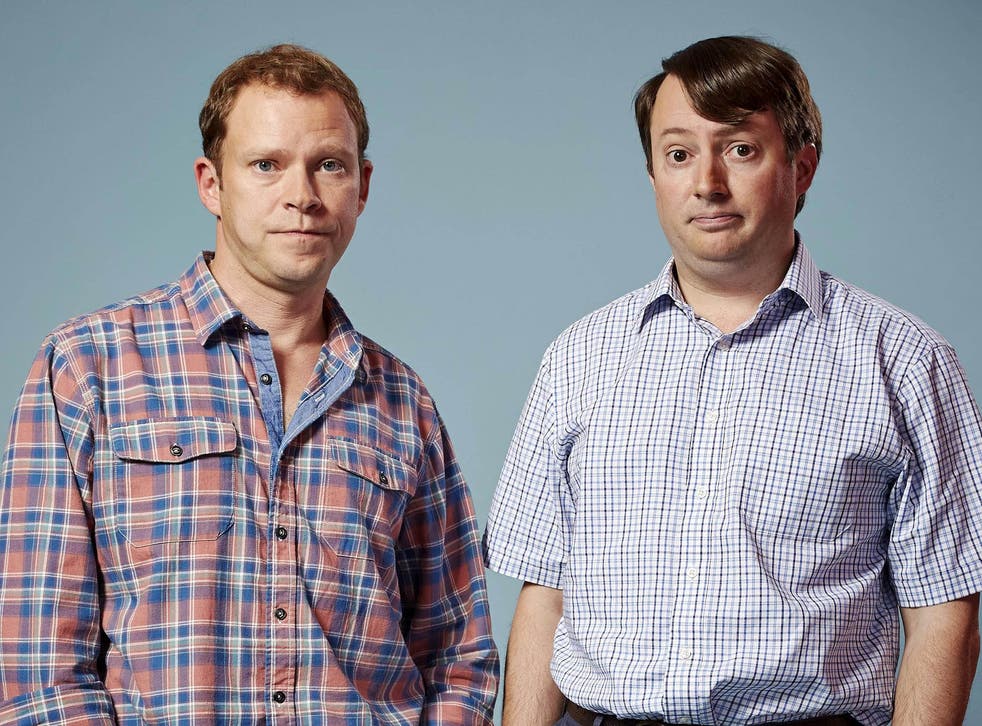 When it comes to comedy, there is nothing so exquisite as other people's humiliation – or at least, that's what you might conclude from the success of Channel 4's Peep Show. This Wednesday, Jesse Armstrong and Sam Bain's singularly painful sitcom about Croydon Odd Couple Mark and Jeremy (David Mitchell and Robert Webb) returns for a remarkable ninth, and final, series, with viewers avidly waiting to find out how things might wrap up: will Mark find romantic fulfilment? Will Jeremy get an actual job? And will Super Hans finally shirk the crack? Well, let's hope not. But before those questions are answered, it feels only right to look at back at 12 years of brilliant writing, inedible characters and excruciating moments – welcome to our Peep Show miscellany …
Six of the best episodes
1. On the Pull (Series 1, episode 3): Much of Peep Show's best comedy is founded either on: a) sexual disappointment; or b) horrendous social occasions, and this early episode, in which Jeremy and Mark go on a low-rent double date to the local bowling alley and bump into Mark's then-office crush Sophie (Olivia Colman), employs both to vintage effect.
2. Dance Class (Series 2, episode 1): Series 2 was when the show really started hitting its stride, kicking off with this humdinger, in which Mark and Jez attend the now-notorious new-age dance group "Rainbow Rhythms". Mark's seizure-like flailing as he pretends to let go to the music is the perfect illustration of his forced relationship with fun.
3. Jeremy Makes It (series 2, episode 2) If Mark and Jeremy seem ill-suited as friends, then this episode proves they're safer together than trying to bond with other men. While Jeremy is abused by someone he used to bully at school, Mark has to work out how to shake off neo-Nazi office buddy Daryl.
4. Sectioning (Series 3, episode 2): To stick our neck out, we'll call this the best of the best: a delirious piece of farce, in which Jeremy and Super Hans are gifted a pub by the former's unstable former university chum Merry, before Mark decides to intervene, with events coming to a head on a psychiatric ward in a bout of mutual attempted detainment.
5. Holiday (Series 4, episode 5): From sit-com to sick-com, this episode centring around Mark's stag weekend away with Jeremy on a canal boat is superb for the way it builds to a true moment of Grand Guignol: Jeremy covering up his accidental slaughter and subsequent incineration of his canal hook-up Aurora's dead dog by eating a "turkey drumstick" that, in fact, comes from said canine's remains.
6. Seasonal Beatings (Series 7, episode 5): The show held back seven years before giving us a Christmas special but when it did, it was a cracker: a "festive Festen", to quote Mark, in which he found himself contending with a contemptuous father, half-cut mother, and seriously-pissed off "friend"-cum-unacknowledged girlfriend Dobby.
Three inspired Peep Show film parodies
1. Strangers on a Train: Peep Show got Hitchockian in Series 1 episode "Dream Job", when Mark and Jeremy hatched a plan to take revenge on each other's respective nemeses: Sophie, who had beaten Mark to a promotion, and Super Hans, who had stolen Jez's amour, next-door neighbour Toni.
2. Twelve Angry Men: Jeremy has never been more rousingly unprofessional than as a juror in series 3's "Jurying", in which he gave it the full Henry Fonda in a speech to his fellow foremen and women in order to secure the conviction of the defendant, who he happened to have been sleeping with.
Access unlimited streaming of movies and TV shows with Amazon Prime Video Sign up now for a 30-day free trial
Sign up
3. Indecent Proposal: The glossy misogynist Robert Redford/Demi Moore drama underwent a Croydon conversion in Series 4's "Conference", in which Mark's demonically smarmy boss Johnson (Paterson Joseph) offered Jeremy £530 to sleep with his girlfriend Big Suze – Jeremy accepting the offer without recourse to the relevant party, naturally.
Mark's greatest humiliations
1. The answerphone message (Season 1 episode 2): No 15 little words have spelt out the ignominy of falling in love quite like Mark's horrifyingly awful impromptu voicemail to Sophie: "Then I go and spoil it all by saying something stupid like 'I like you.'"
2. The public defecation (Series 3, episode 3): There are office embarrassments, and then there is having a diarrhoea attack in front of your boss after he has come to rescue you from bedroom imprisonment by your housemate.
3. The wedding (Series 4, episode 6): A great spin on the "jilting at the altar" soap story standard – hiding upstairs in the church, a wavering Mark marries Sophie after his cover is blown by best man Jeremy wetting himself over the guests below, only for Sophie to burst into tears and ditch him immediately afterwards.
4. The Hitler moustache (Series 6, episode 1): Fawlty Towers was an obvious touchstone for the moment when Mark dressed as a Fuhrer to leads a satirical sketch attacking his company's German paymasters – with one of them, inevitably, among the audience.
Mark and Jeremy's choicest chat up lines
"See, by the winter of '42, the whole city was surrounded by the massed Sixth Army. It was pressing ... and pressing. Many wanted to submit." (Mark trying to seduce Toni by explaining the siege of Stalingrad, Series 1, episode 1)
"Just touch it, blow on it, you can use a tea towel." (Jez to abstaining girlfriend Nancy, Series 2, episode 3).
"I'm actually a friend of the British Museum." (Mark to new date Heather, Series 5, episode 1).
"It's the best STD … just cute, old, mostly symptomless chlamydia." (Jez to Big Suze, Series 5, episode 1).
Four reasons why Super Hans may be the greatest comic sidekick in television history
1. The look: somewhere between Paul Weller, Ian Brown, a Quentin Blake drawing, and a Dickensian villain
2. The voice: a virtuosic lack of vocal inflection means Hans' questionable statements (eg. "Plumbing's just lego innit? Water Lego") are never less than nonchalantly authoritative
3. The vision: whether managing pubs ("It'll freak em out! What the fuck's a washing machine doing in a pub?) or dispensing life advice ("You should drop acid at a funeral. Make it more intense"), Hans is the veritable Warhol of the South London suburbs, uncompromising in his dedication to pushing the boundaries
4. The vulnerability: over eight series, we have to come to know the raddled soul beneath the lairy exterior, from cold turkey attempts to childhood traumas ("Sorry Lads. Locked Doors. Little switch just flicks, you know? Ever since Dad locked me in the airing cupboard to monitor the home brew").
Johnson's 5-point guide to getting ahead
1. On prioritising career over romantic relationships: "I mean, does a balance sheet ever come crying and saying that it needs some time to think about things? A business doesn't say it loves you, then run off with a buddy."
2.Marks greatest humiliations: "This is a maximum security business institution. If you can't break rocks you get shot in the head."
3. On coping with the death of a colleague: "Evolution marches on. The scythe is remorseless"
4. On finding creative inspiration: "Watch a DVD, eat some pizza, fuck each other. I'm serious. Fuck a chicken if that's what it takes. Watch a chicken fucking a horse. What? You think the guys who invented Google sat around watching Trumpton?"
And above all
5. "You know the credo: Illness equals weakness"
And finally … the 10 most profound Peep Show truths
1. "Fancy dress? It's like a joke for people with no sense of humour" (Mark, Series 7, episode 6).
2. "I suppose doing things you hate is the price you pay to avoid loneliness." (Mark, Series 3, episode 2).
3. "A new boiler. Surely the least enjoyable way to spend £1,000. At least throwing the money out of the window you'd see the scrabbling mass, the hate-filled faces." (Mark, Series 6, episode 2).
4. "If text kisses were real kisses then the world would be an orgy!" (Mark, Series 6, episode 6).
5. "Why do the people who want to talk about things always win?" (Jeremy, Series 3, episode 4).
6. "No, not the Hootenanny. Never the Hootenanny." (Jeremy, Series 7 episode 6).
7. "[Politicians] should be more honest. You know, if they were more honest, then maybe people would vote and not switch straight over when the news comes on." (Jeremy, Series 1, episode 4).
8. "Let's face it, we're all falling apart piece by piece. Doesn't matter if you're single or in a couple. You. Are. Going. To. Die." (Mark, Series 1, episode 3).
9. "Socks before or after trousers, but never socks before pants, that's the rule. Makes a man look scary, like a chicken." (Mark, Series 1, episode 2).
And, of course:
10. "People like Coldplay and voted for the Nazis. You can't trust people" (Super Hans, Series 3, episode 2).
'Peep Show' returns to C4 on 11 November at 10pm
Register for free to continue reading
Registration is a free and easy way to support our truly independent journalism
By registering, you will also enjoy limited access to Premium articles, exclusive newsletters, commenting, and virtual events with our leading journalists
Already have an account? sign in
Join our new commenting forum
Join thought-provoking conversations, follow other Independent readers and see their replies