Peep Show's David Mitchell and Robert Webb on why this will be the final series
After 12 years of dysfunctional co-dependence, the stars of the odd-couple-com tell James Rampton why it's the right moment to say farewell
James Rampton
Tuesday 03 November 2015 17:58 Comments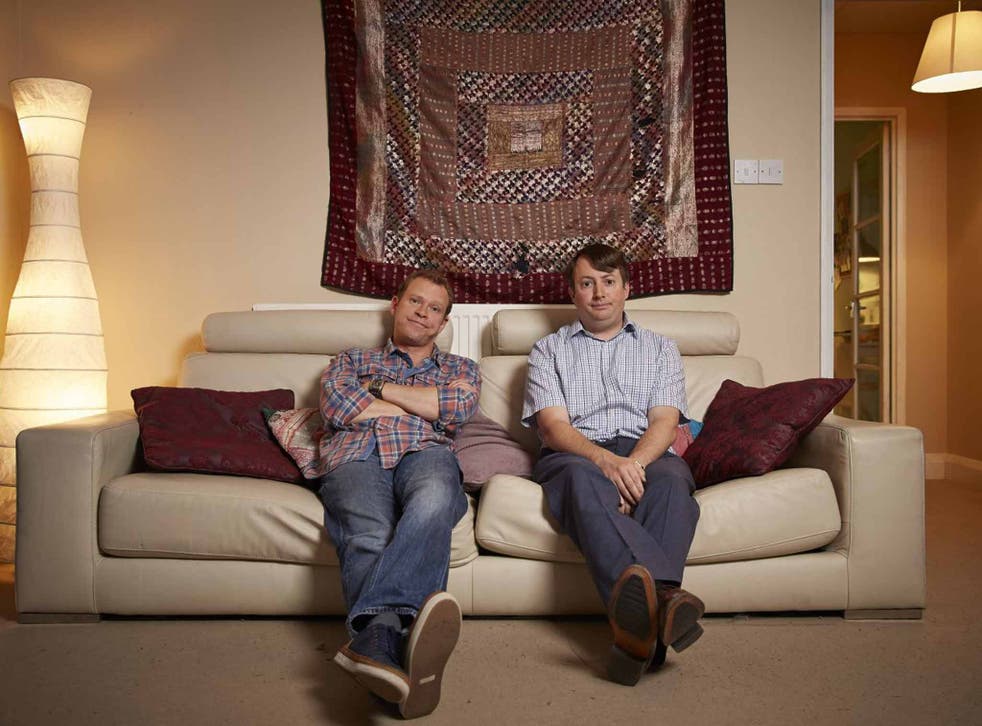 David Mitchell and Robert Webb are sitting in a television studio in west London contemplating the conclusion of their flatshare-com Peep Show after 12 years. The ninth and final series starts next Wednesday on Channel 4.
"How will we feel on the very last day of filming? Very sad and very emotional," says Mitchell, 41, aka Mark, a loser who, try as he might to escape, is doomed to live forever in the flat-share from hell with Jeremy (Webb). Mark's sole consolation is that Jeremy is, if anything, an even bigger loser.
"Gutted," adds Webb, 43, who first met Mitchell in 1993 at a Cambridge Footlights rehearsal for Cinderella. He reveals that the show's third star – the appallingly drab flat that the characters have shared for more than a decade – will be dismantled after the shoot. "They won't be putting the set in a cupboard this time. It will be ceremonially burnt or sent to wherever TV sets go to die." A museum, perhaps? "Yes, I think there ought be a Peep Show museum, alongside the ones for Harry Potter and Jane Austen."
Over the past 12 years, Peep Show – perhaps the most widely adored odd-couple-com since The Odd Couple – has picked up a number of awards and numerous plaudits. Ricky Gervais called Sam Bain and Jesse Armstrong's sitcom "the best show on television".
But all good things must come to an end. Taking a break between filming scenes in the flat, which is constructed inside a suitably cheerless warehouse on a featureless industrial estate slap-bang underneath the Heathrow flight path – all very Peep Show – the two stars exhibit an ease and a pleasure in each other's company that could only come from 22 years of close friendship (they each acted as best man at the other's wedding).
The duo concur that it is best to quit while they are ahead and before viewers start cavilling that "it's not as good as it used to be".
"It's the right moment to end it," affirms Mitchell, who has developed a healthy parallel career as a newspaper columnist and regular on panel games such as Would I Lie to You?, QI and Have I Got News for You. "Sam and Jesse have been saying it might be nice to come back to these characters in a decade or so's time. But this has to be the end of it in this incarnation. It's a sitcom about young men, and we're now middle aged."
Since 2003, a loyal audience of around a million has been transfixed by the delightfully dark "will they, won't they?" saga. Will Mark and Jeremy ever manage to live apart? Or are they, like the characters in Jean-Paul Sartre's play, Huis Clos, condemned to co-habit from here to eternity, with every dreadful day together reminding them that, "Hell is other people"?
The pair are in many ways polar opposites – Mark is tweedy, conservative and has an unhealthy fascination with military history, while the wastrel, purportedly liberal, yet fatally self-deluded Jeremy thinks that the only thing preventing him from global pop stardom is the fact that the music Establishment feels threatened by his awesome talent.
Access unlimited streaming of movies and TV shows with Amazon Prime Video Sign up now for a 30-day free trial
Sign up
They remain friends simply because no one else will be friends with them. In the second series, for example, Mark's ill-fated attempt to break free from Jeremy ended up with Mark feeling morally conflicted about whether he could stay pals with his new buddy Daryl once he had revealed himself to be a racist who enjoyed dressing up as a Nazi.
Mark and Jeremy's mutually harmful relationship is at the core of the first episode of the new series, which also sees the return of Super Hans (a splendidly louche performance by Matt King), Dobby (a marvellously off-beat Isy Suttie), Johnson (the charismatic Paterson Joseph) and Sophie (the wonderful Olivia Colman, an old university friend of Mitchell and Webb's, who was pictured looking tearful on her final day of filming).
At the start of the new series, Mark and Jeremy have not spoken for six months, since the excruciating picnic at which Jeremy ruined Mark's attempt to propose to Dobby by declaring his own love for her – and subsequently refusing to apologise. Now the pair are involuntarily reunited at the stag night of their reprobate compadre Super Hans – in the unlikely venue of a juice bar. The destitute Jeremy has wound up dossing in Super Hans' bath.
Mark, meanwhile, has succeeded in wangling out of his old boss, Johnson, a pen-pushing job selling loans in a bank. He has brought his work colleague, Jerry (Tim Key), an even duller version of himself, into the flat to occupy the bedroom vacated by Jeremy. Blinded by jealousy – and penury – Jeremy makes it his mission to turf out the usurper Jerry and return to his rightful place in the flat. In a rare moment of self-awareness, Jeremy admits to himself that Mark is in fact "my other half, my better half, 'er indoors". Like Steptoe and Son or Richie and Eddie in Bottom, they are fated to be trapped in a life of destructive and dysfunctional co-dependence forever.
"Nothing has ever gone right enough for either of them to get away," explains Mitchell. "First, Mark wanted to marry Sophie and live with her and then to marry Dobby and live with her. He's desperate not to live with Jez, but ultimately he hasn't got a good enough excuse to get rid of him until one of these women consents to stay. But that hasn't happened for him."
"So Mark and Jeremy staying together has made grim sense," Webb chips in.
Viewers have stuck with Peep Show for 12 years – several aeons in sitcom time – because they connect with Mark and Jeremy's sense of being perennial outsiders, says Webb. "Mark and Jeremy have this feeling that everyone else is having a brilliant time and that they're the only ones left in their own weird puddle. They think, 'Everyone else is in the mainstream and we're shut outside.' Everyone can relate to that. Everyone feels that 'cosmic party syndrome', where you open a door and everyone else has clearly been having a great time. But they all go 'shush', and pretend to be normal as soon as you walk in. That's what Mark and Jeremy have been experiencing for the past 12 years."
The fact is, we can't help liking Mark and Jeremy, even though objectively they're not very likeable at all. "British sitcom characters don't tend to be that likable," Mitchell agrees. "Even the characters in Dad's Army were pretty bad-tempered. Mainwaring was brittle, and Wilson was supercilious. All the same, viewers need to identify with sitcom characters and know where they're coming from. They have the same feelings as viewers, but take darker choices. I think people find it funny watching characters do things they wouldn't do."
So to what degree are Mitchell and Webb similar to Mark and Jeremy? "They're too nasty for us to think they're like us," says Mitchell.
Webb agrees. "I'd like to think I'm not much like Jeremy. I hope I haven't been stained by his character. I hope that by playing him I get it all out cathartically. But if this is a show about one character who worries too much and one who doesn't worry enough, then we've been correctly cast. There is also an echo of our relationship in Mark and Jeremy's sexless marriage."
If, as they mentioned, Peep Show is revived in 10 years' time, where might Mark and Jeremy be by then? "By the iron law of sitcom, they'd have to carry on doing exactly the same as they're doing now," says Webb. "So, more of the same."
"Mark will secure some kind of respectable management position – and then mess it up," smiles Mitchell.
"And Jez will be attempting to avoid prison and very, very, very casually trying to make an album," adds Webb.
"By that time," Mitchell speculates, "Jez would have to be using sexual favours to court someone rich and 20 years older who'll buy him a guitar. He'd much rather do that than actually get a job. If he got a job, he'd feel that was dishonest."
"Yes," says Webb, "and selling out to The Man."
The final series of 'Peep Show' starts on Channel 4 at 9pm on 11 November
Register for free to continue reading
Registration is a free and easy way to support our truly independent journalism
By registering, you will also enjoy limited access to Premium articles, exclusive newsletters, commenting, and virtual events with our leading journalists
Already have an account? sign in
Join our new commenting forum
Join thought-provoking conversations, follow other Independent readers and see their replies