Phoebe Waller-Bridge on Killing Eve, the return of Fleabag, and why misogyny can be invigorating
'I've always wanted to be a bat – but I'm expected to be a panther,' Phoebe Waller-Bridge tells Amanda Hess. Now, the writer and actor is really getting to spread her wings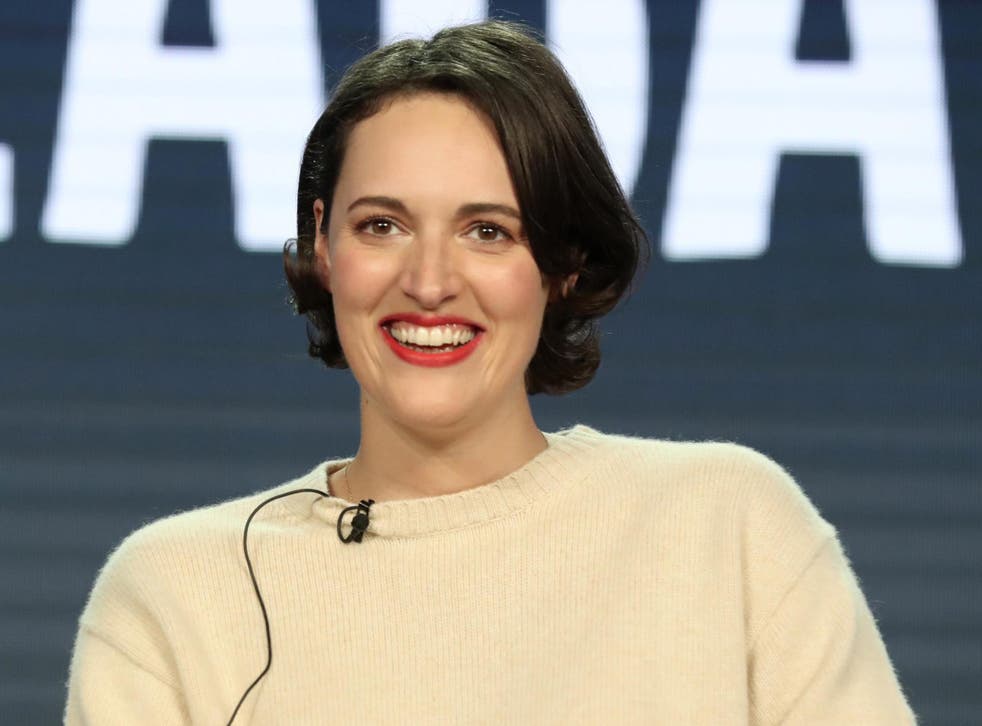 It's really not funny, but Phoebe Waller-Bridge can't help it. She is re-enacting this YouTube video of a psychopath sitting dead-eyed in her prison uniform and recounting how she killed a man. When Waller-Bridge gets to the details – the woman drove a nail through her victim's skull, strangled him and chopped his body to bits – she laughs, and then she sighs: "Terrible!"
Waller-Bridge, a writer and star of strange and beguiling comedic works, is tucked into a red leather booth in the lobby bar of the Soho Theatre, eating a browning banana and searching for little openings to laugh about just about anything. She describes something she once did as "hilarious", and then laughs at herself for thinking she is so funny. She tells me that she loves staring into the eyeballs of a live audience, but that on TV it's like she's acting for just one big shiny eyeball, and then she laughs because she's suddenly become hyper-aware of my eyeballs.
She talks like a one-woman band, always pulling some strange new sound effect out of her body. She is 33 years old and just under six feet tall, and when she is paired on screen with men, she must deflate herself – "PFFFST"– to let them seem big. When she laughs, her voice opens into an off-kilter melody, as if her throat has recently taken up the xylophone. If you ever have the opportunity to make her laugh – it's not hard – it will feel like she's thrown her head back and released a song just for you.
Her one-woman play, Fleabag, hit the Edinburgh Festival Fringe with such force in 2013 that it left a smouldering Phoebe-shaped crater in the comedy landscape. Almost instantly, she was enlisted to adapt Fleabag for TV, create and star in another sitcom, write a weirdly funny murder show and ultimately ascend to the Star Wars universe, playing a mouthy droid programmed to deliver Solo some comic relief.
She is so good at making people laugh that her facility for pathos can sneak up on them. While her audiences are distracted by sparkling punchlines, she is secretly messing around in the dark reaches of their psyches. Vicky Jones, director of Fleabag the play and Waller-Bridge's best friend, warns that she can make you laugh so hard that when she swivels to punch you in the gut, "you're not braced for the impact, and it's a killer".
The sneak attack has become Waller-Bridge's creative signature. Fleabag, which she will soon take to the Soho Playhouse in New York, is a sex comedy that is secretly a tragedy. The title character is a cafe-owning singleton who is always arching a flirty eyebrow at the audience, but her charming mug is a mask – a way to hide her grief and shame in the wake of her best friend's death. Waller-Bridge created a modern heroine and deconstructed her at once.
Fleabag is the kind of early career success that risks swallowing its creator whole. As soon as she made it, she wondered: "Was that it?" Then she charted her next move. When she picks up the character again, for the New York run, it will be for the last time, she says. She now knows the role so well that it's just a matter of correctly shuffling the emotional cues: "Don't forget! Pain here! Funny there!"
Two storeys up, in the London theatre's black-box space, someone has hauled out the original Fleabag set, the scruffy little pink-and-beige carpeted platform from which Waller-Bridge leapt to international fame. She will rehearse here for just a week with Jones before heading to New York. Fleabag is her and a bar stool, on which she spends most of the show. "There is a small moment of exertion where I stand up towards the end," she says, when Fleabag's pain finally emerges in a burst of emotional vomit. She heaves into a delicately cupped palm: "HEUGHHH."
Before she brought Fleabag here, she staged the material that would later become Crashing, a flat-share sitcom that is secretly a meditation on repression. One level down is the theatre's main stage, where she had her first real acting job – the first one, anyway, where the audience was not gobbling meat pies – playing a trader in 2009's Roaring Trade.
Access unlimited streaming of movies and TV shows with Amazon Prime Video Sign up now for a 30-day free trial
Sign up
Every night the cast would march from stage to bar, where, years later, she'd meet with BBC executives about taking Fleabag to television. Around the corner is where she had a falafel with Luke Jennings, the author of the novellas she would adapt into Killing Eve, a spy thriller that is secretly a screwball romance between an intelligence operative and a psychopathic assassin. Down the street is her alma mater, the Royal Academy of Dramatic Art, the acting school that secretly taught her she should be a writer.
She went there because she wanted to put on plays, but for the first couple of years her courses did not involve working with actual words, and she grew desperate for them. Her internal monologue was a drumbeat: "Give me a script, give me a script." Instead, she was assigned self-indulgent acting exercises like: pair up and pretend to be animals for several months. She wanted to be a bat, but she couldn't find anyone to be a bat with her, so she joined a pair of panthers, stalking the halls on all fours and licking sensually at their paws. It's been a little bit like that all her life. "I've always wanted to be a bat," she says, "but I'm expected to be a panther."
Killing Eve season 2 trailer
When she graduated in 2006, she assumed that "being posh with curly hair basically equals a Shakespearean career", as she once joked to British Vogue, but instead she struggled to get any work at all.
Then she found her fellow bat. Jones was directing a play featuring Waller-Bridge's boyfriend at the time, and afterward Waller-Bridge approached her, flattered her and handed her a gaunt resume. Jones was "blown away by this beauty who was being so nice to me", she says, and when they worked together on a play of their own, Jones was startled by her wild and unpredictable acting choices. She gave her a nickname: Brando.
Soon the actor and the director had teamed up to form a theatre company, DryWrite, staging guerrilla theatre nights that challenged writers to provoke audiences: make them fight or make them fall in love. One night, designed to incite a battle of the sexes, produced a raft of submissions that were so bleakly misogynistic that they finally moved Waller-Bridge to write a script of her own.
In it, she played a woman who sombrely explains to her boyfriend that although she loves him very much, she must occasionally have sex with a man with a massive penis, and that every other woman feels the same. The crowd, she says, became a mob: "Everyone was like, WRREUUGHH!"
Her early work is sprinkled with notes from her relationship with Jones. They would spend nights sharing a bottle of wine and playing a terrifyingly intimate game they called "truth songs", where Waller-Bridge would pluck out a melody on her ukulele and every word they sang was required to be the absolute truth.
Later Waller-Bridge gave the game to Lulu, the character she played in Crashing, and what is remarkable is how she takes a sweet memory and curdles it into something awful for the purposes of the story. Lulu, a kind of proto-Fleabag, uses truth songs to wreak havoc among her housemates, and the ukulele she carts around like a personality isn't cute. It's infuriating.
Although she conceived Crashing in her early twenties, it did not air until she was 30 years old, just months before Fleabag hit TV. By anyone else's standards, it was a remarkable television debut, but for her, backward motion is a kind of torture. She is always working to keep one step ahead of her audience. When she is out with Jones at movies or plays, she has this annoying habit of turning to her friend and whispering precisely what's about to happen next. Waller-Bridge constructs her own stories to be "Phoebe-proof", Jones says, which makes them "most-people-proof".
Waller-Bridge works instinctively, prying open new possibilities and savagely deleting existing plots and characters as she goes. She often consults Jones, who says that she is "such a perfectionist that it is terrifying". She regularly chucks out early drafts that blow Jones away. (Waller-Bridge has said that she is somewhat less inclined to show her work to her boyfriend, playwright and director Martin McDonagh).
Her ad hoc process can be a challenge in television, where she has teams of writers working beneath her. Writers may tell her about a scene they wrote that they really loved, and she'll have to inform them: "Ooh, that person died, I'm really sorry. I killed that person."
She views casting as the secret second half of the writing process, as if her words aren't inked until they come out of the actor's mouth. The final scene of the first season of Killing Eve, in which the unlikely spy Eve stabs the master assassin Villanelle, was worked out in Waller-Bridge's mother's kitchen. Sandra Oh, who plays Eve, seized a pencil and jumped on Waller-Bridge, and they tussled until they lit upon the precise psychosexual energy of the act. "That's how the moment came," Oh says. "Not discussing it over wine."
Although she is in demand as both a writer and an actor, Waller-Bridge has no interest in making a star vehicle for herself. She initially considered staking out a role on Killing Eve, but she wrote herself out of the story almost by accident. In the novellas, both Villanelle and Eve are in their late twenties, but she made Villanelle an early-twenties angel-faced psycho and Eve a forty-something woman with "a big bag and stress eyes", leaving a perfect gap for Waller-Bridge herself, who was then "30 years old and not bendy at all".
Another secretly brilliant move: disappearing into a writing project just as her face was hitting Hollywood billboards.
When Waller-Bridge leaves the Soho theatre, she will fold herself into a cab and go put the final touches on the second season of Fleabag for television, a project she passionately did not want to do. She had put all of this effort into building the perfect story arc for the first season, and now the BBC wanted her to twist it out of shape to make way for more content. "I was really proud of myself, having such artistic integrity," she says.
But when the network asked her to reconsider, it planted a pesky idea in her brain. She began to think about the last thing that anyone would ever expect of Fleabag, and now the second season is about her finding faith. Waller-Bridge swears she will not do another one.
Even she is not quite sure what will come next. Jones's dream is to stage Hamlet with her friend as the prince; Waller-Bridge wants to write and direct a film. All she knows is that when she brings Fleabag to New York, for a six-week run in a 178-seat theatre that is nearly sold out, it will be to say goodbye to the character and to put a punctuation mark on this phase of her life. "We've had a ball," she says, "but it's time to move on."
In her career, as in her plots, she is working to defy expectations. She sneaks out of all of the boxes that people want to trap her in: the comedy writer, the sex writer, the feminist writer. When Fleabag came out, critics were fixated on how sexually explicit it was, which is ironic because the sexual bravado is the character's disguise, her way of preventing anyone from really seeing her.
40 of the greatest plays ever written

Show all 40
As soon as the entertainment industry sinks its teeth into a smart young woman, it seems to want to extract her perspective and blast it into every possible market segment: the memoir slash manifesto, the newsletter, the body-positive Instagram account. After Fleabag, Waller-Bridge got loads of those kinds of offers. Instead of asking, "What do you want to do next, as an artist?" they wanted to know: "Could you spin that into a book?"
It's not enough for a woman to write a beloved television show, or three. "It's part of the job now," she says, "to be a brilliantly articulate spokesperson for feminism." But she's already poured her best insights into Fleabag, and she doesn't see the point of cranking open the hood on her art and exposing all of its parts.
One time she cited Bret Easton Ellis as an inspiration in an interview, and when it caused a ripple of feminist backlash – how could she appreciate the work of a male chauvinist? – she was bewildered, like: "Don't attack me for reading." Actually, she finds that misogyny invigorates her: "It makes me want to retaliate artistically," she says.
Waller-Bridge relishes writing moments where women get thwacked, cartoon rake style, by the contradictions of feminism. But secretly, she is not interested in focusing on the things that keep women down. Her characters aren't entrapped in feminist controversy or pulverised by the patriarchy. "They're just getting on with it," she says. "Funny, clever women running the show." She is aspirational in this way, always pitching women toward some strange, as-yet-unseen future. She just wants to show them living their lives as bats.
© New York Times
Register for free to continue reading
Registration is a free and easy way to support our truly independent journalism
By registering, you will also enjoy limited access to Premium articles, exclusive newsletters, commenting, and virtual events with our leading journalists
Already have an account? sign in
Register for free to continue reading
Registration is a free and easy way to support our truly independent journalism
By registering, you will also enjoy limited access to Premium articles, exclusive newsletters, commenting, and virtual events with our leading journalists
Already have an account? sign in
Join our new commenting forum
Join thought-provoking conversations, follow other Independent readers and see their replies