State of the Arts
Piers Morgan should try watching and listening during Black History Month
Sick of listening to pundits spouting ahistorical arguments about black people in Britain? This month represents a chance for all of us to learn something, especially about black British history, now that TV channels are making an effort, says Micha Frazer-Carroll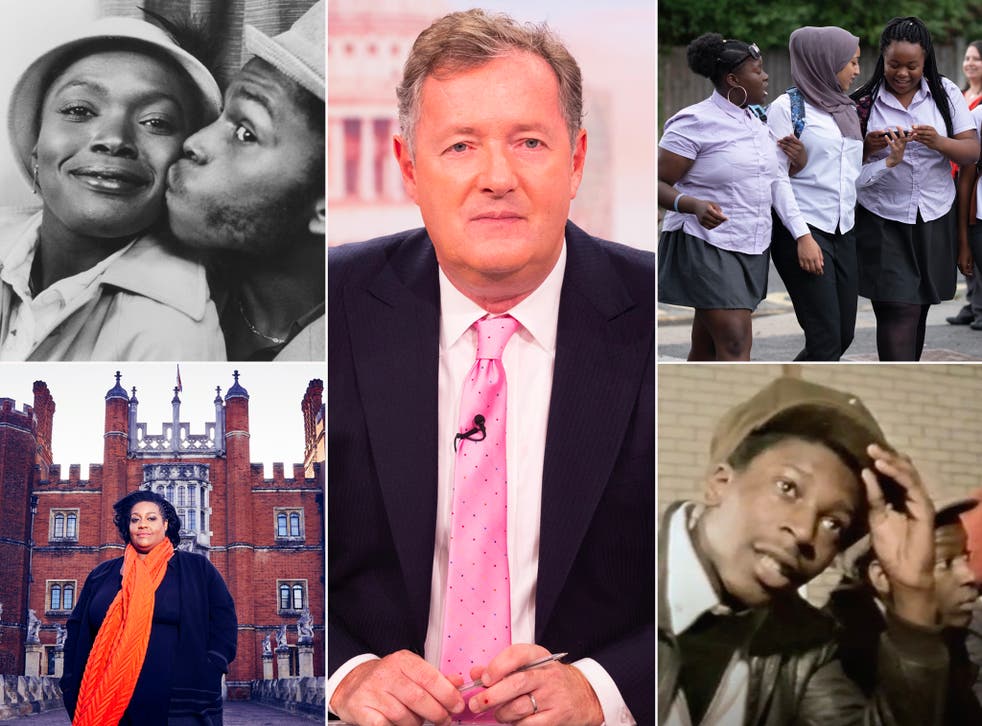 Black History Month began yesterday, and in 2020, there's never been a better time to learn about racism – not only in the present, but in the past too. Fraught and cyclical discussions on race seem to be gracing our screens more frequently than ever, yet in these debates, I still observe a striking lack of understanding of the historical grounding of the issues that make headlines. With winter (and another potential lockdown) on its way, now seems like an apt time for the general public, commentators and allies alike to turn to black history for some much-needed education.
Netflix seems to have the right idea – marking the month with 20 titles that it says focus on "joy, friendship and family" (as well as, we can assume, blackness). The collection includes Rocks, a film about black British girlhood, and Desmond's, a Nineties throwback sitcom about a British-Guyanese family who own a barbershop in Peckham.
This is to be welcomed – after all, as Peckham-born filmmaker and curator of the collection Adeyemi Michael points out: "There's a certain type of storytelling I think we've had enough of." For me, those stories include white saviour narratives seen in films like The Help, and black "trauma porn", a phrase coined to describe narratives that only seem to centre around black people's pain, suffering and death with little respite, optimism or resistance. American sports and pop culture website The Ringer's Jordan Ligons summed up black audiences' collective exhaustion in the face of this now-tired genre of cinema: "Our blackness doesn't always equal pain and hopelessness, so cinema, music and pop culture that's claimed to be 'for us, by us' should reflect this too."
It is non-negotiable that we need more, and better, black stories on screen. Simultaneously, awaiting the full list of Netflix titles, I hope that the focus isn't simply black representation – but also, explicitly, black history – in Britain as well as America. So often Black History Month is interpreted by broadcasters and cultural institutions as either simply "Black Month" or "Black (American) History Month" – but what about culture that discusses black, British history?  
In light of the events of this year in particular, it's more important than ever that we nurture exploration into art and media that draw necessary links between the events of Britain's past, and those of the present. Considering the fiercest critics of this summer's seismic protests often asked, "What are they even protesting for?", and criticised actions that addressed our history (like the toppling of slave trader Edward Colston's statue), I genuinely believe that historical education can serve as a guiding light for sceptics. It's no coincidence that this summer's protests were accompanied by a push for education, notably birthing the viral Instagram infographic – which summarised complex racial justice issues using slideshows. After all, without the context of Britain's racist history, it's difficult to understand what modern anti-racist movements are all about.
There are numerous films, documentaries and books that can cast a much-needed historical lens on the issues that British anti-racists care about today. Some are brand new releases coming this month: for example, ITV, which announced its Diversity Acceleration Plan in July and recently backed Black Lives Matter, will be releasing black history-focused documentary Back to School. The programme will see Alison Hammond visiting historical sites across Britain, and shedding light on the urgent need for curriculum reform by discussing the parts of history none of us were taught in school. Meanwhile the broadcaster's black-led panel show Sorry I Didn't Know, which was previously rejected by all TV networks in 2016, will take a comedic approach to our lack of black history education in Britain.
If you want to venture further back through the blurry, alternative archives of British cinema to learn about the Windrush generation, why not watch the first ever black British feature film, Pressure (available online on the BFI Player subscription service) about the everyday struggles of a British boy born to Trinidadian parents? Alternatively, have a watch of Menelik Shabazz's 1981 feature Burning an Illusion on the same platform, which follows the story of a black woman in west London becoming active in politics during Margaret Thatcher's years in power. If you're interested in black representation in pop music after Stormzy became the first black British solo headliner at Glastonbury last year, why not watch the Story of Lovers' Rock (on Prime Video) a documentary by the same filmmaker that shows how descendants of the Windrush generation gave rise to a whole new genre of music that influenced bands like The Police and Culture Club? For more context, last year, BBC Sounds also delved into the often-unacknowledged Caribbean contributions to Britain's musical landscape.
If you're feeling particularly radical, consider watching Blacks Britannica (currently viewable on YouTube), a 1978 documentary on life in working class black Britain, whose message was considered so dangerous at the time that it was banned. The film delves into the discrimination black people faced both from the state and on the streets, and gives historical context to the anti-racist movement in Britain and the issues that gave rise to it. If you're after a perspective that focuses on gender at a similar time in British history, the film might be well-accompanied by The Heart of the Race, a 1985 book chronicling the issues tackled by the Organisation of Women of African and Asian Descent (OWAAD), an organising group comprising British women of colour. Reading the book in 2020, what is most striking is that from healthcare to education to the welfare state, many of the issues OWAAD's activists campaigned on still disproportionately affect black women today.
As we embark on Black History Month this year, and issues of racism remain firmly on the agenda in Britain, it feels more urgent than ever that we explore the annals of history to guide the ways that we talk and think about race in 2020. This doesn't just mean brushing up on the facts we were taught in school but looking for those perspectives that have been for so long neglected by textbooks, as well as interrogating why they aren't popular knowledge. This is valuable in and of itself, even if only for the sake of making you feel less frustrated and existential when you see Piers Morgan spouting another ahistorical about black people in Britain (like when he asked black professor Kehinde Andrews: "Why do you live in this country?").
Access unlimited streaming of movies and TV shows with Amazon Prime Video Sign up now for a 30-day free trial
Sign up
And when it comes to the task of education and awareness-raising, culture feels like just as relevant a medium as ever. It is my hope that this year, in the wake of what can feel like never-ending debate, our discussions of racism are enhanced by the facts of history – not only our emotions in the present.
Join our new commenting forum
Join thought-provoking conversations, follow other Independent readers and see their replies