The Independent's journalism is supported by our readers. When you purchase through links on our site, we may earn commission.
From How To Fail to My Dad Wrote A Porno: have we reached peak podcast?
It's become as ubiquitous as blogs and playlists but as podcasting's popularity balloons, says Isobel Lewis, so has the difficulty of finding new voices beyond the celebrity interviewers
Thursday 23 July 2020 12:28 Comments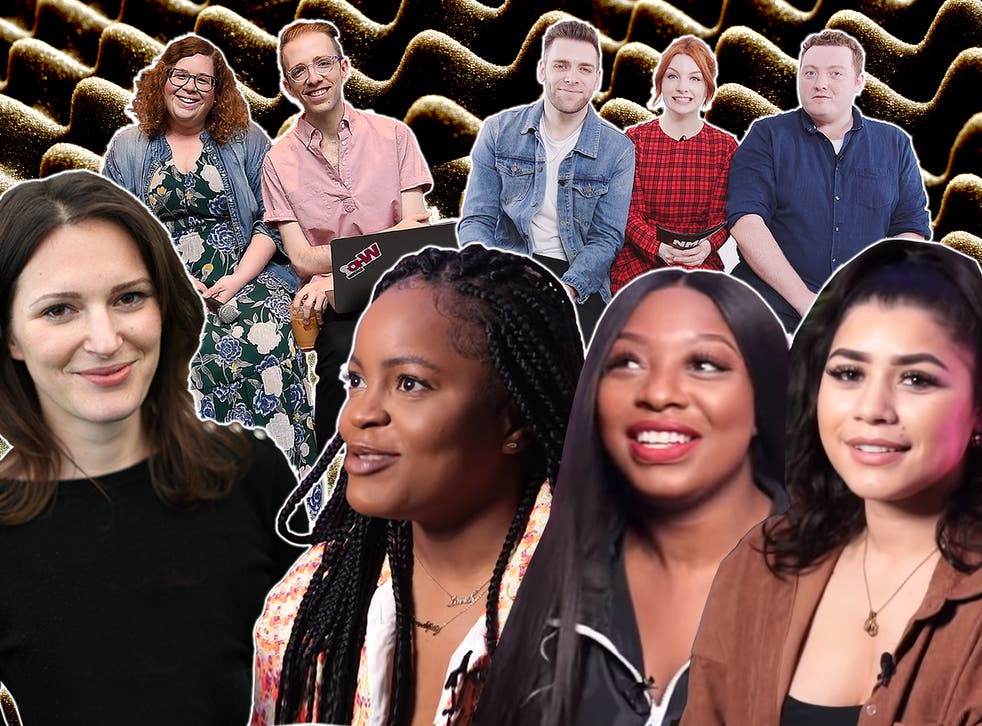 Back in March, a week before the UK went into lockdown, Derry Girls actor Nicola Coughlan gave us all a warning. "I know this time of self isolation is hard and scary for people," she tweeted, "but however bad you are feeling – please, please don't consider starting your own podcast." On the cliched lockdown activity checklist, podcasting has slid right in there alongside baking banana bread and cross stitching, and with good reason. They're fun to make; they work even if you can't see your co-presenters; and they are a welcome distraction from the world outside.
Podcasts have only been mainstream for a short while, soundtracking our commutes, accompanying us on long drives and, most importantly, helping us appear intelligent at parties, but they have doubled in popularity in the past two years. Research suggested that there were 550,000 different podcasts in 2018, which Apple confirms to The Independent has grown to one million in 2020.
But while many podcasts have become household names – Serial, The Joe Rogan Experience and No Such Thing As A Fish among them – breaking into the business has become increasingly difficult. There might be lots of people hopping on the mic, as Coughlan said, but in the world of podcast stars, celebrity interviewers and an ever-shrinking pool of original ideas, it looks like new creators are being pushed out.
It's easy to see why people get involved in podcasting, which has long been called the ultimate democratic platform. Anyone can submit a show to distributors Apple or Spotify for free: all you need is a microphone and something interesting to say. Many of the biggest names in podcasting started off this way, turning an original idea into awards, book deals, TV specials and live tours. Podcast presenters can – at least to a certain audience – become celebrities in their own right. But as the industry has grown, both the people in charge and the algorithms that tell us what to listen to have come to favour already-established names over new creators, who have far fewer opportunities to break through
For proof of podcasting's star-making power, look no further than My Dad Wrote A Porno. With presenter Jamie Morton reading aloud his father's amateur erotica (penned under the pseudonym Rocky Flintstone) for his friends James Cooper and Alice Levine to critique, the show quickly became one of the medium's success stories. "Because it was porn, we thought people would be able to listen without the people around them knowing what they're listening to; a bit like how 50 Shades of Grey became popular on ebooks," says Morton.
MDWAP has blazed a trail for podcast success. They've performed to a sold-out Sydney Opera House, released a book, even recorded a TV special for HBO. When they started the show back in 2015, it never crossed their minds that podcasting could lead to such heights. In many ways, Morton says, "podcasting grew with the show, so we eased into it rather than facing overnight success".
"We came out when there wasn't much going on in the space," he continues, "and even asking podcasts to be taken seriously was a huge ask, whereas now it's a hugely popular platform but there are hundreds and thousands of shows trying to find their way to the top." Podcasters can reach levels of fame never once thought possible, Morton says, but with so many people trying to find that success on the platform, breaking through is a whole other ball game. "Now, there's so much choice and algorithms are constantly pushing more established names up the charts, so a little show that you've made in your kitchen with your mates, no matter how well produced it is, might unfortunately struggle."
Those who started their shows before podcasting started peaking around 2017 had the advantage of significantly less competition. In 2015, Lindsey Weber and Bobby Finger, both of whom were working in the media, were approached by a network asking if they would turn their hilarious celebrity gossip newsletter Who? Weekly into a podcast of the same name. "There were a few networks that essentially needed talent without the promise of money," Weber says over Zoom from New York, where she and Finger are based. It's hard to imagine anyone not already famous being approached to start a podcast now. The pair admit to benefiting from the fact that "there weren't that many podcasts" when they started out, and they quickly found themselves topping end-of-year lists.
However, as the industry has rapidly evolved, what would be a marker of success for a book or album – such as mentions on radio or in print media – has lost its impact in favour of the new podcast power players. "I don't think that traditional media drives podcast listeners," Weber theorises, with Finger suggesting that it's networks, such as I Heart Radio, Headgum or Audioboom, that people use to find new content. "These companies have a ton of money behind them and [their podcasts] will get listened to simply by name recognition," he says. But that doesn't necessarily equal quality. "You look on the charts and subscribe to a podcast just because it's at the number two spot," continues Finger, "but then you listen and you're like, 'This sucks'."
Access unlimited streaming of movies and TV shows with Amazon Prime Video Sign up now for a 30-day free trial
Sign up
This idea isn't exclusive to podcasts: you can make a TV show and put it on YouTube, just don't expect it to compete with the likes of Netflix. But there's something about podcasting as the people's platform that makes this two-tier system, where only established names and those with a network's backing can succeed, a harder pill to swallow. "It's a shame because that's what was so great about the medium: that anyone can do it," Morton says. "We're constantly losing these little sections of the media industry where people can actually form their own careers and successes on their own terms without having to rely on big broadcasters."
The major podcasting apps and their lack of discoverability definitely don't help this problem. As successful content is promoted, new shows are pushed further down the pile and become notoriously difficult to stumble upon. Unless you know the exact name of the show you're looking for, you're unlikely to find new content through podcast players, while audiences flock to names they recognise, either through brands and networks or already-famous faces like Louis Theroux or Gemma Collins. Occasionally, a new podcast can break through in a big way, such as Sh**ged Married Annoyed, hosted by comedians Chris & Rosie Ramsey – though Chris's enormous social media following will have helped.
To try and tackle the problem facing new creators, Spotify has this week relaunched its Sound Up programme, which helps black women and non-binary people who've considered starting a podcast break into the industry and amplify their voices. The platform also prides itself on offering features to podcasters to help them improve their discoverability. A Spotify spokesperson tells me: "Our team of playlist editors from all around the globe are listening to hundreds of hours of podcasts and grouping the best episodes into topical, streamable playlists. Additionally, Spotify for Podcasters gives podcasters a powerful snapshot of who their listeners are, what episodes they're streaming the most, and even the music they love – insights that will help them to plan future episodes or get sponsors."
But while help is out there for new creators, celebrities still rule the roost – even at Spotify, which has recently signed exclusive deals with Kim Kardashian and Michelle Obama. For those celebrities who don't start their own show, podcast appearances have become part of the press circuit along with magazine spreads and talk shows. Celebrity guests appear on the same big podcasts, bringing listeners with them and, in turn, giving that podcast the listening figures to secure more celebrity interviews. Now, podcast appearances are just as much part of someone's press campaign as a magazine interview and talk show. And, potentially, they also enjoy it more. Unlike more traditional media, says journalist and author Elizabeth Day, celebrity guests feel "so much more in control" when appearing on podcasts, while allowing the interviewer to show "the best, most revealing stuff that would usually end up on the cutting room floor".
In 2018, Day started How to Fail, a podcast where celebrity guests including Lily Allen, Vicky McClure and Daisy Edgar-Jones discuss their three greatest failures. With a background in print journalism, Day is an excellent interviewer, but ever since she began with a first episode interviewing old friend Phoebe Waller-Bridge, it was clear that there were other factors at play in her success. To her credit, Day doesn't shy away from this privilege, adding: "The first season and a half of guests, that was purely me getting people myself. I would either rely on personal friendships or connections I'd made through journalism and people I'd kept in touch with." Even now, she says, she's secured interviews "by DMing celebrities, getting a reply and then finding out that I've worked with their publicist before".
But as much as big names can get people to tune in initially, it's the presenters' personalities and their willingness to keep going for what is often little reward that keeps them coming back. As Finger points out, "celebrities tend to think podcasting is easy and won't take much time, which is not true at all. The moment you see a celebrity start a podcast, start the clock because not many of them last when they realise it's a lot of work for very frequently not that much return."
Celebrity endorsements are naturally good for the ego, but podcasting is its own world where the stars don't always have the pull they do elsewhere. Appearing on Michaela Coel's I May Destroy You with the excellent talk and advice podcast The Receipts may have been a "pinch me" moment for co-presenter Tolani Shoneye, but professionally, it had little direct impact. "If anything, podcasts can drive television viewership rather than the other way," she tells me. "If one of my favourite podcasts suggests a show, I will go watch it. Really, it's social media and word of mouth that drives podcast listens."
With all these success stories and the one million podcasts number floating around their heads, it's hard for new podcasters not to be intimidated. For every show to enter the mainstream, there must be thousands of podcasts hidden by algorithms, so why should people still give it a go? The answer, these podcasters explain, is a love for storytelling and a belief in what you have to say.
Prompted by lockdown boredom, Yasmin Ali and her sister Zahra decided to start a lifestyle podcast titled This Was Unexpected. Neither had made a podcast before and by Yasmin's own admission, lifestyle is one of the busiest sub-genres – but she was excited to provide a new perspective on these subjects through her own experiences as a black Muslim women and how it "plays into every single one of our experiences".
Podcasting has always been a great platform for voices and opinions that are less represented in traditional media and it would be a shame if the influence of big companies meant that was lost. "We don't expect anything off the podcast, we just spoke to our friends and family and asked them before we started if they would be interested in hearing it, and a lot of people said yes," says Ali. "It's just a fun outlet for us. Whatever makes you different, your niche and your voice is always relevant."
Shoneye is in agreement, jokingly saying: "Asking if there are too many podcasts is like saying, 'Are there too many books in the world?' Yes, we're probably past the point of original ideas because too much of life has happened, but that doesn't mean there's not room for everyone. As long as there are stories in the world, we've got enough content for podcasts."
If you're starting a podcast with the assumption that it'll be the next Serial or My Dad Wrote A Porno in a couple of months, you might be disappointed. But if you have a story that you feel is being ignored by traditional media platforms, then starting a podcast might just be the best way to tell it. Yes, the industry has changed and breaking through is harder than it once was, but podcasting itself – the act of sitting down and talking into a microphone, the minimal equipment needed, the fact that anyone can make a show for free – hasn't. Celebrities may wield a lot of power, but the platform has always been about the people who make, edit and listen. Power to the podcasters, I say.
Register for free to continue reading
Registration is a free and easy way to support our truly independent journalism
By registering, you will also enjoy limited access to Premium articles, exclusive newsletters, commenting, and virtual events with our leading journalists
Already have an account? sign in
Join our new commenting forum
Join thought-provoking conversations, follow other Independent readers and see their replies