From The Office to Drag Race, TV recap podcasts are the perfect accompaniment to your lockdown rewatch
Former stars of shows ranging from 'Glee' to the US version of 'The Office' are hosting episode-by-episode watch-alongs that unite fans with show insiders – and they're increasingly lucrative, says Isobel Lewis
Tuesday 26 January 2021 06:31 Comments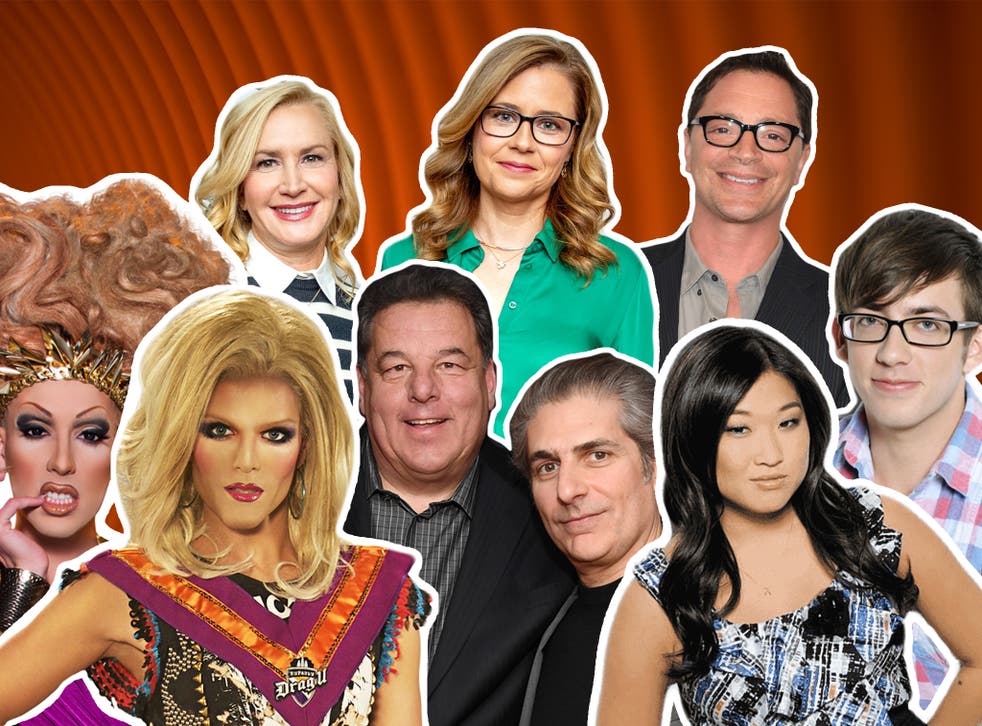 What do you think Netflix's most streamed show of 2020 was? Tiger King? The Queen's Gambit? The Crown? Nope, the show that American viewers watched more than anything else was the US version of The Office, according to independent data measurers Nielsen. Netflix's own rankings are based on shows that viewers tried out for two minutes or more, but the real ratings aren't being dominated by some shiny, expensive new thing. The pandemic has seen us turn to comfort TV – and America's example shows us that it's more likely to be something that we already know and love, like a sitcom that finished seven years ago. And who better to accompany that viewing than the people who lived through it all? Say, Jenna Fischer and Angela Kinsey, who played Pam and Angela in the show, with their recap podcast Office Ladies?
As podcasts have become an accepted part of our cultural diet, we've seen an emergence of numerous shows like Office Ladies, in which former cast members present an episode-by-episode rewatch along with fans. It's a successful formula: someone who appeared on a TV show can offer first-hand experience of its production, but can also call up their former co-stars and ask them to make guest appearances. The West Wing creator Aaron Sorkin is unlikely to appear on one of the many podcasts in which fans rewatch the political drama, but he has made multiple appearances on The West Wing Weekly, a podcast hosted by actor Joshua Malina.
It's also a space to discuss current conversations around a show and point out its flaws. When Noughties medical comedy series Scrubs was criticised during the Black Lives Matter protests last summer for its past use of blackface, stars Zach Braff and Donald Faison were able to directly address the issue in depth with the show's creator, Bill Lawrence, on their recap podcast Fake Doctors, Real Friends. It's a direct connection to the fans that allows for nuance in a way that 280-character tweets and Instagram captions do not.
When it comes to podcasting, there are two kinds of shows that lend themselves best to recapping: ones with cult followings, and reality TV. The West Wing, The Office, The Sopranos: these are all prestige shows that fans are likely to watch more than once but also convince others to give them a go, making the rewatch a communal experience. Another thing they have in common is a vast back catalogue of episodes: UK TV, on the whole, tends to run for shorter seasons and not have enough episodes to build an entire podcast series around. However, there are naturally some exceptions, such as comedian Ed Gamble's recently launched Taskmaster podcast or the daily Love Island podcast Aftersun that accompanies every series and is co-presented by former winner Kem Cetinay.
When it comes to reality television, the format works particularly well because there's as much, if not more, interest in what we don't see on screen as what we do. When you're watching a highly edited TV show – yet one that presents itself as a work of objective truth – the audience wants to hear how the sausage gets made just as much as the contestants want to set the record straight on how they were portrayed. It's a win-win.
RuPaul's Drag Race recap podcast Race Chaser, which describes itself as a "discussion, dissection and dissemination" of the show, has undoubtedly been at its most fascinating when rewatching the seasons that presenters Alaska and Willam respectively appeared on. But even when they're recapping episodes that are currently airing, the listener gets invaluable insights from commentators who are experienced drag performers and have experienced that reality TV, pressure-cooker environment.
Things work a little differently when it comes to podcasts covering fictional TV series. Reality contestants are, by the nature of the business, always tied to the show they first appeared on, but not every actor wants to be similarly associated with the show that made them famous. It takes a certain kind of performer to lean into that while others are slowly edging away, but those who do can really benefit from it.
When Glee stars Kevin McHale and Jenna Ushkowitz first started their podcast Showmance in 2019, it was to discuss their friendship. But in season two, they switched tack and became a Glee recap podcast, rewatching the show from the beginning. The reason? It was all their listeners wanted to know about. "Our fans followed our careers after Glee, and our listeners just wanted more Glee, so we decided to give them what they were asking for," Ushkowitz told Entertainment Weekly in 2020. The show continued until last summer, when it went on an indefinite hiatus in the wake of Naya Rivera's death.
McHale and Ushkowitz are in many ways the prototypical hosts for a recap podcast. They were series regulars on Glee but not the leads (and criminally underused, but that's a rant for another day). In other words, they have the lived experience to provide juicy titbits, but aren't so famous that they resent only talking about one show that aired years ago. Crucially, for them, being associated with the show isn't such a bad thing.
Access unlimited streaming of movies and TV shows with Amazon Prime Video Sign up now for a 30-day free trial
Sign up
The same can be said for Office Ladies Jenna Fischer and Angela Kinsey. As Pam and Angela, they were loved by fans, but have arguably done less in the years since than former co-stars such as Mindy Kaling or John Krasinski. Their recap podcast is charming and fun; listen to the show and it's clear Fischer and Kinsey loved working on The Office and love talking about it.
In a 2019 interview with Vulture, Kinsey said that the pair were inspired to do the podcast after looking through old memorabilia together. "We became really nostalgic for the show by hanging out and looking through all of the boxes of stuff, so I said to her I really wanted to rewatch the show fully," she recalled. "I hadn't done that since we made the show, and neither [had] Jenna, so we collectively had this 'Why don't we do this?' moment."
Why not indeed? Office Ladies averages a perfect five stars on Apple Podcasts across nearly 2,000 audience reviews. It's not cynical to point out that there's money to be made from that platform. The podcast is hosted by Earwolf, one of the major podcasting networks, while their shop sells a startlingly huge selection of memorabilia, ranging from frisbees to staplers. Meanwhile, their Office co-star Brian Baumgartner was the highest earner on personalised video message app Cameo last year, making over $1m (£730,000) from Office fans. Nostalgia is a big business for those who don't mind accepting that this one role is the thing they will predominantly be remembered for.
By comparison, official reboots, while popular, are hard to do. Last year's Fresh Prince of Bel-Air reunion and the forthcoming Friends special have managed to reunite almost their entire original casts, but these are years and millions of dollars in the making. If the appetite is there, why shouldn't a podcast tap into it? While we wait for the much-delayed Sopranos prequel film, the Talking Sopranos podcast with Michael Imperioli (who played Christopher Moltisanti) and Steve Schirripa (Bobby Baccalieri) is the next best thing.
In many ways, the Friends reunion exemplifies this problem. Going the official route and getting the whole group back together is a logistical nightmare when you're dealing with the busy schedules of six incredibly famous people who have spent the past 20 years quietly trying to separate themselves from the show that made them stars. It's also bound to be at least slightly disappointing after years of build-up. But a Friends recap podcast presented by Janice or Gunther? Now that I'd listen to.
Register for free to continue reading
Registration is a free and easy way to support our truly independent journalism
By registering, you will also enjoy limited access to Premium articles, exclusive newsletters, commenting, and virtual events with our leading journalists
Already have an account? sign in
Join our new commenting forum
Join thought-provoking conversations, follow other Independent readers and see their replies