Power Monkeys: The new political sitcom is written on the day of broadcast to ensure maximum topicality
Nevertheless, co-creators Andy Hamilton and Guy Jenkin tell James Rampton it's tough satirising news that's increasingly absurd to begin with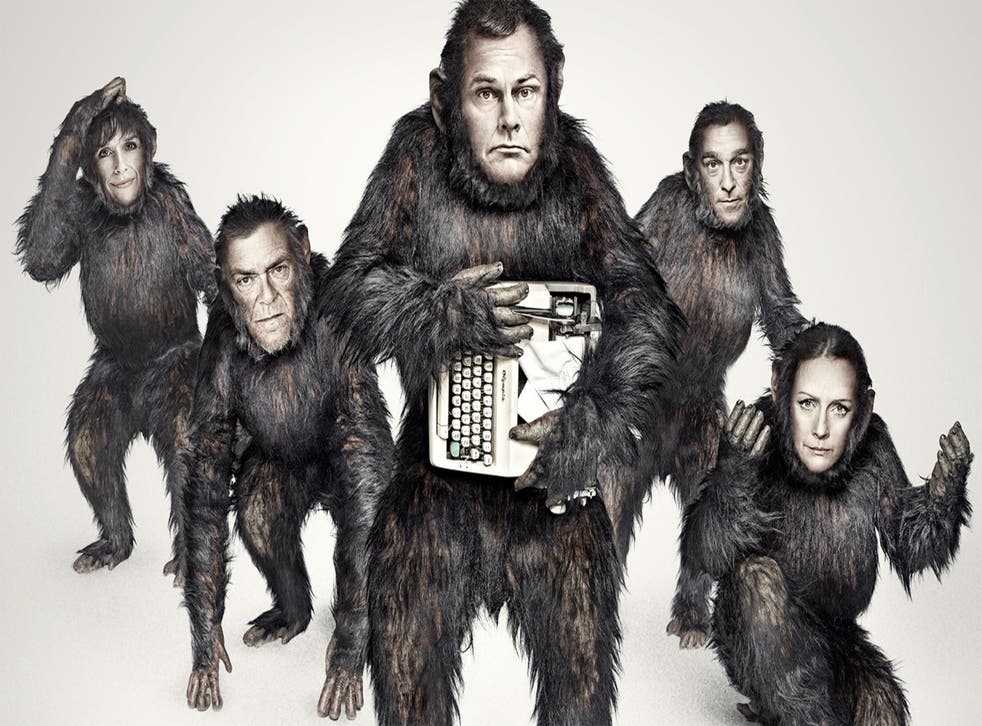 A huge poster hangs above the desk at the reception in Channel 4's hi-tech central London HQ. It reads: "Power Monkeys – political comedy so topical, it's still being writte_." Some 20 miles away at Pinewood Studios on the outskirts of London, The Independent is able to see first-hand just how topical Power Monkeys is.
This hot-off- the-presses satirical comedy (satcom?) is co-written and co-directed by Andy Hamilton and Guy Jenkin. The pair have previous in this field. Last year, they were behind Ballot Monkeys, a very entertaining Channel 4 sitcom about the chaos on the different political parties' battlebuses in the run-up to the general election. It was penned at the last possible moment to ensure topicality.
A quarter of a century before that, Hamilton and Jenkin pioneered this genre of "ripped from the headlines" comedy with the groundbreaking early Nineties sitcom, Drop the Dead Donkey. Set in a dysfunctional TV newsroom, it included many topical gags inserted at the eleventh hour. The pair are the masters of lastminute.comedy.
Now Hamilton and Jenkin are returning to this style once more with Power Monkeys. This ambitious six-part series, which starts at 10pm on Channel 4 tonight, cuts between four different sites.
One segment will focus on the Conservative Party's (fictional) "Unity Unit". Jack Dee plays Oliver, a combustible former journalist who enjoys needling his more sensitive colleague, Sarah (Claire Skinner). Another section is set on the cross-party Brexit Roadshow bus. Kevin McNally portrays Spencer, a disillusioned ex-kipper who is somewhat compromised by the fact that he is head over heels in love with an Eastern European.
Another part of the sitcom takes place inside the Kremlin where two lowly government workers, Oleg (Ben Willbond, The Thick of It) and Alexi (Alec Utgoff, Jack Ryan: Shadow Recruit), jostle for President Putin's attention.
The final section of Power Monkeys is filmed inside Donald Trump's campaign plane. Here the careerist politico, Lauren (Amelia Bullmore), who has been brought in to try to win women over to the cause, constantly clashes with the Trump-ist zealot, Bea (Ayda Field).
The producers show us round the interior of "Trump's plane". It is, as you would hope, ludicrously over the top and bling-tastic. Everything is encrusted with gold, from the seat belts and lamps to the sofas and ornamental pineapples on the sideboard. But this is apparently a toned-down version of reality. It has been estimated that the inside of the New York mogul's real plane contains enough 24 carat gold to cover a London bus.
Field, an American, asserts that she is not scared about the prospect of Trump becoming her next president. "I'm just excited about his wall," she jokes. "Who isn't chuffed about a bit of remodelling? No, I'm just very happy to be part of a comedy that laughs at the extremity of it all."
Access unlimited streaming of movies and TV shows with Amazon Prime Video Sign up now for a 30-day free trial
Sign up
The USP of Power Monkeys is that each episode will be largely shot and edited on the day of transmission. Phil Clarke, head of comedy at Channel 4, is pleased to have commissioned a show without a finished script: "I'm delighted to announce that I have no idea what the content of this series will be."
What makes this such an apposite moment to be producing Power Monkeys is that the world is currently in an unprecedented state of political upheaval. In a break between last-gasp rehearsals, 62-year-old Hamilton reflects that, "One of our starting points for this series was that the politics of the world is in such turmoil at the moment. We couldn't really remember a period as tumultuous or uncertain as this. Everywhere you look, there is this sense of uncertainty and risk. We thought, if you ever needed a topical comedy programme about politics, it's now."
"All the previous certainties in politics seem to be fracturing at the moment," adds Jenkin. "In quite a short time, we could have a world summit that involves Vladimir Putin, Donald Trump, Boris Johnson and Marine Le Pen. There is that old Russian proverb, 'Never live in interesting times'.
"You sometimes feel as if you might be hallucinating when you turn on the news, like I did this morning, to hear that North Korea is backing Trump."
Dee agrees that the time is right to make a comedy mirroring the absurdity of current global politics. "All of a sudden, it's gone bonkers. We have this sense of extremism, and we're getting characters back in politics – and that makes it all the more interesting.
"We had 20 years of greyness, and now suddenly we have Boris, Putin Trump. These are really colourful characters. Ironically, if anything, David Cameron is the slightly bland one trying to see them all off."
"It feels this year as if a lot of things are at stake in politics," Bullmore says. "We could wake up to quite a different world come Christmas time."
Power Monkeys also contains an element of "a plague on all your houses" in its view of politicians. The two sides in the EU referendum, for instance, are portrayed as relentlessly negative.
Hamilton takes up the theme. "One of our characters is a dinosaur because he believes that you have to give the public trustworthy figures, that you will forfeit the public's trust if you don't, and that it's important to play by a certain set of rules. But no one else shares that view.
"There is this Trump-like attitude that you say whatever you need to say in order to get the result you want. That's affected our politics very quickly."
Jenkin, who has worked with Hamilton since they met at Cambridge more than 40 years ago, adds that, "Alan Johnson is one of the leaders of Remain and is seen as an asset, but he has barely been in the news, probably because he's using reasonable arguments. Those are being squeezed out of the news by people making vast, ridiculous claims that are more headline-worthy. Being provocative or inflammatory seems to be all that matters.
"The basis of the early Trump campaign was that by saying something outrageous every day he pushed everything else out of the news. They reckon that earned him the equivalent of £2bn worth of campaign spending.
"That proves that publicity is more important than logical argument. I'm quite alarmed by it. People have become bored with moderation. But once you release extremism, you can't put it back in the bottle." As he speaks, Jenkin is wearing a large Trump badge repeating the presumptive Republican nominee's boast that he will "win bigly!"
The other extraordinary aspect of politics at the moment is that it has a "fact is stranger than fiction" quality to it, adds Dee. The Brexit campaign's warning that staying in the EU will threaten the survival of our curry houses almost defies belief, he says. "You couldn't make it up. That's what's fun about politics at the moment. When it becomes more colourful – as it has in the last three or four years – extraordinary stories start to emerge. You think, 'If you put that in a script, people would say it couldn't possibly happen'.
"Trump is so extraordinary that I'd imagine making comedy out of him is actually quite difficult. It's come full circle. It is like saying, 'Let's make a joke about Reginald Perrin'. He's a joke already. We don't need to do any more."
The other remarkable side of Power Monkeys is, of course, the fact that it is written at the very last minute. You might have thought that would cause nerves in its writers, but as the deadline for the first episode approaches, they appear remarkably unflustered.
"Doing it like this certainly adds to the adrenaline, says Jenkin. "And perhaps you have an iota of worry when you get up at six in the morning and you have to write a lot of material for that evening's show."
However, he continues, "Our experience on Ballot Monkeys was that everyone felt this strange sense of calm. You imagine that it will be incredibly fraught and tense. But what's great is that you have to make decisions rapidly. You can't agonise about them or go back on them – because the show is going out that night. That is strangely relaxing.
"Of course when it comes to episode four and the result hasn't gone the way we expected and we have to rewrite the entire script and have a nervous breakdown, you can quote this against me."
Power Monkeys is clearly a bold undertaking. But do its creators believe that comedy has the power to change people's minds? "No," Jenkin replies. "If we had wanted to change things, we should have gone into advertising or politics. But what we can offer is a pressure valve for people who are sick of these campaigns which bang on about the same things day after day."
Like a good double-act partner, Hamilton chips in that, "We both made a healthy amount of money writing jokes about Margaret Thatcher, but I don't remember her ever changing her behaviour because of what we wrote. We simply set out to point up absurdities, to entertain and to make people laugh."
"I'm fairly confident we will deliver a fun show, so people can have a breather from all the real-life nonsense," Dee says. In the run-up to the 23 June EU vote, he is also presenting three episodes of BBC2 comedy panel show, Jack Dee's Referendum Help Desk. "I like to think I'm the friendly face of the referendum. People find solace in me at times like this."
'Power Monkeys' begins at 10pm Wednesday on Channel 4
Join our new commenting forum
Join thought-provoking conversations, follow other Independent readers and see their replies